LADOT
Too Many Disappointments in L.A. City Bikeway Mileage During Fiscal Year 2022-23
Too much of the city's FY23 bikeway work had big issues: truncated mileage, downgraded facilities, long delayed timelines, false claims, etc.
10:05 AM PDT on October 17, 2023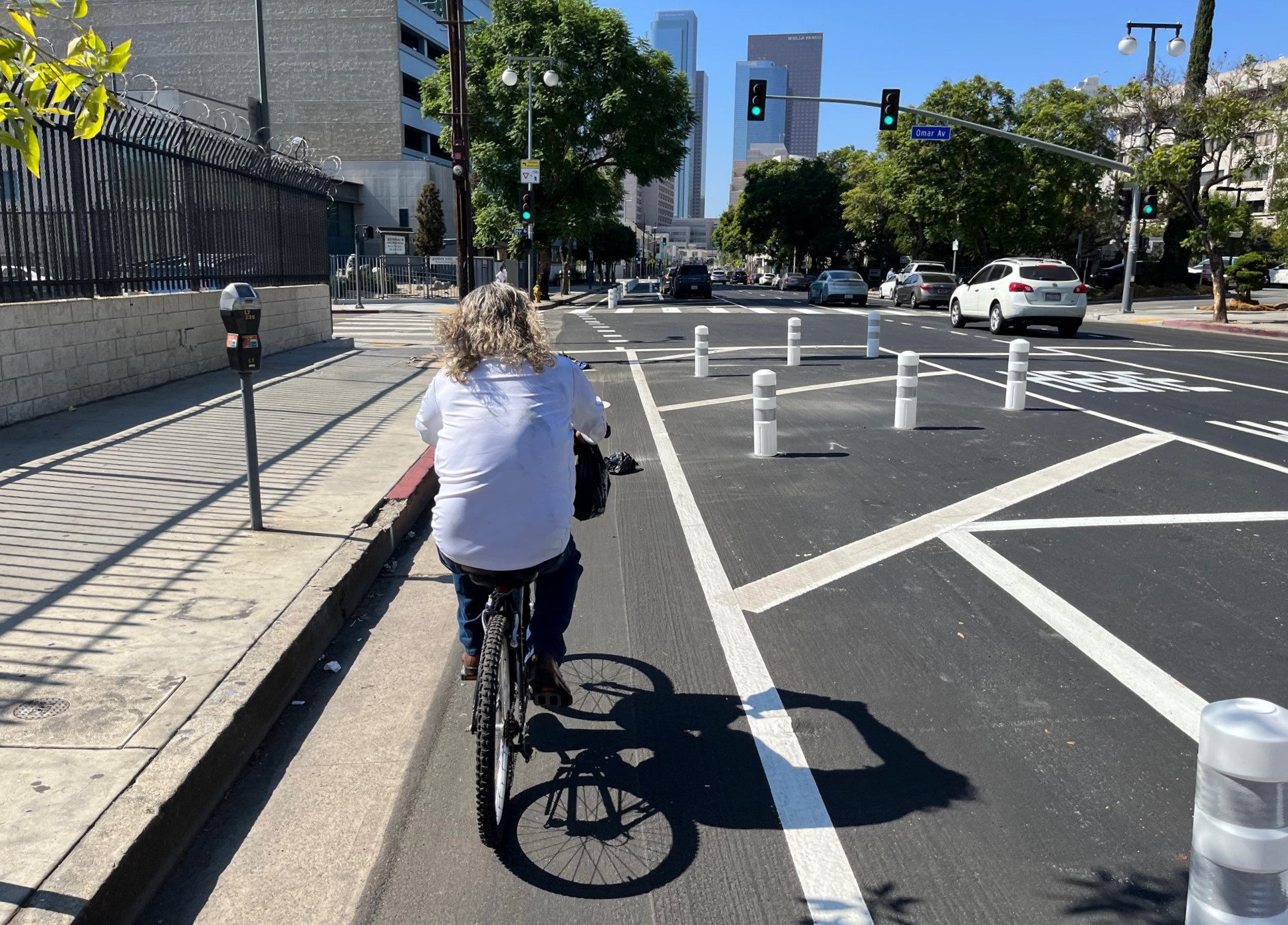 It's time for Streetsblog L.A.'s annual look back at the prior year's bikeway implementation - the good, the bad, and all the meh in between. In Fiscal Year 2022-23, the city installed an underwhelming 45.2 lane miles of improved or new bikeways.
It is difficult to draw a lot of conclusions from FY2023 as it saw numerous changes in mayoral, city council, and departmental leadership. Mayor Karen Bass replaced Eric Garcetti in December. Seven of fifteen city council offices changed hands. Two months into the fiscal year, Transportation Department (LADOT) General Manager Seleta Reynolds left for Metro, and Connie Llanos took over as interim GM.
Llanos' roughly year-long tenure saw DOT bikeway installation maintain the disappointingly low level seen during Garcetti and Reynold's tenure.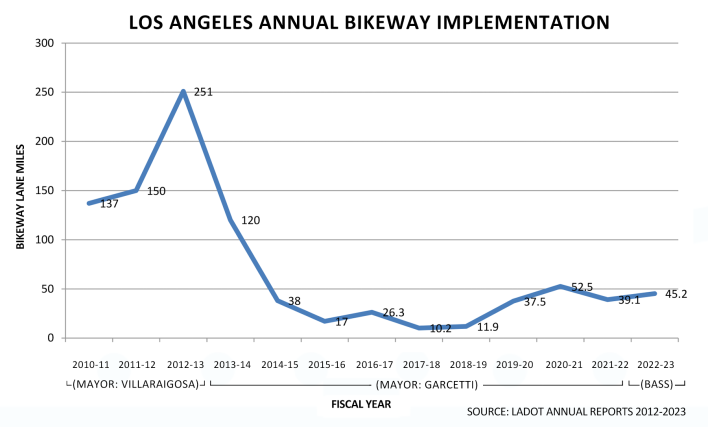 The mileage total was a little trickier to reconcile this year. For 2023, LADOT's Annual Report switched from fiscal year to calendar year. LADOT subsequently provided SBLA a FY23 spreadsheet, which didn't match either the annual report or on-the-ground bikeways. [See annual SBLA spreadsheet for details.]
As noted in past posts (FY21-22, FY20-21, FY19-20), not all bikeway miles are equal. Quality protected bike lanes and bike paths serve riders aged 8 to 80, while sharrows serve almost nobody. New bikeway mileage expands the network; upgrades to existing bikeways do not. Among upgrades, some are significant (protecting unprotected lanes) and others are nearly meaningless (adding a buffer stripe to an existing lane).
In recent years, around a quarter of the city's output consists of these less than newsworthy facilities. Among the city's FY23 totals are about 6 miles of new sharrows and 5 miles of buffer stripes added to existing bike lanes.
The city's FY22-23 total of 45.2 miles breaks down into 27.7 miles of new bikeways and 17.5 miles of upgrades to existing bikeways. This represents a slight improvement over last year, which saw 26.6 new bikeway miles and 12.5 upgraded miles.
Within that overall mileage there are two relatively high quality categories:
New Lane Miles - new bike lanes (conventional, buffered, or protected) and paths. The city installed 21.8 new lane miles in FY23. (Previous years saw: 22.8 miles last year, 26.9 miles before that, 11.3 miles prior to that, and 4.7 miles in FY18-19.)
Generally, L.A. mainly continued along its meager course, wholly inadequate in the face of mounting traffic violence and climate crises. LADOT's annual total was slightly worse than recent years, while the city's overall total annual grew slightly - due to (problematic - see below) bikeway mileage installed by the city Bureau of Engineering and by Metro. Too much of the city's FY23 bikeway work had big issues: truncated mileage, downgraded facilities, long delayed timelines, false claims, etc.
Below is SBLA's annual bikeway list. At the end of the post, SBLA checks in on the results of the BLAST (Bike Lane Acceleration and Safety Team) initiative announced in October 2022.
The Good
It's sad that nearly all of the city's good projects come with caveats. These are improvements, steps in the right direction, but so many of them fell short of what had been planned and/or announced.
LADOT improved and extended the one-way westbound bike lane on 3rd Street in Little Tokyo (photo at top), with great connections to the downtown bikeway network.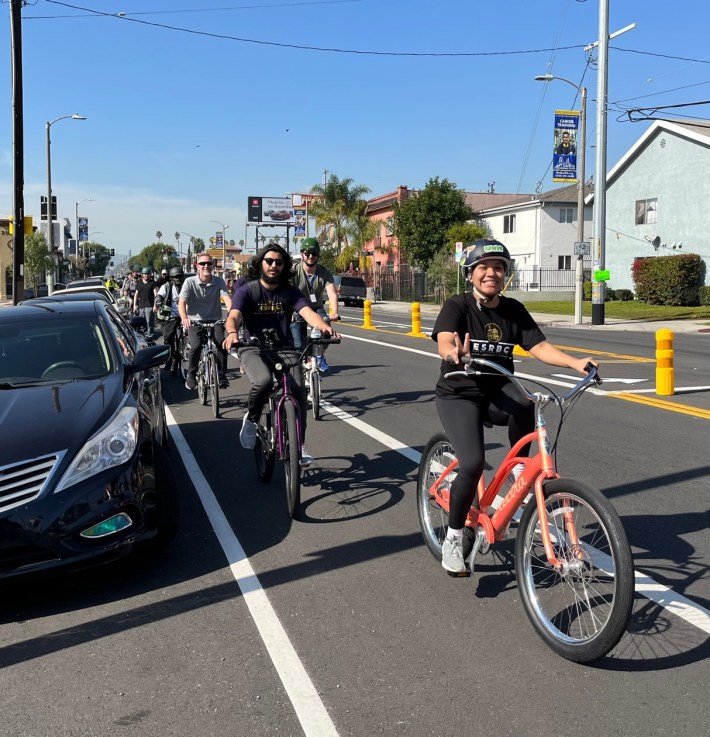 LADOT did a mile-long road diet to install needed safety features, including bike lanes, on Anaheim Street in Wilmington. LADOT later secured $32 million in state grant funding for additional future upgrades there. The caveat: the project included LADOT removing a half-mile of existing bike lane on Neptune Avenue in favor of added parking.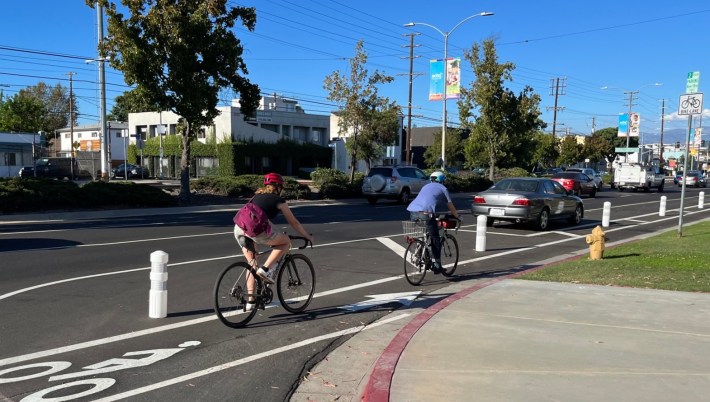 LADOT added parking-protection, upgrading two lengthy stretches of the existing Venice Boulevard bike lanes. The caveat: at the last minute, LADOT made significant cuts to the Venice project. After announcing 3.6 miles of bike lane upgrades, which would have created L.A.'s longest stretch of protected bike lanes, DOT yanked a mile (27 percent) out of the project, leaving several unprotected gaps. (Venice bus-only lanes were similarly truncated; DOT omitted 28 percent.)
LADOT added new parking-protected bike lanes on San Vicente Boulevard in mid-city. The caveat is, before and after installation, LADOT repeatedly claimed that these San Vicente protected lanes extend from Olympic Boulevard to La Brea Avenue. But they don't. What was announced as and should have been 2.4 lane-miles of protected bikeway ended up trimmed down to just 1.5 miles of bike lane, 1.3 miles of which are protected.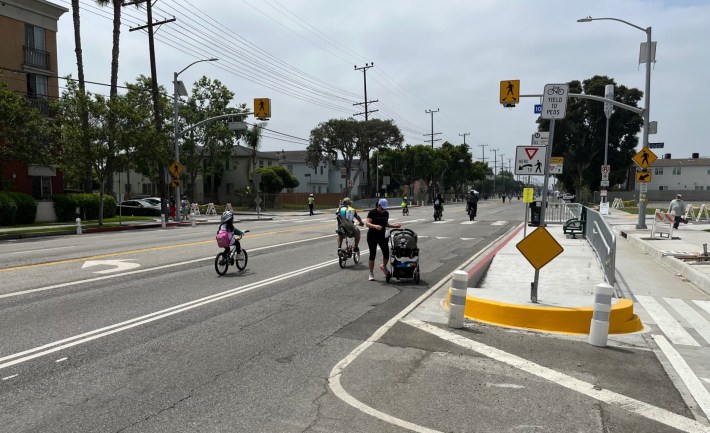 LADOT upgraded just over a mile of Central Avenue in Watts, adding parking-protection to existing bike lanes, plus new bus islands and mid-block crossings. It is a much needed appropriate safety upgrade, with the only caveat being that (under the BLAST program) the project was announced as including repaving the entire 1.1 mile but only repaved 0.6 mile.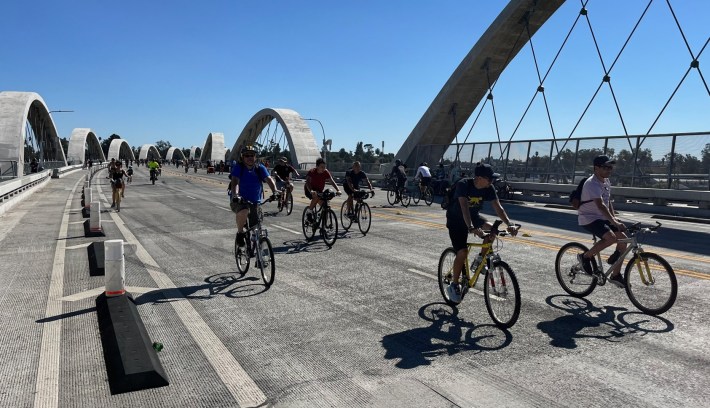 The city Public Works Department added new bike lanes as part of three bridge projects, all of which come with caveats: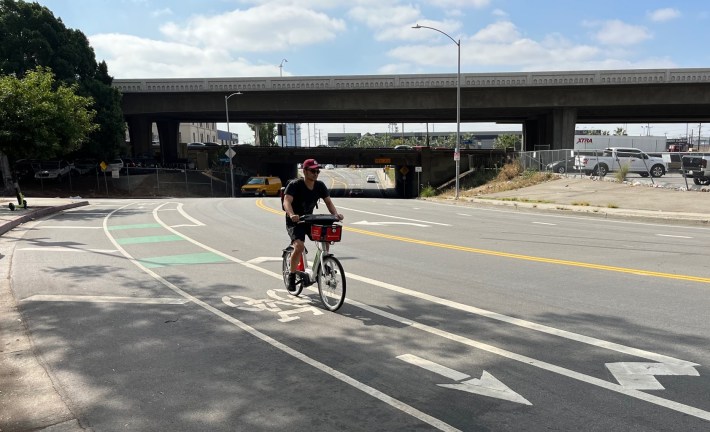 With a $12 million federal grant for a $30 million first/last mile improvements project, Metro added a handful of unprotected bike lane miles in and near Little Tokyo (First Street, Santa Fe Avenue/Center Street/Ramirez Street, and Los Angeles Street) but these fell far short of the deliverables Metro had included in the grant. Advocates are pushing for Metro to remedy its missteps; Metro isn't budging yet.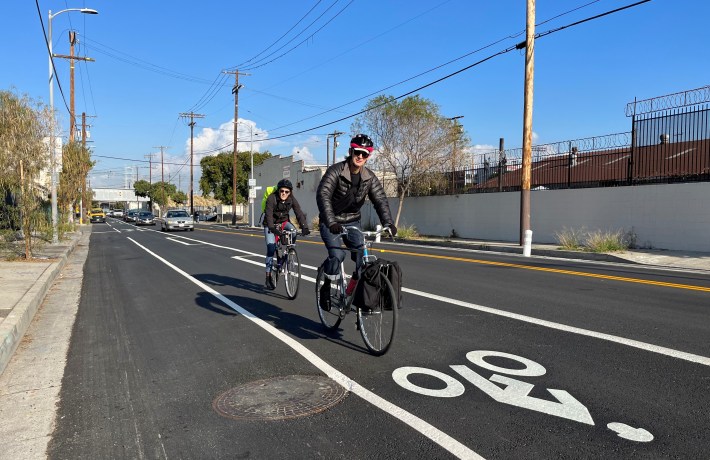 LADOT added about a mile of new bike lanes on Avenue 19 in Lincoln Heights, closing a longstanding gap between the L.A. River path and downtown Los Angeles. The caveat is that LADOT had announced that this stretch would be installed in 2019-2020 (but was apparently blocked for years by Cedillo). Some of the Avenue 19 bikeway is protected (by plastic bollards), some not. It's a good, much-needed connection, that should have been installed over a decade ago.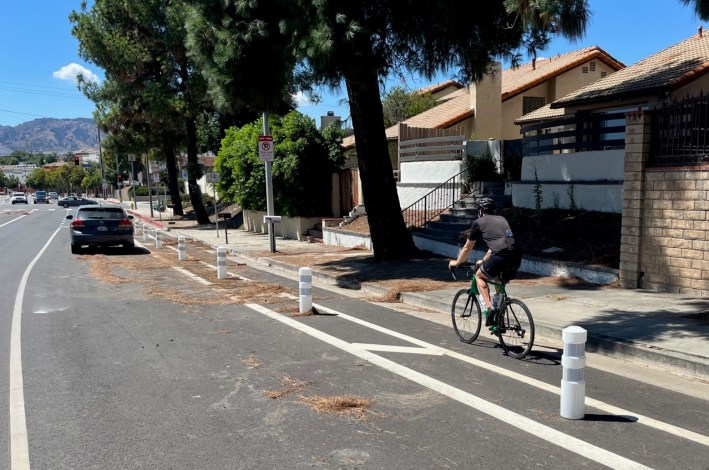 LADOT did a couple of worthwhile bikeway projects on Foothill Boulevard in hilly suburban Sylmar. These included new gap closure bike lanes and upgrading nearly two miles of unprotected lane miles to protected.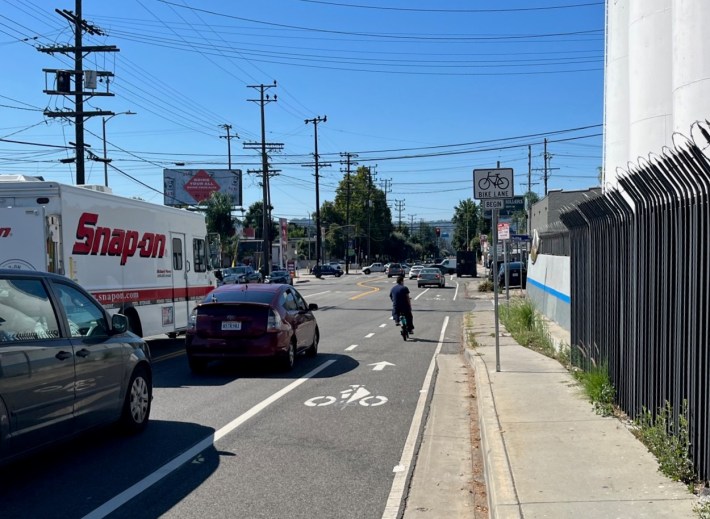 LADOT added just over a lane-mile of new unprotected bike lanes on Hazeltine Avenue, connecting to the G (Orange) Line bike path. Like several BLAST projects (see below), some announced repaving was omitted.
In Reseda/Lake Balboa, LADOT added plastic bollard protection to just under a half-mile of existing bike lane on White Oak Avenue.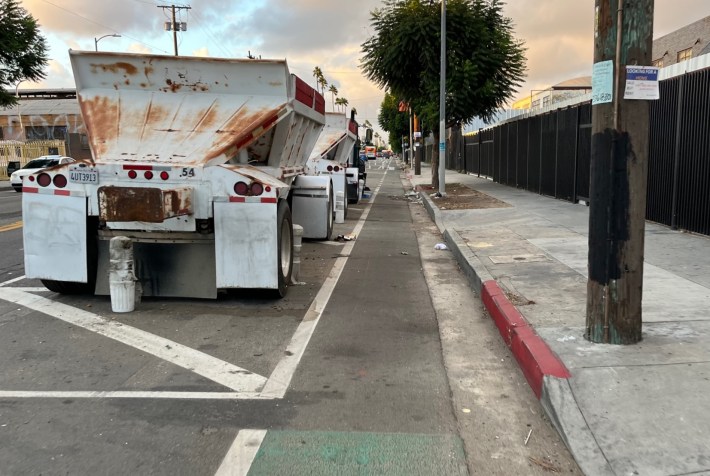 DOT upgraded a half-mile of Avalon Boulevard's bike lanes, which were installed in 2020. It would have been better if DOT had installed the parking-protection in 2020, instead of doing two projects there just a couple years apart.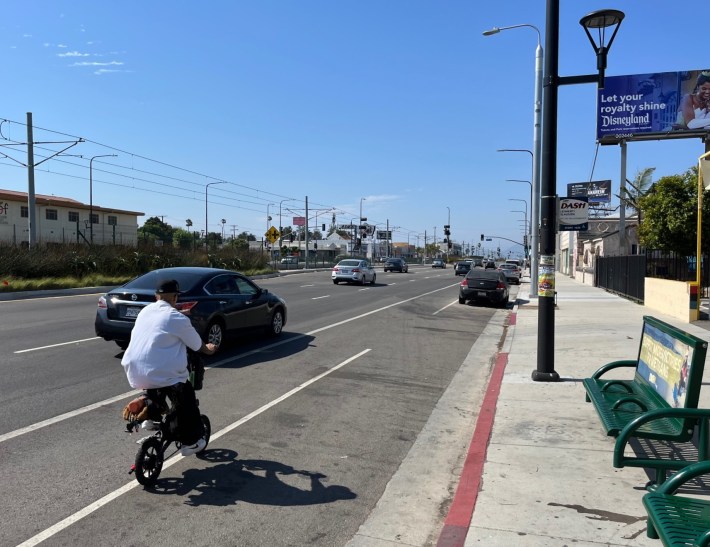 As construction wrapped up (years late) on the Metro K Line, Crenshaw Boulevard and Leimert Boulevard received about one lane mile of unprotected bike lanes. These are part of the modest Crenshaw Boulevard Streetscape Plan, which is still taking shape where construction continues on Destination Crenshaw.
The Meh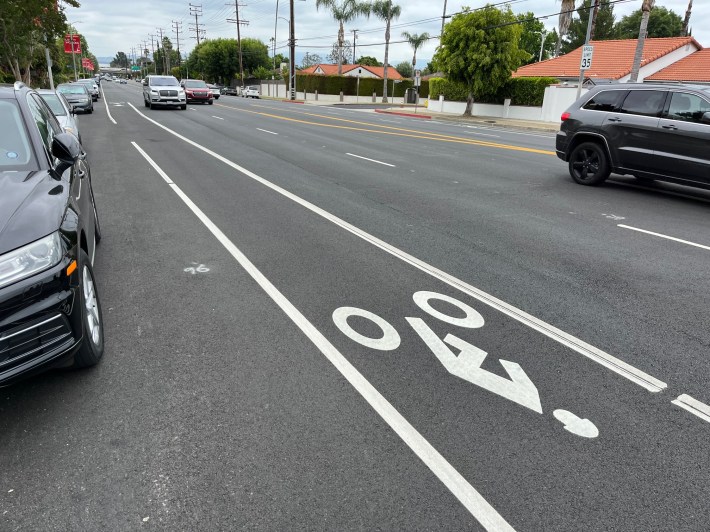 In conjunction with resurfacing, LADOT added about a lane mile of new unprotected bike lanes on Balboa Boulevard between Ventura Boulevard and Clark Street. The new lanes are good but underwhelming. The northbound lane is continuous, while the southbound lane has two gaps, one a fifth of a mile long.
LADOT added new bike lanes to a half mile of hilly suburban Chatsworth Street.
LADOT added just over a half-mile of westbound bike lane on Fountain Avenue, a street used by lots of cyclists seeking a lower stress east-west route through Hollywood. It is great that the DOT basically did something here with little to work with - but frustrating that even on smallish relatively-heavily-biked streets, so much space is still given over to driving and parking and so little to biking and walking.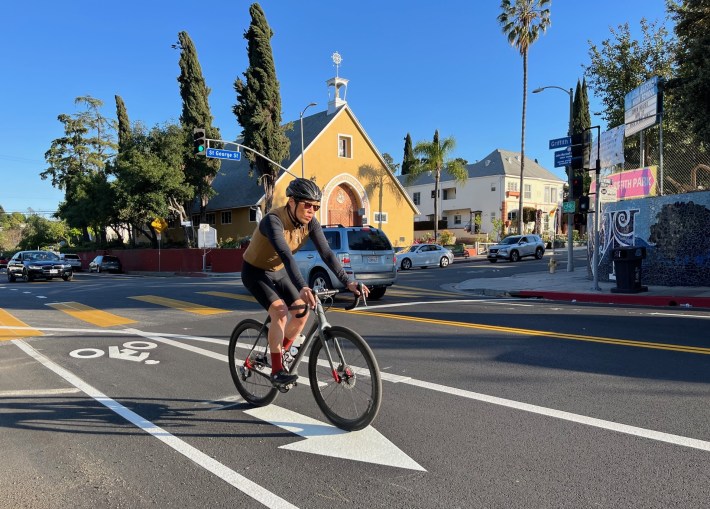 The city resurfaced Griffith Park Boulevard, restriping existing bike lanes there, including a slight upgrade (from conventional bike lane to buffered). The aging concrete street has long been a contentious bikeway battleground, where cyclists fought back a City Attorney recommendation to remove bike lanes. The smooth new roadway is great. LADOT social media claiming that the city had just added new bike lanes there, not so great.
Similar (not consequential, but a tiny upgrade) buffers were added on existing bike lanes on Platt Avenue, Temescal Canyon Road, and a block of Strathern Street.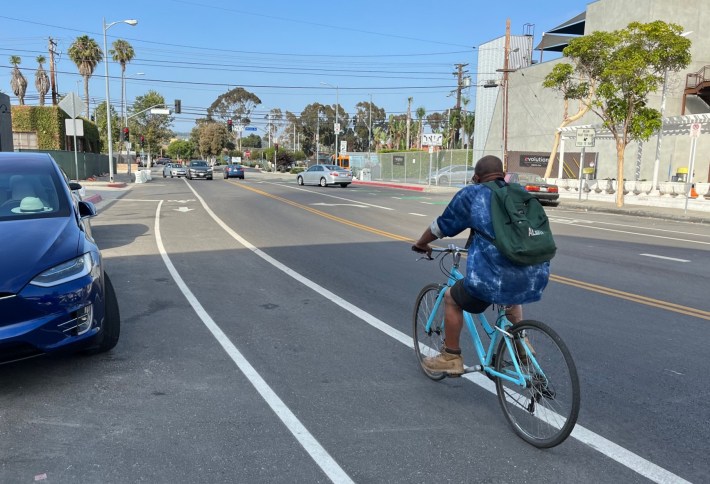 LADOT added a short stretch of unprotected bike lanes on Major Street, extending the Playa Vista bike network a block northward.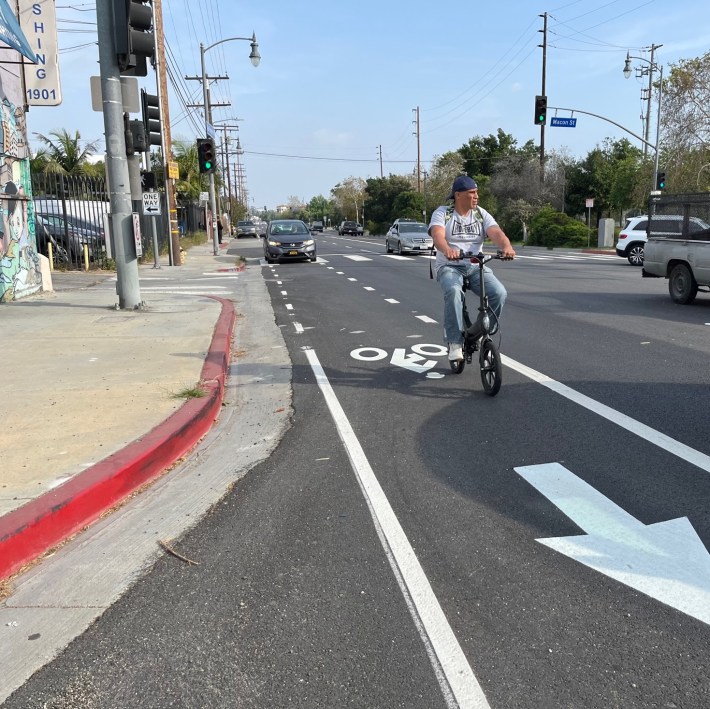 As part of resurfacing, LADOT added new bike lanes on a third of a mile of a busy stretch of San Fernando Road in Cypress Park. The new lanes end a block short of connecting to the access road to the Taylor Yard bike bridge.
Other meh LADOT FY23 upgrades: new sharrows (with speed bumps) on Wilmington Street and 42nd Street.
The Bad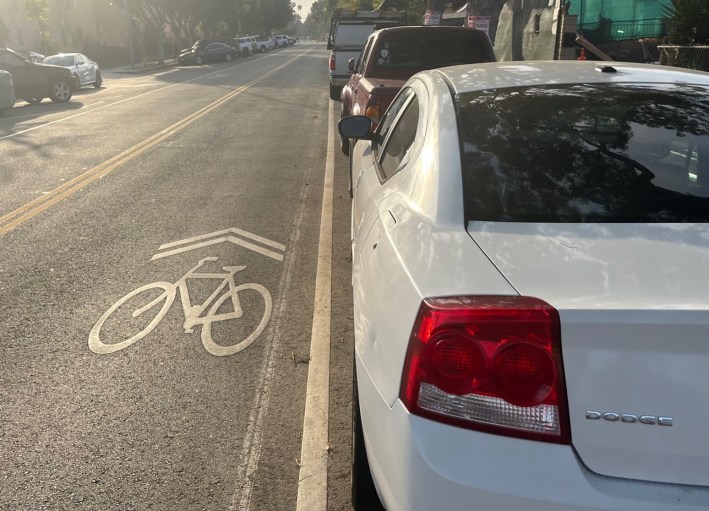 On Slauson Avenue in Del Rey, LADOT added lots of new parking and some dangerous sharrows (putting cyclists in the parked car dooring zone). DOT then proclaimed Slauson a new "bike-friendly street."
Two other dishonorable mentions (touched on above): BOE's Wilhardt Street sharrow and Metro's 2nd Street sharrows. Both of these agencies widened downtown streets, then turned around and couldn't even find enough space for basic unprotected bike lanes.
BLAST Initiative Update
In October 2022, Mayor Garcetti announced the city's BLAST initiative, which was going to repave 15 miles of city streets during FY23, implementing "precise surgical" strategic bike lanes. BLAST (Bike Lane Acceleration and Safety Team) is a joint program of LADOT and the city Bureau of Street Services (StreetsLA).
SBLA reported on BLAST progress as of early June, when the initiative had resulted in four solid bikeway projects (Anaheim Street, Avenue 19, Central and San Vicente - all listed above under "The Good") and four small traffic circles. The city later added one more bikeway (Hazeltine - see above).
Overall, BLAST didn't live up to its early hype. Only about a third of the announced repaving (5 of 15 miles) was completed. The repaving shortfall was especially bad in Watts, where BLAST pledged to repave significant mileage on six streets but only delivered about half of one. (See details at SBLA BLAST spreadsheet.)
BLAST didn't quantify total bikeway mileage, but what looked like a dozen-plus miles of bikeway improvements ended up installing 8.4 miles.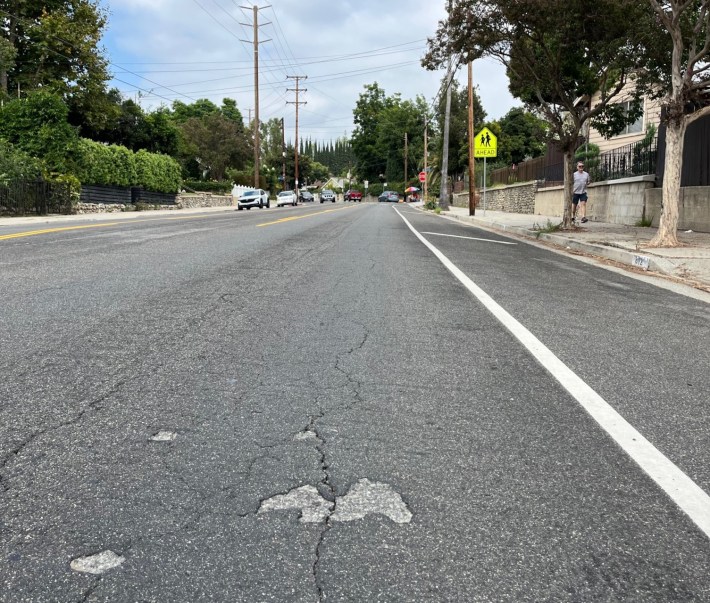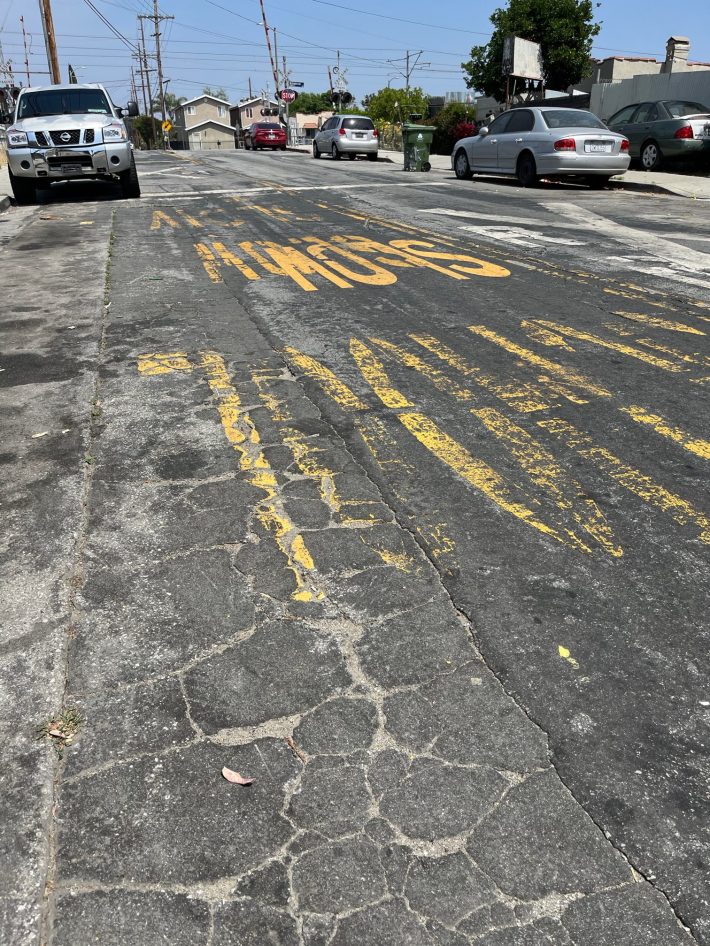 Last month, SBLA emailed LADOT questions about BLAST (are announced projects and paving still underway? Will BLAST continue in the current fiscal year?) but did not receive a response by press time.
Like too much in this year's bikeway mileage, the idea behind BLAST - interdepartmental coordination to install more and better safety features - is promising, but the end results are incomplete and disappointing. The city still needs better coordination between departments working together for safer streets.
Stay in touch
Sign up for our free newsletter