bicycle lanes
Friday Newsbits: Bike Lanes and Metro Rail Service/Ridership
4:41 PM PDT on March 17, 2023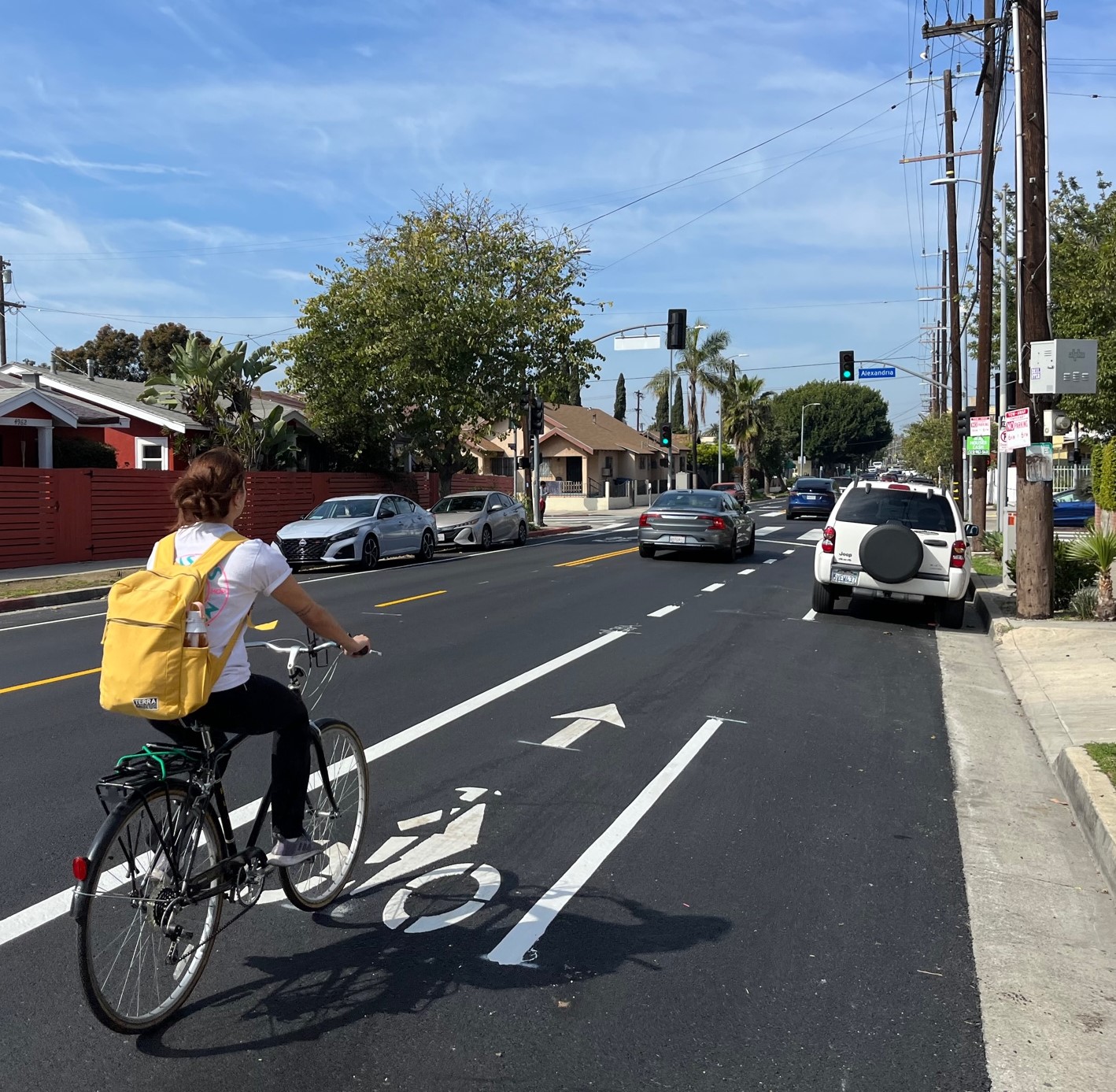 For your very own Friday enjoyment, a few news briefs!
Metro Rail Service Restoration Lagging Well Behind Bus
Streetsblog has covered Metro's struggle to restore bus service to pre-pandemic levels. After about a year of false starts, Metro stepped up operator hiring and, as of December, is running bus service at pre-COVID levels. Canceled bus runs are a bit worse today (2-3 percent) than they were before (1 percent), though even cancelations are trending in a positive direction. Slowly and steadily, Metro bus ridership is rebounding; it is currently at 77 percent of pre-pandemic levels.
All that is important good news. Buses carry 70-80 percent of Metro's current daily ridership. The agency appropriately focused resources to fully restore bus service. Kudos to hard working Metro operators, staff, and leadership - especially CEO Stephanie Wiggins.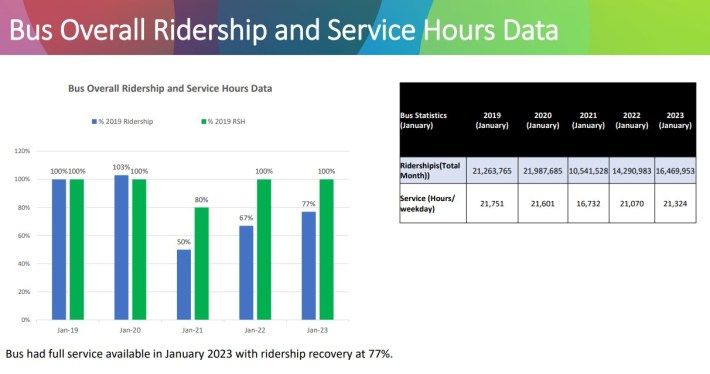 Then there's the rail system.
A Metro presentation this week, ostensibly about crime on the transit system, revealed a lot about lagging Metro rail service. Where bus service is at 100 percent of 2019 levels, overall rail service is only at 84 percent. Rail ridership, though slowly increasing (recovering from a 70 percent dip at the start of the pandemic), is only at 51 percent of 2019 boardings.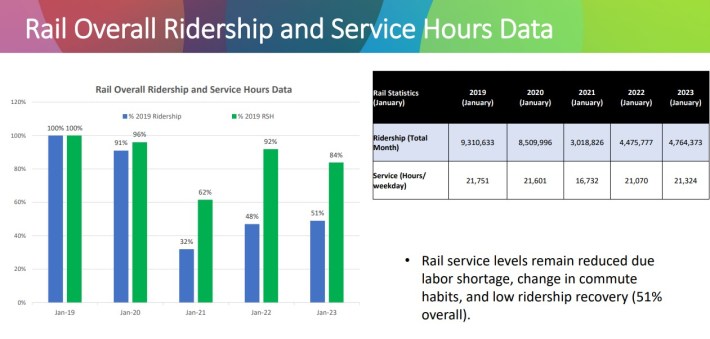 Metro's presentation quantifies current service and ridership on each Metro rail line: (percentages are compared to 2019)
A (Blue) Line - ridership is at 53 percent, with service at 83 percent
B/D (Red/Purple) Lines - ridership is at 59 percent, with service at 82 percent
C (Green) Line - ridership is at 53 percent, with service at 79 percent
E (Expo) Line - ridership is at 43 percent, with service at 78 percent
L (Gold) Line - ridership is at 33 percent, with service at 92 percent
Some media have blamed lower ridership on drug usage and crime. Metro has tended to attribute lower ridership to changing "commute habits" (more remote work). While many interconnected factors influence ridership, this week's presentation seems to point to poor levels of service influencing boardings. And service frequency is something squarely within Metro's control.
See the full report and SBLA's Twitter summary thread.
New Fountain Avenue Bike Lane
The L.A. City Transportation Department (LADOT) has added a new bike lane to Fountain Avenue in East Hollywood, in the city's 13th Council District represented by Councilmember Hugo Soto-Martinez.
And that is bike lane - singular - not plural. The new lane goes westbound 0.6-mile from Vermont Avenue to Kingsley Drive (south). Eastbound Fountain still has sharrows.
Fountain was the site of the city's very first sharrow markings, back in 2010. They were a wimpy treatment back then, too. The street has long been a city-designated bike route, and was famously touted as a smaller alternative to avoid the nearby larger and more congested parallel arterials of Hollywood and Sunset Boulevards. Relatively flat and less trafficked, Fountain does see plenty of bicyclists.
The new bike lane is welcome - and does make riding Fountain safer - but it's more one of those put-what-fits-without-taking-space-from-drivers facilities than a make-bicycling-really-safe-and-comfortable one.
A few miles west, the city of West Hollywood is planning significantly more substantial bikeway upgrades for Fountain: a quick-build protected bike lanes pilot demonstration for the entire portion through the city, 1.8 miles from La Cienega Boulevard to La Brea. The WeHo pilot includes reallocating two current car lanes and some parking on one side. The city council approved the project last November. The final contract and scope are expected to be approved by the council in the next couple months.
More L.A. Bike Lane Updates
In other asymmetric bikeway news, LADOT added plastic bollards to protect the existing northbound bike lane on White Oak Avenue in Reseda, just north of the Sepulveda Basin. The newly protected lane extends four-tenths of a mile between Victory Boulevard and Welby Way.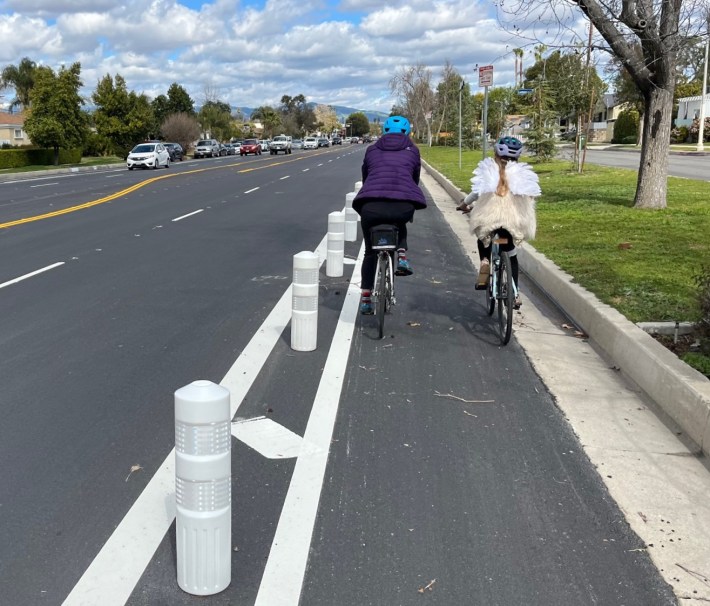 A couple of Twitter users have spotted preliminary bike lane markings on San Fernando Road in L.A.'s Cypress Park neighborhood, next to Rio de Los Angeles State Park. These bike lanes were approved in the city's 2015 Mobility Plan, but were not implemented until pro-bike City Councilmember Eunisses Hernandez unseated the prior strongly anti-bike councilmember.
Stay in touch
Sign up for our free newsletter