Bureau of Engineering - LADPW
It's 2023 and L.A. City Is Still Widening Lots of Roads
L.A. City street widening is expensive, and adversely impacts safety, health, climate, air, water, noise, housing, historic preservation, and more.
10:58 AM PDT on August 25, 2023
Some folks out there may be under the mistaken impression that Los Angeles is not really widening roads any more. Though widening roads is counterproductive in many ways, it has long been and continues to be an incessant L.A. City practice.
Streets for All founder Michael Schneider terms L.A. City road widening "the opposite of fighting climate change," noting that "widening streets induces more driving, meaning more pollution burden locally and more greenhouse emissions further harming the climate." Widening is expensive, and adversely impacts safety, health, climate, air, water, noise, housing, historic preservation, and more.
For many streets, the city requires that properties automatically dedicate more and more space to cars every time new buildings are built. Hundreds of miles of street widening are specified in the city's Mobility Plan. Much of the city's roadway expansion comes in the form of "spot widening," meaning short widenings intended to, over the course of decades or more, gradually add up to longer segments.
In most cases widening is difficult to track, because it is a small component of numerous larger projects: new housing, retail, or public facilities including parks, libraries, subways, etc. In some cases, the city (mainly the city Public Works Department Bureau of Engineering) is proactively widening streets, often using city general funds.
Below is a list of some current L.A. City road widening projects that SBLA has come across. It is unlikely that this list is near comprehensive. (Neighborhood, City Council District (CD), Councilmembers and available cost estimates are included.)
Alameda Street (North) - $35 million - Wilmington - CD15 Tim McOsker

Alameda Street. (South) - $42 million - Wilmington - CD15 McOsker

Anaheim Street - $5.4 million - Wilmington - CD15 McOsker

Arleta Avenue - $2.4 million - Sun Valley - CD6 Imelda Padilla

Balboa Boulevard - $2.3 million - North Hills - CD12 John Lee

Glendale Hyperion Bridge - $62.7+ million - Los Feliz, Atwater Village - CDs 4 and 13, Nithya Raman and Hugo Soto-Martinez

Maclay Street - $1.7 million - Sylmar - CD6 Monica Rodriguez

Olympic Boulevard - $2.6 million - downtown - CD14 Kevin de León

Plummer Street - Chatsworth - CD12 Lee

Regional Connector station streets - downtown - CD14 de León

San Fernando Road - $2.5 million - Granada Hills - CD12 Lee

Soto Street - $40 million - Lincoln Heights - CD14 de León

State Street - $9.9 million - Boyle Heights - CD14 de León

Strathern Street - $0.9 million - Panorama City - CD6 Padilla

Zelzah Avenue - $11 million - Granada Hills - CD12 Lee
Additional project-specific details are below:
Alameda St. (North)
The city plans to widen Alameda Street for 0.7 miles from Anaheim Street to near Pacific Coast Highway. The project would increasing the number of lanes from four to six.
Alameda Street (South)
The city plans to use port and Metro funding to widen a mile-long stretch of Alameda Street from Harry Bridges Boulevard to Anaheim Street. The city would purchase additional right-of-way (from adjacent port and/or rail) to widen the current 60-plus-foot-wide street by an additional 17 feet, expanding it from four to six lanes.
Anaheim Street
The city plans to use Metro funds to widen Anaheim Street for 0.3 miles from Farragut Avenue to the Dominguez Channel. The project widens Anaheim from 78 to 84 feet, increasing lanes from four to six.
Arleta Avenue
The city is currently under construction [photo at top] to widen Arleta Avenue between Sheldon and Wicks Streets. The existing 60-foot-wide street is being widened to about 70 feet.
The widening is part of Sheldon Arleta Park Street Improvements, managed by L.A.'s Bureau of Engineering. The one-page environmental documentation notes that the project includes "addition of local acceleration/deceleration lanes and left turn lane for improved vehicle and cyclist safety." (The cyclist safety claim is dubious.)
Future project phases also include "improving" (not entirely clear, but these each "construct lanes" so they all appear to include widening) Sharp Avenue ($1.1 million), Sheldon Street ($2.7 million), Wicks Street ($1.7 million).
The widenings add more impermeable surface surrounding a park site designed to infiltrate rainwater. The Arleta Avenue widening is directly across the street from Byrd Middle School, and adjacent to Polytechnic High School.
Balboa Boulevard
This project, apparently just starting construction, widens the east side of Balboa Boulevard for ~0.1 mile south of Devonshire Street. The city will narrow the existing sidewalk in order to widen Balboa, adding one more left-turn lane (making double left turn lanes), both north- and southbound.
Glendale Hyperion Bridge
The city has planned a major retrofit of the Glendale Hyperion Bridge, which is actually a complex consisting of a half-dozen interconnected bridges. The main Hyperion Avenue span widening appears to be mostly allocated to adding space for new bike lanes (at the expense of some sidewalk space). In other parts of the project, there appears to be additional road widening for increased car capacity, apparently including widening of the adjacent 5 Freeway ramps and Glendale Boulevard spans.
For years, safe streets advocates pushed for full pedestrian accommodations, full protected bike lanes, fewer lanes for driving, and less widening. The city agreed to good (by 2015 standards) bikeway accommodations, but the project remains mostly car-centric and pedestrian-deficient.
Maclay Street
The city plans to use general funds to widen the relatively low-volume exurban Maclay Street at a pinch point at Gladstone Avenue. The 45-foot, three-lane roadway would expand to ~62 feet, with five car lanes.
Olympic Boulevard
The city recently wrapped up construction that widened an industrial downtown stretch of Olympic Boulevard between Mateo Street and Santa Fe Avenue.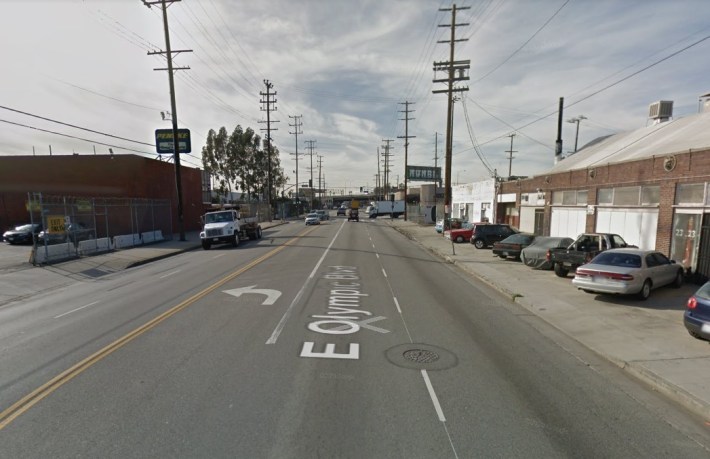 Ignoring bike lanes approved (in the city Mobility Plan) on this High-Injury Network segment, the city opted to expand car lanes from five to six, adding a new right turn lane "to improve freeway access." This part of downtown was already uncomfortable and dangerous for walking and biking, and the city has managed to make it worse.
Plummer Street
At the residential/wilderness western edge of Chatsworth, the city is mandating the removal of four mature wild oak trees in order to widen Plummer Street - less than 500 feet before its terminus.
Regional Connector streets
As part of Metro Regional Connector subway construction, the city required Metro to widen various streets around stations. These included parts of Alameda Street, 1st Street, 2nd Place, 2nd Street, Flower Street, Hope Street, and Temple Street. In some places, Metro street widening, approved (or perhaps initiated?) by the city, was in excess of city street standards.
Advocates, including Streets for All, are currently pushing for Metro and the city to fix the missing bike and walk components before Metro closes out current Regional Connector (and related Eastside Access Improvements) construction.
San Fernando Road
L.A. City's San Fernando Road Widening at Balboa Road/Boulevard is located at the west end of Sylmar, near the aqueduct cascades.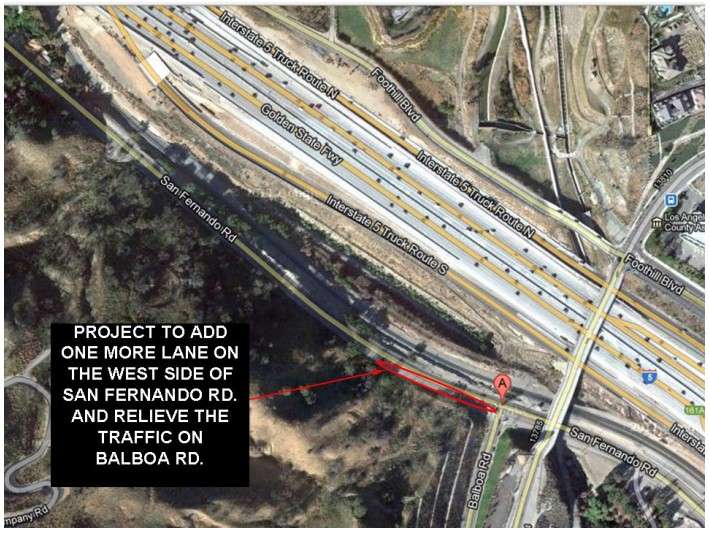 San Fernando Road there is essentially one of two frontage roads paralleling ~18 lanes of the 5 Freeway. But those aren't quite enough lanes for drivers, so the city plans to expand four-lane San Fernando to five lanes.
Soto Street
Streetsblog is planning separate future coverage of the city's Soto Street bridge ($17 million) and roadway ($23 million) widening projects.
State Street
The city is planning to widen the State Street Bridge over the El Monte Busway and rail tracks. The ~50-foot wide bridge would be widened to 78
feet. The project does not currently include (but would tee up) widening the immediately adjacent State Street Bridge over the 10 Freeway.
Strathern Avenue
The city plans to use general fund money to widen one narrow block of Strathern Avenue between Ventura Canyon Avenue and Allott Avenue. The existing 25-foot roadway would be expanded to 36 feet. The project adds missing sidewalks.
Zelzah Avenue
The city plans to widen hilly semi-rural Zelzah Avenue between Ridgeway Road and Newcastle Avenue in Granada Hills, including acquiring additional right-of-way from adjacent property owners.
What next?
The bad news is that the city is spending hundreds of millions of dollars widening streets.
The good news is that, for more than a decade, the city has been slowly backing off of some of the worst excesses of its ubiquitous widening.
Some city plans (Downtown Street Standards, Mobility Plan) curtailed some widening.
Some city councilmembers have canceled individual widening projects. Councilmember Raman rescoped a planned city street widening project in Studio City to instead prioritize safety and environmental benefits. Councilmember Paul Krekorian, under community pressure, canceled widenings in city projects on Burbank Boulevard and Magnolia Boulevard.
Similar to Raman and Krekorian rescoping those projects, the city needs to take a hard look at the dozen-plus projects outlined above (and other widening projects that SBLA missed) and rescope them - to save money and to better align with current safety, mobility, and climate goals.
There is also a broader legislative effort afoot. In March the City Council approved a motion (council file 22-1476) to end spot-widening. The motion, by Councilmembers Raman, Bob Blumenfield, and Mike Bonin, directed city departments to return to the council in sixty days with specific process/regulation changes to put in place to end spot widening. That city department reportback is now more than two months overdue.
Meanwhile, the city keeps widening, widening, widening.
Stay in touch
Sign up for our free newsletter