Hyperion
Who Do We Blame for the Next Death on the Glendale-Hyperion Bridge?
3:50 PM PDT on June 9, 2015
In a unanimous 11-0 vote, the Los Angeles City Council approved the city Bureau of Engineering's (BOE) single-sidewalk pedestrian-killer design for the Glendale-Hyperion Bridge. Though the item was not approved at the Public Works Committee last week, the City Council approved the item today with no public comment, after brief misleading characterizations by Councilmembers Tom LaBonge and Mitch O'Farrell.
Non-profits, including Los Angeles Walks, Neighborhood Council representatives, cyclists, and others in attendance who had intended to speak against the project were not allowed to address the Council. Some Atwater Village neighborhood representatives who had come to speak in favor of the sidewalk-deficient design were also denied the opportunity to offer public testimony. Some of the walkability-livability proponents testified during general public comment but, by then, the City Council had already approved the item.
Bridge safety advocates now have 30 days to challenge the city's adoption of the environmental studies, called an IS/MND - Initial Study / Mitigated Negative Declaration. Advocates are discussing the possibility of a legal challenge. If the project isn't stopped in court, the city will spend about two years on final designs, then will bid and construct the retrograde facility.
The crosswalk omission anticipates that people will walk up to half a mile out of their way to get to destinations. As occurs all over the world, it is predictable that pedestrians will ignore poor design, and will attempt to walk shorter routes. In this case, the city's design will push pedestrians into the way of multiple lanes of oncoming traffic.
When the next pedestrian is killed on the Glendale-Hyperion Bridge, whom should we blame?
It is tempting to just blame a system that favors driving over walking but, in this case, I am going to name the names of people who had a chance to make this bridge safer, and failed to do so.
Let's start with the deceptive and unprofessional Bureau of Engineering Bridge Program engineers, Shirley Lau and James Treadaway. These engineers have succumbed to fiscal pressures to build costly, unneeded, and unsafe bridge projects. These engineers hide behind the language of not complying with "current design standards" to push projects that endanger all Angelenos. These wrongheaded bridge projects destroy the city's cultural and engineering heritage in order to move car traffic at unsafe speeds. Bridge Program staff misrepresent the funding situation using suggestive language to create a false urgency over losing funds. Whenever the city contacts Caltrans to reschedule funding, Caltrans complies. The Bridge Program has never lost a penny by delaying an active project, yet BOE documents assert "further delays may result in loss of funds."
BOE's consultants also will share the blame for the next pedestrian death. There is a great deal of federal funding bearing down on agencies to make work on their bridges. The consultants crunch the numbers to generate as much make-work construction as possible, then secure lucrative contracts so they can pig out at the bridge desecration trough. BOE's consultants on Glendale-Hyperion are Psomas; among Psomas' staff enabling the city's unsafe design are engineers Anissa Voyiatzes, Alejandro Angel, and Arief Naftali.
Bridge program staff and consultants are unprofessional in playing fast and loose with already-biased traffic studies. The traffic studies use the discredited, wholly car-centric "Level of Service" metric. These are rigged exercises weighted to favor wider roads and faster speeds. Even under these backward-looking metrics, the city's traffic studies show that there are no "significant" congestion issues in temporarily closing a car lane during construction, hence no full Environmental Impact Report (EIR) is needed, and the city can get by with the simpler IS/MND. Though car traffic on the bridge has declined over the past 10 years, project engineers predict massive growth in driving through 2040 (despite declining vehicle miles driven), then conclude that eliminating a car lane (in favor of full sidewalks) is environmentally not feasible. Even with all the car-car-car-car metrics, consultant studies showed that a 3-lane option outperformed the current configuration in terms of delays to drivers.
BOE staff serve under departmental leadership. City Engineer Gary Lee Moore, ironically on a bike infrastructure tour of Denmark cities today, and Chief Deputy City Engineer Deborah Weintraub did not initiate this project, but they let it proceed under their watch.
The city's Board of Public Works, Kevin James, Monica Rodriguez, Matt Szabo, Michael Davis, and Heather Repenning voted to accept the BOE's IS/MND.
The City Council's Public Works Committee, Joe Buscaino and Curren Price, held their noses and passed the item along to City Council, knowing full well that this all but guaranteed its approval.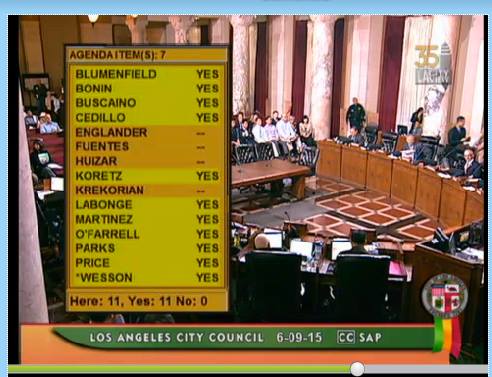 Today, the Los Angeles City Council voted unanimously in favor of the project. Councilmembers Bob Blumenfield, Mike Bonin, Joe Buscaino, Gil Cedillo, Paul Koretz, Nury Martinez, Bernard Parks, Curren Price, and Herb Wesson all voted to approve, deferring to project proponents Mitch O'Farrell and Tom LaBonge. This is typical - councilmembers almost never overstep their jurisdictions to block a project located in another district.
Above the fray, but also squarely responsible for the department heads and commissioners he names, Mayor Eric Garcetti failed to intervene to keep pedestrians safe, despite his stated livability and sustainability goals.
Stay in touch
Sign up for our free newsletter