SGV
Alhambra's Bike & Ped Safety Plan Calls for 50 Miles of New Bike Lanes
The plan also outlines several pedestrian priority zones, with features to enhance street safety.
12:41 PM PST on November 14, 2023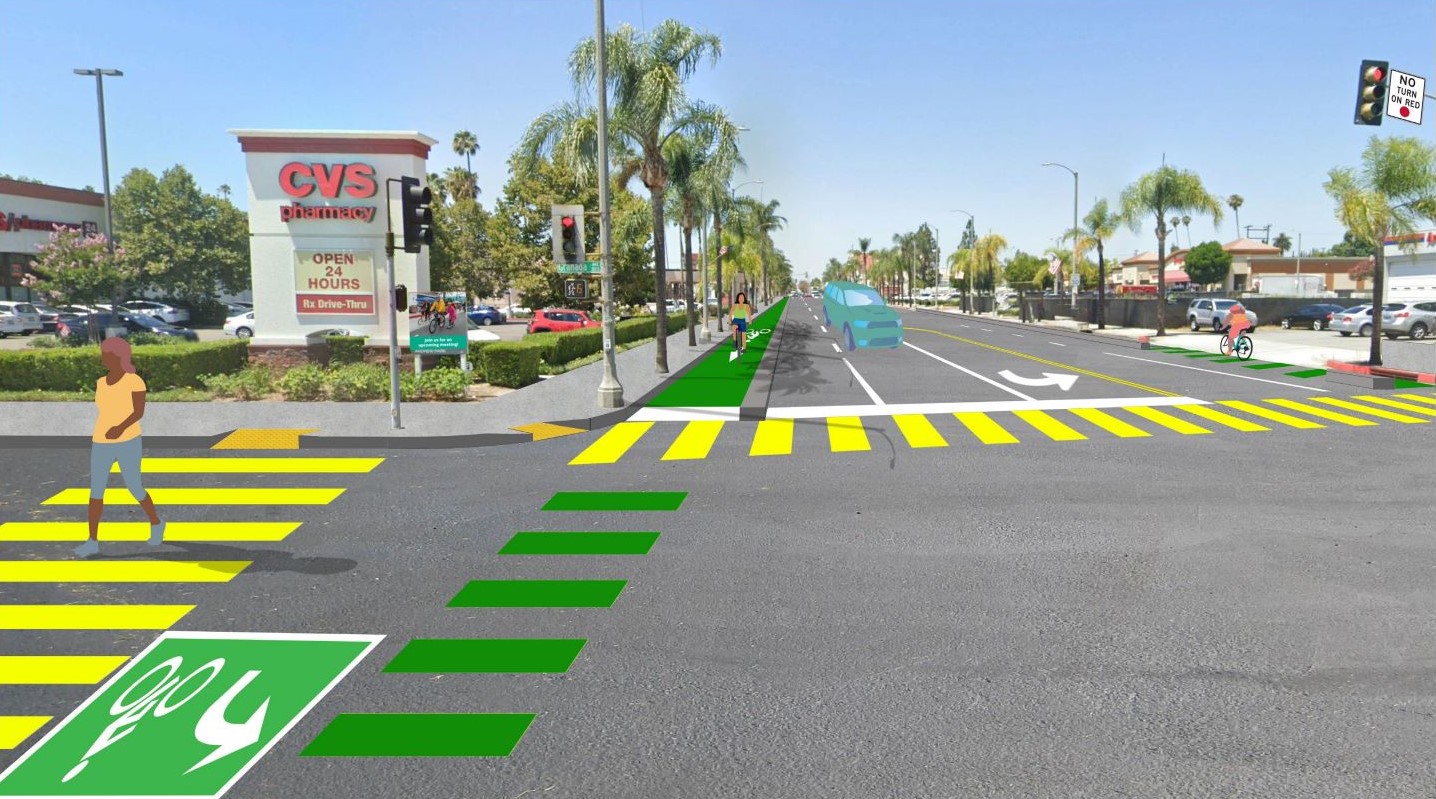 After a year in development, designs and maps for Alhambra's Pedestrian and Bike Safety Plan have finally been revealed. The plan - named Walk, Bike, Move Alhambra! - was devised by Alta Planning + Design. It prescribes large Pedestrian Priority Zones that cover much of the city, and just over 50 miles of new bike lane network. Interested stakeholders can attend Alhambra walk/bike plan input meetings this week - details at end of this post.
The cost estimate for the Pedestrian Priority Zones improvements total about $19.6 million, and for implementing the bike plan it's between $20 and $32 million. 
The city of Alhambra applied for Metro funding for building the backbone network, but did not receive the award, and will continue to pursue grants from Metro and California's Active Transportation Program.
When the plan was first presented to the city in late October, Councilmember Jeffrey K. Maloney said, "This is not about being cute and green and having nice places where we can ride our bike; this is actually protecting lives, preventing deaths and serious injuries of members of our community, our families."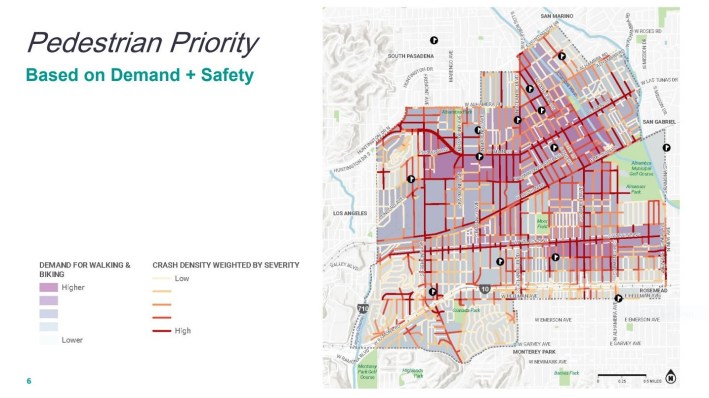 The Pedestrian Priority Zones were drawn based on survey input and collision data. In recent years (2017, 2018), Alhambra has not been rated well for pedestrian safety by the California Office of Transportation Safety. A mix of high visibility crosswalks, flashing beacons, leading pedestrian intervals, curb extensions, protective landscaping, and traffic circles should make a noticeable difference for Alhambrans.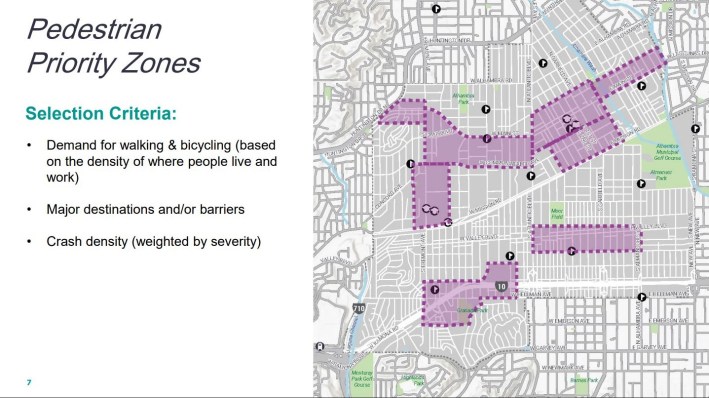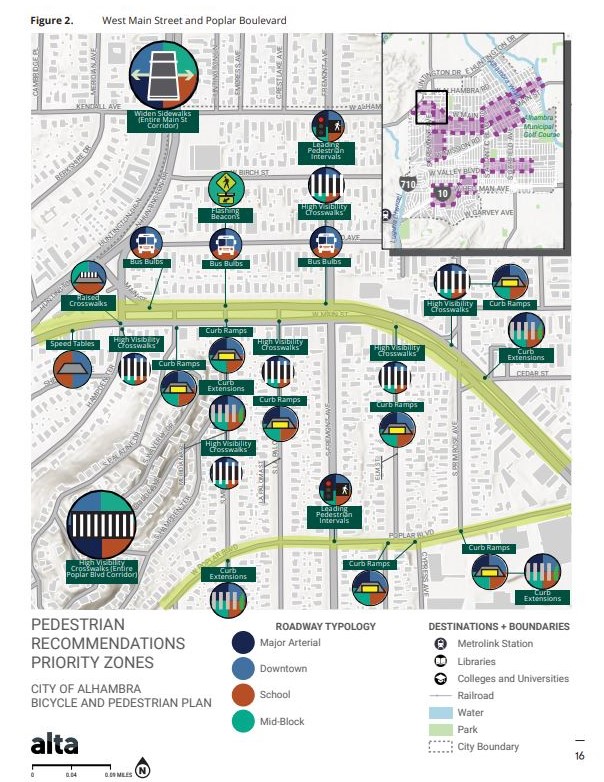 City Council responded positively to the plan. Vice Mayor Sasha Renée Pérez applauded the inclusion of a Pedestrian Priority Zone in her district, "In the south end, I'm very happy to see Fremont [Avenue] called out... In particular, the Granada Park area. I recognize that it's easier to create Pedestrian Priority Zones up in the north end of Alhambra because you don't have a massive freeway in the middle of the area." See the purple zone lowest on the map above; activists have drawn attention before to the chaotic traffic along a walking route to and from Fremont Elementary.
Councilmember Adele Andrade-Stadler also added a suggestion to the plan. "I've seen in some areas where they do not allow a right and a right turn on a red light," said Andrade-Stadler. "And I think there's critical spots, especially on Fremont Ave., where a right turn on a red light, when you don't see a pedestrian crossing or they jump out in front of you, is probably the reason people are getting hit."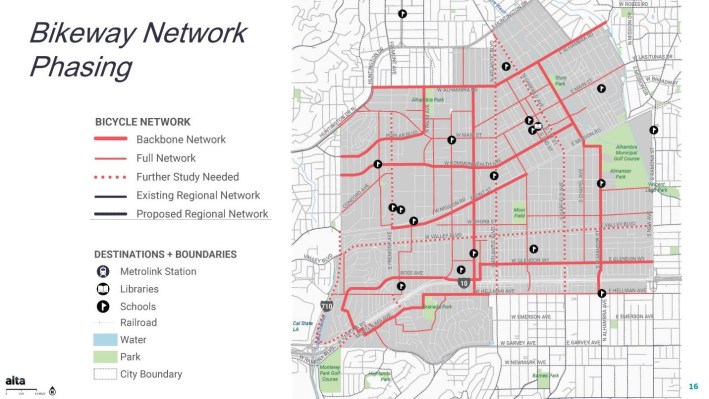 Now to the bike plan, and its phasing. "We start off with a backbone network, which is really the framework, and those are streets that we identified with city staff as being somewhat relatively easy to implement, possibly requiring fewer trade-offs as far as removing parking or travel lanes," said Ryan Johnson, Planning Associate for Alta, "but they also touch all quadrants of the city."
Johnson said this 17 mile backbone network – portrayed above with the thick red lines – would be the priority for grant funding first. That would then be filled in with another 22 miles in the second phase – the thin red lines – to ensure connectivity between the city's boundaries.
"And then the third layer, those are the long term streets that are going to require much further study: Valley Boulevard, Garfield Avenue, Atlantic Boulevard, and Fremont Avenue," said Johnson, referring to the 11 miles of dotted red lines on the map. "They're heavily traveled with lots of automobile trips. But we're also hearing from the community that there's a desire to have bicycling facilities on these major corridors. That's where the destinations are."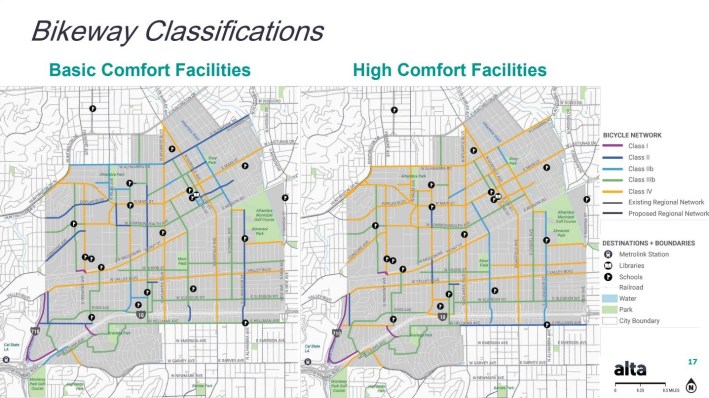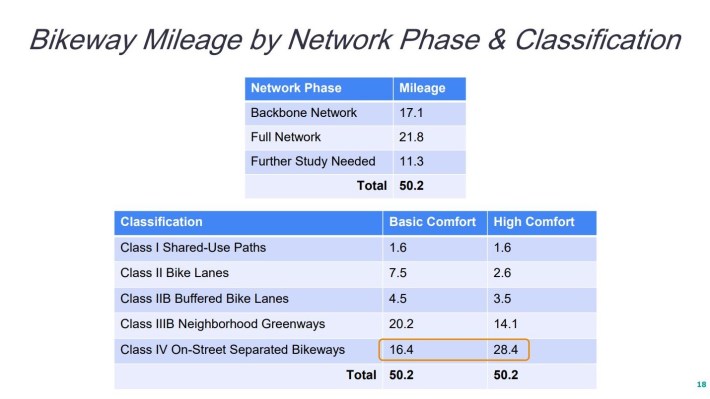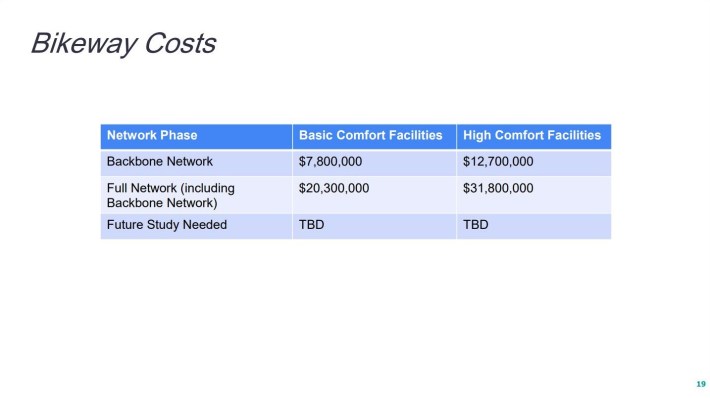 There are two sequential concepts for the bike facilities: Basic Comfort and High Comfort. 
The Basic Comfort concept is an initial phase that could be accomplished sooner and more cheaply. Basic facilities include unprotected bike lanes and neighborhood greenways (sometimes called bike boulevards): bike routes on relatively quiet streets prioritizing biking and walking by featuring a mix of sharrows and traffic calming elements like speed tables, chicanes, bulb-outs, and traffic circles. 
The more expensive High Comfort concept would provide more protected bikeways with physical barriers from vehicles, but this concept is meant to evolve from the Basic Comfort concept when there is "more funding and appetite," according to Johnson.
Below is a look at how a street could evolve from existing conditions, to Basic Comfort facilities, to High Comfort. Note that these cross-sections don't depict a Neighborhood Greenway but rather on-roadway protected bike lanes on Almansor Street. "In this case, the lanes are wide enough to where you could stripe in bike lanes today," said Johnson.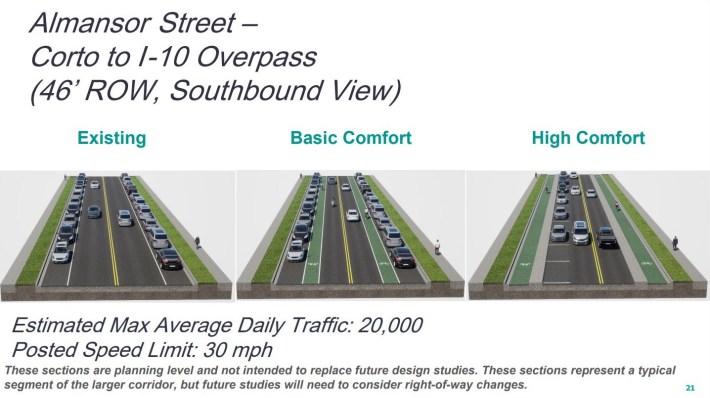 Below is a rendering of proposed intersection upgrades from the bike plan. This is a long term concept for Main Street and Granada Avenue, near the city's eastern border with San Gabriel. Safety features would include bike lanes with concrete curb protection and conflict striping, high visibility crosswalks with leading pedestrian intervals, and No Right on Red restrictions.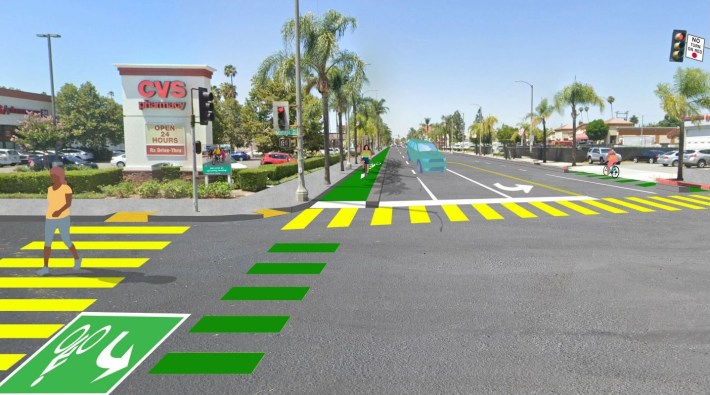 At the city hall presentation and at a public workshop on November 7, resident response to these concepts was fairly positive, but a few concerns were raised. One Alhambra resident (who requested SBLA not use his name) pointed out that the Basic Comfort concepts presented like the one for Almansor (shown above) don't go far enough. 
"A lot of them seem to create this bike lane that's in the door zone," said the resident. "Even though there is a bikeway there, it's still in a very dangerous position. Because it's possible that someone opens a door, hits a biker, they get thrown kind of onto the roadway. Is there a way or reason why we can't flip the order?"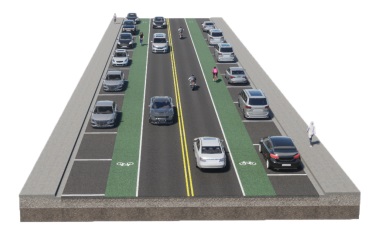 That's what's shown in the numerous High Comfort concepts, with physical curb protection to boot, but that could be years away. Johnson noted the resident's concern, adding that the layout of facilities would depend on right-of-way space on a given street. "I definitely understand that concern, as a rider myself," he said. "That's one of the least comfortable positions to be in."
Alhambra resident and API Forward Movement's Sustainable SGV Program Manager Je-Show Yang urged council to do two things with this project: remove more vehicle lanes, and consider reallocating funding from the proposed widening of Fremont Avenue and its on-/off-ramps at the 10 Freeway. 
"I know that securing funding for active transportation projects is quite challenging. The Express Lane Grant was not allowed for the city of Alhambra. And in order to get funding for implementation, often it takes piecemeal grants," said Yang. "So my thought is that if we were to consider utilizing the funds for the freeway ramp project next to school – which I think would allow more cars that might come through our community – why not have it implement the whole active transportation plan, where we don't have to do that piecemeal?"
Johnson from Alta said funding will continue to be pursued so that demonstrations can be built along the backbone network on the easiest-to-modify "low hanging fruit streets first."
The hopeful adoption date for Walk, Bike, Move Alhambra! is January 2024, but in the meantime, Johnson said there are policy changes that City Council should look at, specifically referring to city code on speed humps and wayfinding signs for multi-modal road users. "We also will look at policies that could encourage more bike parking provisions and new developments, including for electric bikes, which need a higher level of security and charging infrastructure." 
There are still opportunities for public input this week:
Tomorrow, Wednesday 11/15 there will be a virtual town hall with Councilmember Katherine Lee from 6 to 7 p.m.
Thursday 11/16 there will be an in-person workshop at Civic Center Library from 4 to 6 p.m.
And also on Thursday 11/16 there will be a virtual town hall with Councilmember Adele Andrade-Stadler from 7 to 8 p.m.
Register for these meetings via links at Alhambra webpage.
Streetsblog's San Gabriel Valley coverage is supported by Foothill Transit, offering car-free travel throughout the San Gabriel Valley with connections to the Gold Line Stations across the Foothills and Commuter Express lines traveling into the heart of downtown L.A. To plan your trip, visit Foothill Transit. "Foothill Transit. Going Good Places."Sign-up for our SGV Connect Newsletter, coming to your inbox on Fridays!
Chris is the San Gabriel Valley Reporter for Streetsblog LA and co-host for SGV Connect. He's been a La Puente native since 1991, and a radio journalist since 2014. He hosts the podcast SGV Weekly.
Read More:
Stay in touch
Sign up for our free newsletter