Car Congestion
Alhambrans Urge City Council Not to Widen Fremont Avenue and its Off-Ramps
11:37 AM PDT on May 16, 2023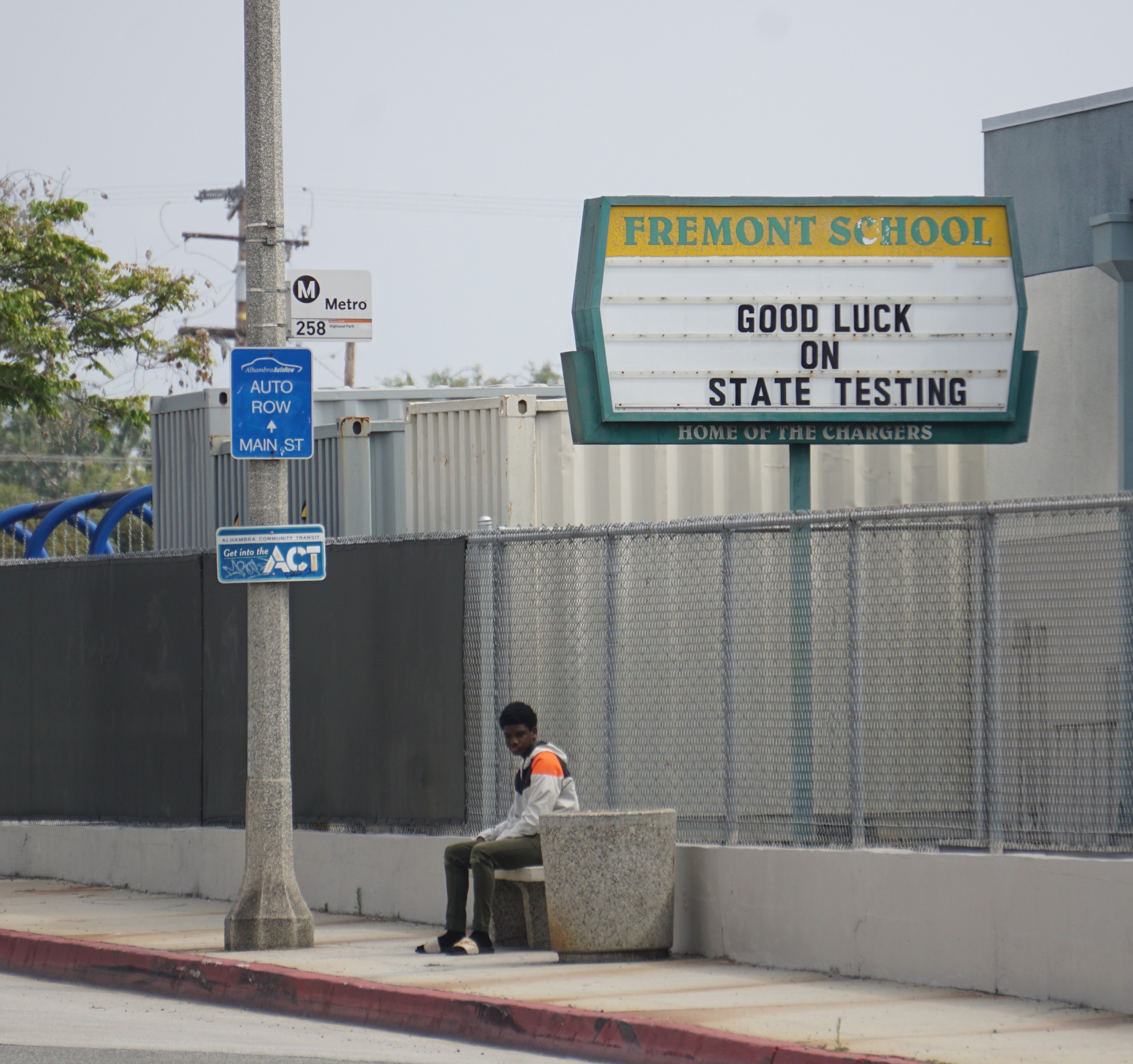 Residents and activists took to Alhambra City Council last Monday to vent their disdain for an un-agendized matter: the city's proposed widening of Fremont Avenue and its on-/off-ramps at the 10 Freeway. The project is part of a slate of proposals in the city's Advancing Alhambra initiative, which includes a plan to convert the 710 stub into an arterial street, plus some capacity expansion along the 10 Freeway, theoretically to accommodate traffic diverted from the 710 stub. Funding is from the city's share of Metro Measure R's abandoned 710 Freeway extension money – $243.6 million.
The whole Advancing Alhambra design will likely cost more than the city has on hand, so the city now has some important choices regarding where to spend its current Metro 710 funds. The city's consultants recommend initial funding go to 10 Freeway capacity expansion, which they assert would set the stage for converting the stub later. Monday's commenters were skeptical of this direction, urging the city to pursue multimodal investments now.  
The widening of Fremont would take place at its intersection with Hellman Avenue, just beside Fremont Elementary School. An additional southbound left-turn lane and a northbound right-turn lane would be added to connect to extended on- and off-ramps that would run all the way to Fremont and Hellman (rather than their current iteration, that ends abruptly at Hellman and Elm Street). To accomplish this widening, sidewalks would be eliminated from the east side of Fremont on both sides of its intersection with Hellman. The existing Metro bus stop beside Fremont Elementary would need to be relocated.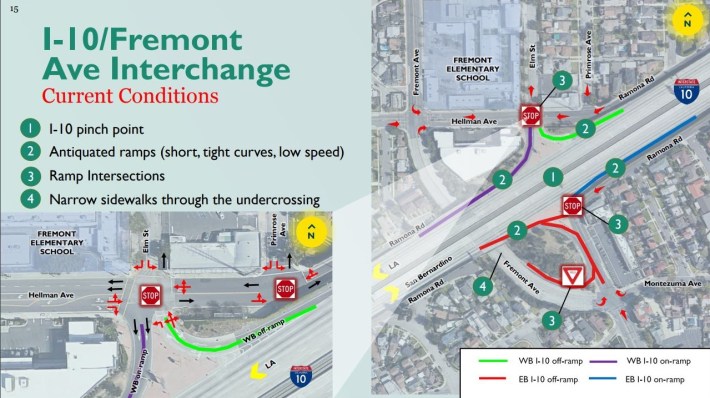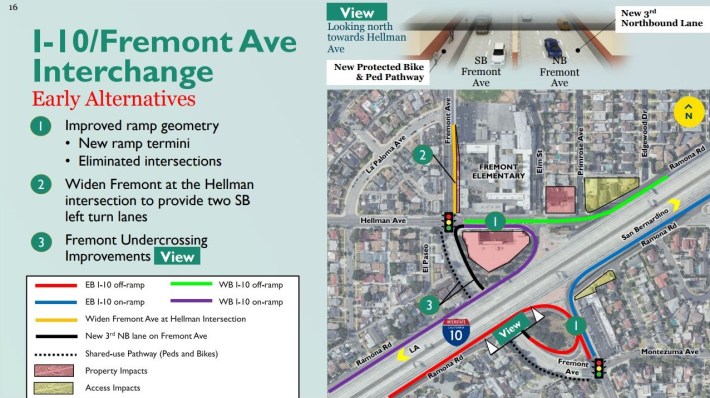 City officials and consultants have rationalized the Advancing Alhambra projects as a method to get cut-through traffic (much of it to Pasadena via Valley Boulevard and Fremont) off of Alhambra's surface streets and back onto the Freeways. Patrick Gibson of Gibson Transportation told residents at a public meeting on March 20 that the projects' main component, the 710 Stub Arterial, would redirect traffic to the 605 and 5 Freeways by ending the 710 at the 10 interchange. Some commenters at city council weren't buying that. 
Alhambra Unified School District Boardmember Ken Tang said, "As logic tells me, when a street is clogged and there's traffic, I'm going to try to avoid it as much as possible. And so to improve Fremont and make the traffic flow better in that sense of what the studies have asked to do, to me, it just kind of didn't make sense, because it would encourage people to go on Fremont more." 
Resident Connie Ho commented, "I think that this will in fact increase traffic violence in my neighborhood. I live in Ethel Park. And I think this would further endanger the students at Fremont elementary school. Many of my neighbors are worried for their safety with this project." 
It's worth mentioning that since the last community meeting on March 23 (read SBLA's coverage of that presentation) Advancing Alhambra gave another presentation to Alhambra Unified School District on April 12. Though Fremont Elementary's sidewalk on Fremont and a western portion of its campus is still eliminated in these concept maps, a more specific and perhaps more appealing rendering is now available, under a slide titled "Opportunities to Improve School."
This concept completely closes the neighborhood off from freeway traffic with a wall and a local access loop from Elm St to Primrose Ave – which the city's consultants discussed at the March meeting – and it also offers a new faculty parking lot in place of a strip mall that would be demolished (designated as a "right-of-way impact") for this construction option. 
There's also an option where the strip mall is not leveled and the neighborhood remains open to freeway traffic.
The business directly south of the school, US Storage Center, had been shown as a potential full demolition in earlier designs. The full site is no longer threatened in the April presentation, though the designs (above and below) show a new slip lane taking out the northwest corner of the existing building.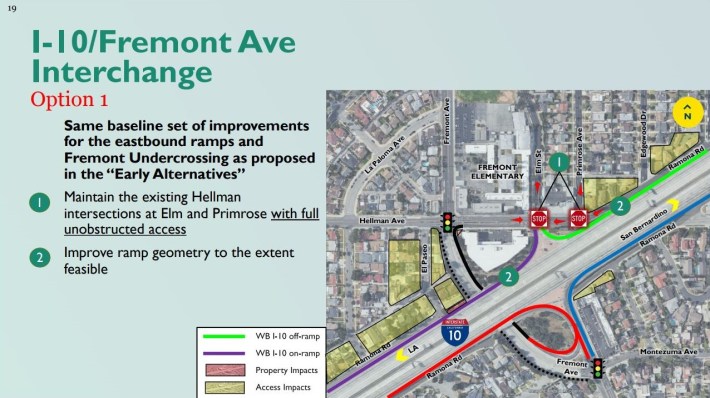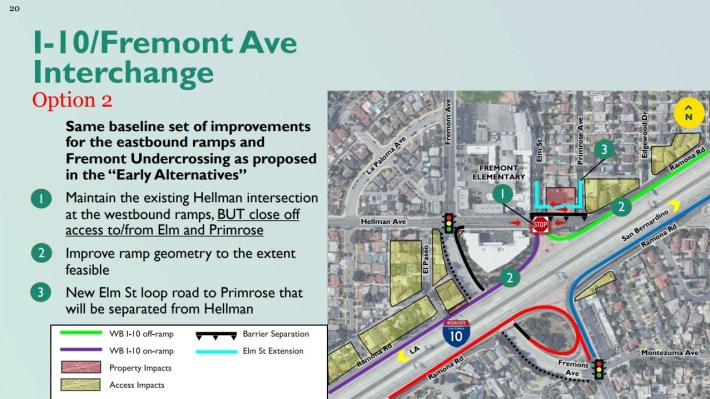 While several commenters expressed support for the 710 Arterial component of Advancing Alhambra's projects, there were also repeated points made that the city may never see this much money for transportation again, and it ought to invest in multimodal infrastructure. 
"I think by promoting more walkways, bikeways, bus rapid transit, or just busways in general – everyone who takes one of those ways to get around town is one fewer car on the street that helps both residents who aren't driving, and residents like me who will be driving sometimes." said resident Quincy Surasmith. 
Altadena resident Machiko Yasuda rode her bike to Alhambra city hall for the meeting, and augmented Surasmith's point with observations from her evening rides. 
"When I'm riding my bike late at night, this is the most dangerous time for bikers. It's not the recreational bicyclists. It's not the joggers who are outside. When I'm riding my bike at night, it's the frontline workers who are coming out of their shift from our favorite restaurants. I always see bicycles parked on fences at 99 Ranch, at H Mart - they don't even have bike racks to park their bikes on to their places that they work at every single day. I know that this city has provided help to their frontline workers during the COVID pandemic. How can you help those frontline workers today with more infrastructure changes, sidewalks, better crosswalks, better lighting, trees, all these different things that you could use this once in a lifetime, millions of dollars for?"
Alhambra resident and API Forward Movement's Sustainable SGV Program Manager Je-Show Yang drove that point further by calling attention again to the city's record with the California Office of Transportation Safety as "one of the worst on pedestrian safety within the state for similarly sized cities." Yang elaborated, "In 2017, Alhambra was the worst in the state for pedestrians over the age of 65. In 2018, Alhambra was the fourth worst in the state for all pedestrians, fifth worst for pedestrians over the age of 65. In 2020, Alhambra was eighth worst in the state for pedestrians over the age of 65." 
Luz Reyes, whose son attends Fremont Elementary, told the council that currently she is afraid to walk her son to school. "We used to walk to school, and we had to cross the street on Fremont, and we stopped. We stopped because cars would speed by, they would honk. Sometimes we would have someone to help us cross, sometimes we wouldn't. And now I drive my son to school, even though it's only a five minute drive, because it is so dangerous to cross that street, it's unnerving. And it's no way to start the morning, with a little one feeling already afraid."
City Council members took no action on the un-agendized item, citing Brown Act requirements to publicize ahead of time any potential vote on a project. SBLA reached out to Alhambra Public Works for clarification on when the next meeting or presentation for Advancing Alhambra may be, as well as whether the Measure R funds will be enough to pay for these projects. No response has been made yet.
Streetsblog's San Gabriel Valley coverage is supported by Foothill Transit, offering car-free travel throughout the San Gabriel Valley with connections to the Gold Line Stations across the Foothills and Commuter Express lines traveling into the heart of downtown L.A. To plan your trip, visit Foothill Transit. "Foothill Transit. Going Good Places."
Sign-up for our SGV Connect Newsletter, coming to your inbox on Fridays!
Chris is the San Gabriel Valley Reporter for Streetsblog LA and co-host for SGV Connect. He's been a La Puente native since 1991, and a radio journalist since 2014. He hosts the podcast SGV Weekly.
Read More:
Stay in touch
Sign up for our free newsletter