LAPD
LAPD Officer Punched 60-year-old Black Man in Chest, Collapsing His Lung, during December Arrest
Chief Moore told the Police Commission that Earl Roots had been hospitalized "due to a complaint of having asthma."
4:15 PM PDT on September 13, 2023
**Content warning: this post contains graphic images of the moment Earl Roots is punched
It's 80 degrees in the shade at this South Central burger joint, but 61-year-old Earl Roots shivers as he watches surveillance footage of himself gasping for breath after being punched in the chest by LAPD Officer Brian Kolke on the afternoon of December 19, 2022.
He had no idea the incident had been captured on film, much less that LAPD had put out statements about it or opened an investigation. When he couldn't get lawyers to take an interest in it, he figured this would just be another incident that slipped through the cracks. Now he's not sure what to think. But thanks to the footage, he knows it was exactly as bad as he remembered.
"I couldn't breathe," Roots says, pushing the phone back across the table. "I thought I was gonna die."
He would ultimately spend nearly three weeks in the hospital for a collapsed lung. But his hospitalization was still some time away at the moment of the punch – an ambulance would not arrive for another seven minutes.
In the agonizing interim, per the surveillance cam footage and accounts from Roots and witnesses on scene that day, neither Kolke nor his partner, veteran officer Michael Klee, seemed particularly troubled by Roots' inability to breathe.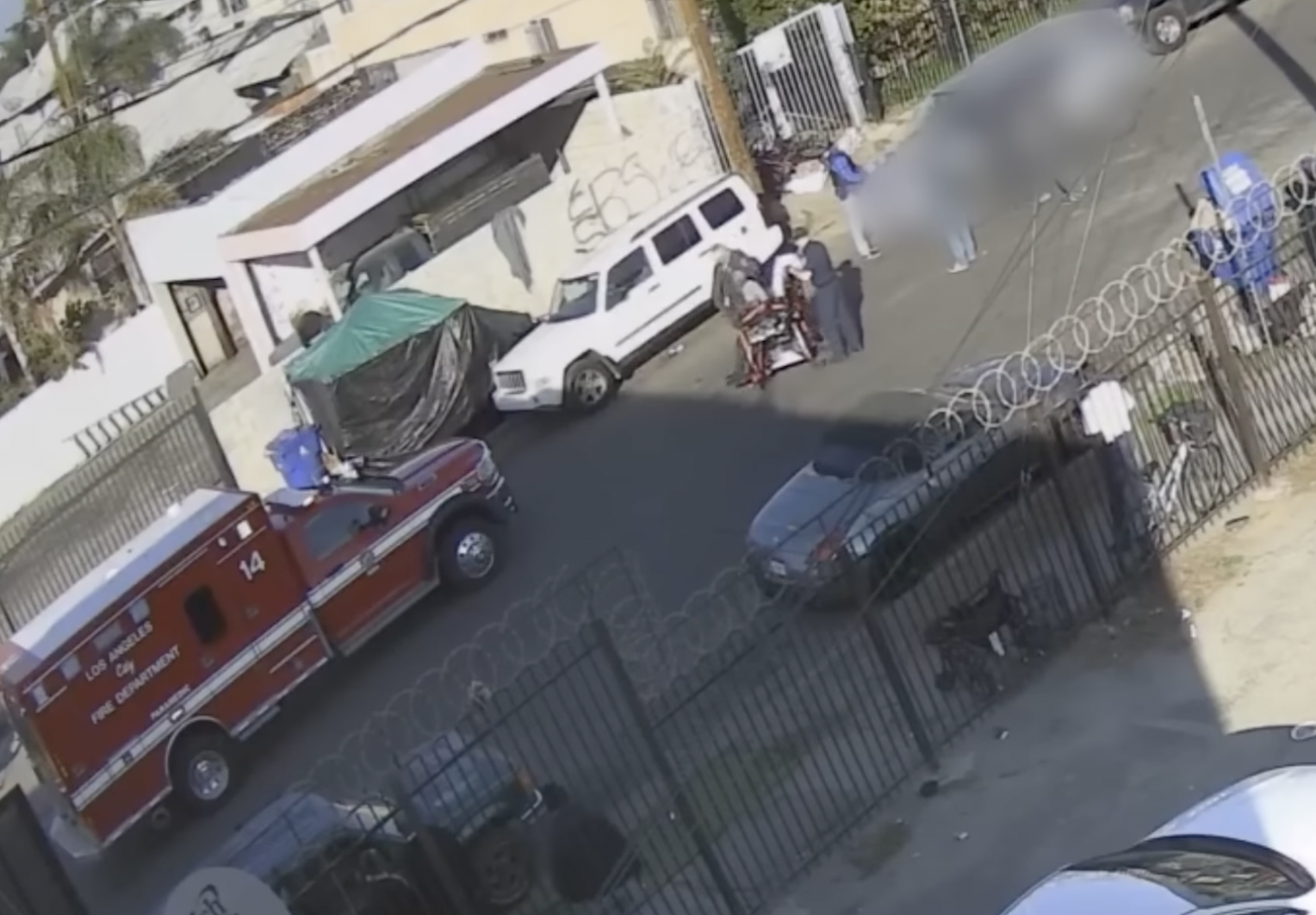 LAPD policy requires officers to "immediately request a rescue ambulance for any person injured" and "promptly provide basic and emergency medical assistance" to subjects of uses of force, but no such overtures were made here.
Instead, while still bent over the gasping Roots, Klee radioed in a Code 4 - "no further assistance needed" - calling off the backup and telling dispatch that Roots was in custody. He did not report the use of force, the injury to Roots, or the need for either a supervisor or an ambulance at that time.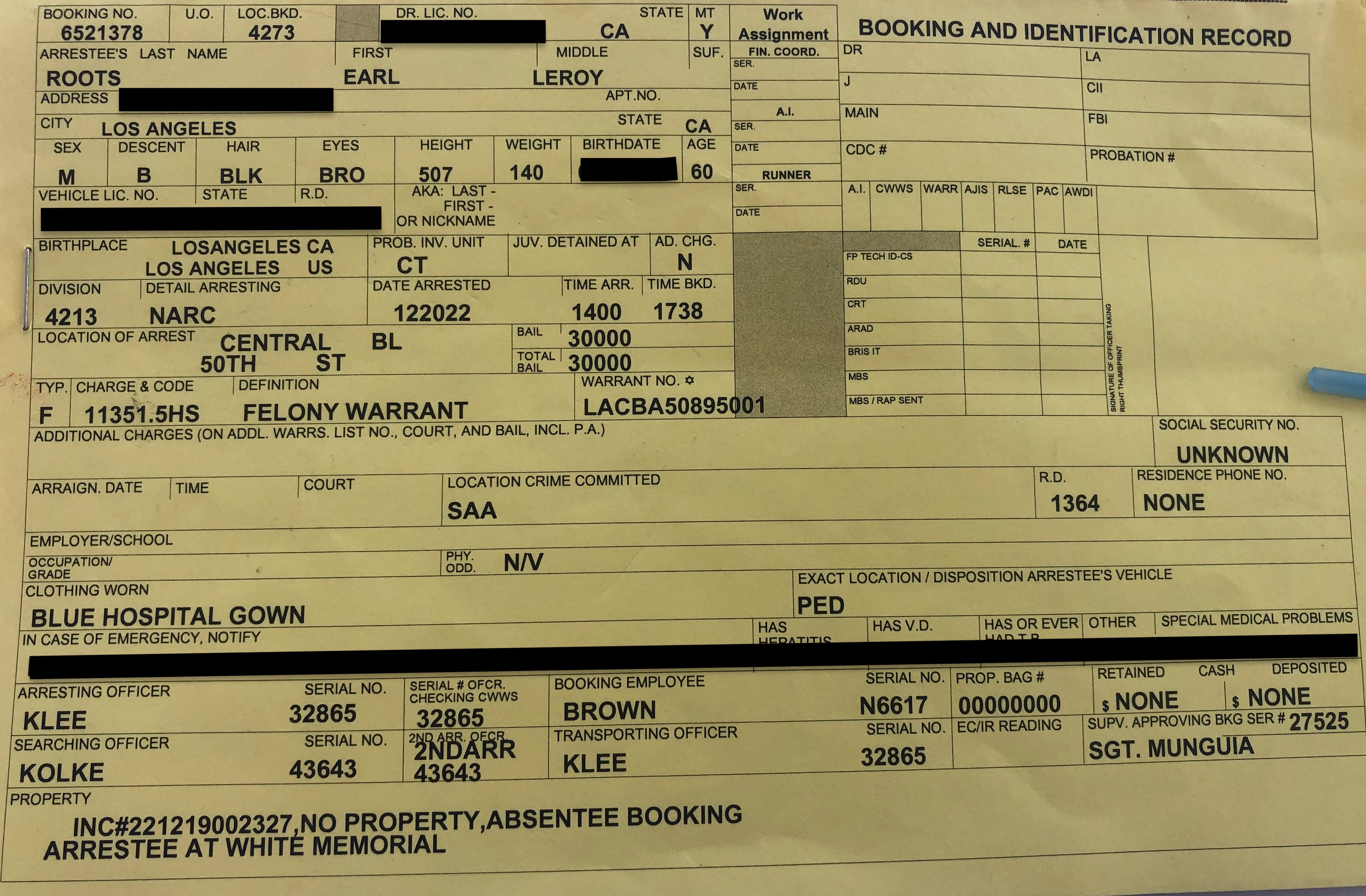 _______
Although they may wear bulletproof vests identifying them as police, plainclothes officers are not equipped with body worn cameras as a general rule.
How that impacts their interactions with the public is difficult to gauge. For example, the presence of a body cam did not keep uniformed officer Frank Hernández from launching himself at an otherwise compliant unhoused Boyle Heights man and punching him approximately 20 times.
Still, it is striking to see how quickly Kolke and Klee, both of whom are white, escalate the engagement with Roots and how unfazed they are about having so many witnesses be party to the physical assault of a 60-year-old Black man.

The Newton Area Narcotics Enforcement Detail officers had initially taken the scrawny but feisty Roots to the ground when he resisted being handcuffed over a felony sales warrant he claims he didn't know he had and that the officers did not bother to explain.
Kolke had quickly straddled him while Klee made the call for backup (which apparently included a helicopter, per radio recordings provided in the incident briefing). It was abundantly clear Roots wasn't going anywhere. But moments later - when Roots contends he was already handcuffed - Kolke hauled off and delivered a powerful jab to the left side of his chest (below).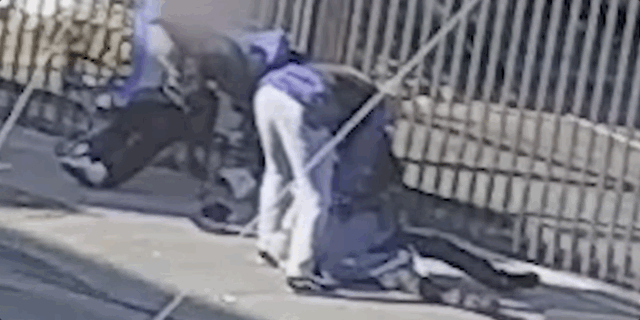 It's difficult to watch.
Even in the grainy surveillance cam footage, it is obvious that Roots is in immediate respiratory distress: his body jerks and goes limp while his head bobs up and down as his chest heaves. Kolke had literally knocked the wind right out of him.
"The dude hit me right up in here," Roots says, lifting his shirt to reveal the quarter-sized scar marking where doctors had inserted a chest tube. "I just went into shock."
Roots claims the officers didn't say much to him at all - either before or after the punch. And he believes there was a delay of several minutes before they finally decided to call for an ambulance (RA), given how long it took to arrive. But he can't be sure.
LAPD has not responded to questions about when the call for an RA was made or how and when the use of force was first reported. But the footage, accounts of two witnesses, and citizen-streamed LAPD and LAFD scanners all seem to confirm Roots' recollection: Klee is not seen pulling out his phone to make a longer call until nearly five minutes after the punch was delivered. [A request for an RA to the 50th and Central location is not heard on either citizen-streamed scanner during the relevant time period and the RA call was not included in the incident briefing package. UPDATE 9/19/23: LAPD has declined to answer questions regarding the delay and told this reporter to file a CPRA.]
In the meanwhile, Kolke is seen extracting his foot out from under Roots' leg with a disparaging kick, earning a half-hearted protest from Roots. The officers then attempt to pull Roots to his feet by his bony elbows, but Roots can't find his footing.
"You can see me hyperventilating there. I was out of it." He drums his fingers on the table as he sees his knees buckle. "I just couldn't breathe," he says again.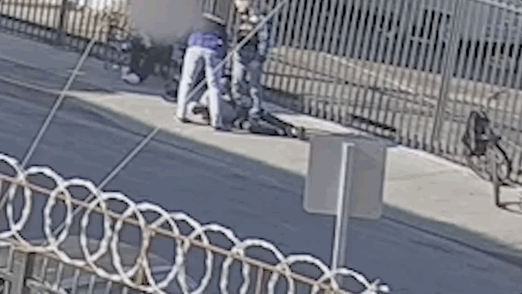 Roots' evident distress upset the half dozen or so people around the encampment that had been observing the scene.
A few pointed out he couldn't seem to catch his breath. One even brought Roots his inhaler (below) and pulled a chair over for him to sit on while he recovered from the blow.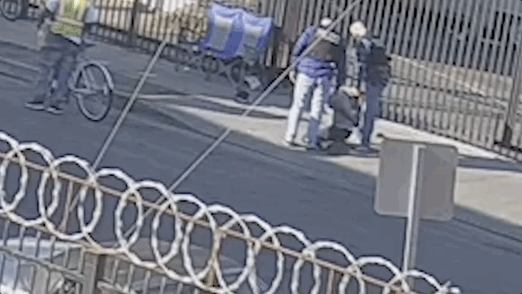 A few minutes later, when Kolke tried walking him toward the police vehicle, Roots' legs crumpled underneath him again. Shuffling had proven too taxing.
He was still wheezing when the paramedics got him on the gurney. "I had my chest up," he explains, demonstrating how he tried to keep his rib cage lifted and open so he could take in as much air as possible.
Nothing worked. "I had never been through anything like that," he confesses. "It was horrible."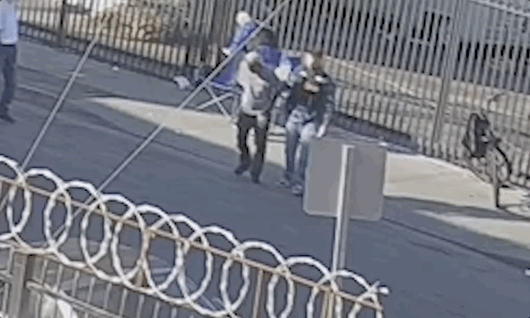 _______
While providing his regular report on uses of force in January of this year, Chief Michel Moore told the Police Commission that Roots had been taken to the hospital "due to a complaint of having asthma."
He also acknowledged Roots had been punched in the chest and said that "the Force Investigations Division does believe that the suspect likely incurred the [collapsed lung] during the use of force." Two weeks later, however, the department walked that acknowledgement back just a bit, releasing a briefing video that rhetorically muddled the role Kolke's punch played in Roots' hospitalization.
"Immediately following the use of force, Roots complained of pain related to a pre-existing medical condition," Commanding Officer of the Media Relations Division Captain Kelly Muñiz intoned in the February 2 briefing. Roots' collapsed lung, in turn, was only discovered when he "was treated for his pre-existing medical condition," she said.
Notably, both Moore and Muñiz made multiple references to Roots' "felony warrant" in their statements. To a lay person, it's a phrase that suggests Roots posed a danger to the public and helps the department justify the use of force in the court of public opinion.
But taken together, it all makes for a rather absurd narrative in practice: e.g. that Roots was a chronically ill asthmatic with one working lung who was also such a formidable threat that a chest punch was the only way get a menace like that off the streets.
Upon hearing LAPD's depictions of him for the first time, Roots can only shake his head in disbelief.
He does indeed suffer from COPD (chronic obstructive pulmonary disease), but is adamant the pain he felt was due to the blunt force injury to his ribs, the sharp chest pain associated with a lung collapse, and the sudden and traumatic inability to breathe. The fact that he had to undergo surgery - something which terrified him, as it was his first - to address the collapsed lung during a prolonged hospital stay would appear to support that. "My left side is still numb," he says rubbing his ribs.
Shuffling through the stack of arrest and medical records he has brought with him, Roots wonders aloud why all of this madness had to go down over a small-time narcotics warrant. Who was served by this? It was true he had sold drugs over the years to try to get by in a community where getting by had never been easy, he acknowledges. He's not proud of it, he says, but he is also not associated with any gang and he's not a danger to others. "I don't have a history of violence on my record... It's mostly drugs."
Tapping the December 19 booking notice, he points out that LAPD was continuing to use an address he had not lived at in some time. He says he believes that was how he had missed the court date that triggered the warrant Kolke and Klee were trying to pick him up on: the court information had apparently gone to that old address. Because he had never gotten any notice, he says he had just assumed the case had been dismissed.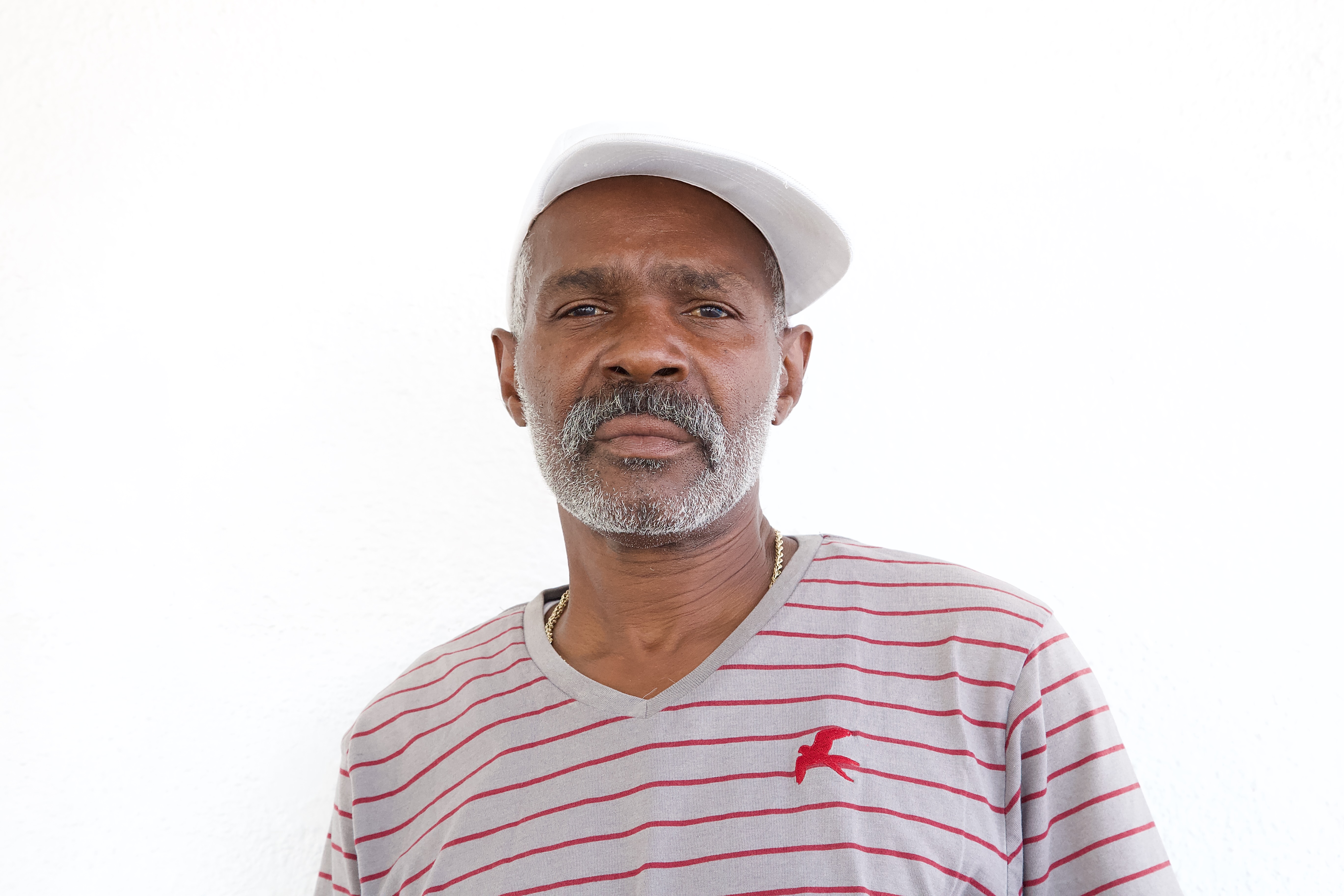 His felony case has since been resolved: he got two years probation.
He wonders what, if any, penalties await the officer that put him in the hospital (LAPD has not responded to queries about discipline for officer Kolke or Klee. UPDATE 9/19/23: LAPD has declined to answer questions regarding discipline and told this reporter to file a CPRA). But he isn't holding his breath.
The whole experience has "rattled my feathers," says Roots. "It sent me through something that I never been through before."
In other ways, he says, it also turned his whole life around. Though his current housing situation is not perfect, he is grateful to be off the streets and to have been able to walk away from things that had tripped him up in the past. "This scared me," he admits. "I don't want to have nothing to do with anything negative [anymore]."
He might be staying away from some of his old neighborhood haunts now, but he's not planning on leaving the neighborhood any time soon. "It's where I was born and raised. I love it up in here. We call it the Low Botttoms - ain't that what we call it?" he says, leaning to his right with a chuckle. The gentleman he knows at the next table over smiles knowingly and offers a confirmation. "The Low Bottoms," Roots repeats with a grin.
"We was all born and raised over here...This is our livelihood," he throws his arms wide, a metaphorical embrace of the good, the bad, and everything he's seen in between. "It is what it is, you know. You just gotta roll with it. Roll with the punches."
_______
UPDATE 9/19/23: LAPD has declined to answer questions regarding the Chief's decision to mislead the Police Commission as well as all other queries pertaining to this case. They instead advised this reporter to file a CPRA.
Find me on twitter: @sahrasulaiman; Click here to see the full critical incident briefing video from LAPD.
Sahra is Communities Editor for Streetsblog L.A., covering the intersection of mobility with race, class, history, representation, policing, housing, health, culture, community, and access to the public space in Boyle Heights and South Central Los Angeles.
Read More:
Stay in touch
Sign up for our free newsletter