BRT
Bus Updates: More Reliable Bus Service, Bus Lanes, Electric Buses All Coming Soon
5:25 PM PST on January 19, 2023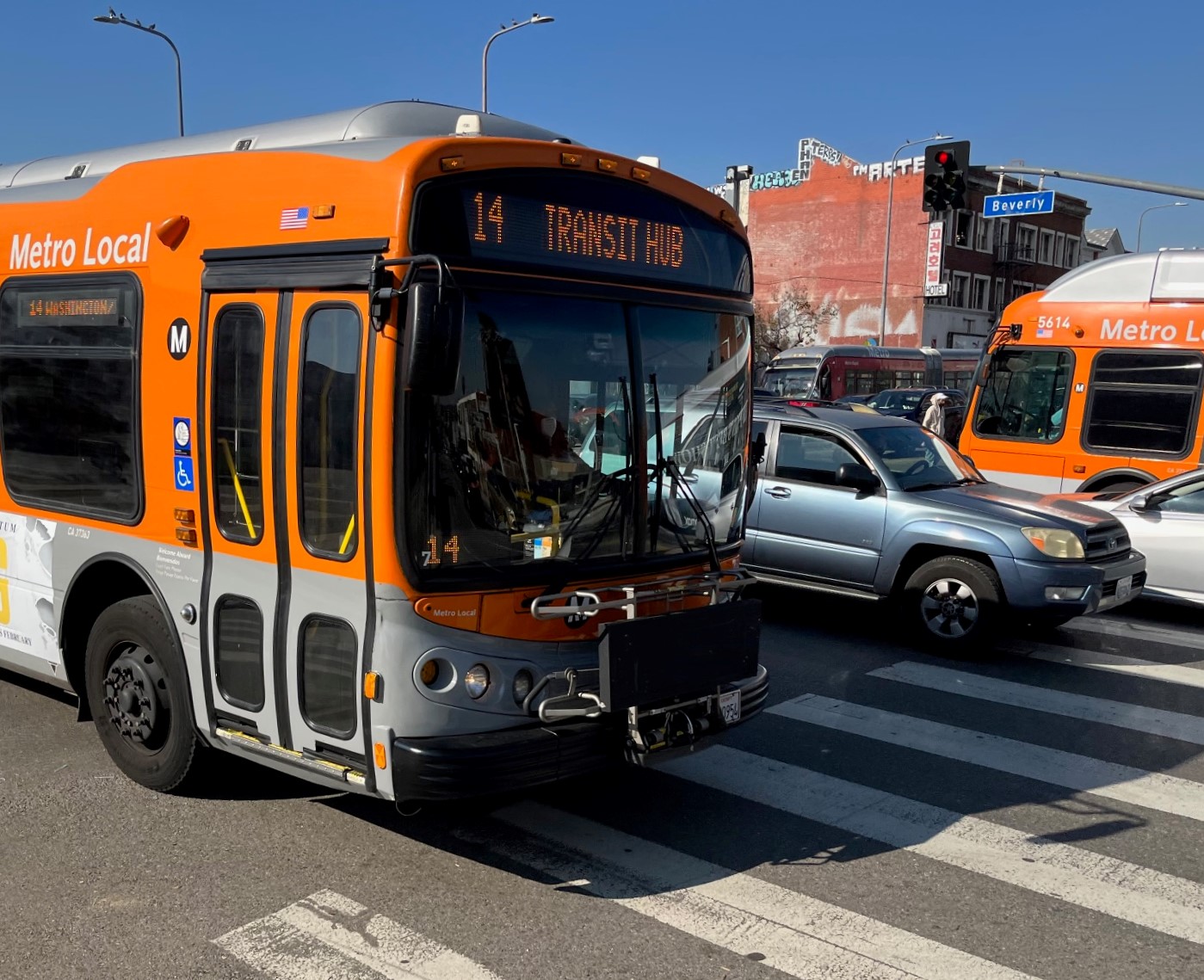 Read this one on your bus ride! Below are a bunch of brief bus news bites.
Metro bus service reliability improvements on the way!
On December 11, Metro restored transit service back to pre-pandemic levels... pretty much. At today's Metro Operations, Safety, and Customer Experience Committee meeting, Metro Chief Operations Officer Conan Cheung spoke [presentation] about how that service restoration has gone pretty well.
Per Cheung, prior to the December service restoration, Metro was seeing about three percent of weekday bus runs being canceled (up from around one percent pre-pandemic, but improved from 10-20 percent last winter). Since the December increase, weekday cancelled runs are up to 3.6-5.7 percent. Weekends are worse.
The good news? Metro's operator hiring is going well (thanks, salary increase!), so there is an end in sight to Metro's bus operator shortage. More operators means fewer canceled runs.
But there is another wrinkle. As Metro prepares to open the Regional Connector subway (theoretically, this winter, but still appears to be a couple months off), some bus operators are moving over to operate light rail. So, according to Cheung, bus run cancelations will continue to decline, but probably not quite as quickly as they might have.
Readers - how has the transit ride been lately? Better, worse, or about the same since Metro's December 11 service restoration?
New bus lanes on the way!
Also at this morning's committee meeting, Metro Director of Service Planning Stephen Tu delivered a NextGen Speed and Reliability Program Update [presentation] mostly focused on Metro's growing bus lane network. To date, these are all in the city of L.A., where Metro partners with the city Transportation Department (LADOT).
Prior to the pandemic, L.A. bus lanes totaled fewer than a dozen miles. Metro anticipates it will exceed 30 miles in 2023.
New bus lane installation is currently underway on Venice Boulevard and (if not already started, any day now) on La Brea Avenue. Coming soon are bus lanes on Florence Avenue and Sepulveda Boulevard.
Some Bus Rapid Transit bus lanes will also be coming fairly soon to the North San Fernando Valley almost-BRT project and the delayed North Hollywood to Pasadena BRT project.
Bus lane enforcement on the way!
Tu's presentation included a slide on bus lane enforcement, and the news there is good, too.
LADOT has been working on some targeted education and enforcement to stop drivers from parking in bus lanes, and the situation is improving... though there are still a lot of scofflaw drivers parking where they shouldn't. LADOT found an average of 540 vehicles parked in bus lanes each week in March of 2022. This was reduced to 435 vehicles later that year, in November.
Targeted parking enforcement on bus lanes on Wilshire Boulevard and Alvarado Street had measurable results: up to 15 percent travel-time improvement in the first month. That's a huge time savings and a huge quality of life improvement for L.A.'s bus riders!
Automated bus lane camera enforcement is also on the way. Under a new state law, municipalities can mount cameras on buses and use the footage to automatically issue citations to drivers parked in bus lanes. This week the L.A. City Council approved a motion (authored by former Councilmember Mike Bonin) that enables automated bus lane parking enforcement.
Metro and LADOT are collaborating on a pilot to implement on-bus cameras on Wilshire, 5th Street, and 6th Street starting in September 2023, initially with warnings then with the first citations anticipated in November 2023. For a bit more information on the pilot, see this SBLA Twitter thread.
New electric buses on the way!
This morning, the Metro Operations Committee also approved starting a procurement process [staff report] for more than a half-billion dollars' worth of new battery electric buses.
Metro has been - very slowly, very quietly - taking small steps to convert its natural gas bus fleet to electric in order to meet a board mandate to fully electrify by 2030 (though Metro staff already pushed this back to 2032).
Metro planned two initial electric bus pilots. Both were delayed; one is running now, the other is coming soon. The Metro G (Orange) Line BRT missed its pre-pandemic target 2020 start date, but has been fully electric since late 2021. Metro J (Silver) Line buses were anticipated to be all electric in 2021, but that was pushed back to 2023.
Assuming the electric bus procurement takes place this year, Metro will be about three years behind its original electrification schedule, which was to have hinged on a 2019-2020 technology assessment and a Spring 2020 Zero Emission Bus Master Plan for procurement. Some delaying factors have been outside Metro's hands (unfunded grant applications, COVID), but it is pretty clear that the agency has not made electrification a top priority.
Though bus electrification has important benefits (cleaner air, reduced greenhouse gas emissions, improved public health, etc.), there are reasons for Metro to be somewhat wary about putting too many eggs too quickly into the electrification basket. The technology works and is improving, but range and reliability remain well behind fossil-fuel-powered vehicles. Foothill Transit, for years Southern California's leader in bus electrification, is now shifting into hydrogen fuel cell buses.
Metro's battery electric bus procurement looks like an important step toward a much more climate-friendly and community-friendly bus fleet, but SBLA would feel more confident about a successful procurement had Metro gotten more pilot electrification projects under its belt sooner. Hopefully better late than never.
Stay in touch
Sign up for our free newsletter