High Speed Rail
Give Your Input at Upcoming CA High Speed Rail Scoping Meetings
4:56 PM PDT on August 7, 2014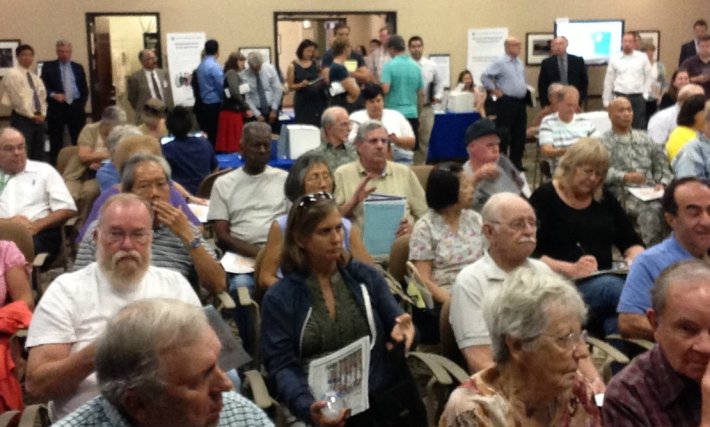 The California High Speed Rail Authority (CAHSRA) is hosting a series of meetings to solicit input on two Los Angeles County sections of the statewide project.
CAHSRA is gaining momentum after securing state cap-and-trade funding, and prevailing over a lawsuit that restricted the agency's financing abilities. With construction already underway in the Central Valley, Southern California lawmakers are pressing for the agency to move forward here. Burbank to Palmdale looks to be the first in line for Los Angeles County. Though that segment is on a relatively fast track, it will still take through the end of 2015 to complete and approve the environmental studies.  
Last night, the agency held a scoping meeting in Burbank. There were roughly 90-100 attendees from the public, and more than 25 people employed by the agency, presumably consultants. The format of the meeting was mostly open house, with CAHSRA representatives responding to the largely white, elderly audience both individually and in small groups.
At about 6 p.m., there was a 40-minute presentation by CAHSRA Southern California Regional Director Michelle Boehm. Boehm touted her agency's involvement in numerous L.A. County activities that are laying the groundwork for HSR's arrival. CAHSRA has a role in: the Regional Connector, Metrolink capital, positive train control, double-tracking, grade separation and run-through tracks planned for Los Angeles Union Station.
CAHSRA is currently scoping their environmental studies for two discrete, but ultimately conjoined, sections:
Burbank to Palmdale: HSR is planned to run non-stop between Burbank Airport and the Palmdale Transportation Center. There are two routes currently under consideration. The first is on the surface, along existing rail tracks that more-or-less parallel the 5 Freeway and the 14 Freeway. The second would be a tunnel under the San Gabriel Mountains. Boehm expressed some enthusiasm for the latter, as it would shorter and faster, though it is likely to be more expensive.
Burbank to Los Angeles: HSR is planned to run non-stop between the Burbank Airport and L.A. Union Station. Though most of this segment would run alongside existing railroad tracks that parallel the 5 Freeway, there are a number of alignments under consideration for the approach to Union Station. Boehm stressed that this segment is being designed in close coordination with three other planning processes underway: Los Angeles River revitalization, Union Station Master Plan, and Union Station Run-Through Tracks.
Earlier HSR planning had combined these two sections into just L.A. to Palmdale, but CAHSRA determined that the Burbank to Palmdale stretch will have "independent utility" and appears to be able to proceed sooner, while complexities are worked out on the Union Station end. 
August 31st is the deadline to submit scoping input for the EIR/EIS (Environmental Impact Report and Environmental Impact Study). This fall, the agency will present its scoping report to its board, then, through 2015, the agency will prepare its draft EIR/EIS, then prepare and certify final ones.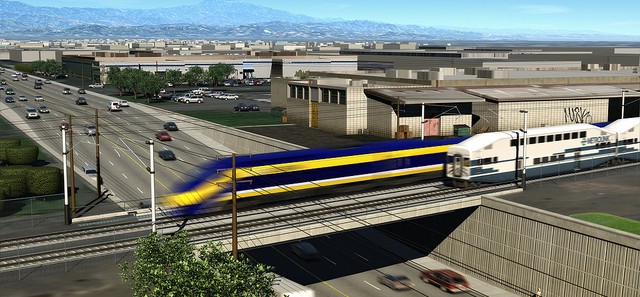 Streetsblog Los Angeles readers are encouraged to attend and give input on these projects. The agency is interested in numerous aspects of alignment and also station access issues, including walking, bicycling, and transit-oriented development. What would "location-sensitive parking" look like at Union Station? CAHSRA needs to hear from you.
There are plenty more meetings: tonight in Palmdale, and upcoming at Union Station, and in Lake View Terrace, Sylmar, and Acton.
All of the meetings will be held from 5:30 to 7:30 p.m.
Thursday, August 7, Palmdale: Chimbole Cultural Center, 38350 Sierra Highway.
Monday, August 11, Acton: Acton-Agua Dulce Library, 33792 Crown Valley Road.
Tuesday, August 12, Sylmar: Sylmar Public Library, 14561 Polk St.
Thursday, August 14, Lake View Terrace: Lake View Terrace Recreation Center, 11075 Foothill Blvd.
Tuesday, August 19, Los Angeles: Union Station, Fred Harvey Room, 800 N. Alameda St.
Public comments will be accepted until August 31. If you can't attend a meeting, you can send submit via email (with "Palmdale to Burbank" or "Burbank to Los Angeles" in subject line) to:
Palmdale to Burbank: palmdale_burbank@hsr.ca.gov
Burbank to Los Angeles: burbank_los.angeles@hsr.ca.gov
Stay in touch
Sign up for our free newsletter