Freeways
Metro, Caltrans, and SGV Council Break Ground on 57/60 Freeways Widening
Half-billion dollar "final" phase will add one more general purpose lane, plus flyover on- and off-ramps, and wider roads leading to the congested confluence of the 57 and 60 Freeways in the east San Gabriel Valley
4:04 PM PDT on July 1, 2023
Yesterday, San Gabriel Valley leaders broke ground on a new construction phase of expanding the confluence of the 57 and 60 Freeways. The SR 57/60 Confluence Chokepoint Relief Project will add one more eastbound general purpose lane, add new Grand Avenue flyover on- and off-ramps, replace/widen the Grand Avenue Bridge, and widen ramps and surface streets leading to the congested confluence.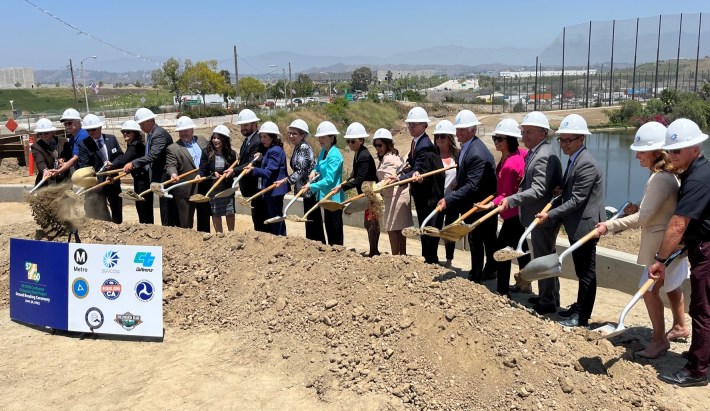 Metro, the San Gabriel Valley Council of Governments (SGVCOG), and Caltrans hosted a groundbreaking ceremony at the county's Diamond Bar Golf Course, which is losing about five percent of its area to be reconfigured to make way for the widened freeway and new and widened ramps and streets. Metro funded the majority of the project. Caltrans owns and manages the freeways. The SGVCOG is managing project construction.
The current freeway, ramp, and road construction phases cost a total of $444 million dollars, not including the earlier westbound expansion already completed. (The 57 runs north/south. The 60, east/west. Their confluence runs diagonally southwest/northeast. This post utilizes Metro's convention of describing the project in terms of the 60 Freeway's east/west orientation.)
Construction is anticipated to be completed by July 2028.
This project enjoys a lot of popular support, as this two-mile long interchange area is definitely congested. Several speakers related personal accounts of frustrating and stressful experiences driving this confluence. State Senator Bob Archuleta expressed dismay that it "takes about forty minutes to go two miles" at this location. Monrovia Mayor Becky Shevlin noted that the two freeways' 17 lanes temporarily merge down to 14 lanes. Shevlin was one of many speakers who repeatedly cited trucking industry research that identified the 57/60 as California's worst truck bottleneck, and the seventh worst in the nation.
(Truckresearch.org's study found that, in the vicinity of and on the 57/60, trucks slowed to an average of 30 miles per hour during peak afternoon rush hour, with a great deal of slower truck speeds taking place on the northbound 57. The same study found multiple top national freeway bottlenecks in South Los Angeles.)
The 57/60 interchange configuration makes for plenty of weaving vehicles, resulting in collisions. Currently, to get from one freeway to the other - or especially to exiting/entering at Grand - drivers have to merge, often across multiple lanes. Congressmember Norma Torres noted that growing up, she referred to this "chokehold" spot as the "suicide freeway lane change."
Unfortunately the current project does not quite solve these congestion and merging issues, and, as with a lot of freeway expansion projects, may end up making things worse.
The central trunk will be one (eastbound) lane wider, and, for many trips, drivers will still need to merge across it. Widened streets and onramps leading into the congested trunk could increase congestion there. New flyover ramps are focused on getting drivers onto and off of Grand Avenue (which was an early focus of the project, mainly to support a now-canceled football stadium).
There are several other dubious claims regarding benefits this project is anticipated to provide.
Congressmember Young Kim asserted that the project will "help reduce traffic." Congressmember Judy Chu noted that it will "reduce traffic congestion." Similarly the SGVCOG claims it will "alleviate traffic congestion," and the project's builder Skanska contends it will "reduce congestion." Unfortunately adding freeway lanes has always induced more driving, increasing traffic. Sometimes road widening results in no improvement to congestion (recent 405 widening worsened congestion), though sometimes it temporarily decreases congestion which then returns in months or years as increased driving overwhelms the added capacity.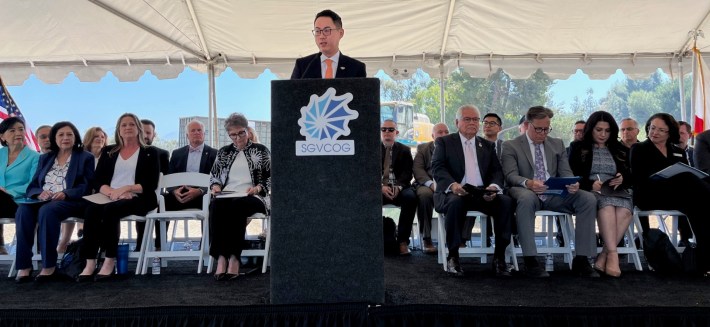 Diamond Bar Mayor Andrew Chou (repeating an assertion already made by the SGVCOG, Metro, Caltrans, and others) claimed that the project will achieve "cleaner air." Skanska claims that it will "reduce emissions." If adding freeway lanes made air cleaner or reduced emissions, then Southern California air would be pristine not increasingly unhealthy, and much of the world wouldn't be experiencing deadly record heatwaves. Adding freeway lanes has always induced more driving; this always worsens air pollution, including greenhouse gas emissions.
Several speakers asserted that the 57/60 project will improve safety, including Chu who stated that it will "end decades of danger on our freeways." (Metro staff previously alleged that their 57/60 project is "not... road widening" but "safety improvements.") The safety issue may be a little less clear cut than increased emissions and traffic, but in general more lanes means more miles driven, resulting in more overall crashes and deaths. Recent Oregon data showed that a project that added more freeway lanes, ostensibly for safety, resulted in increased crashes.
Metro recently touted the 57/60 project as "multimodal," but it has no transit features, and no walk component beyond rebuilding existing sidewalks, crosswalks, and walk signals. At the last minute, Metro and Caltrans tacked on about 600 feet of isolated bike lanes only on the widened Grand Avenue Bridge, but failed to connect these bike lanes to anything, including omitting them on widened adjacent portions of Grand Avenue (where Diamond Bar's bike plan designated protected bike lanes).
Nonetheless, the 57/60 project does provide some benefits.
It does increase overall capacity, which, as noted by Metro CEO Stephanie Wiggins, supports goods movement in the form of truck traffic to and from L.A. and Long Beach ports. The project is providing construction jobs. It will make some trips - mainly eastbound trips to/from Grand Avenue - faster and perhaps safer.
But the current project won't eliminate stressful merging, while increasing traffic, increasing congestion, and worsening air quality and tailpipe emissions.
The SGVCOG shared new renderings that help explain the project. Below is Metro's full project map, and the 57/60 renderings from west to east.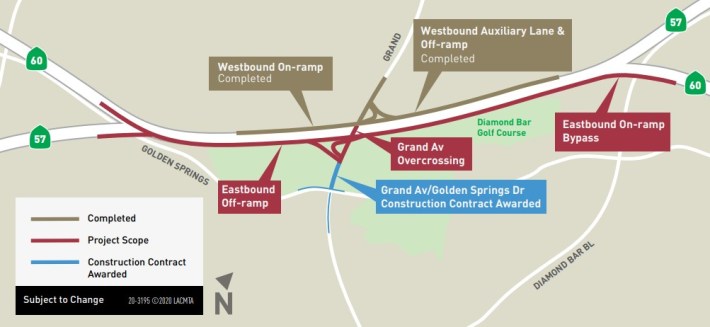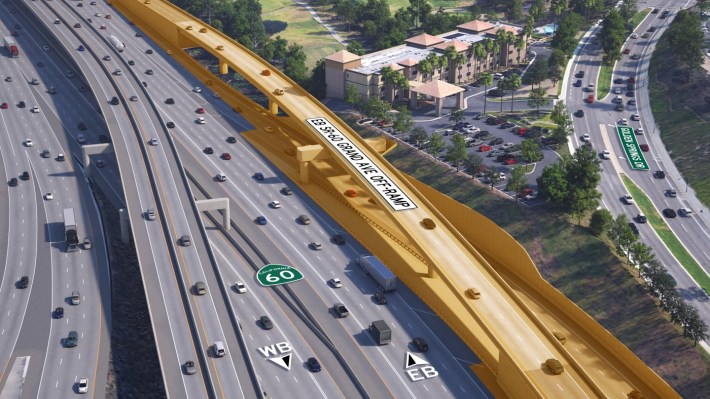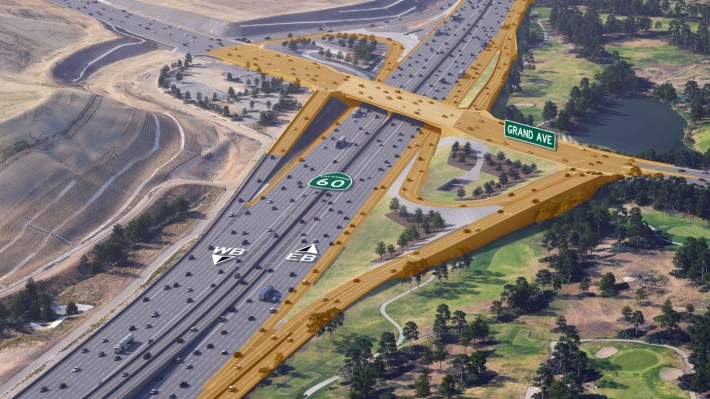 The SGVCOG also posted a drive-through video of the project.
As SBLA outlined in earlier coverage, the 57/60 expansion project is being built in four interconnected phases:
1 - An initial westbound phase, mainly adding a second westbound onramp from Grand Avenue, was completed several years ago.
2 - Golf course reconfiguration construction is currently underway. Scores of mature trees have been removed. Golf netting is being rebuilt further from the freeway to make space for expanded freeway lanes and ramps.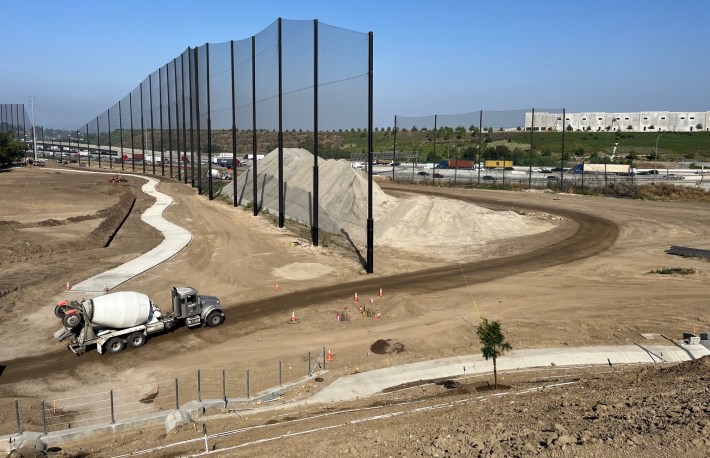 3 - Street improvements construction is also underway. In the city of Diamond Bar, immediately southeast of the confluence, the 57/60 project is widening Grand Avenue and Golden Springs Drive in order to add more through- and turn-lanes for drivers. The project also redoes existing sidewalks, adding landscaping and decorative concrete bollard features.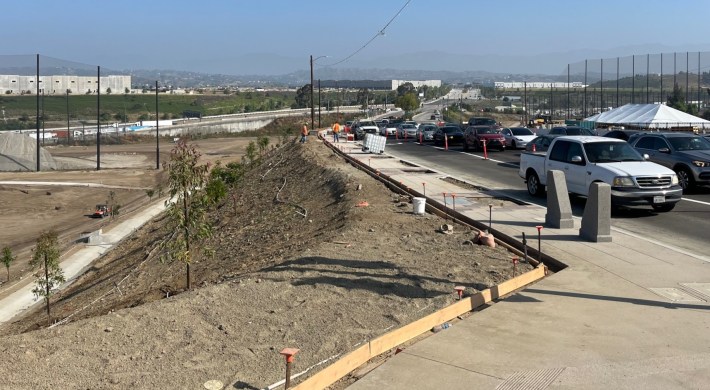 4 - The "final" eastbound phase, just getting underway, includes the freeway widening, bridge, and on/off ramps. In January, Metro approved $294 million for this phase. Construction is being managed by the SGVCOG, which recently awarded the contract to Skanska.
Corrected 7/2: It was brought to SBLA's attention that a description ("...to just remain on the same freeway drivers have to merge") was incorrect. The description has been fixed, as well as a follow-on assertion.
Stay in touch
Sign up for our free newsletter