bicycle lanes
Astonishing City Planning Department Mobility Plan Status Report Ignores Mobility Plan
6:16 PM PDT on April 13, 2023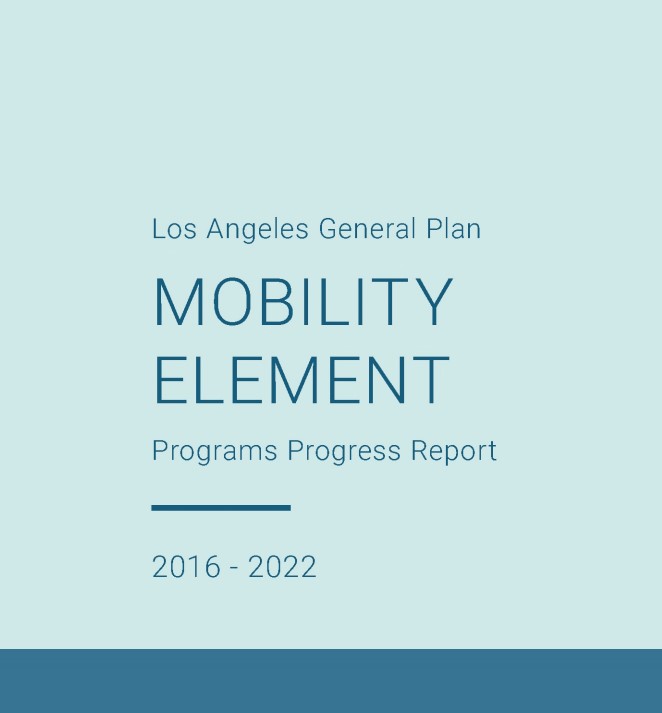 Last week, the city of Los Angeles Planning Department (DCP) delivered an astonishingly vacuous report [report, cover letter] that purports to be a status report on implementation of the city's multimodal Mobility Plan 2035, while rigorously ignoring all the multimodal facilities that DCP included in their own plan.
In 2015, the city approved the Mobility Plan, with hundreds of miles of new bus and bike lanes, pedestrian improvements, and a Vision Zero policy to end L.A. City traffic deaths by 2035. Safe streets advocates loved it. Reactionaries hated the plan so much they sued to block it.
Then the city largely ignored the plan. Bus speeds slowed. Bikeway implementation tanked. Approved bus and bike networks, supposedly slated to be completed in around 20 years, languished. Seven years after plan approval, only three percent of planned bus/bike facilities had been implemented. In early 2022, a coalition of advocates, led by Streets for All (SFA), began campaigning for the Healthy Streets L.A. initiative, which would force the city to gradually implement the Mobility Plan when city streets are repaved. Healthy Streets gathered the needed voter signatures and is scheduled to go before city voters on March 5, 2024.
Last year, with the city's traffic deaths rising to record levels - especially in Black and Latino communities, disproportionately among pedestrians and cyclists - and the ballot measure looming, city leadership seemed to be starting to grapple with the need to actually make its streets safer.
Some city councilmembers (facilitated by the now-resigned former Council President Nury Martinez, working closely with former Councilmember Mike Bonin and current Councilmember Bob Blumenfield) came together to propose a city process, somewhat similar to Healthy Streets L.A., where the city would adopt an ordinance to gradually implement some of the Mobility Plan. The proposed city alternative had some strengths - it would include some prioritization of equity - and some weakness - it would allow city staff to override the council-approved plan more-or-less on the fly.
Last August, the council made it sound like the ordinance would happen right away. Then-president Martinez stated that city staff would "report back on my motion within the next few weeks." Councilmember Nithya Raman spoke of the council "match[ing] the urgency that I hear from all of you [safe streets advocates] today."
Then very little happened. The city continued to repave streets, nearly always ignoring the Mobility Plan. Councilmembers continued to block approved bus and bike facilities. More than seven months later, city departments have not shared any draft ordinance.
During that time, city departments, including DCP and Transportation (LADOT), went on the offensive to undermine the Mobility Plan and Healthy Streets L.A., asserting that approved bus lanes and bikeways are not actually a plan, but just "aspirational... guidance."
The council directed DCP to work with various city departments to report back on the implementation of the Mobility Plan, specifically directing departments to produce:
An assessment of Mobility Plan 2035 implementation to date, including miles of infrastructure funded, under construction, and/or completed, and share of implementation within each Council District and within each quintile of the Community Health and Equity Index.
The council directed that city departments deliver this assessment back to the council "in 60 days" (after council approval which took place August 24).
Last week, DCP released its Los Angeles General Plan Mobilty Element Programs Progress Report 2016 - 2022. The DCP status report contains no measures of mileage. No quantification of infrastructure, funding, nor construction. Nothing by council district. No measurement related to equity. The progress report is actually difficult to report on because there is so little substance to it.
DCP responded not to the (still unfulfilled) August instructions but to additional December council instructions requesting the status of the Mobility Plan's "Action Plan Programs," a sort of obscure plan appendix that lists 173 tasks assigned to various city departments. The Action Plan includes things like: roadway safety outreach, wayfinding, analysis of unpermitted mountain biking in city parks, and periodic updates of LADOT's Manual of Policies and Procedures.
The report does reference multimodal facilities - barely. The report lumps citywide bus/bike/walk improvements into their own one-line items (items with the same weight as unpermitted mountain biking analysis and DOT procedure manuals), and just states that the bus/bike/walk facility stuff is all "ongoing" and "in progress." Bike network? Check. Bus network? Check. Vision Zero? Check.
From this misplaced analysis, the status report paints a misleadingly rosy picture, concluding that:
the City is implementing or has implemented a majority of the Mobility Plan's Action Programs. Of the 173 total programs, 76 percent of programs have either been completed or are being implemented on an ongoing basis. Meanwhile, 10 percent of total programs are either in progress or being implemented using an alternative approach.
The implications for the city's cyclists, pedestrians, and bus riders are pretty clear. SFA founder Michael Schneider responded to the progress report, "it feels like a slap in the face." DCP, alongside other departments, is making it clear that Angelenos should not expect city departments to take the city's Mobility Plan seriously, much less to implement multimodal facilities any faster than the recent trickle.
Schneider's response is that Streets for All will be redoubling its efforts to get voters to approve next year's Healthy Streets L.A. ballot measure, "the city indicated a desire to do a settlement agreement [for SFA to cancel the Healthy Streets L.A. ballot measure when the city proved it could deliver a similar internal process]," Schneider noted, "and it's been almost a year and they don't even have a draft ordinance."
It is possible that the city council can rein in resistant city departments to come up with some kind of safe streets implementation ordinance, but time is running out. It appears more likely that city departments will just keep ignoring the Mobility Plan - and ignoring the rising tide of traffic violence - unless and until the voting public approves Healthy Streets L.A.
Stay in touch
Sign up for our free newsletter