L (Gold) Line
Foothill Gold Line: Bridge and Crossing Construction Done Up to Pomona
11:38 AM PDT on April 12, 2023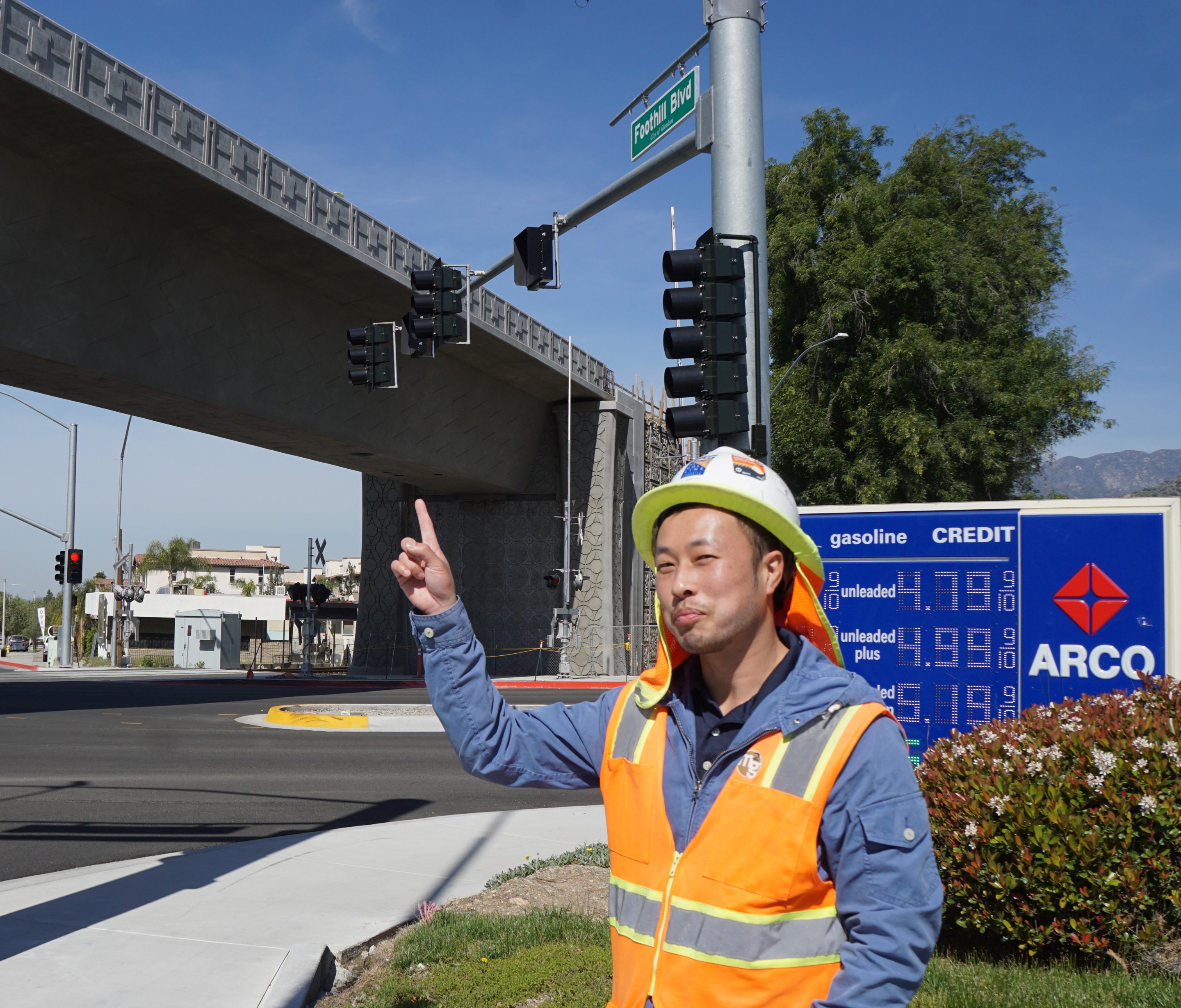 The Foothill Gold Line Construction Authority recently hit a major milestone: all bridge construction and grade crossing work for the light rail extension to Pomona is finished. "Most of the work now is going to take place within the [rail] corridor, between the crossings; so the light rail stations, the light rail tracks, light rail power system, the train control system, and then building the parking lots." says Media Relations Manager Albert Ho.
SBLA joined Ho on a tour of the finished construction route, from Glendora to Pomona. Ho says it's been an intensive process, coordinating with "pretty much every utility that owns the pipes underneath" to ensure the area's infrastructure is ready to have 200 trains go over it every day.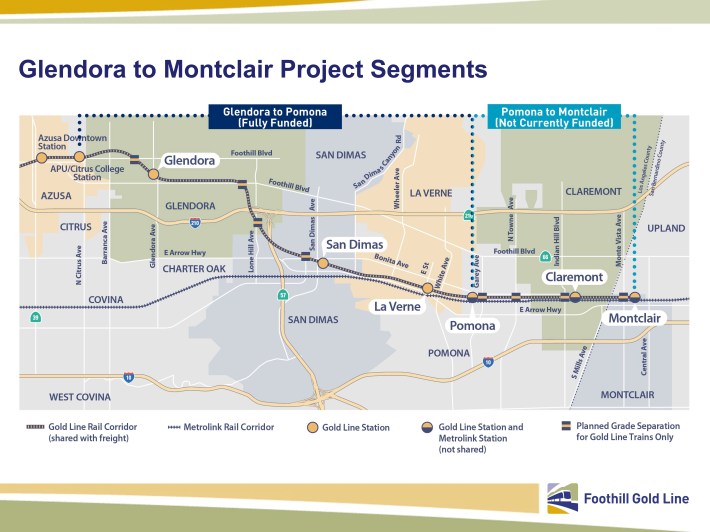 Ho estimates construction to Pomona will be totally finished by January 2025, but he assures Northeast SGV locals that in the meantime, the long term street closures at the grade crossings are done. 
"We're so glad to be done with those. We had to do it 21 times." says Ho. "We had to close Lone Hill [Avenue] a few times, and the city only gave us like ten days for the duration of the project. So when we did these closures, we worked 24 hours on them, because it's a major economic center for the city. You know, I love Costco, so I'd be mad if I got pointed away from my Costco."
Construction began at the grade crossing at Gladstone Street in July 2020. The final grade crossing worked on thus far was Garey Avenue in Pomona (though there may be more to come if Metro receives funding to extend the line all the way to Montclair). Ho says the crossings are safer now, with quad gates and pedestrian gates to prevent people from blundering into an active crossing. "And the trains are relatively quiet. So that's why the train even needs the clacker to let people know that they're coming."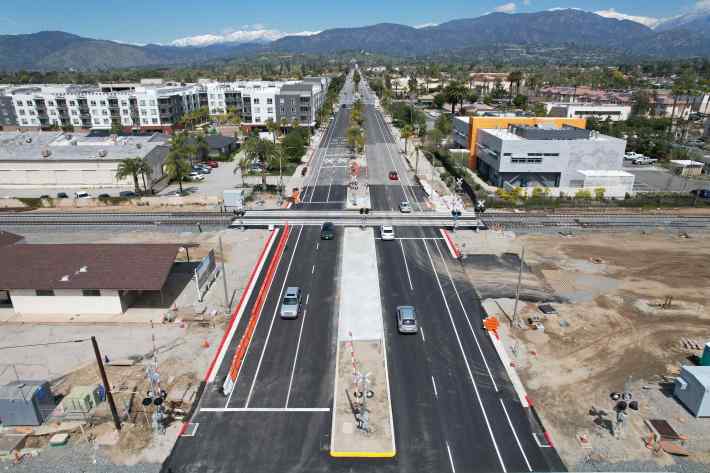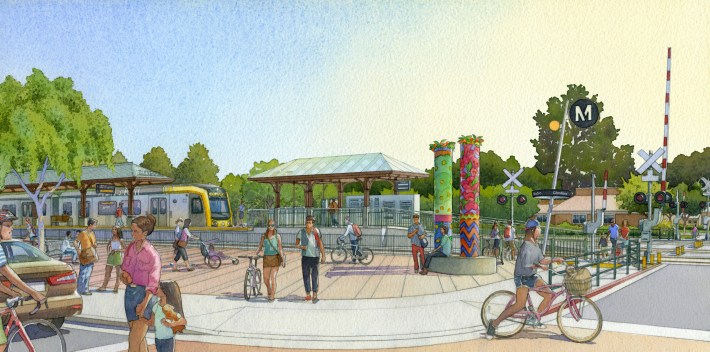 The platforms aren't quite ready yet, but they're getting closer, as columns to hold up the canopy roof are now being installed, and the ticket vending machines will be set in soon. "Then it will start to look more like a station." Ho says.
One thing that has slowed the process of getting these light rail stations ready has been having to share the corridor with freight trains. Throughout the process, a freight track has been relocated, piecemeal, right alongside the new light rail tracks. Interrupting service has not been an option. "That was a whole project in itself." says Ho. 
"They build a new track in parallel, and then they decommission the old one, as it's going along. And so they do that for the whole corridor. And they do it in a way where if there's an old track and there's a new one and the freight is running, they're able to connect the old and new temporarily, and then allow them to use the old and the new and at the same time they're still continuing to build the new freight track alongside it."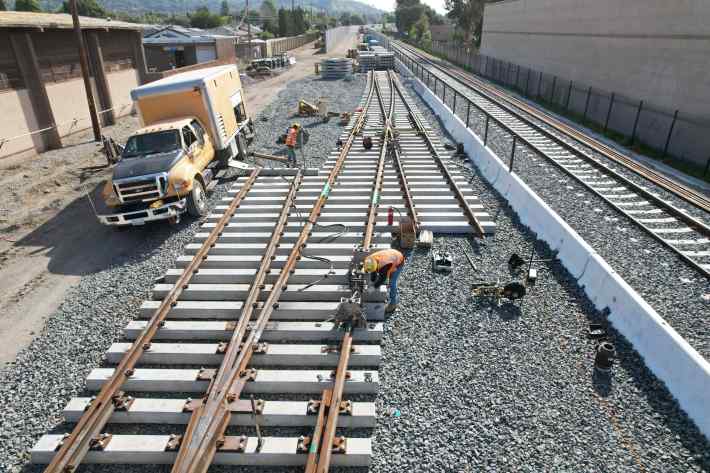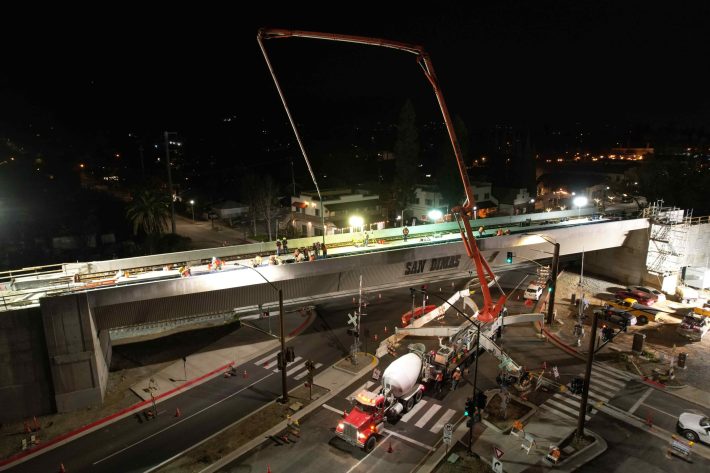 The Foothill Gold Line Construction Authority has built a total of 19 bridges for the extension to Pomona, including four major ones which fly over arterial streets. The largest is the Lone Hill Bridge; it's almost 350 feet long, 35 feet high from top to ground, with a 24 foot clearance for freight trains to pass diagonally underneath, from one side of the light rail line to the other. 
The bridges are supported by very deeply drilled support columns that go about 90 feet underground "until they hit some really solid rock." If that isn't nerdy enough, Ho says pay attention to the alignment art - the decorative panels on the retaining walls of the bridges' approaches. Those concrete orange slices do more than just remind you that you're in Glendora.

"It's not one big structure." says Ho. "Actually each panel, each citrus slice you see, the way the approach is built, it's using this thing called mechanically stabilized earth, which means that each panel you see, there's a metal strap behind it. And then they put dirt over it and compound it. So it holds that panel in place. And then they do it over, and over, and over in layers, and it makes a really strong wall. And it actually gets stronger as more trains go over, it just reinforces it."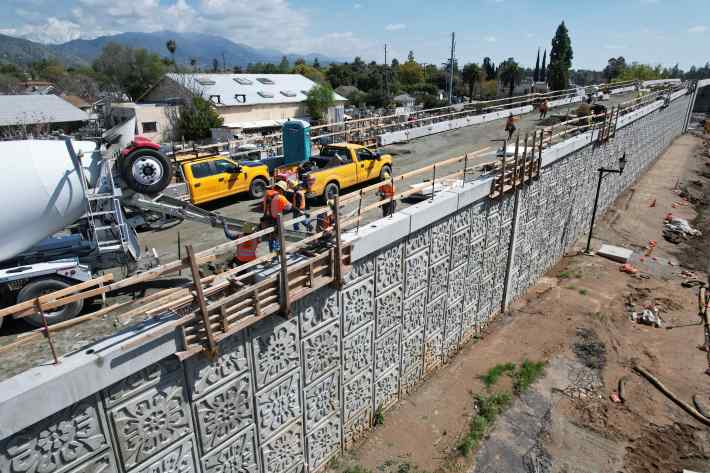 The citrus art was designed by Christie Beniston, who created artwork for the Gold Line's operations campus in Monrovia. "We don't want these to be some sterile structures." says Ho. "Our CEO, he's a native of San Gabriel Valley [Pasadena]. And he wants these structures to be works of art that integrate with the community and pay homage to the history, to the culture."
Ho tells SBLA the Pomona station in particular will have meaningful artwork. Pomona Valley native Stephen Farley is working on a panel series called the "Hall of Gratitude" that will feature likenesses of everyday residents. "It almost moves you to tears when he talks about why he wants people and not just celebrities." says Ho. "He wants to honor people who made a difference in people's lives, who weren't really well known, but actually made a difference in the community. And so when he talks about some of the people he chose, they're really touching. And when they come out, it's going to be amazing. Gonna be a lot of waterworks, probably."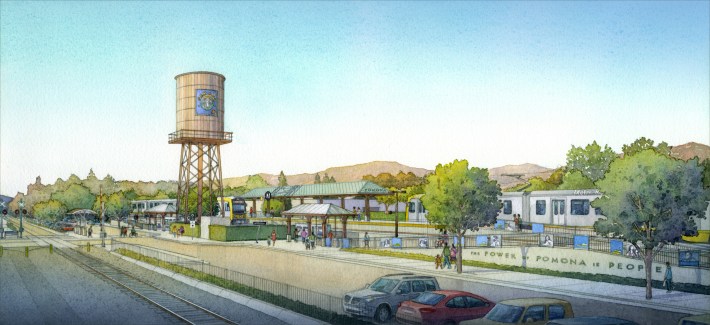 For now, the Pomona station will be the end of the line, though the Construction Authority remains hopeful that the next leg of the route to Claremont and Montclair will be funded. The $798 million extension was affirmed as Metro's number one state funding priority a few weeks ago on March 23rd. 
"Half benefits of this project - the removing of the carbon emissions, reducing vehicle miles traveled, reducing pollution, adding the ridership - half of that happens in the unfunded segment going from Pomona to Montclair, so the full benefits of the project won't be realized until we build it to Montclair." says Ho, noting the city's status as a multimodal hub for the Inland Empire's commuters to greater Los Angeles. "So it'd be pretty sad if we don't get to Montclair."
All along the way from Glendora to Pomona though, Ho says these light rail stations have the potential to do more than just get people off the freeway. 
"I guess one of the highlights of this project too is it connects people to these Old Towns that you maybe never would have thought to visit. The other rail lines, they're building out in really dense parts of L.A. that are major centers. The projection is that most of the growth in the San Gabriel Valley over the next 20 years - this is from SCAG - is going to happen within the Foothill Gold Line corridor cities." 
Streetsblog's San Gabriel Valley coverage is supported by Foothill Transit, offering car-free travel throughout the San Gabriel Valley with connections to the Gold Line Stations across the Foothills and Commuter Express lines traveling into the heart of downtown L.A. To plan your trip, visit Foothill Transit. "Foothill Transit. Going Good Places."
Sign-up for our SGV Connect Newsletter, coming to your inbox on Fridays!
Chris is the San Gabriel Valley Reporter for Streetsblog LA and co-host for SGV Connect. He's been a La Puente native since 1991, and a radio journalist since 2014. He hosts the podcast SGV Weekly.
Stay in touch
Sign up for our free newsletter