Bike Parking
September Metro Committee Updates: Bike-Share, Bike Parking, Green Line, Open Streets, and Line Naming
3:24 PM PDT on September 24, 2018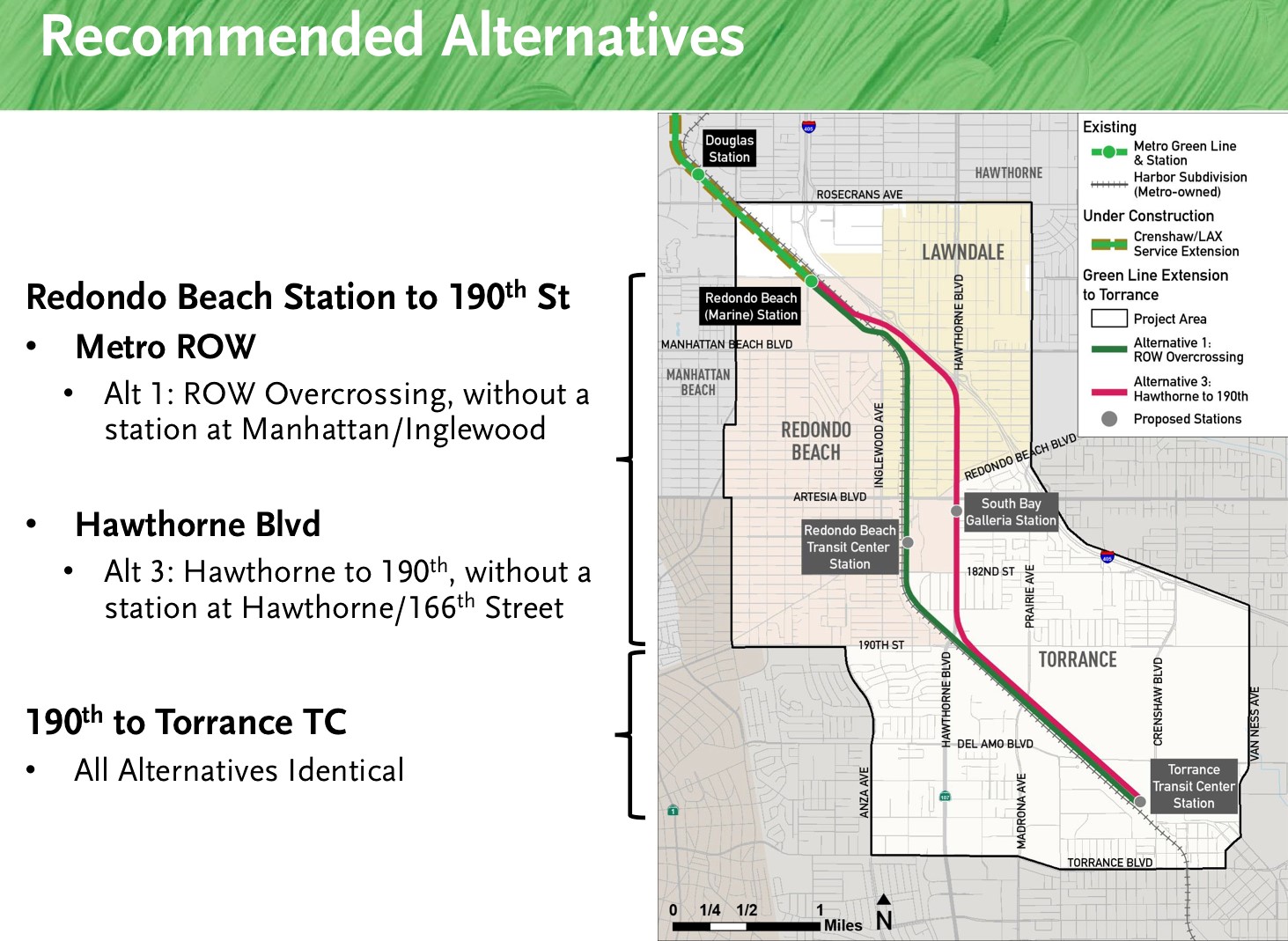 This month's Metro board committee meetings discussed and decided several items of interest to Streetsblog readers. Below are updates on several committee items discussed and decided last week. All of these committee approvals are pending board approval at the full board meeting this Thursday.
Torrance Green Line Extension Alternatives Narrowed
Metro is planning to extend its Green Line light rail about five miles south to the city of Torrance. The South Bay Light Rail Extension project is funded under Measure M, though that funding is scheduled for a 2030 opening. The project has been selected for possible acceleration under the 28 by 2028 initiative. Metro is just starting to do the environmental studies that will finalize the project alignment.
The agency had been considering several possible alternative routes as the extension passes through the cities of Redondo Beach and Lawndale. Staff recommended narrowing down the alternatives to two (see map above): a relatively inexpensive (roughly $893 million) western alignment 1 along the Harbor Subdivision rail right-of-way or a more costly (roughly $1-1.2 billion) eastern alignment 3 along Hawthorne Boulevard. These alignments are less costly and more direct than other alternatives under consideration.
Torrance Mayor Patrick Furey testified in favor of alternative 1 being the cheapest, quickest, and least impactful to car traffic. Representatives from the city of Lawndale testified that the Green Line extension would "severely impact" and be "harmful" to Lawndale residents. They urged Metro to tunnel the line underground. Tunneling would likely cost much more than any of the alternatives currently under consideration.
Metro's planning committee approved the staff recommendation to carry the two alternatives forward into environmental studies getting underway. The final alignment decision will be at least a year from now.
For additional detail, see staff report or The Source.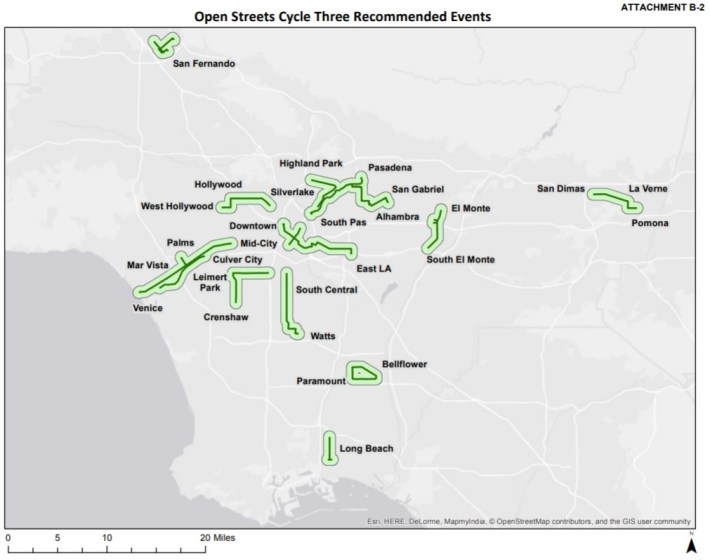 Open Streets Funding Approved
The Metro Planning and Programming Committee approved the latest round of funding for open streets festivals. The committee approved the staff recommendation for $4 million to fund 15 open streets events for calendar years 2019 and 2020.
Listed in date-order below is the list of open streets events that, pending full board approval, Metro will fund. Note that occasionally these events get canceled, postponed, or see dates changed. Many of these events include multiple jurisdictions; the host applicant city is shown in parenthesis.
March 3, 2019 - CicLAvia: Culver City and Palms (Culver City)
March 30, 2019 - Beach Streets West (Long Beach)
May 19, 2019 - 626 Golden Streets | Mission to Mission (South Pasadena)
June 1, 2019 - Paramount & Bellflower Open Streets Neighborhood Connectivity Event (Paramount)
August 11, 2019 - CicLAvia: Meet the Hollywoods (West Hollywood)
October 6, 2019 - CicLAvia: Heart of LA 2019 (Los Angeles)
October 26, 2019 - 626 Golden Streets | San Gabriel Valley Streets and Treats (SGVCOG)
November 2, 2019 - San Fernando Street Festival - Nocturnal Ride (San Fernando)
February 23, 2020 - CicLAvia: South LA - Space Shuttle Endeavour Route (Los Angeles)
April 5, 2020 - CicLAvia to the Sea (Los Angeles)
April 19, 2020 - Heart of the Foothills (San Dimas)
August 16, 2020 - CicLAvia: Northeast LA (Los Angeles)
October 11, 2020 - CicLAvia: Heart of LA 2020 (Los Angeles)
November 8, 2020 - 626 Golden Streets | ArroyoFest (South Pasadena)
December 2, 2020 - CicLAvia: South LA/Watts (Los Angeles)
Though she praised open streets and ultimately voted to approve the staff recommendation, County Supervisor Janice Hahn questioned the regional geographical balance of the program. Hahn represents the Gateway Cities area where only Long Beach and Downey applied to host (Long Beach received funding for one of three events; Downey received no funding, narrowly missing the cut-off). No cities from Hahn's South Bay district applied for funding. Hahn requested that staff report back on how future open streets funding can be spread around regionally.
For additional details, see staff report.
Metro Bike Share Expanding
With Pasadena withdrawn and with private dockless competition, staff was slated to respond to a motion questioning "whether Metro should continue the Bike Share Program." With nearly no discussion, Metro's Planning and Programming Committee received the staff report and pushed off any further existential questions until late 2019. Program will return to the board to report on 12 months performance data from the new pricing, which took effect in mid-July.
Metro has seen a 21 percent increase in trips since fares were reduced in July.
Metro staff expect additional Metro Bike Share features to be operational very soon:
Announced earlier for this month, TAP Wallet integration is now scheduled to launch "as early as" October. This will allow multimodal transfers with a single fare, as well as making reduced bike-share fares available to students and seniors.
Geographic expansion is also anticipated by early- to mid-2019. The downtown L.A. system was recently expanded southwest to South L.A. communities around USC. This central service area will also be extended westward to Echo Park, Silver Lake, Koreatown, and Westlake/MacArthur Park. The current Venice service area will expand to include to Marina Del Rey, Playa Del Rey, Playa Vista, Mar Vista, Palms and Culver City. Newly appearing on the Metro Bike Share expansion map is also North Hollywood (though for some reason that appears on the paper copy of the staff presentation, and not on the online version.)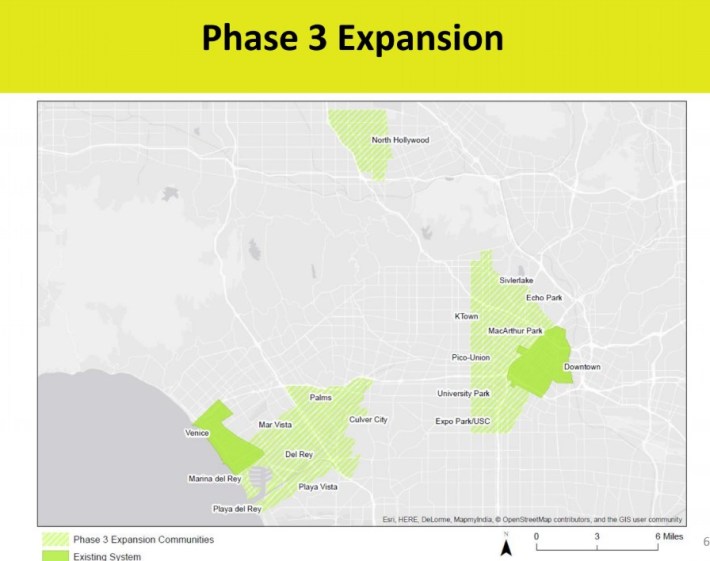 For additional details, see staff report.
Bike Parking Motion
Boardmember and L.A. City Councilmember Mike Bonin introduced a motion that examines bike parking at Metro stations. Bike theft is not uncommon at exposed bike racks, and bike lockers often have long wait lists.
The motion would direct Metro to:
Inventory existing secure bike parking facilities;

Assess demand for additional secure bike parking, including wait lists for bike lockers, utilization of existing bike racks, reports of bike theft, and the availability of alternative first/last mile options, such as bike share;

Evaluate alternative rental models for bike lockers used by other transit

agencies, including hourly or daily rentals;

Identify high-demand locations that could be good candidates for future

Bike Hubs;

Evaluate interim steps that can be taken to deter theft at existing bike

parking, such as lighting, surveillance cameras, targeted enforcement, etc.;

Report back to the Board with the above information in February, 2019.
Read the full motion text online.
Metro Line Naming Conventions
The L.A. Times, Urbanize, and Curbed all reported on Metro's proposal to revise its rail and BRT line naming conventions. The agency is running out of simple color choices, and is looking to move to a system that would use numbers and/or letters to identify lines. There was little discussion of this item at the Metro Executive Management Committee. The overall re-naming decision is expected to go to the board in December.
For additional details, see staff report.
Stay in touch
Sign up for our free newsletter