Dodgers
Some Thoughts on The Boring Company Dodgers Stadium Tunnel Proposal
5:23 PM PDT on August 16, 2018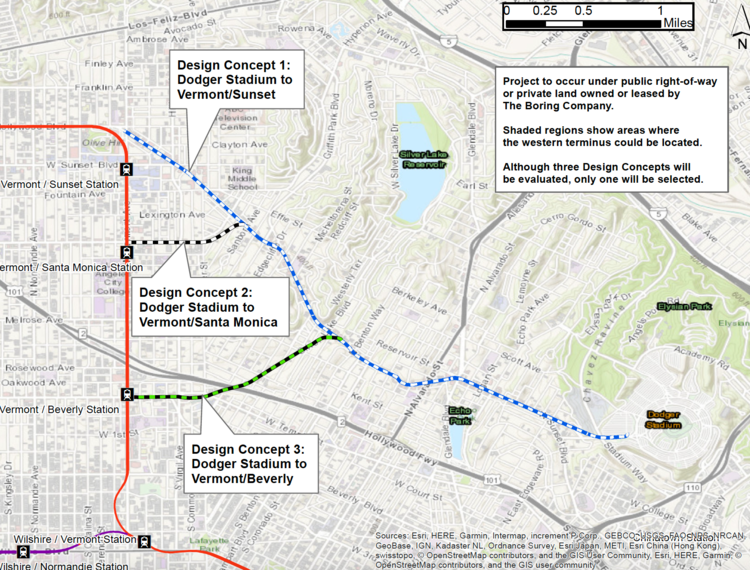 Elon Musk's The Boring Company has proposed a new "high speed" transportation tunnel project. TBC's Dugout Loop would connect Dodger Stadium to the Metro Red Line.
In June, Musk's TBC made headlines for its selection to build a skate-tunnel to the Chicago Airport. Though that project is receiving some criticism, I was hoping that it might be the place where TBC could work out kinks before they proceeded with anything substantive in Southern California.
The Dodger Dugout Loop tunnel would be approximately 3.6 miles long, ending next to either the Sunset, Santa Monica Blvd, or Beverly station. According to The Boring Company's project website, the plan is for riders to pay "around $1" to ride "autonomous electric skates traveling at 125-150 miles per hour." (Note: that's fast, but in train terms it is not quite "high-speed," which tends to apply to speeds above 160 mph.) Each of the electric skates "will carry between 8 and 16 passengers."
The proposal has already received coverage at the L.A. Times, Curbed, Daily News, and The Eastsider. There is also an L.A. City webpage for the project's environmental studies. Curbed already has a critique with an excellent list of better ways to make Dodger Stadium more accessible. I am not going to try to outline the whole proposal, but will point out some positives as well as some concerns I have.
Some positives of the proposal:
It's a lot better than TBC's last proposal for a dead-end proof-of-concept tunnel at a location where Metro already has funding and plans for a subway. This new proposal will have two ends, doesn't conflict with lines already on Metro's maps (and actually connects with lines on Metro's maps), and doesn't try to shoehorn a significant project into a California Environmental Quality Act (CEQA) exemption. TBC's website implies that the Sepulveda test tunnel is no longer in the works. I'd like to think SBLA criticism scared them off, but it was probably the Westside homeowner lawsuit threats. In any case, I am happy that that project isn't moving forward.
TBC is committing to an Environmental Impact Report (EIR), as required by CEQA. This process can be slow and imperfect, but it does mean that there is an accepted public forum for input and a process for adjusting the project to respond to concerns. The Dugout Loop's EIR initial study is online. The first EIR public input meeting will be on August 28 from 6:15-9 p.m. at Dodger Stadium.
TBC states that they are working with Metro up front. When the earlier proposal came out, it sure felt like Boring was trying to use city approvals as an end run around Metro.
The project calls for a single tunnel in a setting where a single tunnel makes some sense. Stadium travel behavior means big crowds going one way at the start of the game, and big crowds going the other way after. A single tunnel can run one-way before and after the game. It gains capacity by running these cars one-way close together in the same direction - almost but not quite as high capacity as, say, a subway train. (The single tunnel has drawbacks. With no redundancy, if one skate tanks the whole system is down.)
Overall, I think this makes some sense as proof of concept. There is demand, but not demand that is easily met by one mode (whether bus, shuttle, aerial gondola, foot, etc.) With 80+ home games and more events each year, the TBC has the chance to operate with some downtime to troubleshoot issues that might arise.
Some negatives of the proposal:
If it was my money, or the public's, there would be better ways to invest in access to the stadium than a tunnel or an aerial gondola (another privately-funded Dodgers transportation project that Metro is moving forward on). Curbed spells these out alternatives really well, but L.A. should really prioritize more space-efficient surface transportation, making buses, walking, and bicycling better and easier.
No, Mayor Garcetti, this won't lessen notorious Dodgers game-day congestion. Latent demand will induce travel.
The capacity is not very high. I remember thinking that the planned Dodgers Stadium gondola capacity felt like a drop in the bucket - and its design capacity is 5,000 people per night. The stadium holds 56,000 people. TBC's proposal would carry only 1,400 people "per event." (Compare both of those to surface light rail Expo Line carrying 20,000+ people to Rams games.) Limited capacity probably means huge lines at each end - and plenty of space dedicated to a skate parking lot at each end, too.
I haven't checked all the math on this, but the 125-150 mph speed seems to mean a lot of acceleration really quickly. For a 3.6 mile tunnel, the acceleration from zero to 150 would need to happen in 1.8 miles, because the second half of the trip would be decelerating back to zero. For 150 mph, this seems to be acceleration a bit less than a 747 airplane (they get to 184 mph in 1.75 miles.) It looks like speeds would need to be at the low end of that 125-150 mph range, or else riders might to need to be strapped down for acceleration/deceleration. No standing means less capacity per skate, so there's a balance to strike.
Musk's Boring Co hasn't said it directly, but the economics seem unbelievable, so this project appears to be a big loss leader. Boring Co estimates 250,000 people will ride each year, and states that tickets are around $1. If that applies to all tickets (see below), then the annual income is around $250,000, which is probably not enough to pay cleaning staff. Operations will be largely automated, but it still seems to me that the line would operate at a loss (which doesn't even account for construction costs). Some have speculated that maybe only the first few riders get in for $1, then others will pay higher "surge" pricing.
I keep thinking that the whole thing could fall through (fiscally or physically) after construction gets underway, then, in 30 years, the community decides it wants a subway and has to deal with an abandoned underground concrete tunnel structure in the way. TBC needs some kind of assurances (perhaps some kind of bond) that make it highly inadvisable to just leave a concrete tunnel underground.
Metro tunnels include plenty of expensive drainage features. This project would cross the historical Sacatela Creek (now a big underground storm drain) and the historic creek (also underground) that is now Glendale Boulevard/Echo Park. We cyclists know how hilly Sunset Boulevard is as it crosses all this drainages. TBC can flatten that out underground, but it will need some extensive engineering to avoid drainage issues.
There's a double standard that I want to bring up. L.A. City appears poised to grease the skids for this shiny new thing in a way that they pretty much never do for transit riders. City councilmembers were practically falling all over themselves to approve the Boring Co's dubious proposed test tunnel. At the same time, the city drags its heels on (sometimes gets in the way of) improving speeds for Metro's Blue, Expo and Orange lines. I'd love to see the mayor and council show the same kind of enthusiasm for improving bus and transit speeds that they do for unproven Musk skate tech.
I want to like this new skate-tunnel proposal, but, for now, it feels like more of a pie-in-the-sky distraction from more pressing transportation and livability issues. I hope I am proved wrong.
What do you think readers?
Stay in touch
Sign up for our free newsletter