Eastside
Mobility Justice Advocates Gather in Leimert Park for Untokening California
12:08 AM PST on November 10, 2017
"I'm at the point where I want to burn it [all down]," said a mobility advocate as Untokening California came to a close this past November 4.
She had had enough of hearing her community spoken about in offensive ways by well- (and not-so-well-) meaning planners and advocates, enough of giving 110 percent of herself only to realize a fraction of what she put forward was being seen as having value, enough of how disinterested those with power over what happened in marginalized communities remained in the larger picture, and enough of being tokenized.
"I don't know how much more I can take," she told participants.
The group had gathered in the historic Vision Theater in Leimert Park (Los Angeles) to debrief about the events of the day, which included a morning meditation, a panel of BIPOC (Black, Indigenous, and people of color) grassroots advocates, break-out sessions on tokenism, storytelling, and power, and a tour of the Leimert Park Village with artist Ben Caldwell. But talk quickly turned to how unique it was to be speaking about mobility and cities in a majority-BIPOC space and what it meant to be able to speak freely, be understood, and openly consider radical change.
Many of those that took to the mic had attended the Policy/Advocacy/Power session led by Olatunji Oboi Reed of Slow Roll Chicago and the newly-launched Equiticity and Untokening Co-founder Naomi Doerner. In introducing the activity for that session, Reed had talked about his successful battle to see the Active Transportation Alliance cancel the Vision Zero conference planned for Chicago and the case he made for programs targeting lower-income communities of color to strategize and engage with those communities, not for or about them. Doerner talked about her own recent move into a city agency in Seattle and efforts to push the needle on equity and justice in transportation from within. Using their own efforts to leverage power as points of reference, they then asked the 50-plus participants crammed into the KAOS Network to break into groups and talk about whether their preferred strategy would be to "build" (collaborate and work with agencies and advocates to shape a policy or investment) or "burn" (shut down a process and demand community needs be elevated and engaged to go forward) in the face of public investment, whether they would work from the inside or outside to effect change, and how best to ensure the needs of marginalized communities were always at the forefront of decision-making.
The exercise had sparked a lively discussion about how strategies would differ depending on how far along the planning process was as well as an examination of how advocates saw themselves positioned and where their sources of power lay. Because advocates worked everywhere from official organizations to the grassroots, conversations touched on everything from coalition building, leveraging power from the inside, to a combination of build/burn/inside/outside engagements.
Still, asking advocates to examine their own sources of power seemed to have sparked a lot of reflection. Two hours later, during the debriefing, some of the workshop participants were still using the "burn" or "build" language to describe how they'd been pushed to their limits, personally or professionally. And some took to the mic to suggest maybe it really was time to "burn" it all down.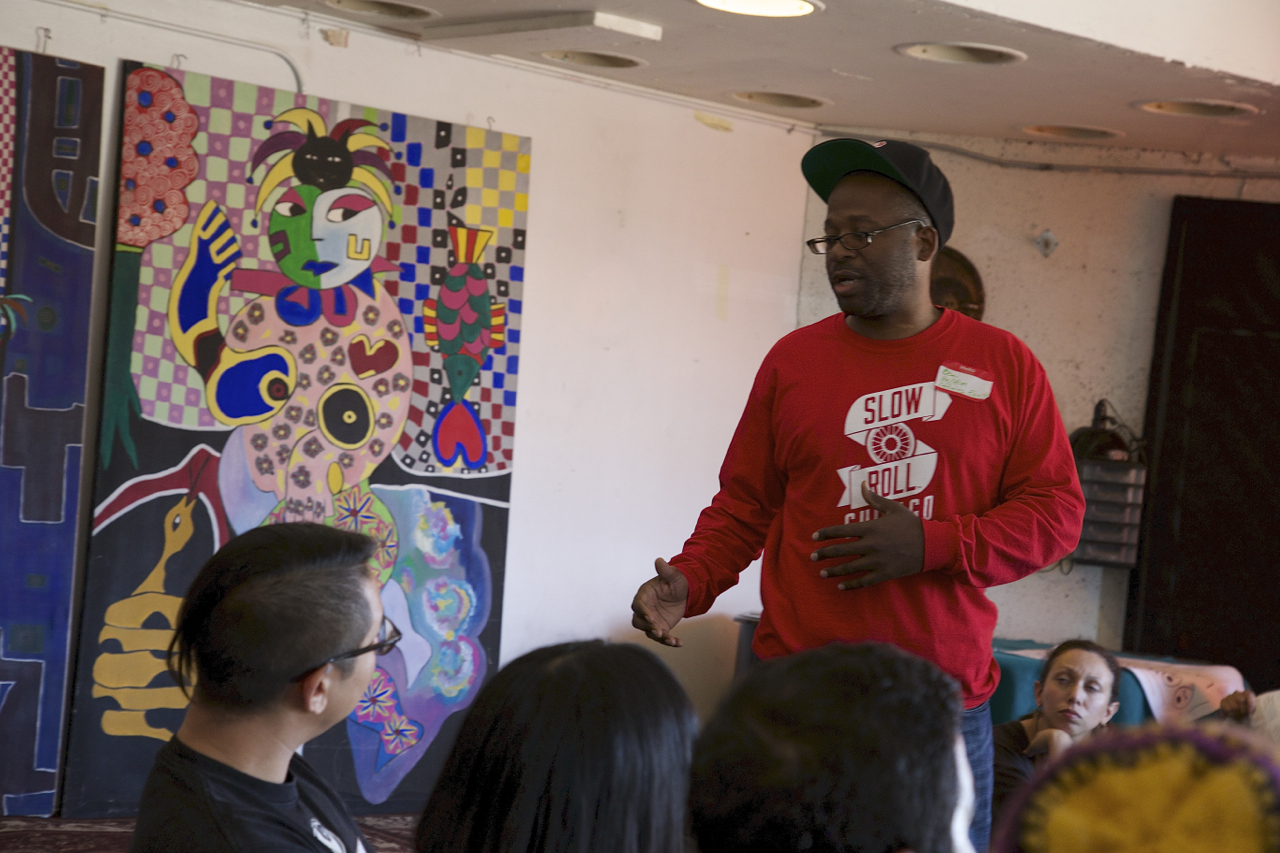 The larger question of how to get transportation and planning apparatuses to be responsive to realities other than those of well-to-do able-bodied cis het white males is one of several that have driven the Untokening from the beginning. A multiracial movement for mobility justice, the Untokening materialized last year out of the frustrations of Doerner and fellow advocates Adonia Lugo, Carolyn Sczczepanski, and zahra alabanza over how often they, other advocates of color, and even the topics of equity and justice themselves were marginalized within traditional planning spaces.
In convening others with similar experiences of marginalization last November in Atlanta, the organizers opened up a space where their collective experiences could be centered and uplifted, their expertise could be more easily pooled, and intersectional frameworks that better served their communities' needs and aspirations could begin to be articulated.
Held just days after last year's election, some of the 130 mobility advocates in attendance kicked off that morning's events by expressing both how raw the national affirmation of white supremacy, xenophobia, misogyny, and general bigotry had left them feeling and how much it confirmed what they already knew about how deeply those ills were embedded in our nation's core.
Most had traveled to Atlanta precisely because of the extent to which the institutionalization of those ills in otherwise "progressive" planning narratives, frameworks, policies, and practices impacted their ability to advocate for their communities in their work as well as their own well-being.
The election of a short-fingered vulgarian who announced his campaign by belly-flopping into a xenophobic swamp only gave the work that much more urgency. Not just because of the harm that could come from having an unhinged bigot at the helm of the nation. But also because of the likelihood that efforts by progressives to push back against more obvious forms of racism and the like would breed that much more resistance to the acknowledgement of entrenched structural rot (see: questions that arose around the inclusivity of the Women's March, for example).
This year's convening - organized by alabanza and Lugo with help from local coordinator Rachel Horn, Leimert Park liaison Adé Neff, and communications coordinator Sczczepanski - recognized the cumulative toll those collective fights had taken on advocates by focusing on building and deepening cross-community connections.
From morning meditations that centered healing, to a panel of grassroots experts in everything from environmental justice to indigenous rights, to an exploration of the efforts of Boyle Heights (via an open mic at the Ovas' La Conxa) and Leimert Park (via a walking tour) to pushback against cultural erasure and physical displacement, to interactive workshops leveraging their own expertise, participants had multiple opportunities to draw strength and inspiration from both place and each other.
Participants also had a chance to review some of the principles of mobility justice that the Untokening's core leadership team had distilled from the perspectives gathered at the previous year's events.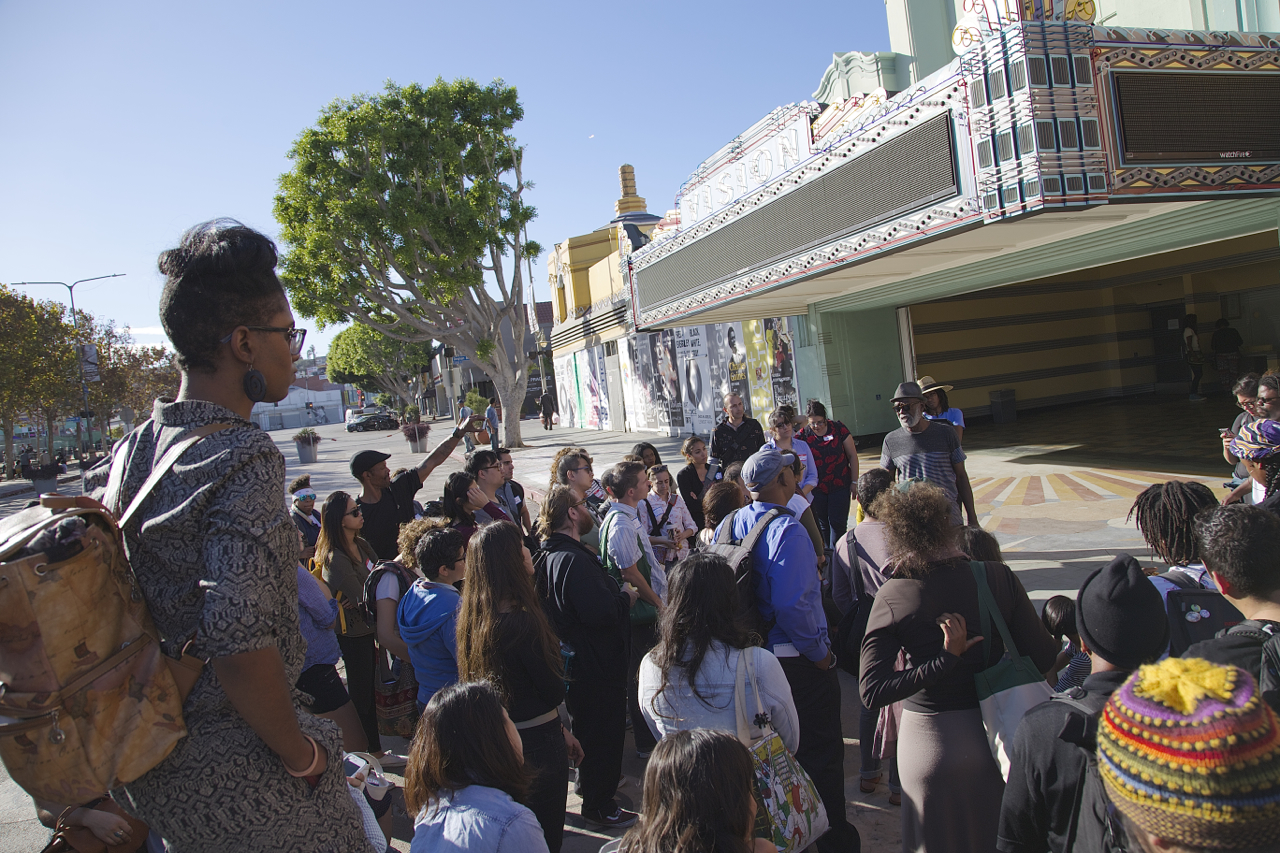 The affirmative nature of the event meant that even declarations that the best way forward was to "burn" the existing system were accompanied by acknowledgements of the potential for regeneration seated in the room.
The refusal to accept the norm of "conversations about us [being] conversations without us," as speaker and environmental justice warrior mark! Lopez of East Yard Communities for Environmental Justice had put it that morning, meant that participants were looking to each other for help in formulating new visions of what their communities and cities could be.
The way forward would not be easy. The moving testimony of speaker Kishi Hundley, community activist with T.R.U.S.T. South L.A., health promotora, and lifelong South Central resident, was a reminder that so many of marginalized communities' most powerful voices face tremendous hurdles just getting their basic needs met, much less getting compensated for their unique expertise.
But there was strength in numbers.
Those present had the talent, the heart - everything needed to rebuild, said Social Justice Planner Monique López as the debrief drew to a close. "Let's come together to build anew."
Visit the Untokening website for more information about the convening, the organizers, and future events.
Sahra is Communities Editor for Streetsblog L.A., covering the intersection of mobility with race, class, history, representation, policing, housing, health, culture, community, and access to the public space in Boyle Heights and South Central Los Angeles.
Read More:
Stay in touch
Sign up for our free newsletter