Streetsie
2016 L.A. Streetsies: Vote for Advocacy Group of the Year
2:59 PM PST on December 29, 2016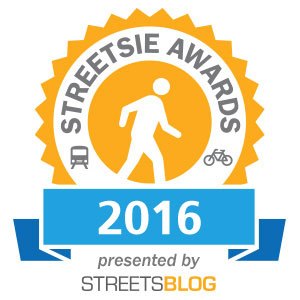 The advocacy group of the year Streetsie award is a relatively new category. Which group was most visible and effective in 2016 in making L.A. streets more livable? Most of the nominated groups have played key roles in the 2016 election.
Voting started today and will close on Thursday, January 5, 2017 at noon. Reader voting accounts for one half of the scoring this year, with one quarter going to SBLA staff voting, and another quarter going to a SBLA steering committee vote. Last year we had a lot of apparent robo-votes coming in in large quantities from a few IP addresses, so we now have some safeguards to try to separate the digits from the digital.
Vote for all six 2016 Streetsies!
Bike San Gabriel Valley - Los Angeles County is a big place, so it is great to see numerous groups emerging to advance bikeability in various places. They are not the biggest bike non-profit in the County, but Bike SGV has been exemplary, extraordinarily active and visible in advancing bicycling in the San Gabriel Valley, arguably not known for bike friendliness or even urbanity. Bike SGV has pressed for bike planning, organized bike events and bike campaigns - including in support of Measure M, open streets, and much more.
Investing in Place with the L.A. County Bicycle Coalition - Investing in Place and the Bicycle Coalition did the research and coalition-building that resulted in a truly significant amount of Measure M funding for bicycling and walking. Figures vary, but roughly 6-8 percent of Measure M is designated for walking and bicycling. This is up from zero percent in 2008's Measure R and 2012's Measure J. Investing in Place has also been a key player in making sure L.A. City's new sidewalk repair program will be effective, and is now pressing on Metro long-term plans to ensure they are fair and equitable.
Los Angeles Street Vendor Campaign - Street vendors and the Los Angeles Street Vendor Campaign finally have something to celebrate this year: after three years of pushing the city to make good on its promise to legalize sidewalk vending, an ordinance to that effect is finally in the works. And it couldn't come at a better time. President-elect Donald Trump's call for the deportation of undocumented immigrants left many street vendors feeling even more vulnerable than they already were. Because sidewalk vending is illegal in Los Angeles, they feared the tickets incurred for selling fruit or clothing on the sidewalk - already a burden, both because of how expensive they could be and because their goods were usually confiscated - could now carry the added threat of deportation. While the latest decision by the Public Works and Gang Reduction Committee only directs the City Council to approve a general framework for a sidewalk vending ordinance - one that would then need to be hammered out in detail before being entered into the law books - the work of the Street Vendor Campaign has helped ensure that the needs of the approximately 20,000 vendors who work on the fringes of the economy will not be completely overshadowed by more powerful business interests.
Move L.A. - No group has pressed longer and harder for transportation sales tax measures than Move L.A. That voters approved Measure M by a large super-majority is in part due to more than a decade of advocacy and coalition-building on the part of Move L.A. The organization has also been among the leadership of campaigns for improving Metro student bus passes, and fostering equitable transit-oriented development.
SCOPE, Community Coalition, and YVote - This entry is a bit of a catchall, but in a disheartening political campaign season, it was uplifting to see so many groups out pounding the pavement to make sure that communities that often feel disconnected from the political process were engaged on why their vote mattered. What that meant in communities like South L.A. and Boyle Heights was thinking beyond the presidential contest and educating residents about what the ballot measures could mean for them. It's not an easy sell in communities where disinvestment has been the rule and people know they are often the afterthought in policy and planning.  And yet, for months on end, groups like Strategic Concepts in Organizing and Policy Education (SCOPE), Community Coalition (both in South L.A.) and YVote (in Boyle Heights) door-knocked, phone-banked, engaged in peer-to-peer communication, showed up at every community event, clipboards in hand, or made voter registration and education a key component of their own events. In registering voters of color (especially youth), they helped all of us hang onto the hope that L.A. and California could continue to chart a progressive, just, and inclusive path forward, even as the rest of the country took some giant steps back.
Honorable Mentions: The American Association of Retired Persons - AARP - stepped up efforts for complete streets, including endorsing and campaigning for Measure M. Bike the Vote weighed in on numerous 2016 elections (vote for BTV leader Michael MacDonald here). Santa Monica's No on LV campaign won against heavy NIMBY sentiment. The TRUST South L.A. Riders, all residents of South L.A., took on both the city and Councilmember Curren Price in lobbying for the implementation of bike lanes on Central Avenue; they lost that fight this year, but gave lower-income cyclists of color a prominent voice in planning discussions.
Past winner: East Yard Communities for Environmental Justice
Stay in touch
Sign up for our free newsletter