fares - hikes, fareless
County Education Coordinating Council Calls for Free Metro Student Pass
10:58 AM PDT on May 21, 2014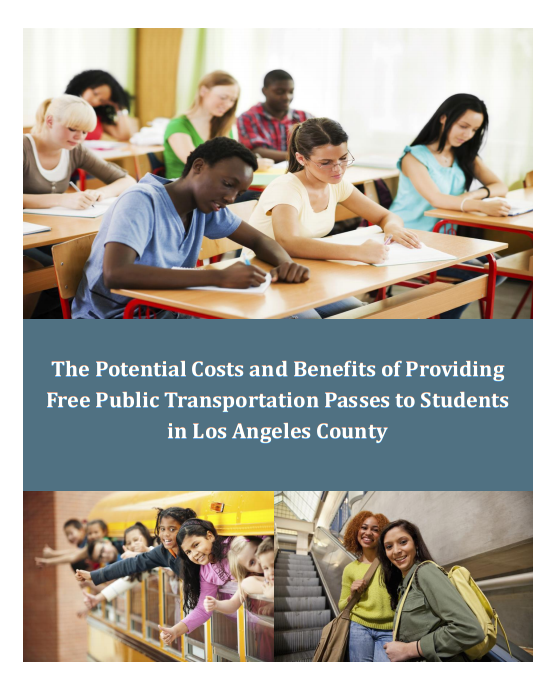 Tomorrow, the Metro Board is voting on fare increases. Under the Metro staff recommendation, Metro's base transit fare would go from $1.50 to $1.75 in 2014. That's a 17% increase. Metro's student fare would go from $1 to $1.25 in 2014. That's a 25% increase.
Mayor Eric Garcetti has proposed a fare increase companion motion would temporarily freeze student fares at their current levels.
The Los Angeles County Education Coordinating Council (ECC) is urging things to go in a different direction. The ECC is calling for "free Metro passes for all students, from pre-school to college."
The County Education Coordinating Council was formed by the L.A. County Board of Supervisors in 2004. The council is chaired by School Board Member Monica Garcia and Presiding Juvenile Court Judge Michael Nash. ECC is charged with removing barriers to educational achievement, primarily for foster youth and youth in the probation system.
One key focus for the ECC is attendance. The more students that attend school, the better the outcomes for both students and schools. In 2010, the ECC formed its School Attendance Task Force (SATF,) from which the free student fare recommendations emerged.
In early 2013, at the urging of community groups including Youth Justice Coalition, Community Rights Campaign, Children's Defense Fund and the Violence Prevention Coalition, the ECC adopted a resolution [pdf] favoring free student passes. The ECC cites three primary reasons for favoring free student passes:
Provide students with a reliable, affordable way to get to school;
Prevent students from receiving fare evasion citations; and
Allow schools to redirect resources currently devoted to transportation toward educational services.
Fare evasion deserves some additional explanation. According to County Probation data [pdf], fare evasion accounts for an unexpectedly large share of L.A. County Sheriff juvenile citations. In FY2012-13, fare evasion accounted for 27.7% of all youth citations, more than vandalism, theft, alcohol, graffiti, etc. Fare evasion acts as a sort of gateway drug, bringing youth into a vicious spiral of interactions with the criminal justice system. Citations lead to fines and court appearances, which, if not addressed, can lead to warrants, arrests, and incarceration. According to ECC, a "first-time court appearance during high school quadruples a student's odds of dropping out." Fare evasion citations occur predominantly on Metro rail as compared to Metro bus; they appear to be an unintended consequence of Metro's rail system expansion.
In late 2013, the ECC Los Angeles County Department of Public Health (DPH) released its report The Potential Costs and Benefits of Providing Free Public Transportation Passes to Students in Los Angeles County. The report [pdf] and a 2-page summary [pdf] are available online. 
The report reviews numerous free student pass programs from various cities, including Boston, Oakland, and San Diego. On a strictly fiscal basis, the costs of a free student pass, which fall on Metro, could be offset by increased school district funds for increased school attendance. Similar to bulk subsidized discount passes Metro offers to employers, there could be student pass program arrangements between Metro and schools and/or school districts. The benefits are numerous: mobility for L.A. youth, increased school attendance, decreased truancy, better health, reduced congestion, and economic benefits for families.
It appears that the Garcetti-Yaroslavsky-Ridley-Thomas motion will pass tomorrow, freezing student fares until a new task force studies and implements a "comprehensive diversion program." Hopefully, the new task force will consider free student transit fares among its possible options.
Stay in touch
Sign up for our free newsletter