SGV
El Monte Refines Complete Streets Designs to Address Shopkeeper Concerns
Business owners differ on how to improve Main Street. The project team is searching for a middle ground.
3:41 PM PDT on October 17, 2023
New preferred concepts for multimodal improvements at El Monte's Main Street Mall and on Valley Boulevard have been shared. These concepts are an effort by the El Monte Complete Streets project team to please two camps of merchants at the Mall: those in favor of a full vehicular closure on Main Street for a pedestrian paseo, and those who'd like to keep the half-mile road open to car traffic. 
Previously, SBLA noted concerns of a shop owner present at a public workshop in June who was worried that vehicular closure on Main would affect business. 
In August, the EM Complete Streets team met with 23 stakeholders from El Monte's business community to get more feedback, particularly on concepts for the Mall. 
Last Wednesday (October 11), another public workshop was held to present how the concepts were reconfigured by that business outreach.
Marlena Perez, Active Transportation Project Manager for the design firm Michael Baker International, told SBLA, "Definitely, between the two different breakout groups, we saw very different themes and preferred options." 
One possible compromise? Removable bollards.
"[This] allows for closures. [These] could be closures that would last similar to the current farmers' market." said Steven Wright, Project Manager for El Monte Complete Streets. "Or they can be longer term closures that could start on the farmers' market day [Thursday] and go to the following Monday. It still allows for that flexibility."
Wright also noted, "It may be a process where there's a group strongly in favor of the closure now, and the other group has to see that it has a lot of positive benefits. So the flexibility of opening it back up from this initially, maybe for a few years into people getting more used to Main Street being a pedestrian-and-bicycle-only zone is something we can get to. We will see [...] These are not decisions that are written in concrete. We do have some time to make some tweaks and adjustments."
Two business owners from the Mall spoke up at the workshop in favor of full closure.
Jose Nava, owner of David's Jewelers, said, "We did suggest the street would be closed so people can sit around and walk more safely. And also, it helps our businesses bring more people in."
Another shopkeeper – who did not identify themself – shared her anxiety about flash robberies. "It spells more safety for all the stores and for all the families because that way you're not going to have the criminals come and people are gonna feel more safe. It's gonna stop the robberies."
There will be more public outreach efforts soon: this Wednesday (October 18) from 4-7 p.m. at Fletcher Dog Park, this Saturday (October 21) at the Day of the Dead Festival on Main Street from 11a.m. to 4 p.m. and another targeted meeting with the Downtown El Monte Business Association to be announced in November.
There were numerous other noteworthy proposals at the workshop last week though.
No More On-Street Parking on Main
On-street parking could be removed over visibility concerns – both for the business signage being blocked by parked cars, and over concerns for potential collision danger when drivers back out into Main. The area currently given to parking would be converted to wider sidewalk.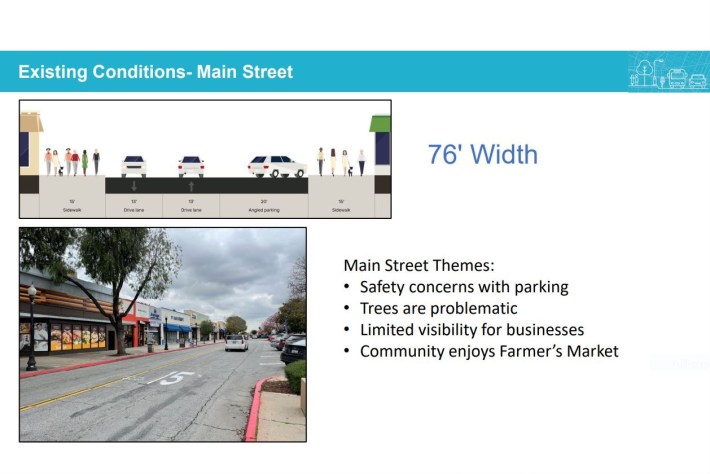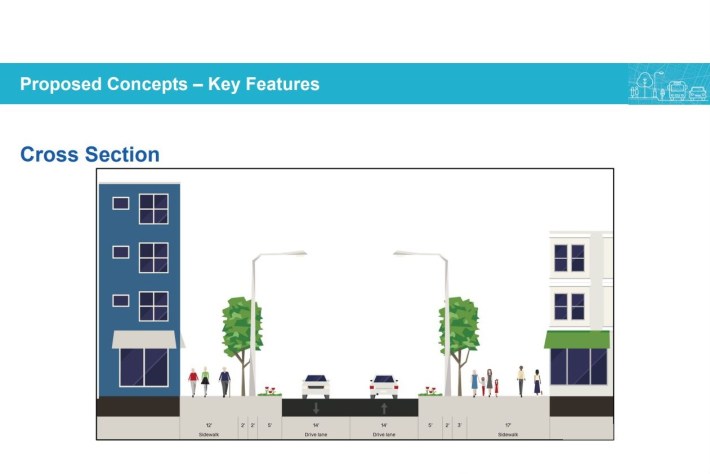 "And that additional widened space will allow us to kind of have some different opportunities with the widened sidewalks." said Perez. "Those are opportunities for things like outdoor dining, streetscape improvements like landscaping, or street furniture, as well as other improvements like potentially public art, or other temporary events."
Roundabouts Throughout
The team displayed the following concept maps with small traffic circles interspersed along Main, and a larger roundabout taking the place of a signalized intersection at Tyler Avenue and Main.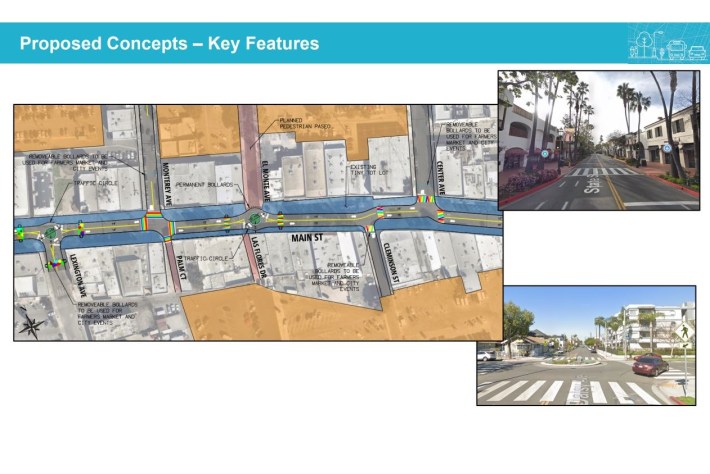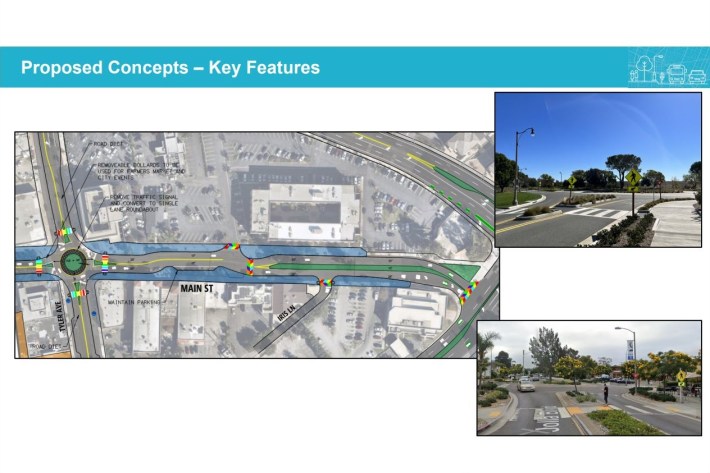 Perez said, "The roundabout helps to improve the safety of the overall intersection, and also serves as a traffic calming feature. But it also is a really nice, aesthetic opportunity to create an entry monument to the downtown area."
Connect the Mall to the Metrolink
The earlier concept of turning the majority of Main into a pedestrian paseo doesn't seem likely to happen now, but several of the small side streets off-shooting from Main could be fully pedestrianized, particularly El Monte Avenue.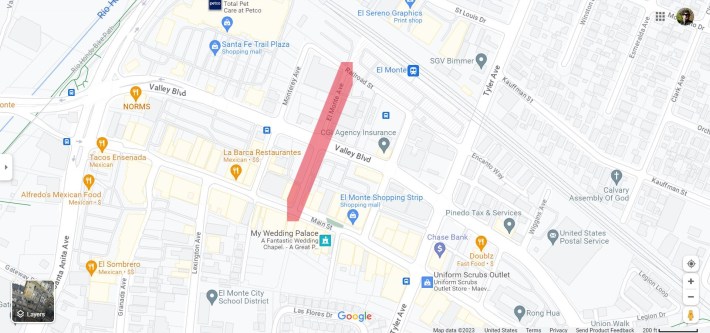 "And so this Paseo is planned to connect all the way from Main Street to the existing Metrolink station," said Perez, "and the city has a future project developed north of Valley that's all going to tie into this Paseo development."
Gateway and Parking Upgrades
Merchant worries about all these shifts away from car culture are understandable. The Mall is at the intersection of the San Gabriel Valley's greatest arterials: Valley Boulevard and Santa Anita Avenue. If the Mall is to once again attract customers from throughout the Valley – as it once did, pre-white flight in the '70s/'80s – some fresh signage and better parking lots could help.
"So we're proposing three gateway features throughout the project to really highlight [Main Street] to the public." said Perez. "We've placed them strategically along Valley and also along Santa Anita to bring awareness and a visual draw to Main Street to the public who may be passing by on Valley that this is the El Monte downtown district."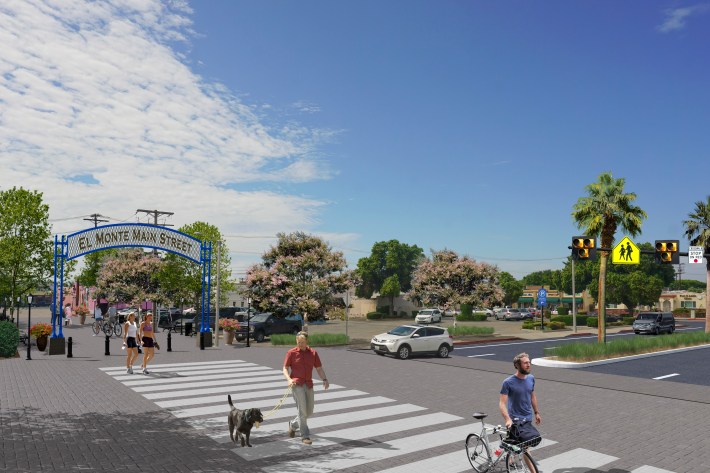 An anonymous question was asked during October's workshop about whether the Mall's large auxiliary parking lots would be repaired and modernized. Visitors to the Mall know that the most popular lot – along Santa Anita and Valley – is tight, a little confusing to navigate, and very dark at night. Perhaps the space layout could be reformulated, but without any concept to show for these lots yet, Perez said for now "another critical component of those designs will be the lighting on the parking lots. And that's going to really tie in to not only aesthetics, but the safety of those parking spaces. So that's definitely something that we've looked at."
Valley Boulevard
So far, proposed concepts for Valley seem to have been met without objection. At this workshop, the team offered specific approaches to multimodal improvement on Valley.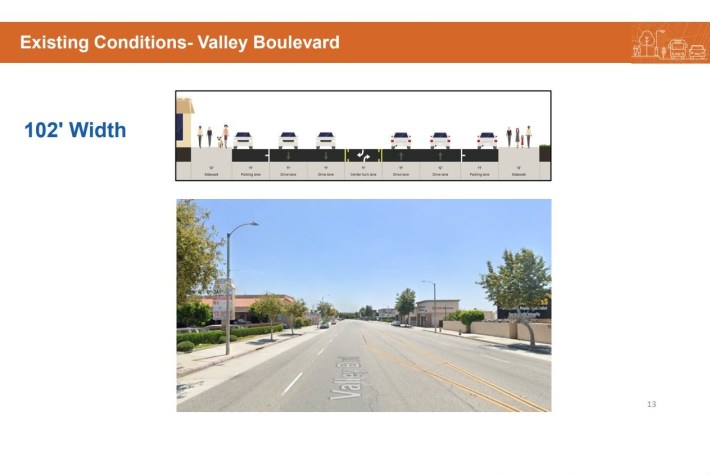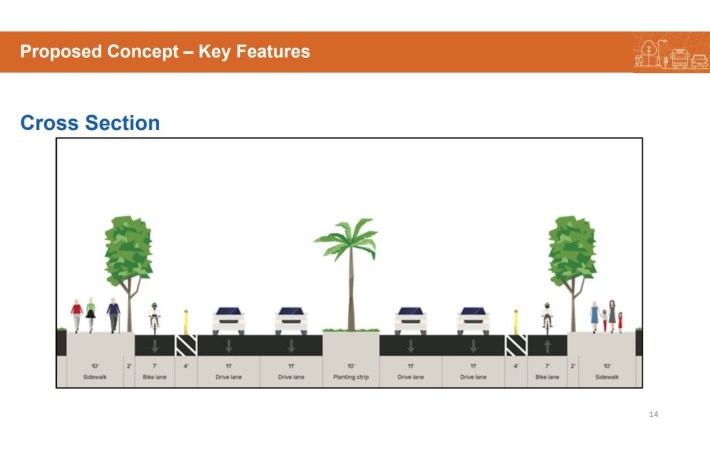 Currently, there are no bike lanes on Valley, but the EM Complete Streets concept here looks promising: check out the wheel stops protecting the bike lane. These facilities will run across the length of the city on Valley.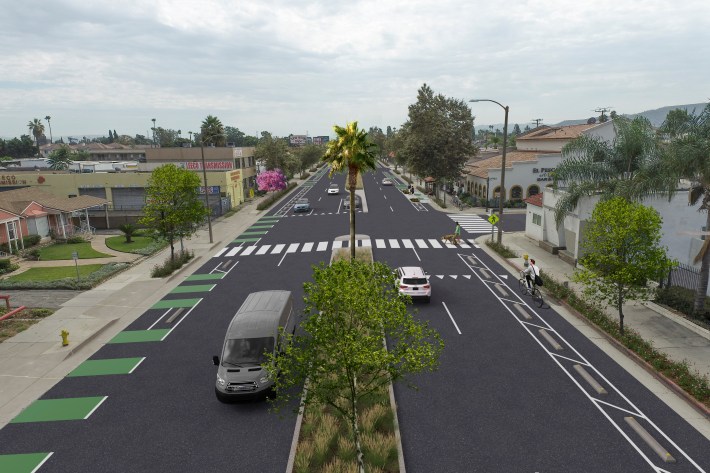 What Valley does have currently in El Monte are a number of uncontrolled crossings. The team's prescription for those are HAWK signals [High Intensity Activated Crosswalks]. Perez said they're also considering adding raised islands at the middle of the crossings.
"And another common feature that we've done throughout the corridor is look for areas where we can relocate bus stops to go from near side to far side bus stops," said Perez, "and adding bus islands as well."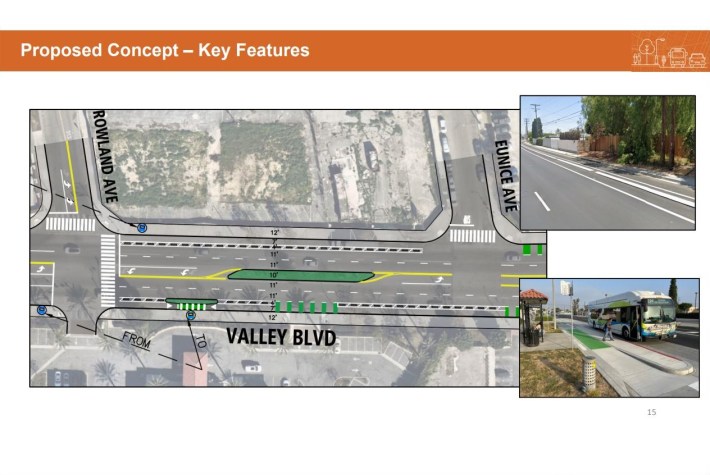 Streetsblog's San Gabriel Valley coverage is supported by Foothill Transit, offering car-free travel throughout the San Gabriel Valley with connections to the Gold Line Stations across the Foothills and Commuter Express lines traveling into the heart of downtown L.A. To plan your trip, visit Foothill Transit. "Foothill Transit. Going Good Places."Sign-up for our SGV Connect Newsletter, coming to your inbox on Fridays!
Chris is the San Gabriel Valley Reporter for Streetsblog LA and co-host for SGV Connect. He's been a La Puente native since 1991, and a radio journalist since 2014. He hosts the podcast SGV Weekly.
Read More:
Stay in touch
Sign up for our free newsletter