defunding police
City Councilmember Eunisses Hernandez on MacArthur Park Station, the Surrounding Community, and Metro's Pilot Interventions
2:49 PM PDT on April 25, 2023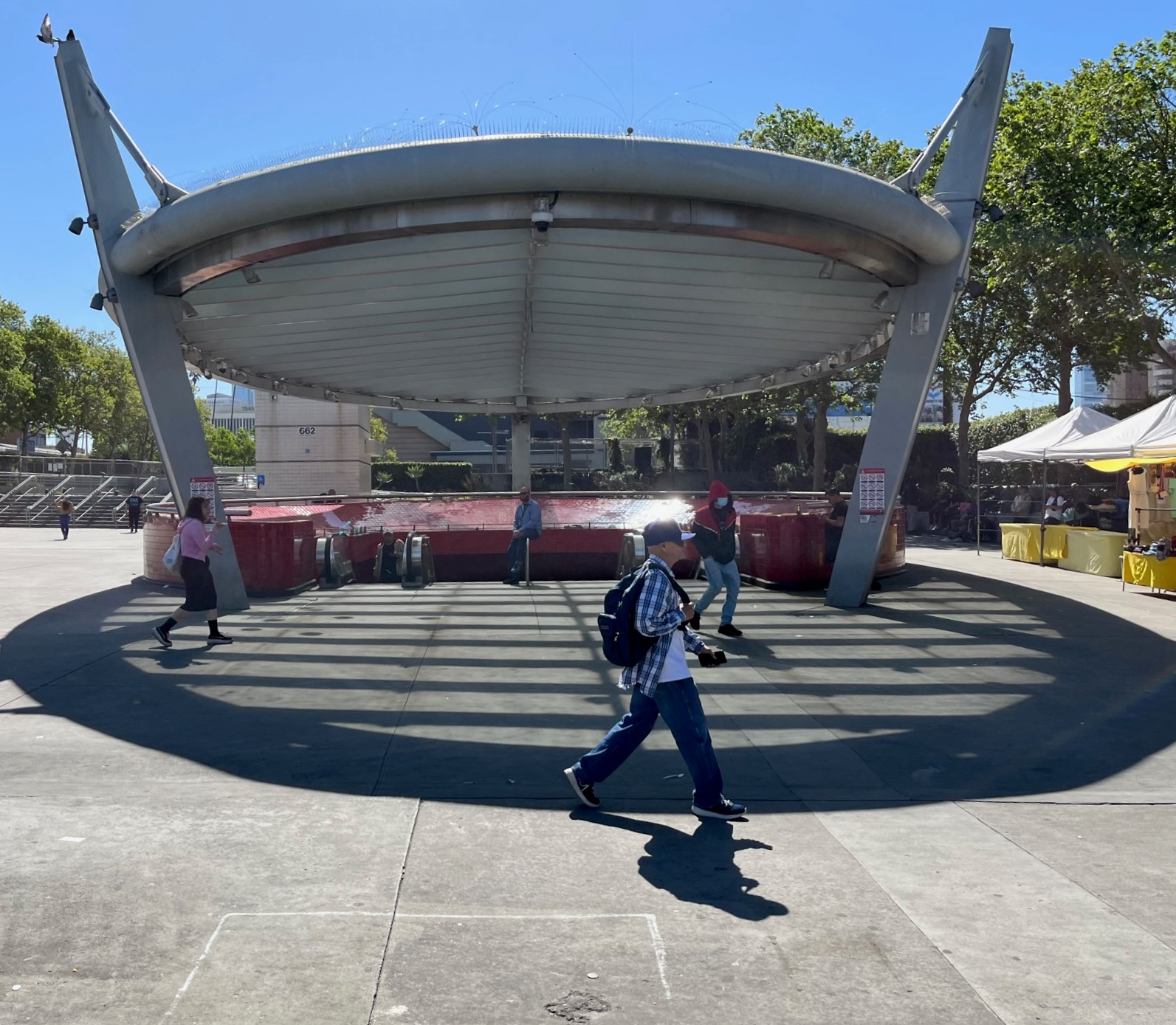 Metro is currently piloting a series of public safety interventions at its MacArthur Park Station. In researching last week's Streetsblog post on Metro's MacArthur Park pilot, Streetsblog reached out to L.A. City Councilmember Eunisses Hernandez, who represents the neighborhood where the station is located.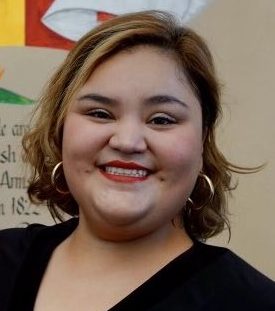 Long before she was elected last year, Hernandez was already pushing for fundamental reforms to policing and public safety. She was one of leaders of the successful countywide campaign to pass Measure J, the ballot measure designed to redirect some county funding away from police and jails, and toward community services and programs. Hernandez campaigned on ending mass incarceration, decriminalizing poverty, expanding mental health support, and protecting immigrant communities.
This interview took place via Zoom late last week and has been edited for readability.
SBLA: To date, Metro's pilot interventions at the MacArthur Park Station have been largely punitive - loud music, upping police patrols and surveillance, and fencing off parts of the station. What's your general take on what Metro's been up to at MacArthur Park?
Eunisses Hernandez: My general take is that increasing enforcement and criminalization, especially of folks who are in crisis, doesn't address the root causes that we're all figuring out. At best, it shuffles people from one place to another without resolving their needs - addressing their mental health issues, problems with substance abuse, or homelessness. At worst, it leads to more people interacting with our criminal legal system - getting fines, jail time, or potentially falling victim to both violence in the community but police violence as well.
I think the music is unacceptable and inhumane. We can't and shouldn't resort to hostile infrastructure. It lowers the quality of life for everyone who has to use that space, those who are housed and unhoused, who are riding the subway.
Blaring loud music doesn't do anything to address the underlying issues at play here at the station. I'm also particularly concerned about how it can affect folks with sensory sensitivities who use this station as well.
There are a lot of things that we can be doing differently to actually deal with some of the crisis at hand.
Metro has a few positive interventions - including transit ambassadors (that they're already doing), a staffed station kiosk, and maybe bathrooms. What's your take on these?
I would love to see more of those interventions that might bring more people into the station. MacArthur Park Station is the second most used in the city of L.A. - right after Union Station - so I think we can and should do more. We can create spaces that are accessible, safer, cleaner, and made for everybody in Los Angeles.
I'd like to see the city, county, and Metro partner together more closely to add more resources to this area to truly address the root needs that we have here.
What I told Metro is that these are opportunity zones. These are places where we don't have to go find people. People are already coming to the train stations, coming to the buses. So we really need to take that opportunity to be able to catch people when they come here looking for refuge.
Back in February, your staff spoke at Metro's hearing about MacArthur Park - urging care-oriented solutions, programming, and station activation. Could you elaborate on those? What would you like to see Metro focus on at the station?
I'd love to see that space activated by creating programming, classes, spaces for rest, green spaces.
The Westlake/MacArthur Park Station has a lot of space that presents opportunities for us to be able to bring more resources to. I don't think we should close spaces off. In fact, I think that we should create spaces for people to sit and rest. Places where we can engage folks.
I believe that we need to saturate this area with services - care-first responses - to homelessness, problematic substance use, mental health, and mental health crises. We need to uplift solutions like expanding psychiatric mobile response teams, mobile overdose prevention units, street medicine teams.
Again, it's about saturating this area with services. Both to meet the immediate needs and crises, but also pathways to warm hand-offs to long-term service and care.
It's a place that a lot of the community congregates to try to make money to survive. You see a lot of entrepreneurs in the area, a lot of street vendors. I think including them in the space activation is also critically important.
Regarding vendors, they've been there for a long time. For decades, at least, MacArthur Park had and currently has an abundance of street vendors. Metro has worked with the city to officially sanction some vending at the station plaza, though apparently the official program lapsed in 2020. There's some clash between Metro's formal permit process and the informal creative nature of vendors. How do you see Metro - and the city of L.A. - supporting vendors at the station?
As you noted, MacArthur Park has been a vending hub for decades. I think it presents - in the past and today it has presented - an example of what good could be done, if and when levels of government and local jurisdictions come together. That program trying to create a unified vending place was a collaboration between the city and the county. It wasn't the best collaboration, but it was the beginnings of something we're trying to pick up again.
Our team feels that it is our responsibility to use city resources and departments to bring the infrastructure to make this a uniform location. You have vending areas in Mexico City, in Oaxaca, where there is a uniform and unified space for vendors to sell from - where there is an understanding of community agreements and follow-up: what it means to participate in the space. Make sure that there's weekly trash collection, that the vendors are educated on things like making sure that they throw away their food waste. Making sure that we have ADA accessibility on the sidewalk, so folks who have a wheelchair are not forced to go onto the street.
I think that station area is prime for us to show what it looks like to actually invest in vendors. There's a lot that we can do to make that happen for them.
Metro has been slowly working toward joint development of affordable housing above its station. Metro's been trying to strike a balance with a developer that hasn't really wanted to do a lot of affordable, and that put the project kind of in limbo. What sort of development would you like to see there?
For us, most importantly, is that we need affordable housing. And I mean deeply affordable housing, so that it allows for a community to remain in place so that they can live where they work.
A lot of these folks - especially in this neighborhood - are going to work in the Garment District, are going to work in places that are right next door. I think that we've got to do whatever we can to make sure there's housing they can afford, that's in the city, so folks aren't having to commute far away.
Again: affordable housing - deeply, deeply affordable housing - is our main priority. This is what we want to make it happen in all developments, particularly this one.
The station is part of the larger fabric of the Westlake community - an area rich in immigrants and street life, but also with great needs, in terms of improving peoples' lives, health, and safety. How has it been working with Metro on meeting the community's broader needs? Has Metro been receptive to working with CD1 [Council District 1 - Hernandez' office], responding to your community concerns?
We have begun to have conversations with Metro. From the beginning, from the soonest opportunity that we could, in public meetings, we have made it clear how we feel about some of the moves that have taken place in this station - the music and things like that.
We've also taken the steps in the back end to start meeting with Metro, to share with Metro, to begin the process of collaboration, so that we can move forward on implementing some of the care-based responses, the saturation of services that I talked about.
The station is a part of CD1, but when you look even closer, it's a part of a community that is probably two, three times more dense compared to other parts of the city. Just because of how many apartments and tenants there are.
To work hand in hand with Metro, we're beginning that conversation reminding folks that we need to remember that whatever we do bring here, it actually meets the needs of the working-class families that are there. Because of how dense it is, we can't just bring regular numbers or regular access. We need to make sure that it's deep, so the community can get access to whatever services they need.
We're going to keep meeting with Metro. We're going to keep building with them. We have a vision of what we'd like to see in our community and we will bring folks along and do the labor to make that happen.
Let us know what other concerns/issues - of MacArthur Park, the station and the surrounding neighborhood - that you all would like to make Streetsblog's readers aware of.
The first piece that we're looking at is that folks always talk about this part of the district as being a part that's really dirty. The MacArthur Park area is one of the densest parts of the city. As a city we have not invested enough in the city services to clean the streets so that it actually meets the needs of that density.
We are moving on creating more access to street cleaning teams that we're going to pay with our discretionary funds. Figuring out ways where we can create more local jobs to actually have more cleaning teams in that part of the district.
So that's one - just bringing clean streets to our community.
The second piece that we're looking at is that this is also one of the parts of our district that has a lot of High Injury Network (HIN) streets and intersections. [Per L.A.'s Vision Zero, the HIN is the 6 percent of city streets that account for 70 percent of pedestrian deaths and severe injuries.]
So we're heavily focused on building up a plan on how we can begin to implement safe street infrastructure in that part of the district. Not just signs, but actual real other infrastructure, physical infrastructure that makes streets safe, that our district in particular has been starved of for the last nine years.
The third piece is the access to life-affirming and life-saving responses to crises. The MacArthur Park Station and the surrounding area are some of the places with some of the highest calls to 911 for LAPD and the fire department for things like overdoses, fights among people, different things like that. We want to bring more types of responses that will prevent some of the harm and violence in the first place. We're bringing out overdose prevention teams, case managers, harm reduction teams.
We're working with the county to bring programs that connect small businesses with services. So that when someone goes in, that small business can call the case manager through the LEAD program, "I've got John here, he's … can you all come and help me with him?" [LEAD is Law Enforcement Assisted Diversion/Let Everyone Advance with Dignity, an L.A. County voluntary diversion program that connects people with case management services to reduce harm from substance abuse.]
When folks just rely on 911, that is really a heavy burden on our precious crisis response system, on the police, and the fire department. We're trying to build in additional steps that are local and community-based [that] people are able to call and rely on to prevent harm and violence, to respond to crises, and to deal with issues post-crisis.
Anything else you'd like to add?
Just that I hope the readers stay plugged in, because we are just beginning this process.
We just got sworn in in December. We are taking significant steps to begin to try to move resources, to implement, to bring and build the tables of the different stakeholders that'll make this happen. It requires a little patience.
These are the models that we want to show Los Angeles - models that we need to expand so that our communities are safer, healthier, and cleaner.
Stay in touch
Sign up for our free newsletter