Hilda Solis
Metro MacArthur Park Station Pilot: So Far, Heavy on Punitive Measures
12:25 PM PDT on April 20, 2023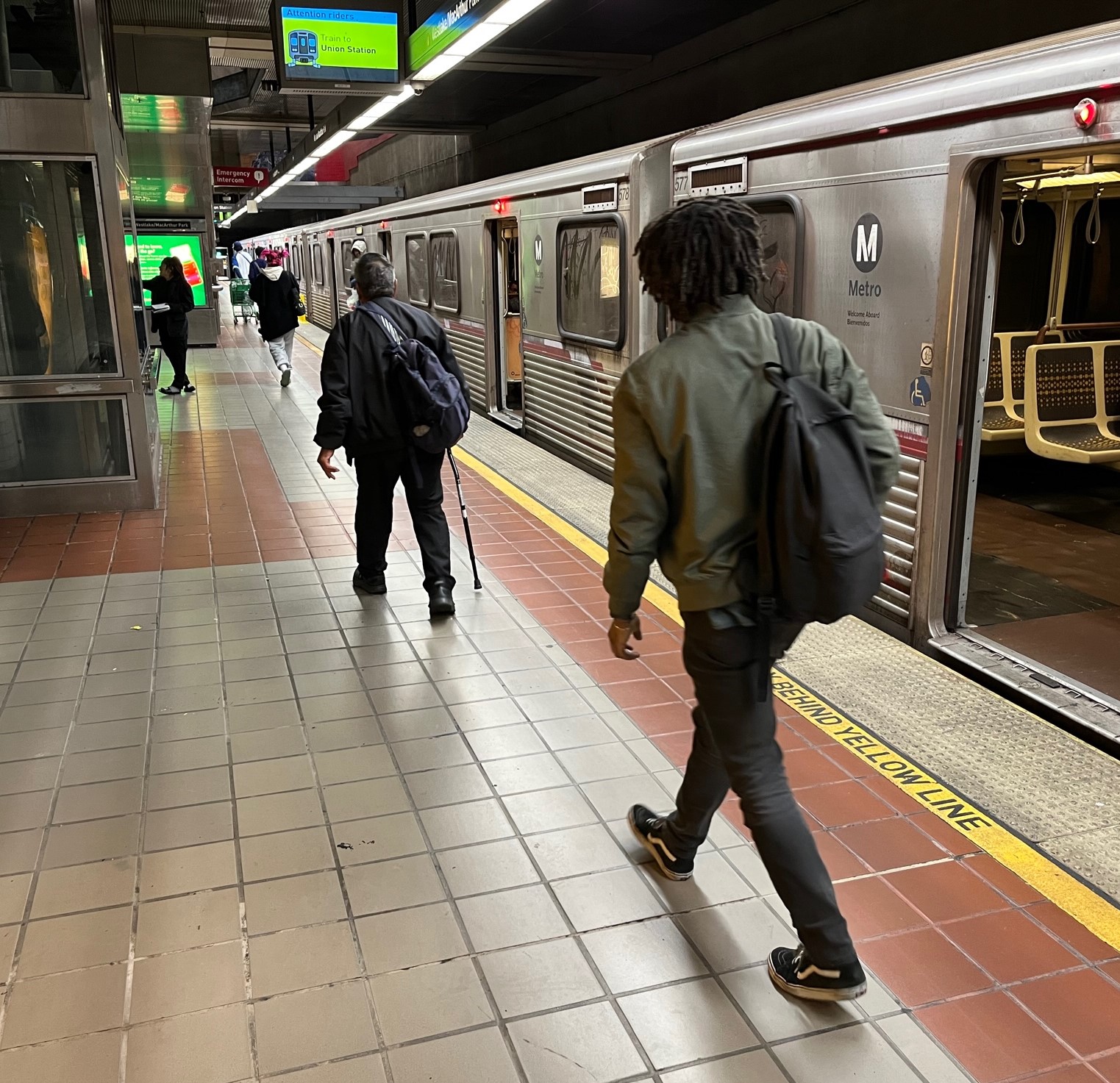 Metro is piloting a series of interventions the agency says are intended to "improve public safety" at MacArthur Park Station. Though Metro Senior Director Stephen Tu described the pilot as a "creative... balanced approach," so far early measures at the station have been mostly punitive, with more punitive as well as some positive measures still to come.
Streetsblog reported briefly on Metro's "Reimagining Westlake/MacArthur Park Station Thru Pilot Interventions" in February, when it was discussed by the Metro board. The main aspects of the pilot are outlined in Metro's February presentation. This post will run down the current status of the program, including what to expect in the near future.
Just west of downtown L.A., Metro B/D Line MacArthur Park Station is located in the city's population-dense and immigrant-rich Westlake neighborhood. The station is among Metro's top ten busiest. Between rail and bus, Metro currently sees over 22,000 daily boardings there, 94 percent of whom don't own or have access to a car (per Tu's February presentation).
The station experiences relatively high levels of activity Metro terms inappropriate. A lot of this is unlawful activity - including drug use, drug sales, theft, and trespassing. Other activity is representative of broader city/societal issues spilling onto the site - including homelessness and medical emergencies, many of which are due to drug use. Some of the activity that Metro deems inappropriate is common and arguably should be welcomed - including "informal/unregulated vending" and "loitering."
In an email statement, L.A. County Supervisor and Metro Boardmember Hilda Solis affirmed much of Metro's pilot noting that "some of our Metro rail lines have seen growth in interpersonal harm and property damage incidents over the last year, and many riders no longer feel safe. Westlake/MacArthur Park Station is one of the busiest transit nodes in the system, serves mostly Latino travelers who depend on transit, and is in need of design changes and operational solutions to enhance community safety."
Transit advocates have been critical of Metro initial interventions. Alliance for Community Transit (ACT-LA) Communications Manager Alison Vu notes the pilot does not address the root causes of the county's housing and public health crises. "Metro can start to tackle this by heavily investing in social service outreach workers, to improved lighting, and many other care-based safety strategies that transit riders have called for," Vu notes. "When we tackle the root causes of crises, everyone benefits."
Vu and ACT-LA urge Metro to prioritize interventions including "bathrooms, shade structures, on-site health and crisis support services, cultural programming, greening, public art, and street vending" at MacArthur Park. ACT-LA has long promoted activating Metro stations, including hosting a recent demonstration and publishing a report towards this end.
What Metro has implemented already
Metro has received a lot of attention (L.A. Times, Curbed, L.A. Taco, and other national and international coverage) critical of the agency's use of intensely loud classical music (listen) to drive people away from the MacArthur Park station.
ACT-LA's Vu notes that, "Blasting loud music on repeat overhead in an attempt to push transit riders out of stations as quickly as possible is not a long-term solution to the issues transit riders are facing at stations—in fact, it's not even a band-aid." On social media and in the press, many have compared Metro blasting headache-inducing music to torture techniques. The composer of the piece even requested Metro refrain from using it, which they finally did.
Metro started playing loud music February 1. Nearly two weeks ago, the agency turned the volume to less torturous volumes.
By early March, Metro added two layers of fencing to close off the north station entrance and nearly half of the ground level station plaza.
Soon after that the agency erected a mobile security tower in the closed-off portion of the plaza. Note that Metro's concept slide (see above) had labeled this area an opportunity to "Create flexible use spaces for community activation."
Metro has also stepped up police patrols, transit ambassadors, and cleaning at the MacArthur Park station. Metro has also added more platform-level lighting and new station ventilation. Additional plaza lighting is being installed this month.
Solis facilitated Metro partnering with L.A. County to host a recurring Housing for Health (HFH) mobile medical unit provided by the Los Angeles County Department of Health Services to bring urgent and primary health care services to people at the MacArthur Park station. On a bi-weekly basis, the mobile clinic delivers medical services, including mental health resources.
What is still to come
Metro pilot interventions include several more features. Streetsblog inquired about the status of various features and received an email response from Metro spokesperson Patrick Chandler.
In order to discourage fare evasion by riders boarding at MacArthur Park, Metro plans to add barrier partitions to prevent reach-around opening opening of emergency gates. According to Chandler, Metro anticipates an early phase of fare gate hardening to be implemented next month.
At the platform level, Metro plans to modify existing benches, adding baffles to make lying down uncomfortable.
And then there are a few positive features.
In the mezzanine level, Metro plans to install a attended kiosk, fully staffed during station hours. Metro staff would assist riders with fare gates, including on the spot sign-ups for LIFE (Metro's low-income fare program).
Metro is looking to add portable restrooms at the plaza level. When SBLA asked Metro about the schedule for adding bathrooms, Chandler responded that "Metro is exploring the potential pilot of a public restroom on-site" then noted that bathrooms could "invite more illegal activity" and pointed out that "the City of Los Angeles currently operates a public restroom across the street in MacArthur Park."
Metro is also looking to "restart" its officially sanctioned street vendor marketplace.
Street vendors are abundant in the MacArthur Park neighborhood, and this has been the case for decades - since before the Metro station opened in 1993. In 2017, in response to street vending spilling into the station plaza, Metro collaborated with the city to pilot an official area for vendors on the street level station plaza. According to Metro, the marketplace pilot officially ended in 2020. Vending activity did not end in 2020; the marketplace continues to today.
Metro's intention to impose the agency's formal culture and structure on a dynamic informal marketplace sets itself up for some conflicts with the community it seeks to serve. As it is, the agency already heavily restricts nearly all station activity (no vending, no busking, no food sales, no retail) and even put together a series of troubling PSAs demonizing vendors and other supposed nuisance riders on transit just a few years ago.
According to Chandler, Metro is partnering with the city and county to allocate funding for the vendor marketplace. (Note that Metro is not waiting on funding for fences, surveillance towers or fare gate hardening, but Metro is awaiting funding in support of street vendors.)
In the longer run, Metro is also looking to jointly develop housing atop much of the station.
An early phase of a large transit-oriented development (TOD) was built at the nearby corner of 7th Street and Bonnie Brae Street. But that project faltered nearly a decade ago when it failed to secure anticipated state funding.
In 2020, the Metro board rejected a subsequent TOD proposal on the grounds that it would not have provided enough affordable housing. According to Chandler, Metro is still working with that developer, Walter J Company, who owns properties immediately north and south of the station [map]. The developer's revised "Centro Westlake" proposal would include 668 apartments (234 affordable), plus a hotel, offices, retail, and "local vendor options accessible from the plaza level." Metro is currently reviewing the proposal, anticipating the project could be submitted in May 2023 for L.A. City approval.
Metro staff to report on the pilot in June
The MacArthur Park Station pilot is due to come back to the Metro board in June, when staff will report on the status of the interventions as well as on a Solis motion requesting Metro staff to report back on possibilities for "care-centered strategies" there.
Lastly, Metro has steadfastly refused to consider one key intervention: increasing Metro subway frequency. Metro is currently operating the B/D (Red/Purple) Line subway at 82 percent of pre-pandemic levels, meaning trains arrive every 15 minutes at peak hours. B and D trains alternate, so at shared stations including MacArthur Park, one train arrives every seven to eight minutes.
"High frequency transit service is a fundamental part of care-based strategies," says Vu, who calls for three- to five-minute service throughout the day and universal fareless transit to attract more riders. "When transit is high frequency, quick, safe, and reliable, [it becomes] an attractive option" she says. More riders, in turn, means that "other transit riders are bystanders who keep their fellow transit riders safe."
Stay in touch
Sign up for our free newsletter