A Line (Blue Line)
Video of Moments Before Man Crushed by Blue Line Train Raises More Questions for Family in Mourning
7:23 PM PDT on August 14, 2018
"They broke a family forever," Evelia Granados says as she hands me her phone.
The clip she wants me to see is of her three-year-old niece wailing as she rocks back and forth while clutching a photograph of César Rodríguez, her uncle (and Granados' brother), to her chest.
The 23-year-old Rodríguez died last August 29 after being crushed by a Blue Line train during an altercation with Long Beach police officers who had engaged him at the Wardlow station over his non-payment of the $1.75 fare.
The unexpected and rather inconceivable nature of the loss and the failure to get any conclusive answers from Metro, the LBPD, or anyone else regarding what really happened that night has left the family feeling unmoored.
Granados flips through her phone looking for more clips of her niece crying about how much she misses Rodríguez. She tells me that one of her teenage nephews had such a hard time concentrating that they feared he'd be derailed from finishing high school. He would eventually pull through and graduate late, becoming the first grad in their family. But another nephew with autism was knocked off balance emotionally, even becoming suicidal at one point.
She finds a photo of her own three-year-old son and turns the phone my way again. Dressed in his Captain America costume for Halloween, the little boy stands in front of the lovingly maintained altar encompassing one side of their otherwise sparsely furnished Boyle Heights apartment. He had asked her to take the photo of him with his uncle, Granados says. He still kisses Rodríguez' photos goodnight, greets them in the morning, and says good-bye to them when he leaves the house.
Rodríguez' mother and sisters are also struggling to move forward. When they took their annual family trip to Big Bear, says Granados, they took his ashes hoping it would feel like he was there with them. They ended up coming home a day later instead - it just wasn't the same. Holidays have been robbed of their shine. And this past Mother's Day, they didn't feel up to celebrating at the San Antonio Winery, as they usually did every year. It was just too hard.
Granados points to the dried roses gracing the top shelf of the display holding miniature low-riders and other mementos to her brother. They are the flowers Rodríguez had gifted her mother last Mother's Day.
The Search for Answers
"They stole a part of our hearts with my brother," Granados reiterates.
The "they" she refers to is the Long Beach Police Department.
According to the official LBPD statement regarding events on the evening of the 29th,
Long Beach police officers were assisting Metro Fare Compliance Officers in the area of Pacific Avenue and Wardlow Road. While on the train platform, officers detained a suspect for fare evasion and subsequently located narcotics on him. The suspect failed to comply with the officer's orders and attempted to flee the officer's lawful detention.

As the suspect was attempting to get away from the officer, both he and the officer fell onto the platform. The suspect's lower extremities were partially off the edge of the platform and the suspect was struck by an incoming Metro Train. The suspect was trapped between a train car and the platform.
It's a slightly different story than what her family had heard when detectives finally spoke with them several days after Rodríguez' passing.
In fact, they had not been able to get much in the way of information at all, says Granados, because the detectives seemed more interested in interrogating the family and painting Rodríguez as a potential aggressor or a hardened criminal who had good reason to flee.
"They come in and instead of telling us what happened, they start questioning us. Like, 'Oh, what did he do for a living?' 'Oh, who did he live with?' [and] 'Do you guys know if he did any drugs?'"
Angry and confused, the family pushed back, asking if the officers had come to question the family or tell them what had happened. At one point, the exchange got testy, she says, because one of the officers admonished her for believing what she had heard on the news when she questioned his claim that Rodríguez' fall to the platform had been an accident. The detectives, she says, made no mention of a struggle, saying only that Rodríguez had been running from officers. When she countered that the account she was referring to was the LBPD's own statement, she says the detective paused for a moment before the questioning resumed regarding Rodríguez' drug history and whether he had any gang affiliations.
The family genuinely didn't know.
To them, he was sweet and smiley, loving and family-oriented. He had struggled to find work, sometimes heading to the callejones to try to make a few bucks sweeping up around the businesses before they opened. He hadn't liked to ask the family for assistance, so they only knew he sometimes stayed in a friend's garage or, every now and then, a motel. They unfortunately didn't have much space for him themselves - they had had to rent out his room to another family to make ends meet. But when he heard Granados needed diapers, for example, he found ways to make his dollars stretch so her son would be taken care of. She, in turn, did the same for him in the rare moments he let on that he needed help. Because of how marked their childhood had been by the struggles of their single mother to maintain a stable home, Granados says, her brother wanted something different for himself. He hoped to explore new places and start over somewhere where there was more opportunity. Yet, all the detectives seemed interested in was confirming the narrative the LBPD had already put out there.
It was too much disrespect. They threw the detectives out.
As it was, the family was still digesting the fact that Rodríguez was gone. They had only learned about his death indirectly from one of their mother's close friends several days after it had happened.
Although Rodríguez had been identified via fingerprints within a day of his passing, the coroner was unable to identify next of kin. Instead, it was the comadre who received a call in the middle of the night. Because she didn't speak English and the caller didn't speak Spanish, however, all she understood was the name, "César Rodríguez." When she and her daughter checked the caller's ID in the morning and saw it was the coroner, they immediately came by the apartment to break what they could only assume was terrible news.
Even claiming Rodríguez' body was an ordeal. His mother, Rosa Moreno, had had to go to the Mexican consulate to beg for help in getting some form of ID that would allow her to retrieve and bury her son.
That was how they found their lawyer, Arnoldo Casillas, says Granados. The consulate had apparently contacted him after hearing her mother's story. [Casillas has taken on a number of higher-profile cases involving police violence.] Without his assistance, they would never have gotten access to the videos of the incident which she and her family feel call the LBPD's account of what happened even further into question.
The videos, released to Casillas and the family in November and made public in a Primer Impacto segment with reporter Salvador Durán this past April, make clear just how dangerous it was to both the officer and Rodríguez for the officer to have taken Rodríguez to the ground as the train was pulling into the station.
Rodríguez had been formally detained, Casillas tells Durán in Spanish, meaning it was therefore the obligation of those detaining him to keep him safe. It was the erroneous choice to use force, says Casillas, that led to both the officer and Rodríguez falling to the ground as the train approached. The allegation that force was justified because Rodríguez was attempting to flee, says Casillas, is what allows the LBPD claim Rodríguez' death was an accident. [Please note, the video does feature graphic scenes of Rodríguez trapped between the train and platform.]
Unfortunately, says Granados, while there is much more footage of the scene that she and her family saw - including that of a shaken and horrified train operator and heartbreaking footage of her brother, weak but responsive while trapped between the train and the platform for over half an hour - none of it appeared to capture the moments leading up to the altercation. What they were left with instead was a view of the altercation just getting underway from the camera on the approaching train. The initial distance from the scene and blurriness make it difficult to discern exactly what transpired between Rodríguez and the officer or who initiated it.
It appears entirely possible that Rodríguez was physically pulling away from the officer in response to having hands put on him. But it also appears highly unlikely that Rodríguez was, as officers contend, in full flight mode and therefore in urgent need of tackling.
For one, standing at a good distance from either exit from the platform with his back to the track, a train approaching the station, and officers surrounding him on all three sides, there weren't a lot of places Rodríguez could have gone. [Besides the two officers in front of him, there is at least one more officer visible to his left, checking TAP cards.]
He had also been detained for some time before the altercation began - between eight and 20 minutes, depending on the time he was struck (LBPD reports 8:52; the detective reported 8:42 to the coroner; time stamps on the security footage suggest he was hit before 8:52, but it isn't clear that the time stamp covers all four images displayed; the Blue Line schedule is here).
As noted in the autopsy report (but not in any communications from either the LBPD or Metro), Rodríguez was asked to step off the train after a routine TAP card check showed he hadn't used a pass or paid the fare. "At the next station," the report reads, "the decedent reportedly attempted to flee and pull away from Officers and a struggle ensued."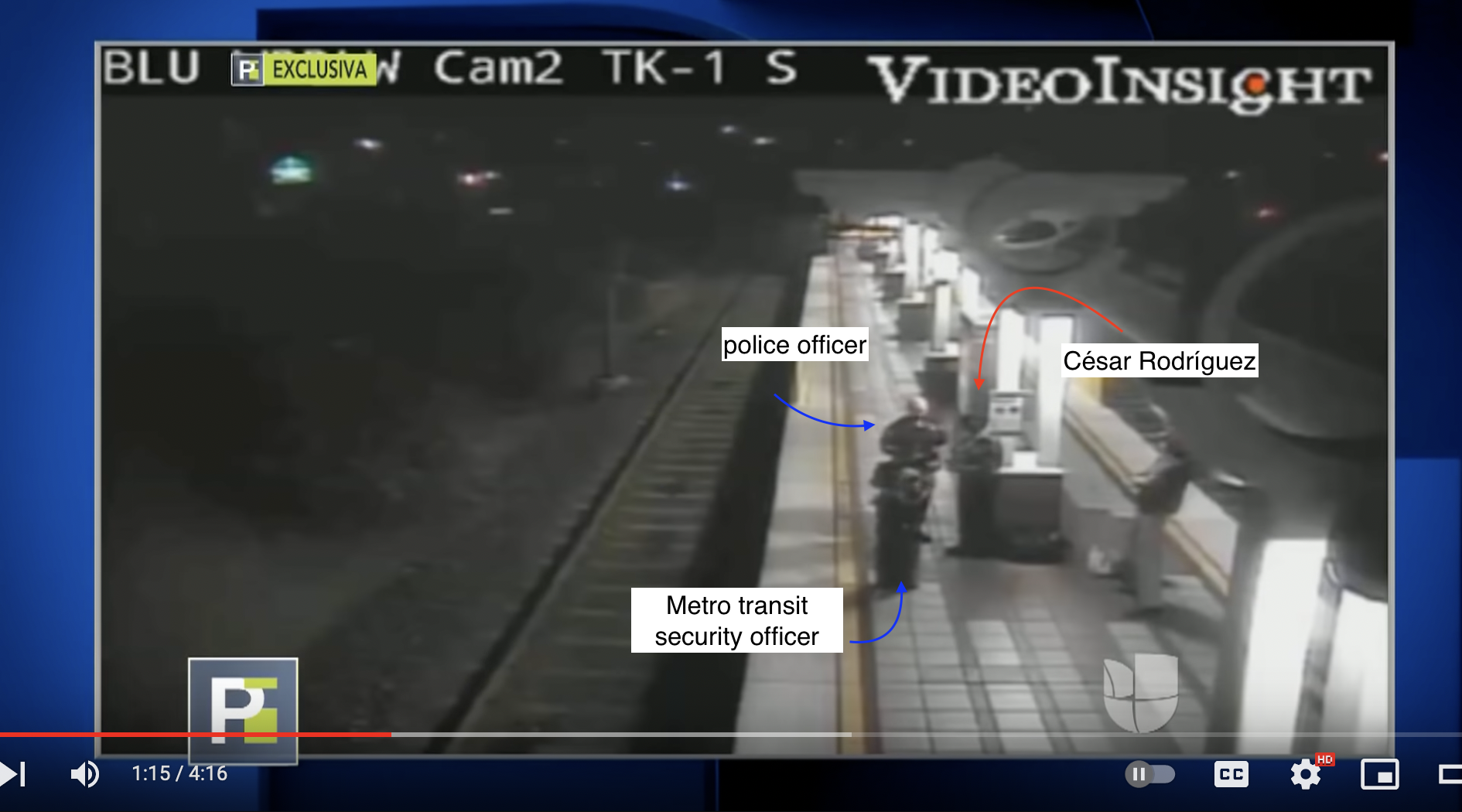 If this account is accurate, then Rodríguez is the passenger seen disembarking from a northbound train with a police officer and what appears to be a Metro Transit Security Officer and being detained [above, standing against the pillar in the grey hoodie].
In contrast to the autopsy report, however, there is a point in that scene where officers fully walk away from him, giving him an opening to run.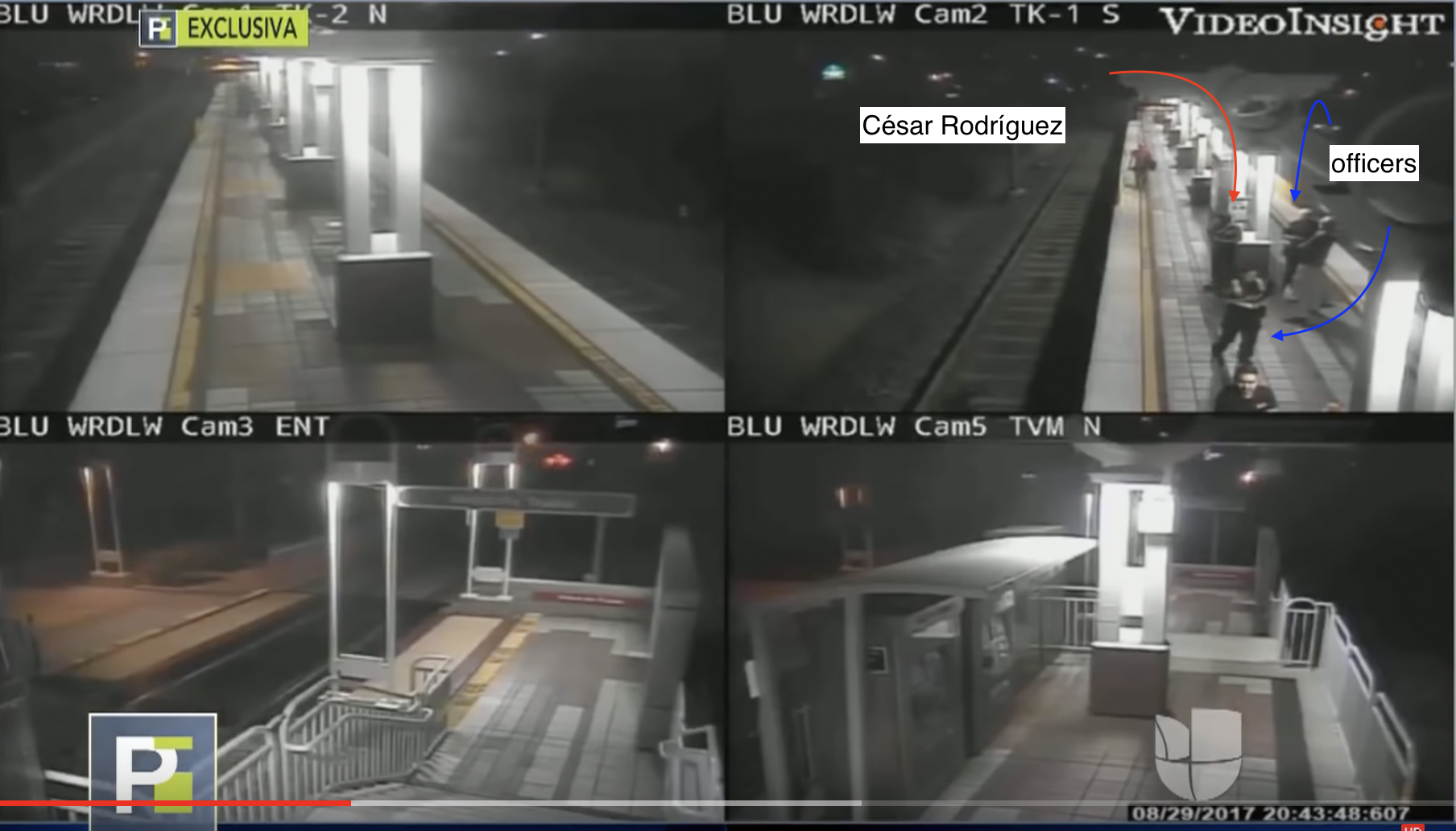 He doesn't.
Instead, he stays put for the duration of his detention under the very same platform signage where he will eventually struggle with officers. It's a detail which suggests the altercation began after the stop escalated from a fare check to something more.
The detective on the case reported to the coroner that Rodríguez had produced a fake ID during detention, and that when police "then pat[ted] the decedent down for safety...[they] discovered a knife and a bindle of a substance suspected to be methamphetamine."
Again, assuming this report to be accurate, fear that he would now be in trouble for the drugs, heightened by the fact that, according to toxicology reports, he did have low levels of meth and cocaine in his system, may have prompted him to "pull away" from officers when they went to take custody of him. Or it may have been that he was balking at being searched over the failure to pay the $1.75 fare. The LBPD has yet to give a more detailed accounting of how, why, and when the stop escalated and why the decision would have been made to wrestle with Rodríguez so close to the end of the platform as a train rolled in.
Finding Closure
Rodríguez had had $12 in his pockets the night he died, laments Granados.
And his girlfriend had told her that they had both used loaded TAP cards just a few days before. So why did this incident have to end the way it did? And how is it that a year has passed and neither Metro nor the LBPD has come to any formal conclusions about what occurred that night?
"We just want answers," says Granados of the reason her family has retained Casillas and are suing both the city of Long Beach and its police department.
The family understands they're unlikely to get what they consider to be justice and they aren't particularly interested in money, she continues. They just want to know what really happened that night so they can finally move on.
"We didn't go through the grieving process correctly," she says of the family's efforts to find peace over the past year.
Having to scramble to find funds to pay for his funeral services and cremation certainly hadn't helped. They had tried to hold a fundraiser at Salazar Park selling tacos shortly after Rodríguez passed, but the Sheriffs staked out their stand before finally moving in to hassle one of the patrons waiting in line. Things escalated from there with the officers, the family, and the supporters all pushing and shouting at each other. When pleas were made for calm in the presence of small children, the family was told that the officers would be happy to arrest Rodríguez' aunt for vending without a permit and confiscate the funeral funds.
Trying to find solace in connecting with other families who had lost loved ones to run-ins with law enforcement hadn't always gone well, either. She had been asked about her mom's papers at an event protesting District Attorney Jackie Lacey's failure to hold police accountable, Granados says. Others told her that they didn't see what happened to her brother as falling into the same category as cases where the victims were shot.
Even the press conference where Granados spoke to several outlets about her brother's case last September had taken her family by surprise, she says. They had all been under the assumption that they were just going to protest in front of Metro. In the end, she was glad for the platform, Granados says, because "My goal is to [put] my brother's story out there, for this to not happen to any other family...because it's heartbreaking and it's hard." But it had been a lot to process in the moment. So much so that her mother, overwhelmed by grief and stress, had collapsed within minutes of arriving at Metro's headquarters that day.
The family has since turned more introspective, reflecting on who Rodríguez was to them to find meaning in his passing. Messages left on relatives' phones telling them not to worry about him now seem like foreshadowing. A conversation with a beloved former teacher about his wish to be cremated just days before his death feels like an omen. Photos of him in the months before he died where it appears that the light is missing from his eyes are signs that God was preparing him to leave.
"You just feel his [effort to] comfort - that he kind of left something [for us]," Granados says of discovering a video he'd recorded some time ago on his mother's phone in the months after he had passed. In it, he tells his mother they will see each other on the other side, that he loves her, that everything happens for a reason, that she shouldn't hold grudges, and that he wants her to tell his sisters, nieces, and nephews how much he cares for them.
"Every time we feel some type of way," Granados says, her voice catching, "that video helps us."
And although they can't bring themselves to ride the Blue Line - his mother tends to curse the train when she sees it - they've sought out his spirit at the spot where he was taken from them.
"We have an attachment with that station forever," says Granados.
So they make a pilgrimage to it every month.
"We go every 29th to go put some candles," she explains. But "it's very hard because Long Beach is not close from here. Second of all, we drive all the way over there, we go and put some candles, and the next day...it's like nothing's there" because Metro removes them.
"It's kind of hard to deal with that."
Still, the compulsion to mourn there remains strong.
"I guess you kind of feel the presence of him being there for the last time. You know?"
But each train that passes through is yet another reminder that things should not have turned out as they did.
"You can hear the train way before it's even crossing the street," she muses angrily. "You can hear it! So [the officers] knew a train was coming - that's just straight murder. There's no other excuse for that. To this day, they haven't been able to excuse themselves!"
"We accept that he didn't pay the fare," she says. But they cannot accept that such a minor infraction should ever end in such a devastating way.
If they were willing to be so reckless with her brother's life, she says, still incredulous, "What are they capable of doing to someone else?"
* * *
Efforts to reach the family's lawyer for more information regarding the videos and the lawsuits went unanswered. The LBPD responded to questions about the incident, their engagement with the family, and any agreements with Metro governing the way stops on transit were to be conducted by saying they cannot comment on an ongoing investigation and pointing to the statement released following Rodríguez' death. As of publication, Metro has not commented on questions regarding their expectations of how fare, etc. enforcement is to be approached, any steps taken to prevent tragedies of this nature in the future, or any conclusions reached from their investigation into this incident.

Sahra is Communities Editor for Streetsblog L.A., covering the intersection of mobility with race, class, history, representation, policing, housing, health, culture, community, and access to the public space in Boyle Heights and South Central Los Angeles.
Read More:
Stay in touch
Sign up for our free newsletter