bicycle lanes
LAPD Announces Arrests in Hit-and-Runs that Killed Frederick Frazier and Injured Quatrell Stallings
6:18 PM PDT on June 7, 2018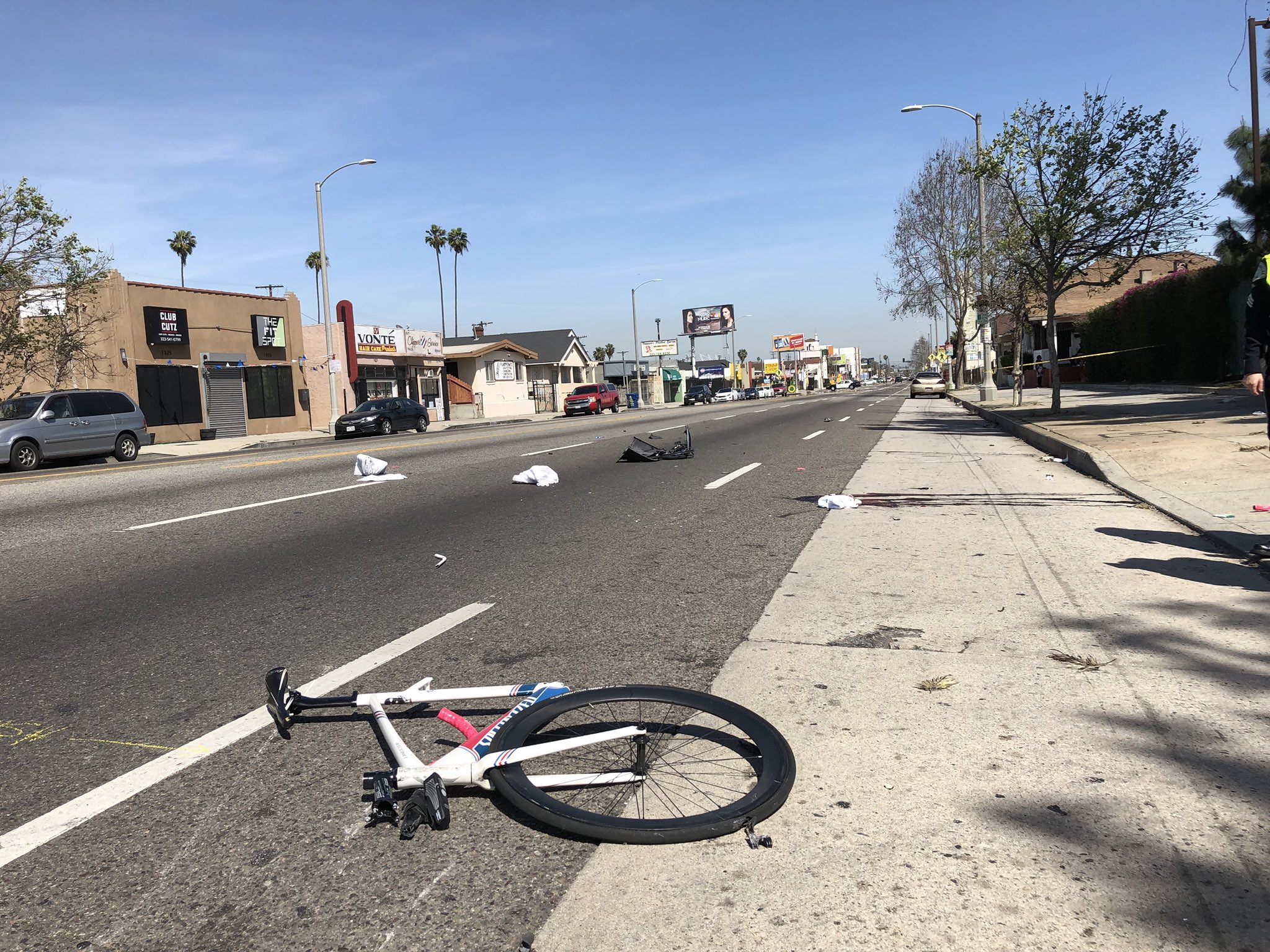 As first we reported on May 15, 23-year-old Mariah Banks, who struck and killed 22-year-old Frederick "Woon" Frazier as he lawfully rode along Manchester on April 10, was arrested this past May 11.
According to Detective Ryan Moreno at today's press conference on the steps of the 77th Street Community Police Station, Banks had turned herself in and confessed to being the driver the day after the vehicle involved in the incident had been found and a warrant had been issued for her arrest. (Click here to watch the full press conference captured by CBS Los Angeles via Facebook live)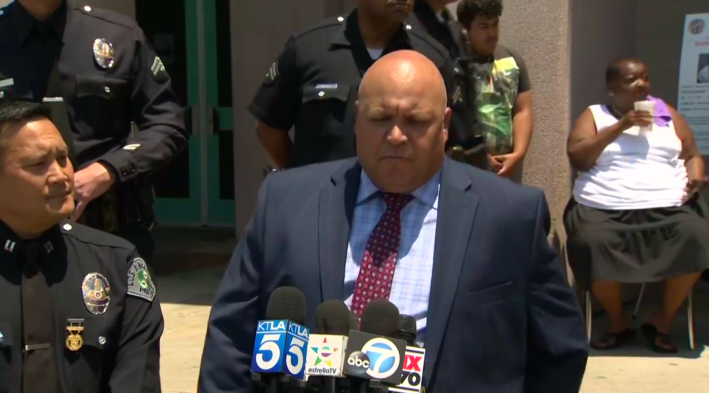 The heightened public attention the incident had received - boosted by a second hit-and-run captured on camera when a driver deliberately plowed into one of the mourners gathered at Manchester and Normandie to honor Frazier - had been a great help in the case, said Moreno.
Tips had flooded in.
Some led nowhere. But others helped detectives locate the white SUV that killed Frazier at a private home in Moreno Valley - a good 75 miles away - where it had been given a cheap coat of black paint. [Those tips will be rewarded, but it is not yet clear how much of the reward money will be divided among helpful tipsters.]
Surveillance video from after the incident had also offered detectives some clues. According to what detectives had told Frazier's mother when Banks was arrested, she and her passengers had briefly hidden out in the area before driving out to Moreno Valley under the cover of darkness, giving the police some sense of where she might be found.
Captain Shannon Paulson then took to the mic to announce a second arrest - that of 19-year-old Alana Ealy.
Readers will remember with horror how Ealy had expressed her impatience with mourners at Frazier's vigil by encroaching into the crowd at Manchester and Normandie, getting into a physical altercation with cyclists (including punching a female cyclist), leaving the intersection, and then returning to deliberately speed through it and take out whomever was in her way.
The person that happened to be in her way was Quatrell Stallings.
He had been trying to help move a woman out of the intersection when Ealy slammed into him. Mourners were aghast as Stallings flew through the air and landed hard on the ground. Ealy's indignance at being inconvenienced left Stallings with head trauma, a broken ankle and a broken leg, and damage to his knee that would require a surgical repair. Some of the cyclists in the group gave chase, but Ealy quickly disappeared.
Here, too, said Paulson, help from the public had been invaluable. By scouring cellphone, press, and surveillance footage her detectives had been able to locate Ealy's Toyota within 24 hours of the incident.
Finding Ealy had proven more difficult.
They were able to identify her from images that had been captured of her altercation with cyclists and forensic evidence gathered from the car. But they speculated that she could be hiding in one of several different locations. Ealy was finally located by the Fugitive Task Force on the evening of May 30. According to LASD records, however, despite being charged with attempted murder, she was released on $50,000 bail in the early hours of June 1. No court date has yet been set in that case.
The arrests gave Frazier's mother, Beverly Owens, some degree of relief. But, she said when she stepped up to the mic to speak, there would never be closure.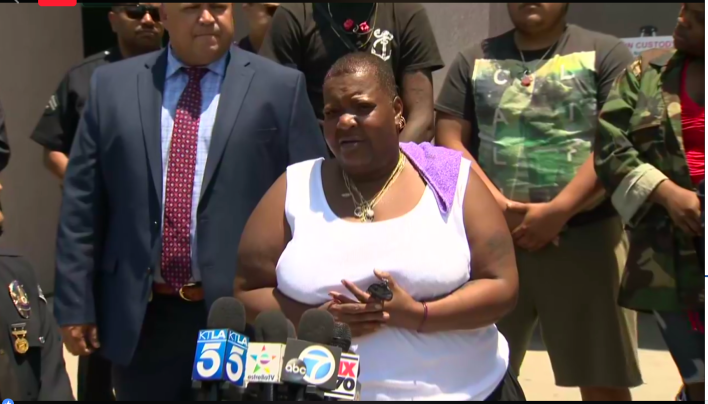 "My son has been gone 57 days today," she said with a heavy heart. "It seems like day one."
She was not angry at the young lady, however, she said in response to a reporter's question about forgiveness. It must have been her son's date and time according to the lord's plan, as she saw it, and she was saddened that Banks had been the vehicle through which her son had met his fate.
Owens believed the crash had been an accident, and said she understood how Banks and her passengers could have panicked. She just wished that Banks hadn't left the scene and was grateful to the officers that had helped track her down. Owens wasn't looking forward to going to court, she said - Banks' first court appearance is tomorrow morning - but she was looking forward to being able to begin to put all of this behind her.
"I'm not even mad at [Banks]," Owens said again. "I'm mad that my son is gone. Period. [...] There is no human language to describe the pain."
Reporters then moved on to questions about bike infrastructure and laws regarding hit-and-runs.
For her part, Owens said that she had been shocked that, "Since my baby passed, I have seen, like, an epidemic of hit-and-runs."
Three other people had been killed within days of her son's death in the southern region of South L.A. alone. Several more been killed around the L.A. area since.
"I don't understand," she said of the incessant carnage and the lack of protections for bicyclists.
She had been supportive of the work of Frazier's friends from the Chief Lunes crew, who had led a memorial ride to her home and have since gathered on a weekly basis for the past month to strategize on how to get the city to finally make streets safer for cyclists. But she wasn't sure what else she could do.
"The laws need to be stricter. Stricter laws calls for stricter decisions. It's horrible," she said. "Something has to be done. There's too many hit-and- runs."
'There's too many," she repeated. "Too many. With no concern. Too many."
Picking up on the mention of the laws, reporters asked about the different charges the women had been handed.
At the moment, it appears Banks will be charged with vehicular manslaughter and felony hit-and-run. The final charges will be named in court given that, according to Detective Moreno, the surveillance footage of the moments before, during, and after the crash is still being reviewed to ascertain the level of intent.
Ealy, on the other hand, will be charged with one count of attempted murder.
Here, Moreno said, the intent was clear - Ealy had plowed through the intersection with the intention of doing harm. So, even though the victim had lived, the charge was more serious.
Cases like Frazier's tended to be "tragic accidents," he said. The severity of a charge and the years tacked on to a sentence can vary depending on whether the driver was drunk or otherwise impaired, speeding, or there was some other infraction.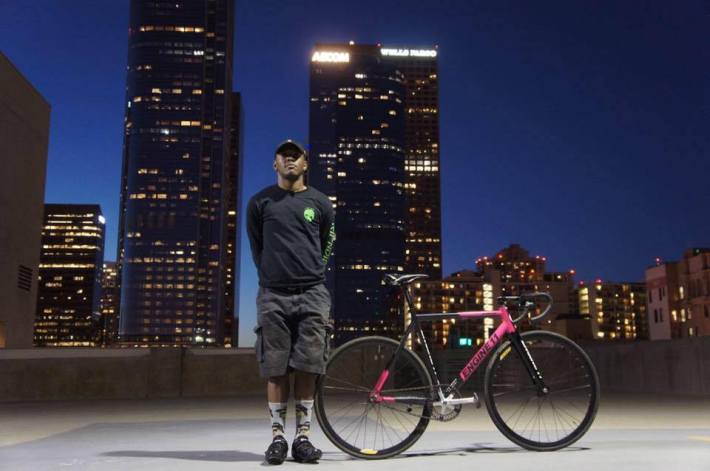 If Banks had stayed at the scene, he said, "I can probably say with 100 percent certainty it would probably most likely be [considered] a tragic accident, from what we're seeing."
That's a really tough assessment to swallow.
From the surveillance footage, it appears abundantly clear that Banks was speeding.
She was also flying through a gutter lane peppered with parked cars along the length of Manchester, meaning that, at the very least, her intent was a self-centered one: to get around other vehicles she saw as moving too slowly. To do so, she was likely weaving in and out of the gutter lane as quickly as possible - there was even a car parked in the lane thirty or forty yards up from where Frazier's body lay.
She deliberately put herself in a position where her only options were to slow as she approached parked cars until there was an opening in the adjacent lane that she could move into or to intermittently accelerate and weave recklessly at high speed. The speed with which she passes other cars (below) suggests she opted for the latter.
It is indeed true that Banks did not set out to murder Frazier that day.
But it is unfortunate that we haven't yet hammered out a good way to handle the broad category of behavior that falls between hand-of-god-type incidents and intentional mayhem.
Instead, our tendency to label the result of a deliberate decision to act with total disregard for the safety of others a "tragic accident" is itself deeply tragic.
It is how a wildly drunk Wendy Villegas could serve only 18 months of an already too light 42-month sentence for killing Andy Garcia, breaking Mario Lopez' back, and nearly sending Ulises Melgar over the side of the Cesar Chavez bridge and into the river below. It is how two people involved in a road rage incident could speed, drive recklessly, kill a cyclist, and, because they stopped to render aid, both go home without even a citation. It is how a sheriff's deputy can type away on his computer while driving, drift into the bike lane, kill Milt Olin, and be said to have been acting within the scope and course of his duties because he was responding to work-related messages. And it is, at least in part, why the city has been so unsuccessful in convincing Angelenos that slowing down streets and ensuring that pedestrians, rollers, cyclists, and drivers enjoy equal infrastructural protections is a desirable goal.
Until we figure out a better way to hold people accountable for self-centered decisions that result in devastating harm to others, our best way forward is better infrastructure and road design.
The Chief Lunes crew is determined to forge ahead on this front - they'll be holding a rally in front of the courthouse tomorrow morning at 8 a.m. and have other events planned throughout the month in the hopes of shaming the city into acting to protect its more vulnerable denizens.
In the meanwhile, as Owens said during her remarks, "Long live Woon!"
Sahra is Communities Editor for Streetsblog L.A., covering the intersection of mobility with race, class, history, representation, policing, housing, health, culture, community, and access to the public space in Boyle Heights and South Central Los Angeles.
Read More:
Stay in touch
Sign up for our free newsletter