LADOT
LADOT Proposes Speed Limit Increases and Decreases
5:26 PM PDT on October 11, 2017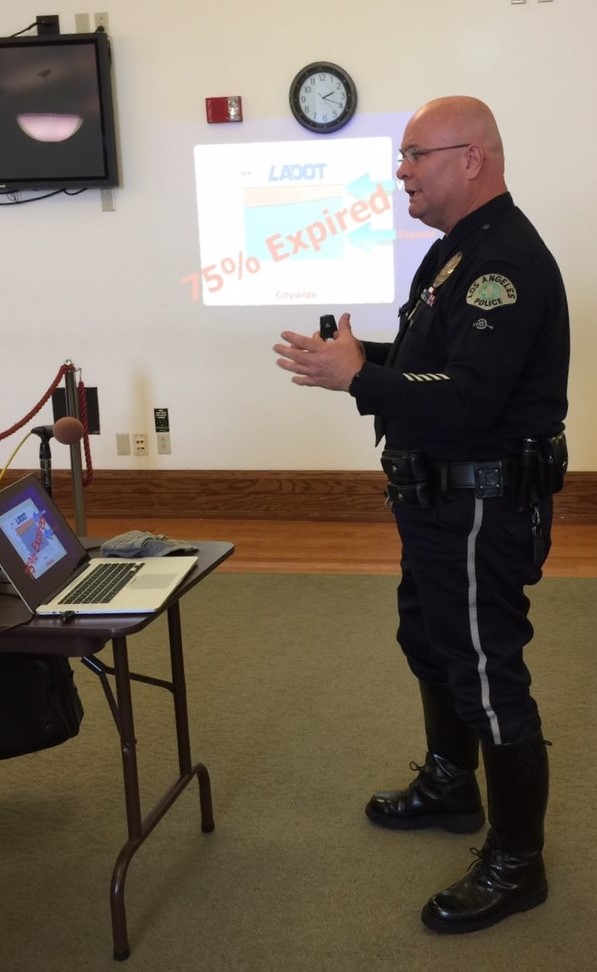 The city of Los Angeles is getting the approval process underway for a series of changes to speed limits. LADOT General Manager Seleta Reynolds has led a push for L.A. to update them in order for LAPD to issue speeding tickets. The changes are on the agenda for the city's Board of Transportation Commissioners meeting tomorrow morning at 10 a.m. at City Hall. If approved there, they are expected to go to the city council Transportation Committee on October 25.
L.A. is required to periodically update speeds due to California's "speed trap" law, which prevents cities from setting "arbitrarily low" speed limits. Municipalities must conduct speed studies and then set speed limits based on how fast most drivers are already going. Combined with traffic engineering standards that have long favored auto speeds, the law fosters a vicious cycle favoring faster and faster speeds.
In the past, LADOT's proposed speed limit increases have been a subject of controversy, with many livable streets activists urging city electeds to reject increases. Overall the latest list of changes appears fairly measured. LADOT has proposed 94 miles of speed limit increases and 52 miles of speed limit decreases.
LADOT spokesperson Oliver Hou emphasizes that, by updating outdated speed studies, the department has already increased the total number of enforceable streets from 19 percent in early 2016 to 53 percent citywide now, with 70 percent of streets on the Vision Zero High Injury Network (HIN) now enforceable, up from 20 percent in early 2016. Hou reports that LAPD, which received a $1.5 million budget allocation for dedicated Vision Zero enforcement efforts, has already stepped up speed enforcement on High Injury Network streets.
Proposed speed limit increases - total 94.32 miles:
Balboa Bl between Rinaldi St and Victory Blvd, 6.4 miles - 35mph to 40mph
Broadway between Manchester Av and City Limit s/o 120th St, 2.54 miles - 35mph to 40mph
Burbank Bl between CL at Clybourn Av and San Diego Fwy, 6.2 miles - 35mph to 40mph
Central Av between Florence Av and City Limit s/o 120th St, 3.6 miles - 35mph to 40mph
Chandler Bl between Lankershim Bl and Coldwater Cyn Av, 2.1 miles - 35mph to 40mph
Foothill Bl between Lowell Av and Sunland Blvd, 3.7 miles - 35mph to 40mph
Glenoaks Bl between Osborne St and Hollywood Wy, 4.7 miles - 45mph to 50mph
Hubbard St between Foothill Bl and Laurel Cyn Bl, 2.15 miles - 35mph to 40mph
La Tijera Bl between La Cienega Bl and 74th St, 0.77 miles - 35mph to 40mph
Olympic Bl between Century Park East and Centinela Av, 3.28 miles - 35mph to 40mph
Osborne St between Foothill Bl and San Fernando Rd, 1.7 miles - 40mph to 45mph
Osborne St between San Fernando Rd and Woodman Av, 2.2 miles - 35mph to 40mph
Overland Av between Pico Bl and Palms Bl, 1.4 miles - 35mph to 40mph
Overland Av between Palms Bl and Washington Bl, 0.8 miles - 30mph to 35mph
Oxnard St between Clybourn St and Sepulveda Bl, 5.8 miles - 35mph to 40mph
Rodeo Rd between Exposition Bl and La Brea Av, 2.46 miles - 35mph to 40mph
San Fernando Rd (SW Roadway) between Fox St and Clybourn Av, 6 miles - 35mph to 40mph
Sawtelle Bl between Pico Bl and Palms Bl, 1.2 miles - 35mph to 40mph
Sepulveda Bl between Plummer St and Valley Vista Bl, 6.5 miles - 35mph to 40mph
Sherman Way between Shoup Av and Platt Av 1.5 miles - 35mph to 40mph
Vanowen St between Haskell Av and Valley Circle Bl, 10.4 miles - 35mph to 40mph
Venice Bl between Cadillac Av and Crenshaw Bl, 2.8 miles - 35mph to 40mph
Victory Bl between CL e/o Clybourn Av and San Diego Fwy, 6.6 miles - 35mph to 40mph
Vineland Av between Stagg St and Chandler Blvd, 3 miles - 35mph to 40mph
Whitsett Av between Roscoe Bl and Riverside Dr, 4.4 miles - 35mph to 40mph
Zelzah Av between Chatsworth St and Nordhoff St, 2 miles - 40mph to 45mph
Proposed speed limit decreases - total 52.63 miles:
7th St between Vermont Av and Catalina St, 0.2 miles - 30mph to 25mph
8.2 8th St between Irolo St and Lucerne Bl, 1.4 miles - 35mph to 30mph
16.2 54th St between Western Av and Crenshaw, Bl 1.2 miles - 35mph to 30mph
Alexandria Av between Santa Monica Bl and Melrose Av, 0.5 miles - 30mph to 25mph
Alla Rd between CL s/o Washington Bl and Maxella Av, 0.43 miles - 30mph to 25mph
Alma St between 27th St and 37th St, 0.5 miles - 35mph to 30mph
Avalon Bl between Manchester Av and Imperial Hwy, 2 miles - 35mph to 30mph
Avenue 26 between Pasadena Av and San Fernando Rd, 0.9 miles - 35mph to 30mph
Avenue 36 between Eagle Rock Bl and Fletcher Dr, 0.1 miles - 35mph to 30mph
Colden Av between Clovis Av and Vermont Av, 2 miles - 30mph to 20mph
Coliseum St between Rodeo Rd and Hauser Bl, 2.4 miles - 35mph to 30mph
Commonwealth Av between Beverly Bl and Wilshire Bl, 0.8 miles - 30mph to 25mph
Coronado St between Sunset Bl and Temple St, 0.6 miles - 30mph to 25mph
Crescent Av between Beacon St and 21st St, 0.38 miles - 30mph to 20mph
Del Moreno Dr between Ventura Bl and Wells Dr, 0.8 miles - 30mph to 25mph
Dodson Av between 9th St and Western Av, 0.56 miles - 30mph to 25mph
Electra Dr between Mt Olympus Dr and Hercules Dr, 0.3 miles - 30mph to 25mph
Fletcher Dr between Avenue 36 and San Fernando Dr, 0.7 miles - 35mph to 30mph
Foothill Bl between Clybourn Av and Van Nuys Bl, 1.9 miles - 45mph to 40mph
Glenoaks Bl between Van Nuys Bl and Osborne St, 0.83 miles - 40mph to 35mph
Hauser Bl between Washington Bl and Jefferson Bl, 0.9 miles - 30mph to 25mph
Hercules Dr between Apollo Dr and Electra Dr, 0.43 miles - 30mph to 25mph
Hillhurst Av between Los Feliz Bl and Hollywood Bl, 0.9 miles - 35mph to 30mph
Hollywood Bl between La Brea Av and Laurel Canyon Bl, 1.2 miles - 35mph to 30mph
Hoover St between Manchester Av and El Segundo Bl, 3 miles - 35mph to 30mph
Huston St between Hazeltine Av and Cedros Av, 0.75 miles - 30mph to 25mph
La Brea Av between CL at Romaine St and Olympic Bl, 2.2 miles - 35mph to 30mph
Motor Av between Manning Av and CL s/o Venice Bl, 1.2 miles - 35mph to 30mph
Neptune Av between Lomita Bl and C St, 1.83 miles - 30mph to 25mph
Osborne St between Foothill Bl and CL n/o Garrick Av, 0.6 miles - 35mph to 30mph
Parthenia St between Lindley Av and Tampa Av, 1.5 miles - 40mph to 35mph
Reseda Bl between Sesnon Bl and Rinaldi St, 1.6 miles - 50mph to 45mph
Sawtelle Bl between Olympic Bl and Pico Bl, 0.3 miles - 35mph to 30mph
Sunset Bl between Virgil Av and Crescent Heights Bl, 4.5 miles - 35mph to 30mph
Thurman Av between Venice Bl and Washington Bl, 0.5 miles - 35mph to 30mph
Townsend Av between Hill Dr and Colorado Bl, 0.35 miles - 30mph to 25mph
Vermont Av between Hollywood Bl and Clinton St, 1.3 miles - 35mph to 30mph
Vermont Av between Clinton St and Oakwood Av, 0.3 miles - 35mph to 30mph
Vermont Av between Oakwood Av and Beverly Bl, 0.1 miles - 35mph to 30mph
Vermont Av between Beverly Bl and Olympic Bl, 1.6 miles - 35mph to 30mph
Vernon Av between Alameda St and CL w/o Crenshaw Bl, 5.2 miles - 35mph to 30mph
Via Dolce between Washington Bl and CL w/o Marquesas Wy, 0.4 miles - 35mph to 30mph
Vineland Av between San Fernando Rd and Lorne St, 0.16 miles - 30mph to 25mph
Woodley Av between Magnolia Bl and Ventura Bl, 0.59 miles - 30mph to 25mph
York Bl between CL e/o San Pascual Av and Eagle Rock Bl, 2.72 miles - 35mph to 30mph
Establish speed limit (per LADOT, these were part of longer segments, and now, because of roadway design changes or other justification, LADOT is splitting them out) - total 9.35 miles:
Cascada Wy between Bellagio Rd and Glenroy Av, 0.26 miles - N/A to 25mph
Chandler Bl between Lankershim Bl and Vineland Av, 0.36 miles - 35mph to 40mph
Echo Park Av between Landa St and Bellevue Av, 2 miles - 25mph to 25mph
Edgemont St between Los Feliz Bl and Santa Monica Bl, 1.36 miles - 25mph to 25mph
Herrick Av between Brownell St and Pierce St, 1.3 miles - 25mph to 25mph
Hollywood Bl between Gower St and La Brea Av, 1.3 miles - 25mph to 25mph
Manchester Av between Osage Av and Sepulveda Bl, 1 miles - 35mph to 40mph
Manchester Av between Sepulveda Bl and Lincoln Bl, 1.3 miles - 40mph to 40mph
San Marino St between Vermont Av and Normandie Av, 0.47 miles - 25mph to 25mph
Stay in touch
Sign up for our free newsletter