Bicycling
A Brief Interview With New Bike Coalition Head Erik Jansen
10:19 AM PDT on September 26, 2017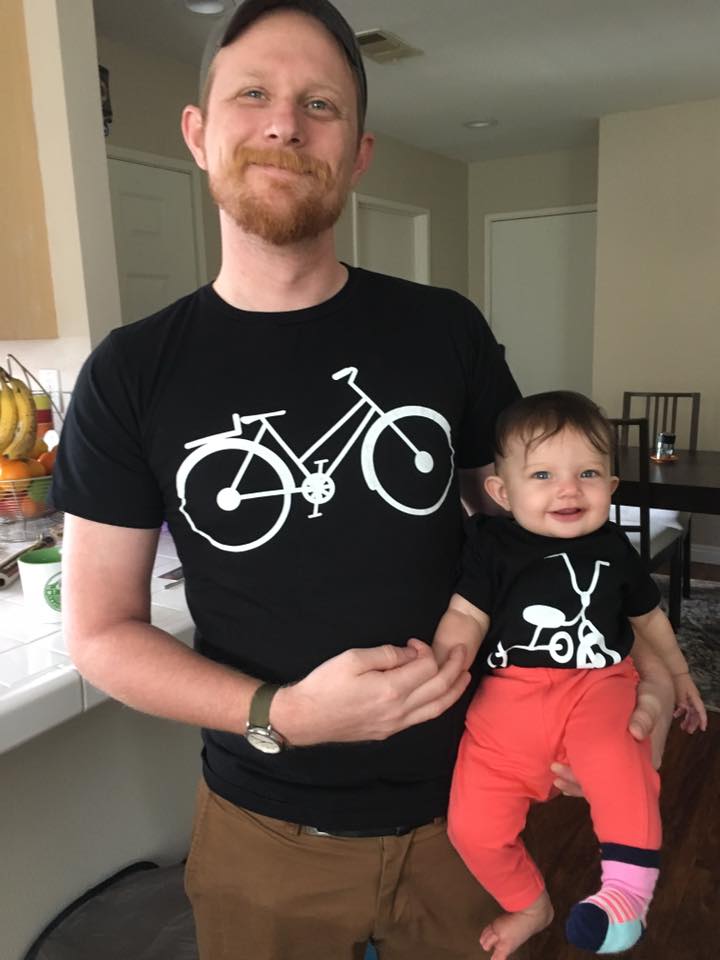 Yesterday, the L.A. County Bicycle Coalition announced the selection of Erik Jansen as the organization's new executive director. Jansen has worked at the LACBC since 2016, serving initially as Development Director, and later as Interim Executive Director. LACBC's announcement details Jansen's background which includes fundraising, political organizing, and even working as a bicycle mechanic.
Streetsblog L.A. caught up with Jansen yesterday, conducting this interview via email. 
Streetsblog: Tell our readers about how you get around--perhaps how you started bicycling, what kind of cyclists you consider yourself, and/or what kind of bike you ride?
Jansen: I'm definitely multi-modal. I bike almost every day to work (our office is on Spring and 6th), which is just a little over two miles each way. I might be the only Angeleno who wishes my commute were a little longer. I do tack on extra miles to my morning commute a few times a week, when it's my wife's turn to drop our daughter off at daycare, so I can get in a bit of a longer ride. We live about a block and a half from a gold line stop, and are getting into the habit of using it more often. We use our car for longer trips around town.
My everyday bike is a Rawland rSogn, which is a steel frame randonneuring bike. Basically it's a road bike with extra fat tires, that's designed to be ridden long distances with a little bit of weight on the front. I built it up when I worked at a bike shop up in Seattle and had grand dreams of doing ultra distance riding. It has downtube friction shifters and non-aero brake levers, so I guess that puts me pretty squarely in the retro-grouch category.
I'm definitely a recreational and transportation cyclist. I'm not interested in racing or anything too gnarly on dirt, but I do enjoy exploring the fire roads above L.A. I think if you asked my coworkers, they'd call me a bike nerd. I ride my bike as much as I can, but not as much as I'd like. I do get a lot of joy out of working on it, trying new components and configurations, and taking it all apart and putting it back together again.
How has being the father of a young child affected how you get around? How can Southern California become better for bicycling families?
I think the biggest obstacle right now to cycling for families is a lack of a comprehensive network of connected infrastructure.
I've ridden with my daughter in a bike trailer a couple of times on dedicated bike paths, but I'm definitely not comfortable bringing her on downtown roads yet, either in a child seat or a trailer. There are some buffered or striped bike lanes I'd be comfortable riding with her on, but either they don't connect to anything, or you have to cross a dangerous intersection. I think LADOT's current focus on neighborhood-scale higher-quality bike infrastructure will lead to good recreational biking opportunities for some families, but the lack of connectivity will continue to be a barrier for a lot of L.A. families for a long time to come.
On the flip side, a lot of shorter trips that I would normally bike, I now walk. I find myself walking with my wife and daughter for recreation, something which I really enjoy and which I also recognize is a privilege. LACBC is working with organizations like L.A. Walks on Vision Zero and other bike and pedestrian programs to help ensure that all Angelenos can walk and bike their streets safely.
You're following in the footsteps of Tamika Butler, a widely-acknowledged national leader on bringing equity to the forefront of bicycle advocacy. How do you plan to continue her work to ensure diverse voices are always at the table, to maintain and continue to build trust with communities of color and lower-income communities?
I'm proud to say that I got to work at LACBC under Tamika's leadership. I can't state how much I learned from, and how much I respect Tamika. I'm absolutely dedicated and excited to continue the vision Tamika laid out for LACBC's advocacy and engagement work.
I recognize that I occupy space in transportation justice and equity conversations in a very different way than Tamika. I think the best way for me to approach these spaces and our partnerships is with humility, open ears, and a closed mouth. LACBC partners with community-based organizations in communities of color and low-income communities to help advance transportation equity. We don't want to dictate solutions, but rather provide technical assistance and leverage our privilege to provide access to the tools communities need to control how their own neighborhoods are built and improved.
In addition to working with partner organizations rooted in the communities in which we work, I am committed to having voices at our own staff and board tables that reflect the communities in which we work.
What's your top priority agenda for LACBC for the year ahead? For the next five years?
Next year is LACBC's 20th Anniversary, and we'll be spending the year both reflecting back on the first 20 years of bike advocacy - from the first fight for a bike lane in Silver Lake to the passage of Measure M, - and looking forward to a Los Angeles that fosters communities that are safe, fun, and healthy places to ride a bike.
More concretely, for the next year, we'll be working on recruiting new staff and board members, engaging in a new strategic planning process to guide us for years to come, and working to introduce some new earned revenue events to help insulate LACBC's finances from the ups and downs of grant funding cycles.
This is the question we typically end all SBLA interviews with. If you had a magic wand and, overnight, you could change any aspect of Southern California mobility or livability, what would you change?
As a native Pittsburgher, I would love to see a thriving river as a focal point of the city. Now, I don't even think a magic wand could get us the Ohio River running through Los Angeles, but a full connected L.A. River Greenway, with usable public green space along the length of the river, would be my dream. It would be an incredible asset in terms of transportation and access to economic opportunity for residents in the Southeast Cities, and serve as a recreational destination for Angelenos from Long Beach to Canoga Park.
Anything else you'd like to tell SBLA readers?
I'm excited to be leading LACBC at a time when communities throughout Los Angeles have so much potential to make real progress in transforming local transportation projects in meaningful ways that can finally address cycles of historical disinvestment, and structural and environmental racism.
Of course, if SBLA readers and LACBC members have ideas on how LACBC can better fulfill our mission of making LA County a fun, healthy, and safe place for everyone to ride a bike, I'd love to hear from them at erik[at]la-bike.org
Stay in touch
Sign up for our free newsletter