A Line (Blue Line)
Family of Man Crushed by Train During Altercation with Police over Fare Seeks Answers, Justice
4:14 PM PDT on September 15, 2017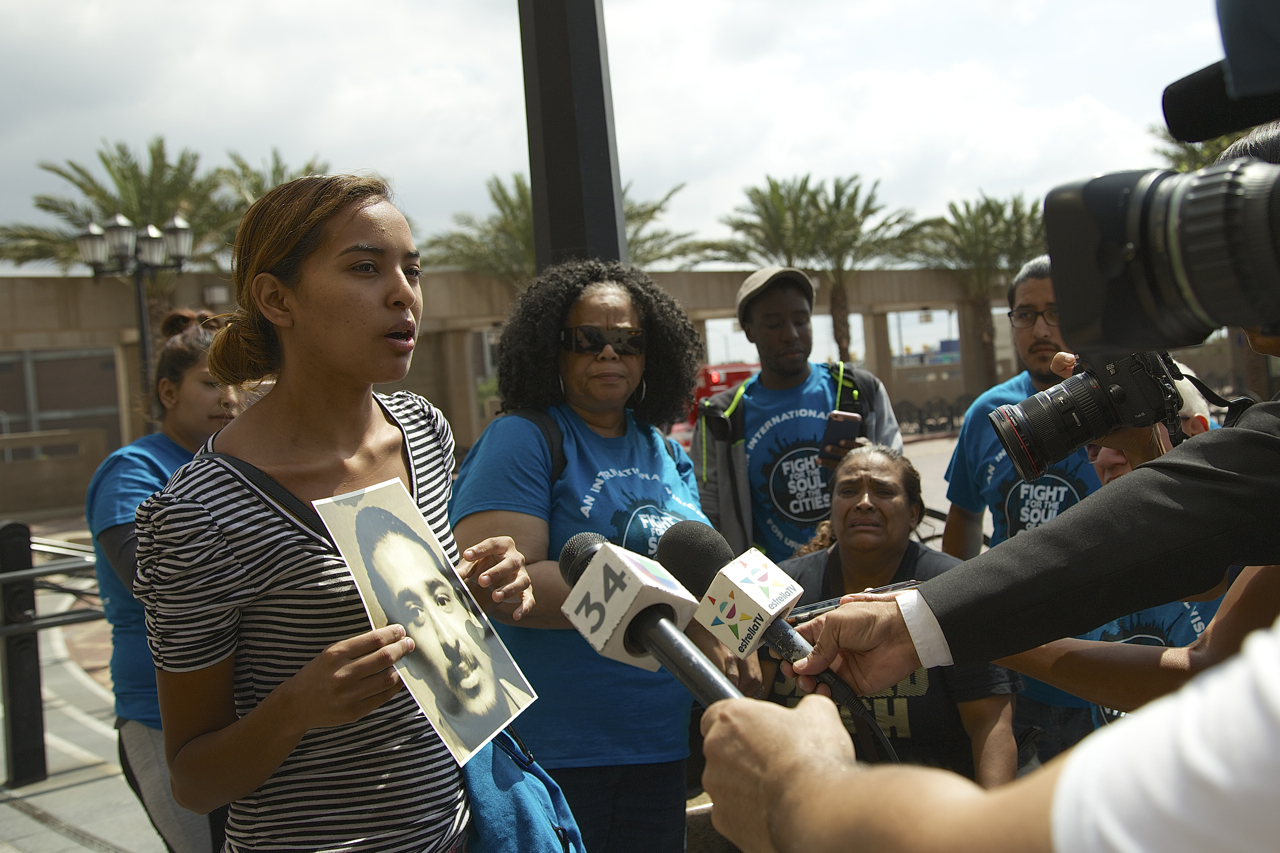 "Mira el ruido que hace el tren - desde donde hace ruido," observes one of César Rodríguez' sisters as a horn sounds in the distance. [Look at the noise the train makes - from how far away it makes noise.]
She and her family are broadcasting live on Facebook from the Wardlow Blue Line Station, where they are trying to piece together how the 23-year-old Rodríguez could have possibly ended up being crushed by a train on the evening of August 29th.
When the family was finally informed about his death on September 2nd, his sisters stated at a press conference with Fight for the Soul of Cities (FFSC) in front of Metro's headquarters downtown yesterday, they were told only that his death was an accident. Since then, they had heard several different stories, including that he had jumped off the platform and that he hadn't been searched by police.
The official statement on the incident by the Long Beach Police Department, however, offers a different version. It states that after Rodríguez was detained by the LBPD on the platform for fare evasion, officers searched him and found he had narcotics. When Rodríguez tried to flee, "both he and the officer fell onto the platform."
The statement continues,
The suspect's lower extremities were partially off the edge of the platform and the suspect was struck by an incoming Metro Train. The suspect was trapped between a train car and the platform.
It's a scenario the family finds horrifying and confusing.
In response to concerns about racial profiling - detailed in the federal civil rights complaint filed by the Strategy Center (LCSC) regarding the disproportionate burden of arrests and citations borne by poor black and brown riders - Metro has tasked 77 Transit Security Officers (TSOs) with checking fare compliance and issuing citations as a way to limit the potential for a stop-and-frisk approach to patrols (law enforcement may still do fare checks at their discretion, however, according to Metro documents).
If, as the LBPD statement suggests, he was first stopped by a TSO who then called upon an LBPD officer for assistance, it is still not clear what the justification would have been for a search if the violation was non-payment of a $1.75 fare. Having a full accounting of what happened to Rodríguez is therefore important, both for the family and so it is clearer how law enforcement is approaching their current role, which is more centered around being responsive to safety and quality of life concerns.
But the family is afraid that that full accounting is a long ways off. Detectives told them that they may not have an answer or see the video of the incident until the investigation is complete - six months to a year from now.
That uncertainty is what sent the family to the Wardlow station just days after learning of Rodríguez' death, hoping to get a sense of what he would have seen and heard in his final moments.
In that Facebook live video, they gather around the spot where Rodríguez was crushed, pointing to the missing yellow bollards and how close the train comes to the edge of the platform, and wondering aloud what it is that they are not being told.
They leave the scene no more sure of what happened than they were before they arrived.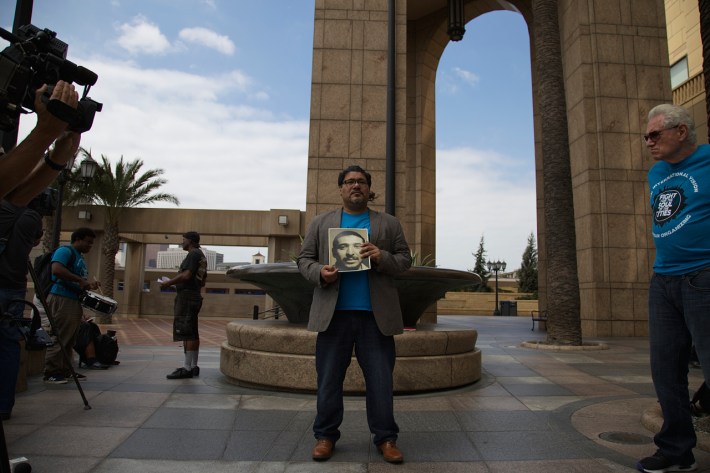 The toll that both the loss of her only son and the horrific and unexpected way in which it happened has taken on Rosa Moreno (pictured at top) was apparent at the press conference yesterday. While speaking to reporters about her son, she suddenly began to wail inconsolably before collapsing, overcome.
The stress of the loss she had endured had been compounded by everything else that had surrounded it.
The family hadn't even been informed about his death until four days after it happened. They had wondered where Rodríguez was and tried contacting him, including reaching out to a former teacher that had seen him for lunch the day he was killed. But they hadn't been able to track him down. It was only when a friend of Moreno's showed up at the family home to say she'd received a phone call from the coroner's office about Rodríguez that they realized something terrible must have happened. The friend couldn't offer much clarity - the caller hadn't been able to speak Spanish. So, the family rushed to the coroner's in a panic, fearing the worst.
In the days that followed, more information was not forthcoming. Detectives asked the family to come in to speak with them, but then weren't there when the family showed up. Although the detectives did end up stopping by the family home the following day, the interaction, the family says, was brief and discouraging, with detectives only confirming it would be months before they would have concrete answers.
When the family had tried to sell tacos outside Salazar Park in East L.A. to raise funds to pay for Rodríguez' cremation and funeral last Friday - a scenario that is sadly not that uncommon in East L.A. and Boyle Heights - they were shut down by police within a few hours of setting up.
The incident began, sister Pritzela Rodríguez and other witnesses told me, when two Sheriff's deputies arrived on the scene and began engaging a man that had gotten in line to buy tacos.
Things escalated from there with the officers, the family, and the supporters all pushing and shouting at each other. When the family asked the officers to calm down because of the presence of small children, Pritzela recounted, the officers told them that "if they wanted to make a scene," the officers would be happy to arrest the woman selling the tacos (Pritzela's aunt) for selling without a permit and confiscate the funeral funds.
Things escalated further as back-up units arrived. When Rodríguez' girlfriend saw an officer put hands on her mother, she tried to pull the officer away. She was promptly arrested and held overnight.
Efforts to raise funds by putting coffee cans in area shops have apparently proven difficult, as well. A screengrab from surveillance footage posted on sister Evelia Granados' Facebook page shows someone making off with one of the cans with her brother's image on it.
Seeking to prevent other families from having to experience this kind of trauma or the day-to-day humiliations and harassment that can come with the criminalization of poverty, the FFSC called for an immediate moratorium on fare checks and the removal of law enforcement from the trains altogether.
Still in shock, the family's own vision of justice entailed a mix of putting Rodríguez to rest in peace, getting answers about what had really happened to him, and ensuring that no family would ever have to endure what they were going through.
"I might seem really strong," said Pritzela. "But it's because I'm trying to stay strong for my mom and my kids."
Rodríguez had been very close with her seven-year-old daughter, she said, and the child was having a really hard time.
His presence is terribly missed by all, his sisters agreed. "He would always have his smile, he would always joke around with my nephews, my son, with us..." said Granados. "He was always the person that you couldn't get him mad. He was always so joyful and playful."
"We're going to keep fighting for justice," Granados told reporters as she turned back to attend to her mother, who was still recovering from her collapse.
Pritzela concurred, telling me, "We obviously want an explanation... That's why we're here."
*The family has a gofundme page set up to help defray funeral costs. Find that here.
Sahra is Communities Editor for Streetsblog L.A., covering the intersection of mobility with race, class, history, representation, policing, housing, health, culture, community, and access to the public space in Boyle Heights and South Central Los Angeles.
Read More:
Stay in touch
Sign up for our free newsletter