Streetsie
2016 L.A. Streetsies: Vote for Advocate of the Year
12:22 PM PST on December 28, 2016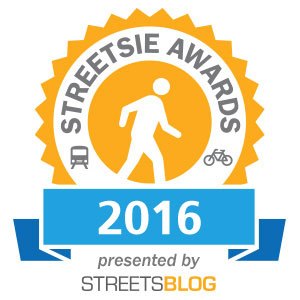 Whose Streetsies??!? Our Streetsies!! Today we open the votes for individual advocate for 2016. The award is called the Deborah Murphy Award for Excellence in Advocacy, named for Deborah Murphy the founder and head of Los Angeles Walks.
Voting starts today and will close on Thursday, January 5, 2017 at noon. Reader voting accounts for one half of the scoring this year, with one quarter going to SBLA staff voting, and another quarter going to the SBLA steering committee vote. Last year we had a lot of apparent robo-votes coming in in large quantities from a few IP addresses, so we now have some safeguards to try to separate the real individual votes from imperial droid votes.
Make sure to also vote in the poll for Elected Official of the year, posted yesterday. Keep your browser peeled for four more categories coming this week: Civil Servant, Business, Media/Journalism, and Advocacy Group.
The Untokening organizers: Zahra Alabanza, Naomi Doerner, Adonia Lugo, Carolyn Sczczepanski, and Anthony Taylor - This past November, the organizers of The Untokening: A Convening for Just Streets and Communities brought together approximately 130 advocates from across the country - two-thirds of whom were advocates of color - to begin the process of formulating new visions for mobility advocacy. The effort was intended to reimagine what mobility advocacy would look like if equity and justice were the starting point of discussions. Too often, the organizers had found in their own work in mobility advocacy, equity and justice were relegated to the margins in planning and the advocates that tried to speak up on behalf of equity and justice tended to be tokenized, at best, and whitesplained, mansplained, and dismissed outright, at worst. Convinced there was another way forward, Zahra Alabanza, Naomi Doerner, Adonia Lugo, Carolyn Sczczepanski, and Anthony Taylor began thinking about what that way forward might look like. The product of months of conference calls amongst themselves and with advisory committee members from around the country, The Untokening was a unique unconference where advocates finally had the space to raise the questions they could not in other planning spaces and to outline what they might need to truly make streets safe and accessible for all.
(*Full disclosure, SBLA's Sahra Sulaiman was also an Untokening organizer, but was brought in once the idea of putting together an event had been hatched. This nomination is intended to honor the originators.)
Luke Klipp - Luke Klipp has played numerous roles in efforts to make L.A. more livable. Perhaps most important is his role as the president of the Los Feliz Neighborhood Council, given that many Neighborhood Councils tend to come down on the side of 20th Century suburbanism. Klipp is the founder of Happy Urbanists, author of Luke Speaks, the producer of Jaydancing, and an important voice for the emerging multi-modal Los Angeles.
Lewis MacAdams - The L.A. River's most steadfast and most visionary friend announced his retirement this year. In the 1980s, when few residents knew that L.A. actually had a river, Lewis MacAdams founded Friends of the Los Angeles River. Thousands of trees, clean-ups, bike paths, parks, lawsuits, and master plans later, the L.A. River is making a comeback, and has even bigger transformations on the way. MacAdams more than any other individual embodies the creativity, persistence and vision that is revitalizing the river for all Angelenos, including diverse communities along its banks, and frogs, fish, and fowl that depend on it.
Michael MacDonald - Architect Michael MacDonald is the bicycling force behind Bike the Vote L.A. which weighs in and mobilizes on propositions and candidates all over L.A. County. Bike the Vote is making sure that candidates take bicyclists seriously. MacDonald's bike activism goes way beyond BTV, though. He is also one of the creators of Street Beats Great Streets re-envisioning of the intersection of Crenshaw and Florence. He is one of the key players in the Keep MyFig On Track working group that worked to ensure that the big MyFigueroa complete streets project is now on track to open in 2017. He also tips off Streetsblog and others to all kinds of minor and major car-centric transgressions he encounters cycling L.A. streets.
Romel Pascual - After serving as Antonio Villaraigosa's deputy mayor responsible for getting CicLAvia going, Romel Pascual now serves as the Executive Director of the CicLAvia non-profit organization. Pascual has maintained and expanded the already immensely popular CicLAvia tradition, and is extending it into new parts of the city and the region, including places like Glendale, Atwater Village, San Dimas, Culver City, San Pedro, and Wilmington. With Measure M funding secure, Pascual will be key in further CicLAvia expansion and institutionalization.
Honorable Mentions: The L.A. County Bicycle Coalition's Hyeran Lee shepherded LACBC's bike count and various advocacy efforts.  Jim Shanman leads Culver City Walk n Rollers work to get more kids bicycling and walking safely.
Past Winners: Tamika Butler, Mark Lopez, Jessica Meaney, Valerie Watson, Colin Bogart, Sunyoung Yang, Don Ward, Stephen Box
Stay in touch
Sign up for our free newsletter