Streetsie
2016 L.A. Streetsies: Vote for Elected Official of the Year
1:22 PM PST on December 27, 2016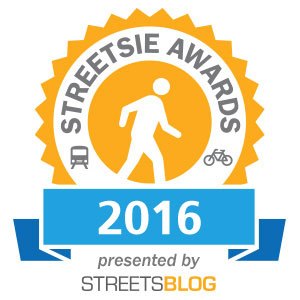 The rollercoaster ride that was 2016 is nearly over, and that means that it is 2016 Streetsie awards voting time!
Longtime readers probably know the drill. This year there are six categories: Elected Official, Civil Servant, Business, Media/Journalism, Advocacy - Individual, and Advocacy - Group. Voting starts this week and will close on Thursday, January 5, 2017 at noon. Reader voting accounts for one half of the scoring this year, with one quarter going to SBLA staff voting, and another quarter going to a SBLA steering committee vote. Last year we had a lot of apparent robo-votes coming in in large quantities from a few IP addresses, so we now have some safeguards to try to separate the guests from the hosts.
Below are details on all the elected official Streetsie nominees:
Mike Bonin - Los Angeles City Councilmember Mike Bonin is a familiar name for SBLA readers and a perennial strong Streetsie contender who has not quite managed to win. Bonin represents much of the Westside of L.A. on the City Council. He chairs the city's Transportation Committee and serves on the Metro Board of Directors. He also finished up his term as Vice-Chair of the Expo Construction Authority. Bonin is a vocal champion for multi-modal mobility choices for all Angelenos. In 2016, he has championed Expo, LAX rail connections, bike-share, parking reform, protected bike lanes, ending pedestrian stings, and much more.
Southern California's state climate change legislation leadership Kevin de León and Anthony Rendon, with Eduardo Garcia and Fran Pavley - Southern California can be proud of these four state leaders who beat back regressive forces, including a full-court press from the fossil fuel industry, to extend California's international leadership on curbing greenhouse gas emissions. They will need this tenacity in the years ahead as California faces off against hostile initiatives from Washington, D.C. State Senate President Pro Tempore Kevin de León represents central, northeast and east Los Angeles. Assembly Speaker Anthony Rendon represents southeast L.A. County. Retiring Senator Fran Pavley represented the western San Fernando Valley, Simi Valley, Thousand Oaks to Ventura County. Assemblymember Eduardo Garcia represents eastern Riverside County and Imperial County.
Eric Garcetti - It seemed like Los Angeles Mayor Eric Garcetti was everywhere campaigning to make sure Measure M passed. Garcetti has long stressed that mobility solutions do not end at the city's borders. In this vein, he was the architect of Measure M's "big tent" strategy that extended to all parts of L.A. County. Measure M funding will be a game changer, especially for transit, walkability, and bikeability in coming years. Garcetti, more than any other individual, deserves credit for its passage. He also deserves credit for pushing other progressive Metro initiatives: expansion of student passes, fostering affordable transit-oriented development, pushing bike-share, and more. Garcetti's willingness to speak out nationally against president-elect Donald Trump's promise to withhold funds from "sanctuary cities" and deport undocumented immigrants was a bright spot in a rather wretched election season. On the city front, Garcetti has shepherded Great Streets Initiative improvements and Vision Zero, but many bike and walk improvements have not proceeded as quickly as livability advocates hoped. Perhaps these will accelerate under Measure M.
Michele Martinez - Michele Martinez is not alone among elected officials in Orange County that push for a more sustainable transportation system, but she is certainly leading the vanguard. She is a city councilmember for the city of Santa Ana, which has been featured several times in Streetsblog California for various progressive street improvements and for passing a Vision Zero Plan. Martinez serves on the boards of several regional transportation agencies and in her day job helps manage the Alliance for a Healthy Orange County.
Measure HHH - While the entire L.A. City Council should be commended for rolling up its sleeves and getting to work on a comprehensive strategy to address homelessness over the last couple of years, Councilmembers Marqueece Harris-Dawson and José Huizar (Chair and Vice Chair of the recently created Homelessness & Poverty Committee, respectively) deserve special recognition for their work on Proposition HHH. Prop HHH - approved by a vote of 77 percent  - authorizes $1.2 billion in general obligation bonds to fund the creation of 10,000 units over the next ten years for supportive housing for homeless people and affordable housing for those at risk of becoming homeless. It won't end homelessness, unfortunately. But it will help address the needs of the chronically homeless - numbering somewhere around 8,500 - by ensuring some of the most vulnerable folks on the streets, struggling with mental or other illnesses, have supportive services available to them on-site. The effort to address homelessness will be overseen by the city's first-ever homelessness coordinator, a position first proposed by Huizar back in 2014.
Honorable Mentions: Los Angeles City Councilmember Felipe Fuentes has been great on urban livability, including shepherding protected bike lanes on Van Nuys Blvd in Pacoima. Metro board chairs John Fasana and Mark Ridley Thomas set up Measure M's victory.  County Supervisor Hilda Solis has been great on bikeability and mobility for those who most need it, but SBLA is expecting bigger accomplishments from her in coming years.
Past Winners: Councilmember Joe Buscaino, Councilmember Jose Huizar, Santa Monica Mayor Pam O'Connor, Glendale Councilmember Ara Najarian, Mayor Antonio Villaraigosa, and Councilmember Bill Rosendahl
Stay in touch
Sign up for our free newsletter