Car Congestion
Hide Your Wife! Hide Your Kids! Freeway Closure for the Demolition of the 6th St. Bridge is upon Us!
8:00 PM PST on February 5, 2016
Hide your wife! Hide your kids! And try to hide the bitter tears the L.A. Times believes you will probably shed when you struggle to visit "downtown's trendiest bars and pubs" this weekend because THE 101 FREEWAY IS CLOSING FOR 40 HOURS starting at 10 p.m. tonight!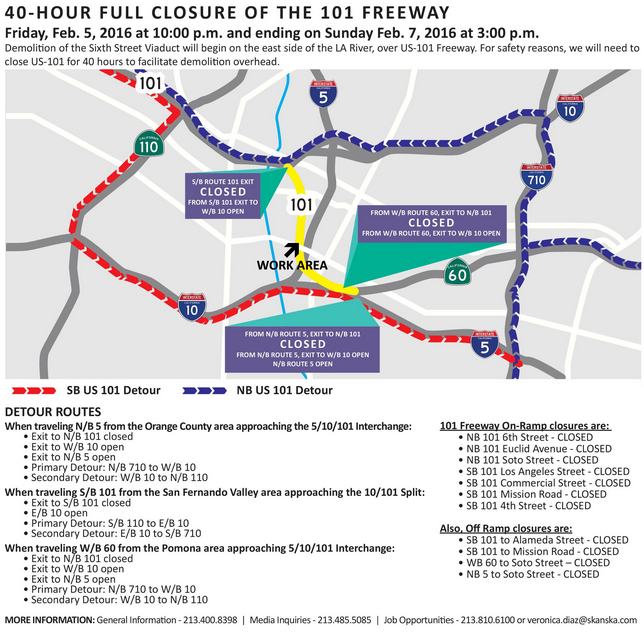 Between 10 p.m. Friday night and 2 p.m. Sunday afternoon, a 2.5-mile section of the 101 freeway will be closed so that the section of the 6th Street bridge spanning the freeway can be demolished. That means that the 101 will be closed from the 10-101 split to the 5-10-101 interchange just south of downtown Los Angeles (see map above). Drivers traveling west from the Pomona area will not be able to access the 101 from the 60.
To soothe car-bound Angelenos' soon-to-be frazzled nerves, the mayor released his version of a slow jam yesterday, with the help of members of Roosevelt High School's talented jazz band.
Whether it is all one would hope for from a mayoral slow jam I am guessing is probably a matter of taste. But it does feature a very sultry come hither that Metro desperately needs to figure out how to work into its promotional materials more often: "If you've got to get out on the town... remember, Metro is there for you, all day and all night."
While it is true that the closure of the freeway will likely cause some headaches, much like with the carmaggedons that have come before it, Angelenos will surely survive and possibly emerge better people for it.
More painful to most Angelenos -- especially those that grew up around the bridge -- will be the loss of such an iconic structure. Not just because of its storied place in cinema, but because of the escape it provided for so many.
It was a peaceful place where you could get up above the fray and get some perspective on yourself and your relationship to your community and your city. It was a place from which you could feel like you were watching over your neighborhood. And it welcomed you home with open arches.
For many on the eastside, the bridge also marked a dividing line. The 3500 foot span between the city center and the community served as a sort of metaphor for how removed from each other two neighborhoods could be.
The promise of a shiny new structure which can double as a destination appears to be accelerating the speed at which that gap between the two communities is now closing. Not only are new galleries popping up under the bridge, but properties for sale on the Boyle Heights side often tout their nearness to the bridge project and downtown. One brochure for a property along Boyle Avenue even mapped out all the "local amenities" it would be within an easy distance of (arts, culture, food, transit, shopping, the new bridge project, etc.). Not a single one was located in Boyle Heights.
Downtown may be edging east, many in the community feel, but it is keeping its eyes firmly facing west.
Beyond the pending loss of an iconic structure and looming demographic changes to the neighborhood, many Angelenos needing to make the trek from east to west are feeling the more immediate pain of trying to get across suddenly-congested bridges.
At a community meeting held last Thursday, officials noted that the closure of the bridge had sent an additional 900 vehicles per hour through Boyle Heights' streets during peak hours.
Local residents in attendance were well aware of this, it seemed. Several stood up to describe the difficulty they were having getting back and forth to their kids' schools in the morning or even trying to back out of their driveways. Because 1st has only one lane and the Gold Line service between Boyle Heights and Little Tokyo has been temporarily halted for Regional Connector construction, they complained, merging into bumper-to-bumper traffic was nearly impossible. And more impatient drivers could already be seen jumping lights, driving in the bike lanes, speeding through side streets, and ignoring signals on both 1st and 4th.
They asked for more traffic ambassadors to be placed at intersections, speed feedback signs to be placed between Anderson and Boyle, and continental crosswalks to be striped to ensure student safety.
Officials reassured meeting attendees that LADOT was monitoring traffic and adjusting signals as quickly as they could to ease traffic flows. But they also acknowledged there would be a transition period as traffic patterns adjusted and settled into the new routes.
Traffic conditions are expected to improve somewhat when the Gold Line connection to Little Tokyo reopens, but it is not known how much.
From a cyclist's perspective, the city would do well to have some speed monitoring on the 4th Street bridge.
That bridge has always moved very fast, but it is now even more jam-packed with cars. And at night, when three lanes of cars come flying up the curved hill from downtown headed east, it can be more than a little terrifying. You aren't always sure they'll see you at the top, no matter how many blinking lights you've attached to your person. And even if they do see you, you aren't always sure they'll be able to curb their speed in time.
For those taking refuge on the sidewalk, the situation isn't that much better. For all the "improvements" made to intersections to ensure cars could more easily reach the 4th Street bridge, no commensurate effort was made to ensure there were curb cuts and other adequate facilities so cyclists, pedestrians, the disabled, and folks with strollers or wheeled carts could easily access the bridge, too. There's even a missing sidewalk on the east side of the bridge at Anderson.
For those accustomed to taking 4th for their commute, the poor infrastructure is not news. But it could require some adjustment for those who find themselves taking the detour onto 4th for the first time.
The weekend closure of the 101 will allow for a 30-staff crew to cut the deck of the bridge into large pieces, pick them up by crane, and lower them to the ground, according to the contractors. If all goes as planned, a full ten percent of the viaduct will have been demolished by the time the 101 reopens.
The rest of the bridge demolition will not move quite so quickly. The remaining ninety percent should take about nine months to complete.
Meeting attendees concerned about the proximity of demolition operations to the Pico Gardens housing development were told that the contractors would take every precaution to minimize dust production and limit the movement of trucks hauling debris through residential streets.
For those of you hoping to salvage a chunk of the bridge as a keepsake, you might be in luck.
When asked if they would be selling pieces of the bridge, Skanska Project Executive Lawrence Damore said that that was unlikely, but that they would think about arranging for a central area where people could pick up pieces for free. He also encouraged people to take photos and watch the progress of the project, but to respect the safety boundaries when doing so.
More information about the closure and updates to the project can be found at sixthstreetviaduct.org. Construction is expected to be completed in 2019.
Sahra is Communities Editor for Streetsblog L.A., covering the intersection of mobility with race, class, history, representation, policing, housing, health, culture, community, and access to the public space in Boyle Heights and South Central Los Angeles.
Stay in touch
Sign up for our free newsletter