South LA
South L.A. Residents Deliver Message to Curren Price Ahead of Vote to (Re)Adopt Mobility Plan 2035
4:25 PM PST on November 9, 2015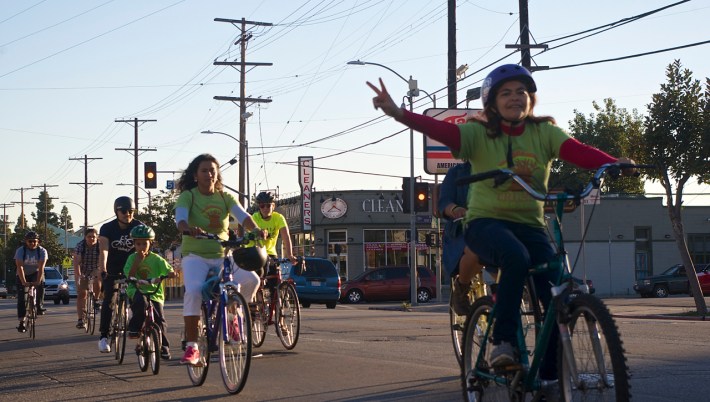 Tuesday afternoon, a special joint meeting of the Planning and Land Use Management and Transportation Committees will be held to, first, "consider a Motion to rescind the August 11, 2015 Resolution adopting the Mobility Plan 2035 as amended by the City Council," and, second, "adopt a Resolution adopting the draft Mobility Plan 2035 as considered and recommended by the City Planning Commission and the Mayor on May 28, 2015 and June 5, 2015, respectively." [Full text of motion is here.]

Sounds straightforward enough, right?
As explained in Joe Linton's recent story on the rescind-adopt effort, the City Council's approval of three amendments to the semi-ambitious plan to overhaul how Angelenos get around their city had not adhered to the procedures set out in the city charter. The procedural oversight quickly became the cornerstone of a lawsuit by Fix the City, the group perhaps best remembered for accusing bike- and transit-dependent commuters of luxuriating about in traffic lanes they had "stolen" from drivers.
"In order to cure the alleged procedural defect," Councilmembers Mike Bonin, Jose Huizar, Felipe Fuentes, and Joe Buscaino stated in the motion put forth on October 30, "Council would first need to rescind the Mobility Plan 2035 as amended."
Given the support for the Mobility Plan the first time around, supporters speaking in an Los Angeles Times article today sound confident that the city will adopt the Plan again.
But a few challenges still remain. Last time around, as noted here, several councilmembers jumped at the chance to try to remove planned bikeways slated for their districts. Efforts by Paul Koretz (to see Westwood Boulevard nixed from the plan) and Gil Cedillo (to essentially exorcise bikeways from his district in favor of pedestrian facilities) went nowhere. But community members in Curren Price's district expect he will revisit his motion to remove Central Avenue from the planned bikeway network at tomorrow's hearing.
And they're not happy about it.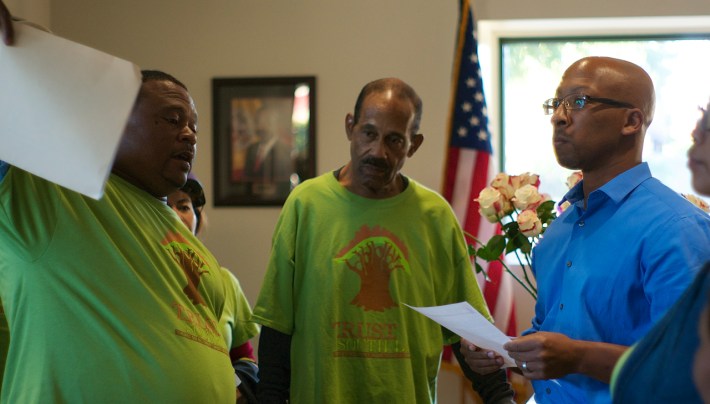 On Friday, they rode their bikes to the councilmember's office to hand-deliver a letter asking that Price heed the more than 100 petitions from residents and stakeholders in the community and implement the 7.2-mile bike lane slated to run from Watts to Little Tokyo along Central Avenue.
Telling District Director James Westbrooks that many of them rode Central every day, they asked him to remind Price that a bike lane could slow down the street and "save working people's lives."
And their children's lives, reiterated Maria Almeida, who takes her kids back and forth to school every day by bike.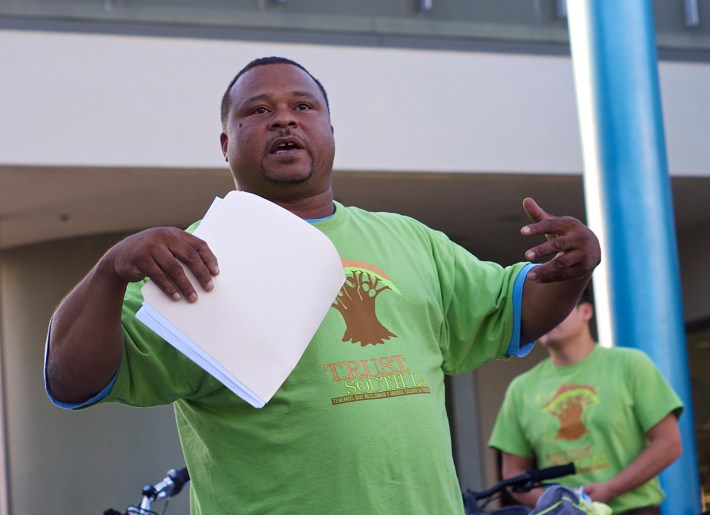 "We know next year is a big year for [the councilmember]," said TRUST South L.A. organizer Estuardo Mazariegos, referring to the expectation that Price will run for re-election.
With Central Avenue having some of the "highest ridership in Los Angeles... [at] one cyclist per minute," Mazariegos continued, it meant that cyclists comprised a significant portion of Price's constituency. And they would remember Price's commitment (or lack thereof) to their safety when they stepped into the voting booth.
For John London (above, right), who grew up in the area and who bikes all over South L.A. to get back and forth to work and to school in Compton (where he is working on a master's in music), a bike lane is a no-brainer.
"I have been here all my life. This is where I am from. I love my community and I have a passion for people, a passion for safety, and a passion for children," he declared. "This is a people issue."
"Sidewalks are for walking," he said. "We need those lanes!"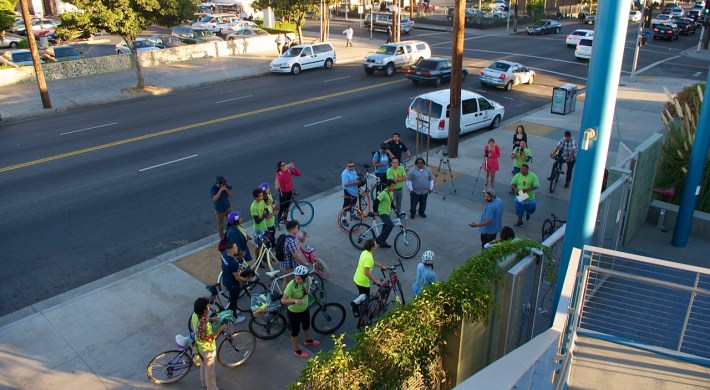 The councilmember's argument against the bike lane, as far as his constituents have been told, has to do with his interest in boosting business along the corridor.
It is a claim residents find frustrating, as all those present on Friday said they spend a lot of time and money along Central Avenue.
Thus far, however, they haven't been able to engage the councilmember directly on the issue because the decision to yank the lane from the plan was largely made behind closed doors. They only found about the change when Great Streets' plans for a section of Central Avenue were released this past April (at a poorly-advertised and poorly-attended Saturday morning open house).
Even then, the councilmember (with the help of the Mayor's Office) seemed to be doing his best to keep the plans under wraps. The plans were not made publicly available or even translated until July, when Streetsblog L.A. complained about the lack of transparency, the complete lack of understanding of how gang issues would render inaccessible any substitute bike facilities placed on parallel side streets, and the city's ignorance of how important Central Avenue was to the mobility of people from all over South L.A.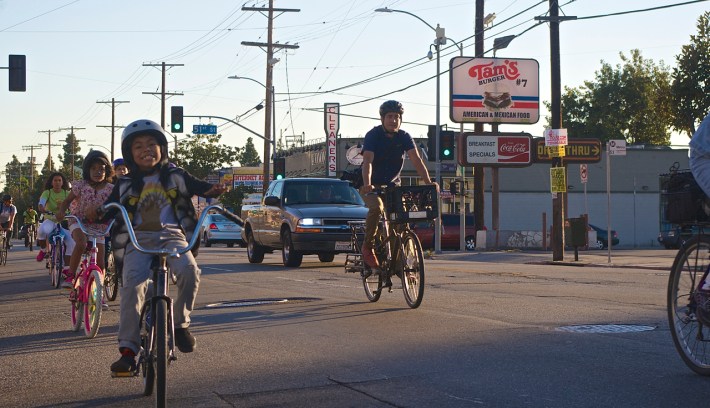 "It seems like the councilman doesn't care about our lives right now," concluded organizer Mazariegos before leading the group in a final chant: "What do we want?/Bike lanes!/When do we want them?/Now!"
As the group prepared to leave, I turned back to John London for his last thoughts.
His commutes took him from Martin Luther King, Jr. Blvd. to Century Blvd. and beyond, and from Central Ave. over to Leimert Park. He had grown up walking along the rail right-of-way on Slauson to get to school, he said. And he had ridden his bike everywhere and tried every possible route in the process.
It's not safe out there, he concluded. Drivers are impatient -- they cut too close to cyclists and, in doing so, play with people's lives.
"It's incumbent upon [the councilmember to help us] get to a point to where cyclists are being respected," he said.
* * *
If you'd like to have your say on the Mobility Plan, you are invited to attend the hearing to be held in the John Ferraro Council Chamber Room 340 (200 North Spring Street) Tuesday, November 10, 2015, at approximately 2:30 p.m. (or soon thereafter).
Sahra is Communities Editor for Streetsblog L.A., covering the intersection of mobility with race, class, history, representation, policing, housing, health, culture, community, and access to the public space in Boyle Heights and South Central Los Angeles.
Stay in touch
Sign up for our free newsletter