Bicycling
Healthy Kids Zone: Schools at the Center of Healthy Communities
9:35 AM PDT on May 22, 2015
Bike Month is here and rides and panels are in abundance. Though the anchor of the month is Bike to Work Day, let's make some room for the youth and talk a bit about why so many kids don't ride their bikes to school anymore.
A myriad of environmental factors can affect a student's experience in the classroom even before the school day begins. For example, many Los Angeles neighborhoods are unsafe for walking and biking and saturated with unhealthy food choices contributing to elevated rates of preventable diet and exercise related diseases like obesity and diabetes. A lack of amenities, such as parks and open space, and a disconnect from the health care system further reinforce these problems.
To address these issues, Community Health Councils (CHC) has been developing a Healthy Kids Zone (HKZ) pilot project to position schools as centers of healthy communities. The HKZ project is a pioneer effort in Los Angeles and nationwide with an unprecedented scope that bolsters grassroots efforts to improve school community health and safety with citywide policy.
K-12 schools have always been considered centers of learning and socialization in our neighborhoods. Our children experience many "firsts" at school, like friendships, fist fights, and fractions. Schools host sports events and musical and theatrical performances, polling places and community meetings. They are natural neighborhood hubs, where the community's youth come together. An HKZ builds on the natural role of schools in communities by applying higher standards of development and enforcement guidelines to designated areas in the communities surrounding high-need schools.
HKZs are designed to improve well-being for young people and the surrounding community as a whole through the improvement of five key health improvement categories:
nutrition,
physical activity,
environmental health,
safety, and
health services.
CHC has identified these categories as having direct impact on the health of students and school communities before and after school hours. The project has been developed in conjunction with a multi-sectoral advisory committee team representing organizations with expertise in the health improvement categories. This past spring the HKZ concept and pilot implementation project were included in the City's first ever general plan health element, Plan for a Healthy LA, providing high-level citywide policy support for the project.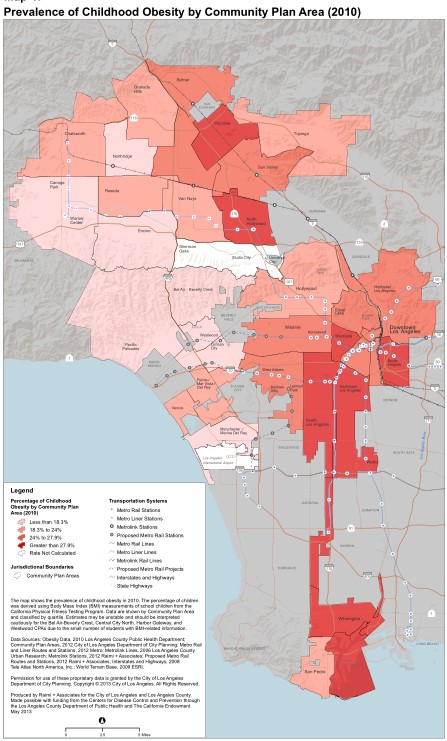 Specific HKZ prioritization of the five health improvement categories are determined by concerned school community members, which include students, parents and school staff but also local residents, business owners and community organizations. For example, kids may not feel safe walking or biking to school because their school is located on or directly adjacent to a busy, high-speed corridor that threatens the safety of pedestrians and bicyclists in the community. A school community wishing to remedy this would be well-positioned to advocate for a School Slow Zone, which requires lower speed limits and sometimes traffic calming treatments within walking distance of a school. Referencing the Plan for a Healthy LA as well as the updated mobility element of the City's general plan, Mobility Plan 2035, which includes School Slow Zones in its latest draft, the school community can make the case to implement traffic safety treatments in their designated HKZ.
While a safe, healthy neighborhood is important to all communities there are significant existing disparities between resources within Los Angeles. Consider these statistics:
Seven out of every 10 South LA restaurants is a fast food chain (compared to four out of 10 in West LA)
South LA has approximately 0.48 park acres (per 1,000 people) compared to the citywide average of 5.39 park acres (per 1,000)
From 2000-2010, there have been more motor vehicle-pedestrian collisions (2,500 each) in South and Southeast LA city than any other neighborhood (using Community Plan Areas as boundaries)
One in five residents of Southeast LA city lives within 500 feet of manufacturing land uses
The purpose of an HKZ planning process can also include developing a priority screening to determine high-need communities based on the health and safety of neighborhoods. The HKZ includes a screening criteria that looks at publicly-accessible data across all five health improvement categories to determine disparities in resources between school communities, including nutritional resources, traffic safety, active space accessibility, environmental justice concerns, healthcare resources, and socioeconomic, race and educational factors. This process has led to identifying several South Los Angeles HKZ pilot schools in under-resourced communities to pilot HKZ implementation.
As of 2015, CHC has received commitment from five South Los Angeles schools -- two elementary, two middle and one high school -- to serve as "pilot" schools for HKZ implementation. Schools were selected based on the screening criteria described above with all selected schools "scoring" disparate health outcomes when compared to counterpart schools in West Los Angeles. Schools were also targeted for pilot selection based on existing organized groups or bases currently operating at schools, such as strong parent groups, afterschool programs, champion principals, etc.
One of the pilot schools, Audubon Middle School in Leimert Park has been operating a bicycle education PE class, supported by school staff and adult volunteers, while local neighborhood councils and organizations have garnered support for extending the bicycle lane on Martin Luther King, Jr. Blvd to serve the school and neighborhoods to the east.
Bike to Work Day and Walk/Bike to School Day, though at different times of the year, are not unlike Valentine's Day. They are each a singled-out day out of 365 days when something is given space for formal celebration or support. But of course that shouldn't let us off the hook for trying—every day—to improve bike commuting, support safe and active travel to school, and show some love for our kids and our school communities.
For more information about the Healthy Kids Zone project, visit www.chc-inc.org/hkz
D. Malcolm Carson is General Counsel and Policy Director for Environmental Health at Community Health Councils, a nonprofit health policy organization in the Crenshaw District. Malcolm and his team at CHC have been working to improve mobility, create more open space, improve air quality and reduce exposure to toxics in low-income communities of color around Los Angeles.
Naomi Iwasaki is a mobility policy analyst at Community Health Councils where she works to ensure equity and health measures that serve South Los Angeles are integrated into transportation policies and plans at the city, county and state level. She also sits on the Real Estate and Built Environment subcommittee of the Sustainable Little Tokyo Task Force, moonlights as a transportation and planning consultant, and recently became an evaluator for the statewide Active Transportation Program (ATP) Cycle 2 application process.
Stay in touch
Sign up for our free newsletter