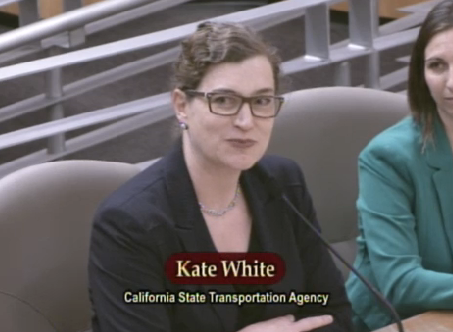 CalSTA, the state agency that oversees all state transportation departments including Caltrans, is committed to improving conditions for transit, biking, and walking, according to its Deputy Secretary for Environmental Policy and Housing, Kate White.
"Thirty percent of all trips in California are less than a mile," said White, testifying at a legislative hearing yesterday in Sacramento. "We want to make bicycling or walking the default for those short trips."
White gave her testimony at a joint hearing of the Senate Committee on Transportation and Housing and the Assembly Committee for Environmental Quality, which was set to discuss the relationships between transportation and greenhouse gas emissions. Representatives from state agencies addressed questions about what changes need to happen for the state to reach its greenhouse gas emission reduction goals.
CalSTA, according to White, recognizes the importance of clean vehicles and clean fuels. "However," she said, "our focus at the transportation agency is on the infrastructure and behavioral side of the coin. And that means improving transit, walking, biking, and housing to reduce vehicles miles traveled." She highlighted three strategies the agency is focusing on:
High speed rail, which White called "the cornerstone of electrifying transportation in California." California expects high speed rail to replace "dirty" air trips between the Bay Area and the L.A. region. The project also includes electrifying Caltrain, which will have the added benefit of doubling the capacity of the popular Bay Area rail service.
Supporting local transit for trips between five and a hundred miles long. The state transit account this year, said White, was for $1 billion, and the state generally contributes several hundred million dollars every year for local and regional transit.
Active transportation. The Active Transportation Program (ATP) is investing in projects to make safe, inviting walking and biking trips an alternative to driving, especially for trips that are less than a mile. "These represent over 30 percent of all trips, and many are unfortunately still made by automobile," said White. "A mode shift to walking and biking not only reduces greenhouse gas emissions but has many co-benefits for health, and for healthier life styles for children and families," she added.
White also touched on the California Transportation Plan 2040, which is in the midst of a 45-day public comment period. That plan analyzes three future policy scenarios for how well they contribute to greenhouse gas reductions, and only one of the three—the most aggressive—would get the state close to its goals. That scenario incorporates all the current regional transportation plans, including their Sustainable Communities Strategies, plus additional policies such as road pricing and improving transit, plus a very aggressive change in the future vehicle fleet mix to zero-emission vehicles.
Senator Anthony Cannella (R-Ceres) said, "That third scenario, frankly, terrifies me." He described his rural district, where there is plenty of housing but not so many jobs, and said that many of his constituents must drive two-hour, one-way commutes to get to work. "How are you trying to juggle the realities of folks who live in rural areas when you come up with these very academic studies?" he asked.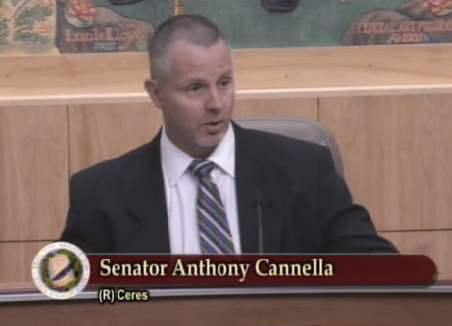 "The ideas are not just academic," replied White. "We are laying out a vision for the transformation of the transportation sector to support your constituency as well as all the constituencies in California."
She pointed out that school trips, errands, and other trips make up the majority of trips, so while commuting is important, solutions for rural communities include being able to replace some of those short trips with walking or biking.
"But the problem in rural areas is that we don't have sidewalks, we don't have safe routes to schools," said Canella. "If we have our kids walk to school, it's on the shoulder, it's in the dirt--it's not very safe. But there's been a real resistance to fund safe routes to schools."
"It looks like this last cap-and-trade auction took in about $630 million," he pointed out. "There should be a priority set on funding those safe routes to schools if we're going to radically change the way that we live now."
Several speakers at the meeting called for increasing the amount of money allocated for the ATP, under which Safe Routes to Schools programs are funded. Jeanie Ward-Waller of the Safe Routes to Schools National Partnership presented the legislators with a petition to increase ATP funding by $100 million that was put together by a coalition of groups working on creating healthy communities. The petition is still open for signatures here.
When Committee Chair Jim Beall asked how California was going to be able to change the mindset of consumers, White pointed out that California is already seeing a mode shift. According to the California statewide travel survey, between 2000 and 2010, "California saw a doubling of walking, biking, and transit trips statewide, and that was before putting in a tremendous amount of infrastructure," she said. "I think we're seeing a sea change in terms of the transportation demand and what modes the next generation is looking for."
Email tips, alerts, press releases, ideas, etc. to melanie@streetsblog.org.
For social media coverage focused on statewide issues, follow Melanie @currymel on Twitter or like our Facebook page here.
Streetsblog California editor Melanie Curry has been thinking about transportation, and how to improve conditions for bicyclists, since her early days commuting by bike to UCLA long ago. She was Managing Editor at the East Bay Express, and edited Access Magazine for the University of California Transportation Center. She also earned her Masters in City Planning from UC Berkeley.
Stay in touch
Sign up for our free newsletter