G (Orange) Line
Orange Line BRT Speed Improvements Caught In Inter-Agency Delays
4:39 PM PST on December 18, 2014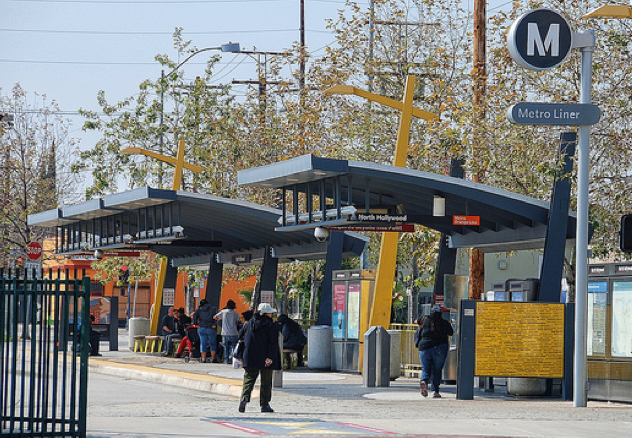 I was hoping to write a couple of happy stories this week about the Metro Orange Line. The San Fernando Valley's highly-regarded workhorse Bus Rapid Transit (BRT) opened in 2005. Lately, a new pedestrian tunnel and faster bus speeds seemed imminent. These facilities would save time for the Orange Line's 30,000 daily riders.
Earlier this week, I reported that the tunnel, which I like, but L.A. Times architecture critic Christopher Hawthorne does not, is under construction. The construction site is not so friendly for pedestrians. Also, per Metro's clarification, the heavily-used surface crosswalk across Lankershim Boulevard is being moved to a less convenient location. The crosswalk was at the south side of Chandler Boulevard North; in the future (and during construction, now) it will be on the north side of Chandler North. This means pedestrians will need to cross Lankershim and Chandler North, instead of just Lankershim. Perhaps, in front of the Metro station, pedestrian prioritization is called for. Perhaps include crosswalks at all the legs of the intersection? Maybe a pedestrian scramble? But that's another story.
Today, I am disappointed to report that the bus speed improvements that appeared to be imminent seem instead to have fallen into a limbo of inter-agency delay between Metro and the Los Angeles City Transportation Department (LADOT).
The Orange Line BRT runs on its own busway: basically a bus-only street built on former railroad right-of-way. The busway runs generally east-west and, at signalized intersections, crosses numerous north-south streets. In its first few months of operation, the Orange Line ran faster than it does today. There were a handful of car-bus collisions on the route, reportedly due to drivers failing to obey traffic signals. The excuse that has been repeated is that the drivers were not used to seeing any traffic on that long-abandoned right-of-way.
After these collisions, Orange Line bus speeds were reduced. Today Orange Line buses slow to 10 mph when crossing intersections.
Now that, at least, local drivers are more aware of the presence of Orange Line buses, there is movement afoot to improve the Orange Line by bringing its buses back up to speed. 
As both the Los Angeles City Councilmember representing neighborhoods along the Orange Line and a Metro Boardmember, Paul Krekorian is uniquely situated to champion Metro Orange Line improvements. With Council colleague Bob Blumenfeld, Krekorian authored council motion 14-1352 [PDF], which instructs LADOT to work with Metro to figure out how to improve Orange Line service, including increasing speeds.
The Krekorian motion was heard at the October 22 meeting of the Los Angeles City Council Transportation Committee. During the Orange Line motion discussion (audio - at 0:40.), the following exchange took place:
Los Angeles City Councilmember Paul Krekorian: Well, maybe we can make this very easy then. Is it the city's position that Metro can unilaterally change the speeds at intersection crossing points on the Orange Line without approval of the city?

Bill Shao, Senior Transportation Engineer, LADOT: Yes, it is.

Krekorian: Great. Less need to collaborate then, I guess. [laughter]

Shao: We - the city - we have to understand what the new speeds at crossings are so that we can align our signals to their needs.

Krekorian: Which actually becomes a bigger issue but that's an issue that can happen after these changes take place.

Shao: That's correct.

Krekorian: Great.
For many years, LADOT resisted increasing speeds on the Metro Orange Line BRT, as it would mean that some people in cars will sometimes experience minor delays in crossing the Orange Line. Shao's October testimony was the first clear message that LADOT is fully on board, and now the ball is in Metro's court to improve Orange Line speeds. My hunch is that this change can be attributed to Seleta Reynolds' leadership.
At the October committee meeting, Metro Interim Executive Officer Jon Hillmer said that Metro was planning to increase Orange Line bus intersection speeds from 10 mph to 25 mph, which Metro expects will save cross-Valley commuters 4-8 minutes per trip. The next day, I reported that Metro Orange Line speed improvements appeared to be coming soon.
Last week, I inquired of LADOT and Metro regarding the timeline for these Orange Line speed improvements. Metro spokesperson Dave Sotero responded that he would check but that they "may be the bailiwick of LADOT."
LADOT spokesperson Tina Backstrom responded that, "We are currently participating in a working group with Metro to work on funding, implementation, and to study what effects, if any, these types of improvements will have to the operation of the Orange Line."
According to the staff report [PDF], LADOT had considered applying for Metro Call for Projects funding to help Orange Line buses communicate with LADOT traffic control systems, but that project did not make the cut-off on LADOT's final go-ahead list approved by City Council earlier this week. At the October meeting and in that Call for Projects staff report, an inter-agency Memorandum of Understanding (MOU) was mentioned.
LADOT's Backstrom clarified that speed improvements will follow at some point after Metro, LADOT, and the City Attorney agree on an MOU. Backstrom couldn't give me any details on what would be in the MOU or when it might be expected to be completed. I expect that we may need more of Krekorian's and Reynolds' leadership to get the MOU done before the new tunnel opens in 2016.
Right after the Orange Line opened 9 years ago, scofflaw drivers ran red lights and collided with Orange Line buses. Metro and LADOT quickly responded to reduce bus speeds. The agencies didn't sign any memoranda, didn't engage in any studies, and didn't seek any outside funding. Just as with speed limit increases, pro-car bias makes it a whole lot easier to speed cars up, and difficult to cut against that grain in favor of transit, safety, and complete streets.
Now that there is a consensus in favor of speeding up those buses -- a low-cost measure that would mean dramatic improvements in the lives of transit riders -- both agencies are waiting. And so are the passengers on crowded buses traveling more slowly than necessary across the Valley.
Stay in touch
Sign up for our free newsletter