Bicycling
San Gabriel Valley Regional Bike Plan Faces Two Hearings Tonight
9:46 AM PST on November 25, 2014
The 5-city San Gabriel Valley regional bike plan is currently making its way through a complicated series of city approvals. Two important bike plan hearings are taking place tonight in the cities of El Monte and Monterey Park. Specific details on those hearings after the jump. Folks who live, work, bike, or breathe in the San Gabriel Valley are encouraged to attend in support of plan passage.
Like much of Los Angeles County, the ~30-city San Gabriel Valley sees itself as a car-oriented and traffic-congested place. It has plenty of cyclists and a few prominent well-loved bicycle facilities: Temple City's excellent protected bike lanes on Rosemead Boulevard, and the San Gabriel and Rio Hondo river bike trails.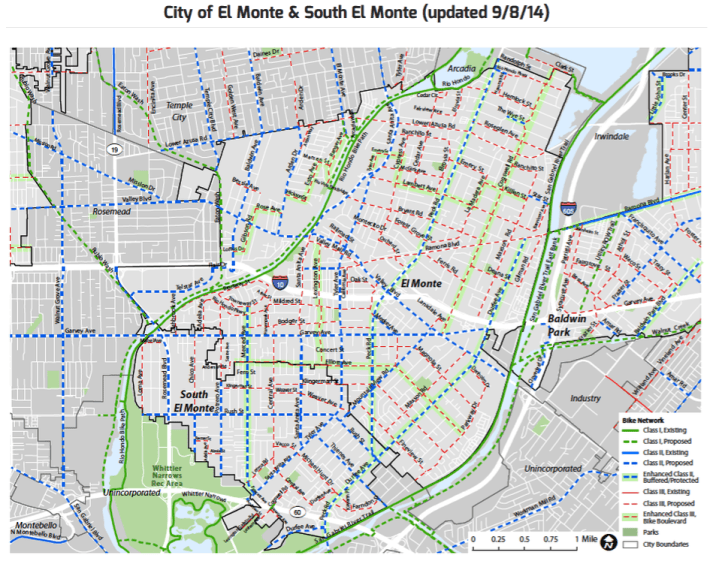 The central SGV cities of Temple City and Rosemead are ahead of the curve; they approved their Bicycle Master Plans in 2011 and 2012, respectively. Five SGV cities are in the process of approving individual portions of the new inter-connected plan: Baldwin Park, El Monte, Monterey Park, San Gabriel, and South El Monte. This regional effort was shepherded by BikeSGV working with the bicycle planning consultants Alta Planning + Design, with funding from the L.A. County Department of Public Health. 
BikeSGV Program Director Javier Hernandez acknowledges the broad spectrum of parties responsible for the latest plan:
The SGV Bike Plan is the culmination of a much greater force at play in the San Gabriel Valley, collaboration! The SGV Bike Plan is a prime example of a systematic, all-inclusive and transparent regional planning effort that has unified families, students, youth, seniors, non-profits, government agencies, businesses, school districts, and everything in between to address many of the regions public and environmental woes. A united San Gabriel Valley sets the stage for deeper, more profound regional impact with respect to improving health, reducing our carbon footprint, reducing auto/bike collisions, and sustainable development.
Few bicyclists, pedestrians, transit-riders or drivers actually know when they have crossed municipal boundaries, so it is important that adjacent jurisdictions plan and implement livable streets together. The overall SGV bike plan features bike facilities that cross city boundaries; examples include Garvey Avenue and Ramona Boulevard. In addition to facilities, the plan includes policies and programs.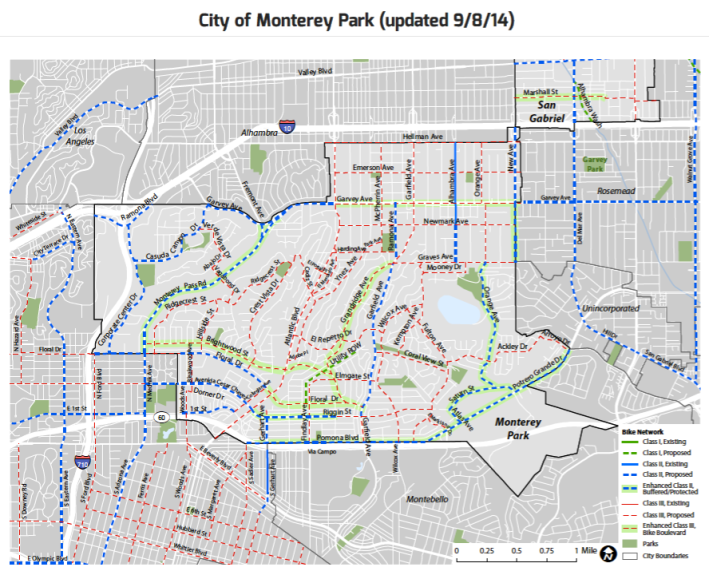 Here is the status of each of the five cities in the current SGV regional plan process:
The El Monte City Council votes on the city's bike plan tonight - details below.
Monterey Park's bike plan will be heard at the city's Planning Commission tonight - details below. Assuming it passes the commission, it will go to the Monterey Park City Council later this year.
The South El Monte City Council is expected to vote on its plan in December.
City of El Monte - TONIGHT
What: El Monte City Council Meeting
When: Tuesday, November 25, 6:30 p.m. Active Streets Health Rally, 7 p.m. Council meeting [agenda PDF]
Where: El Monte City Hall, 11333 Valley Blvd, El Monte 91731
Additional Information:  The El Monte City Council [agenda PDF] will be voting on three bicycle-related items: 12.2 Contracting with BikeSGV to host Bike Co-Op Center at Fletcher Park, 14.2 Complete Streets Policy, and 14.3 Bicycle Master Plan.
City of Monterey Park - TONIGHT
What: Monterey Park Planning Commission Meeting [agenda]
When: Tuesday, November 25, 7 p.m.
Where: Monterey Park City Hall, 320 W. Newmark Ave., Monterey Park 91754
BikeSGV's Hernandez anticpates that all three remaining cities are likely to approve their portions of the plan before the end of 2014. BikeSGV has received grant funding to get bike planning underway for four five additional cities -- Glendora, Irwindale, La Puente, Monrovia, and Montebello -- beginning in 2015. Correction 11/25: the city of Glendora was mistakenly omitted.
BikeSGV is also pressing to expand bike paths to new portions of San Gabriel Valley waterways, including along the Eaton Wash, San Jose Creek, and Walnut Creek. Last, but not least, many of the SGV cities will be hosting CicLAvia-type open streets events: the 2015 San Gabriel Valley Earth Day Festival and the 2016 San Gabriel Valley Golden Streets in conjunction with the opening of the Metro Gold Line Foothill Extension.
Stay in touch
Sign up for our free newsletter