LASD
Metro Extends Sheriff Contract 6 Months; What's In Metro Policing's Future?
10:05 AM PST on November 17, 2014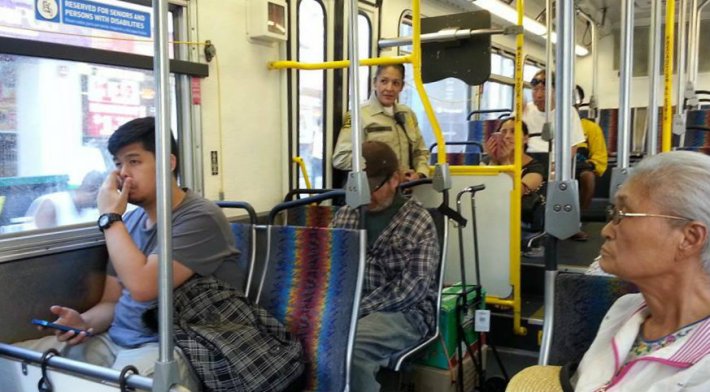 Last week, the Metro Board of Directors finally took action on its repeatedly-extended, repeatedly-about-to-expire contract with the Los Angeles County Sheriff's Department (LASD).
Metro approved a $44.44 million 6-month extension of the $83 million annual contract covering policing for its entire bus and rail transportation networks. This is the eleventh modification of the contract; most of those modifications have been to extend the current contract, which has been in place since 2009.
The extension kicks the ultimate contract decision down the road to a new set of Metro directors, as supervisors Zev Yaroslavsky and Gloria Molina will be replaced by Sheila Kuehl and Hilda Solis, respectively. There will also be a newly-elected L.A. County Sheriff: former Long Beach police chief Jim McDonnell.
The extension also, for better or for worse, puts some time between contract deliberations and the recent LASD audit. Ostensibly, it gives the LASD six months to fix problems identified by the audit, or perhaps enough time for any heat generated by the audit's criticism to dissipate.
In April 2014, Metro received the results of its audit of LASD policing work. Both Metro and LASD's Transit Services Bureau (TSB) wrote official responses to the audit; the agency responses were included as attachments in a June 2014 final report. Though a 4-page board report summarizing the roughly 200-page LASD audit document was soon made available, it took some persistence to obtain the actual public document. Transit advocate Dana Gabbard obtained and posted the audit here. Gabbard also penned this article previewing Metro's September 4 board meeting to receive and file the audit.
At that September meeting, Metro's Inspector General staff asserted that the audit, not yet posted to Metro's website, was publicly available, as anyone could file a public records request to obtain it. The Metro board differed, directing staff to post the full public document online. After that meeting, Metro posted a revised version [PDF].
Though there was media coverage at the time, much of it more-or-less summarized the summaries, rarely going into detail regarding issues raised. Largely missing was LASD TSB's responses on items where they differed with auditors. Press included:
Metro staff reporting on the audit have been similarly opaque about audit responses. Here is a chart showing how the agency is complying with audit recommendations:
The brief September staff report shows various percentages of work completed and in progress, with no supporting documentation indicating which audit items have been completed and which remain.
So, what's in that audit? 
The LASD audit is a two-hundred page document [PDF] with plenty of technical detail. The body of the document was written by auditors Bazilio Cobb Associates, who blame both LASD and Metro for various shortcomings. In the appendices, Metro and LASD sometimes dispute the auditors' findings. Some significant issues raised include:
Contractually Required Documents Not Completed: LASD did not complete contractually-required documents that are intended to guide its work, including a community-policing plan, a bus operations strategy, and a rail operations strategy. Other documents that Metro and LASD were to complete jointly were also not done, including a fare enforcement strategy. While this may sound somewhat bureaucratic, the absence of these documents leads to lack of clear goals and direction and, consequently, a lack of metrics for assessing performance.The community-policing plan has been a major concern. Is the core of LASD's TSB ticketing? or developing trust between the community? Metro officials have expressed interest that LASD go beyond a narrow focus on ticketing crimes, to also include more of a "felt presence" in things like aiding tourists, dealing with mentally ill, etc. In September, TSB submitted its draft Comuunity Policing Plan, but it is not clear how that document will be adopted, and how it will impact TSB practices.
Response Times "Systematically Understated": LASD measures response time from when incidents are dispatched to when deputies arrive at the location where the incident occurred. The response time does not take into account any delays between a bus driver contacting LASD and LASD dispatching a response. Additionally, LASD signals "they have arrived on scene when they see the bus or are at the location where the call from the bus came [even] in situations where the bus is no longer at that location." The auditors state, "reporting faster response times [...] that overstate the speed by which LASD is able to respond to incidents on the transit system will obfuscate areas of weakness and make real improvements harder to achieve" (p.35-36).Note that LASD did not agree to remedy this faulty reporting. The LASD response acknowledges delays which it is "always looking for ways to improve," but states that LASD uses its own "universal system for collecting response times" according to the "standards of the department" (attachment 2, p.6).
Faulty Fare Card Readers: Auditors found that the mobile phone fare validators currently in use are slow and "highly prone to errors in reading TAP cards" (p. 55). Per LASD (attachment 2, p.10) new, more effective fare checking devices are estimated to be delivered in July 2014. Per Streetsblog communications with Metro, as of late September, the new fare-check devices are not yet in use and "won't be available until late 2014."
Lack of Mentoring Follow-Through on Complaints, including Use of Force: LASD personnel who receive numerous public complaints are recommended by their superiors for "performance mentoring." Very few transit deputies were referred to and participated in mentoring. For example (p.70), over a two-year period, 41 deputies had 5 or more public complaints for Use of Force. Additionally, there were complaints for discourtesy, inappropriate language, etc. During that period, only four transit deputies were recommended for mentoring; only two received mentoring.This is another item where LASD did not agree to remedy processes identified as deficient. LASD's response (attachment 2, p.11) states that "the current process and monitoring of personnel is an effective tool in performance oversight."
Billing for Vacant Positions: The audit found numerous billing discrepancies where Metro paid for more than it received. Perhaps the most clear-cut case is when Metro was "overcharged" by LASD for supervisory positions that were vacant during various monthly billing periods (p.84).Again LASD did not agree with this assessment, stating (attachment 2, p.13) that Metro does not contract for "budgeted management and support" positions, but only for "line services" and that it is basically up to LASD to decide how to manage themselves.
Subbing (CARP) Personnel Issues, including Double-Billing: LASD uses administrative personnel to substitute for vacancies in on-the-ground personnel. This process is called "Cadre of Administrative Replacement Personnel" (CARP). Overall, CARPing, which exceeds 10 percent of LASD on-the-ground hours, gets a lot of criticism throughout the report, as substitutes may lack transit police training and experience. Perhaps most egregiously, when administrators CARPed, "LASD personnel time was billed twice to Metro" (p.88).LASD (attachment 2, p.14) appears to have agreed that some CARP practices were unhelpful, stating, "for FY [Fiscal Year] 2013 CARPs provided by TSB management and support staff, a credit was given to Metro in the FY 2014 rates" and that LASD will do similar credits for FY 2011 and 2012. Though LASD states that it is "in the process of eliminating or reducing CARPing by December, 2014," the Sheriff's did not commit to capping CARP at 10 percent as auditors recommended.
These are only a few highlights. See the full document [PDF] for additional issues and details.
During the audit, and leading up to Metro's now-postponed policing contract decision, LASD has made a number of changes to improve their practices. SBLA intends to do a follow-up article outlining recent LASD and Metro changes in response to issues raised in the audit.
There appear to be three main parties competing to provide some or all of Metro policing work under a contract which would last 3 years, with two one-year extensions, and be worth roughly a half-billion dollars over five years:
Los Angeles County Sheriff's Department (LASD): County Sheriffs hold the current contract and expect to continue to do so.
Los Angeles Police Department (LAPD): LAPD held the contract jointly with LASD in the past. At the September 4 board meeting, L.A. Mayor Eric Garcetti remarked that he saw LAPD, and potentially other city PDs, including Long Beach, playing a role in Metro policing.
Metro Protective Services: These are the security personnel at Metro board meetings. They also police transfer of monies from fare machines, closing and opening Metro stations, and other functions.
The selection process is likely to be politically fraught. Five of thirteen Metro board members are County Supervisors, overseeing the entire LASD in their policing throughout L.A. County. The Mayor and his three appointees form an L.A. City bloc, likely to give preference to the city's own LAPD.
One item in the LASD response in the audit seems to point the future policing contract might well be less winner-take-all, and more of a slicing up of a pie between more than one of the three security forces above. In the LASD response (attachment 2, p.6), the audit states:
Metro has begun a plan to arm their security force [presumably Metro Protective Services] with hand-held fare check devices as well. It is our [LASD's] opinion that Metro should increase their security staff and take over the majority of fare enforcement responsibilities. This would free the Sheriff's Department deputies to work on security issues, quality of life issues, and making an overall stress free experience for the patrons. (emphasis added)
There remain a lot of moving pieces on this, including disagreements over the goals, needs, and costs of transit policing. Keep your browser tuned to Streetsblog as the story develops.
Stay in touch
Sign up for our free newsletter