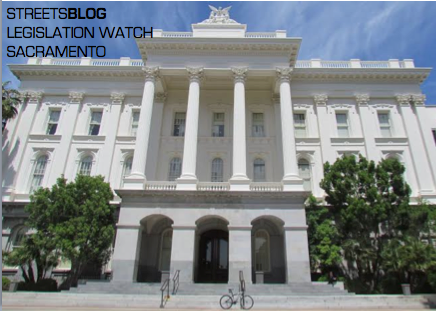 Here is Streetsblog's weekly highlight of California legislation and events related to sustainable transportation. This week, many of the bills that Streetsblog has been tracking are waiting for the budget committees to work through them, so there hasn't been a lot of action.
Traffic violations in school zones: S.B. 1151, Anthony Canella (R-Ceres), sailed through the Senate, passing a floor vote 32-0 this week. The bill adds $35 to the fine on tickets for traffic violations in school zones, and puts any revenues thus received towards school safety projects and programs in the state Active Transportation Program (ATP.) The bill now must go through the Assembly. Safe Routes to School California has additional coverage.
Closing Hit-and-Run Loopholes: A.B. 2673, Steven Bradford (D-Gardena), was passed by the State Assembly yesterday, and now moves to the Senate. Under the bill, hit-and-run offenses would be considered criminal violations even after settlements in civil court. From Assemblymember Bradford's press release:
Current law requires a driver involved in a collision resulting in injury, death, or damage to property, to stop. A driver can be absolved of the crime if the victim of the collision appears before a court to settle the case.

"Hit-and-run crimes are a particularly dangerous offense, and they are on the upswing," Bradford said. "A person involved in an accident who refuses to even stop poses a great danger to society and they should not be able to buy their way out of facing punishment for endangering the public."

"Writing a check may clear a dangerous driver's conscience, but it should not automatically clear their record," Bradford concluded.

The bill is sponsored by the Los Angeles City Attorney, who wrote in a letter of support that between 2007 and 2011, there was an average of 22 severe or fatal hit-and-run collisions involving bicycles and 92 involving pedestrians each year.
Sustainable Communities Strategies update: The Senate Committee on Transportation and Housing held a hearing this week on California's landmark 2008 law, S.B. 375, the Sustainable Communities and Climate Protection Act. The law requires the California Air Resources Board (CARB) to set regional targets for greenhouse gas emissions reductions from vehicle use, and requires regional planning agencies to prepare a Sustainable Communities Strategy (SCS) that links land use, housing, and transportation. At the hearing researchers and regional agencies testified that the law is, in general, having the desired effects. Though SCSs are important tools for advancing livability, on-the-ground sustainability improvements still have difficulties keeping pace with agencies' car-centric status quo inertia.
Sacramento's Bike to Work Day took place this week; photos at SBLA Tumblr.
For social media coverage focused on state-wide issues, follow Melanie @currymel on Twitter or like our Facebook page here. 
Streetsblog California editor Melanie Curry has been thinking about transportation, and how to improve conditions for bicyclists, since her early days commuting by bike to UCLA long ago. She was Managing Editor at the East Bay Express, and edited Access Magazine for the University of California Transportation Center. She also earned her Masters in City Planning from UC Berkeley.
Stay in touch
Sign up for our free newsletter