Complete Streets
MyFigueroa Achieves Consensus, Auto Group Withdraws Appeal
12:05 PM PDT on May 2, 2014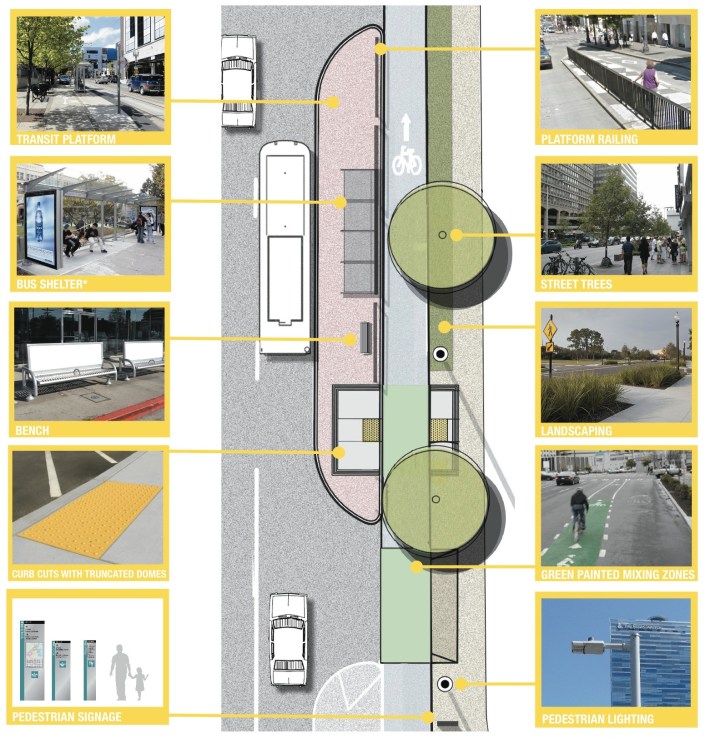 This week, stakeholders hammered out an agreement that allows the MyFigueroa project to finally move from design to on-the-ground implementation.
MyFigueroa will arguably be Los Angeles' premiere "complete street." The three project streets will be inclusive: welcoming to pedestrians, transit riders, cyclists, and drivers.
This is great news for Los Angeles livability. Figueroa Corridor Business Improvement District (BID) head Steve Gibson describes it as "good for the district, for the bike community, and for the city."
Mayor Garcetti, one of MyFigueroa's stalwart proponents, described this week's victory as follows:
I'm excited that our work to bring stakeholders together to air and address concerns has cleared the way for MyFigueroa to finally move forward. This is a critical initiative for Downtown, South L.A. and especially the corridor in between, and the result will be a better mobility balance and a higher quality of life. This is a prime example of our Back to Basics agenda for Los Angeles, which is focused on the core building blocks that strengthen neighborhoods. I want to thank Councilmember Price for working with us to convene stakeholders and resolve their concerns, and our dialogue with the community will be ongoing.
City Councilmember Curren Price, who represents the area, further stated:
Because of the conversations that were held between the City and stakeholders we will now have a groundbreaking project in the New Ninth that all members of the community will support, without compromising the integrity of the project.
It hasn't been easy making big changes in one of the city's most iconic corridors. Figueroa is already a thriving place with many world class features: sports venues, entertainment centers, and longstanding cultural, religious, and educational institutions. There are great historic landmark buildings, and notable new development. Figueroa is home to businesses and residents. Heavy traffic, wide streets, proximity to the the 110 Freeway, and proliferation of parking lots/structures seem to keep the Figueroa Corridor from being a truly thriving walkable place. In recent times, many of the great destinations along Figueroa Street have tended to turn inward -- away from the noise and congestion of Figueroa Street.
With transit connections to Metro's Red, Purple, and Expo Lines, Figueroa is well-positioned to be the place where Los Angeles takes a big step into a multi-modal livable future. Figueroa leaders saw this, and, nearly a decade ago, started a process to bring it into being. Two local BIDs worked with the Community Redevelopment Agency (CRA) to pursue funding for what would become MyFigueroa.    
The MyFigueroa project will be Los Angeles' first large-scale "complete streets" makeover. It creates a street that's truly welcoming and safe for everyone. The project features widened sidewalks, wayfinding, landscaping, pedestrian-scale lighting, improved bus stops, and the city's first protected bikeway or cycle track.
MyFigueroa weathered a somewhat difficult midstream hand-off when the state dissolved the CRA. The Los Angeles City Department of Transportation (LADOT) picked up the reigns and became the lead city agency. MyFig later stalled due to a legal appeal filed by the Shammas Auto Group. At a March 2014 meeting of the Los Angeles City Council Planning and Land Use Management (PLUM) Committee, it appeared that a newly-established stakeholder working group, convened by Mayor Garcetti and City Councilmembers Curren Price and Jose Huizar, was nearing a consensus that would allow MyFigueroa to proceed.
This week, the working group bore fruit.
In a letter dated April 30 2014, the Shammas Auto Group's attorney wrote:
[T]he Shammas Auto Group [...] hereby withdraws all his previously filed appeals related to the above-referenced [Figueroa Streetscape] project.
From the city staff report, it's clear that a great deal of work went into making this happen. Representatives from the Department of City Planning (DCP) and the LADOT have been busy.
During the past two months, to keep MyFigueroa on track, city staff met with representatives of the Figueroa Corridor Business Improvement District, the University of Southern California, Exposition Park, FilmLA, the Motion Picture Association of America, the Shammas Auto Group, Chano's Restaurant, Metro, the California Science Center, the L.A. County Natural History Museum, the California African American Museum, and the Coliseum.
According to LADOT's Tim Fremaux, the "overall project concept and layout remains the same," but there have been "minor design adjustments" including both on-the-ground infrastructure and processes put in place to help it succeed. Modifications include:
Adjustments to left turn pockets to better accommodate car access to auto dealerships.
Additional bicycle parking for Chano's.
Implementation of an educational, marketing and safety campaign, potentially funded via 110 Freeway toll revenue, including providing construction updates, and "educat[ing] bicyclists on the proper operation of the Cycle Track."
Convening of quarterly film industry meetings to ensure Figueroa lane closures can proceed smoothly.
Formation of a Special Events Advisory Group for Exposition Park. For large events, LADOT may convert bicycle lanes to vehicular lanes.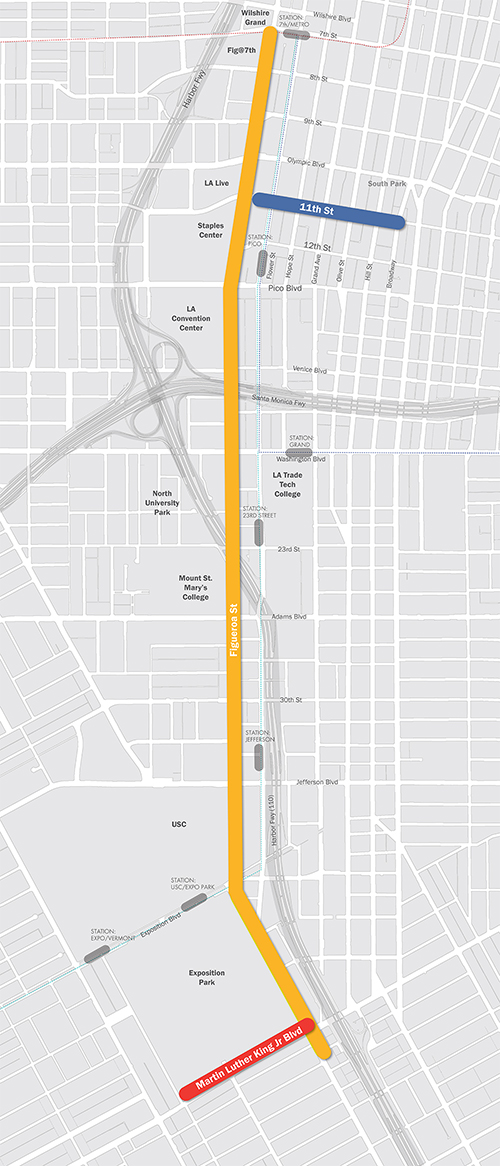 At this point, with the Shammas appeal withdrawn, the project can proceed to bid and construction. MyFigueroa will return to PLUM committee, expected next Tuesday May 6th, but it doesn't appear that the project would require any further PLUM or City Council approvals. LADOT will complete construction specifications, then put MyFigueroa out to bid. The project includes three different components: Figueroa Street, Martin Luther King Jr Boulevard, and 11th Street. Each of these will be advertised and bid separately. Fremaux anticipates that construction could begin "by January 2015" and "will last one year."
Let's repeat ourselves: This is great news! Figueroa, MLK, and 11th will set new standards. With on-the-ground examples of great inclusive livable streets, other business districts, neighborhoods, and indeed other cities, will point to the Figueroa Corridor as an example they wish to emulate.
This success rests on a lot of shoulders. It has taken a lot of time and a lot of contributions from a broad range of constituencies to get MyFigueroa to this green light. Streetsblog L.A. acknowledges:
Elected officials: Mayor Garcetti and Councilmembers Price and Huizar pulled together and shepherded the stakeholder committee process that allowed the project to move ahead. All of the area Neighborhood Councils repeatedly expressed official support for MyFigueroa.
Appointed officials: Renee Dake Wilson, and the rest of the City Planning Commission, drew attention to the importance of this project at critical junctures.
City Staff: The LADOT and DCP, prominently Tim Fremaux and David Somers respectively, took on this project mid-stream. Their analysis, technical expertise, and persistence have carried it from design through environmental analysis and into implementation.
Design Team: Troller Mayer Associates and their subs, including prominently Meléndrez and Gehl Architects, carried out the initial CRA design process and supported the project through its rocky trajectory since. Design team leadership includes Deborah Murphy and Meléndrez Principal Melani Smith. (Interested party note: Murphy serves on the board of SBLA's parent non-profit.)
Area Businesses and Institutions: Both the Figueroa Corridor BID and the South Park BID have seen this project through from inception to this week's success. Area businesses and institutions have steered MyFigueroa, including ensuring features and processes necessary for its success. Playing an important behind-the-scenes role was Green Octopus Consulting's April Economides, a complete streets project business outreach specialist, formerly with the Figueroa Corridor BID.
Community groups: From very early, through times when things were looking somewhat bleak for MyFigueroa, individuals and organizations kept public attention focused on the positive aspects of the project. Among these community leaders were: L.A. County Bicycle Coalition, Trust South L.A., Community Health Councils, Crenshaw Walks, L.A. Walks, Multicultural Communities for Mobility, and many others. Special acknowledgement to Michael MacDonald and others behind the Keep MyFig On Track working group.
Stay in touch
Sign up for our free newsletter