Caltrans
Caltrans Endorses the NACTO Urban Street Design Guide
10:34 AM PDT on April 11, 2014
It wasn't a total surprise, but exciting nevertheless for bicycle advocates gathered at the NACTO "Cities for Cycling" Road Show in Oakland last night. Caltrans Director Malcolm Dougherty announced that the agency will endorse the use of the National Association of City Transportation Officials Urban Street Design Guide, giving California cities the state DOT's blessing to install modern infrastructure like protected bike lanes.
Received with enthusiastic applause from the crowd of bike advocates, city officials, and planners, Dougherty said:
We're trying to change the mentality of the department of transportation, of our engineers, and of those that are doing work in and around the state highway system. Many cities around California are trying to be forward thinking in terms of alternative modes, such as bike and pedestrian, as well as the safety of the entire system, and the very least we can do as the department of transportation for the state is to follow that lead, to get out of the way, and to figure out how to carry that into regional travel.
NACTO's Urban Street Design Guide, launched last September, is the product of collaboration between the transportation departments of its member cities around the U.S. The guide provides the latest American standards for designing safer city streets for all users, incorporating experience from cities that have developed innovative solutions into a blueprint for others to use. It supplements, but doesn't replace, other manuals such as the Caltrans Highway Design Manual and California's Manual of Uniform Traffic Control Devices.
As the state's transportation department, Caltrans has control over the design of state-owned highways, but the design of local streets and roads is left to local jurisdictions — with one exception. Bicycle infrastructure throughout the state has been dictated by the car-focused agency because local engineers rely on Caltrans-approved designs to protect local municipalities from lawsuits. As a result, city planners were often hesitant, or flat out refused, to build innovative treatments like protected bike lanes that don't appear in Caltrans Highway Design Manual.
"It's a permission slip for cities, for engineers and planners, to do the good, well-vetted, proven work that we know we can do to make our street safer," said Ed Reiskin, president of NACTO and director of the San Francisco Municipal Transportation Agency. "It's only a first step -- ultimately, we'd like to see the changes in the Highway Design Manual to see it actually integrated into Caltrans documents. But this is a huge step forward, and great leadership from Malcolm, Secretary [Brian] Kelly, and Governor [Jerry] Brown," who commissioned a report that recommended Caltrans adopt the NACTO guide.
The guide includes design standards for infrastructure including bike boxes, physically protected bike lanes, contra-flow bus lanes, and even parklets. Although these improvements have been implemented in cities in California and the world, they have been considered "experimental" until now. The NACTO guide has only been endorsed by two other states, Washington and Massachusetts.
"Endorsing NACTO basically says this manual can be used alongside the Highway Design Manual and the Manual of Uniform Traffic Control Devices as an appropriate reference when you're looking at possibilities for new street designs," said Dougherty.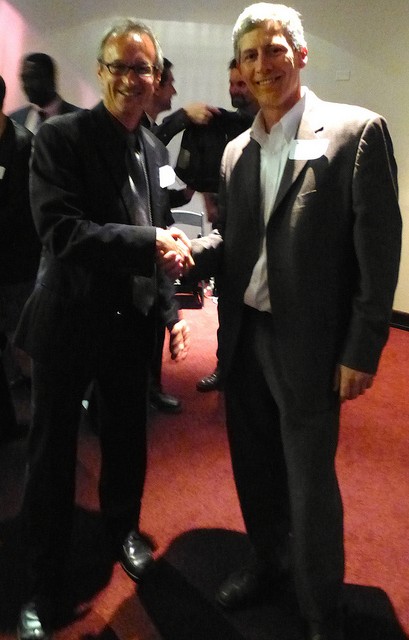 Dougherty also noted the importance of following up with training and education, "including my staff," he said. "My staff needs to understand what this means."
"California's Highway Design Manual, like most state manuals, has been written to move cars quickly," said California Bicycle Coalition Executive Director Dave Snyder. "Now, [by adding the NACTO design manual to the mix], cities can use a manual that can help design streets for people, not just cars, including people who use bikes."
A Caltrans engineer at the event expressed a note of caution. "You can't just open the guide and point to something and say, 'I want this,'" he said. Users will have to familiarize themselves with the entire manual to do a good job of designing safe streets, he said. "It's not just a matter of a single project; you have to consider the entire context."
It remains to be seen how this endorsement will shape our cities and streets, but Caltrans certainly earns points for its effort to adopt reforms recommended by the State Smart Transportation Initiative. In the short time since the SSTI issued its report in February, Caltrans has already acted on several of its most urgent recommendations:
Develop a new mission statement: Check.
Modernize state transportation design guidance by endorsing the NACTO urban design guidelines: Check.
Work to ensure success of S.B. 743, which calls for Automobile Level of Service to be replaced with transportation planning metrics that better accommodate the needs of all street users: Dougherty says meetings on this effort are currently in progress.
Organize teams to develop action plans and performance measures: eight teams have been formed and are in the process of being staffed and readjusted.
For social media coverage of California's statewide transportation issues, follow Melanie @currymel on Twitter or like the Streetsblog California Facebook page.
Aaron Bialick contributed to this report.
Streetsblog California editor Melanie Curry has been thinking about transportation, and how to improve conditions for bicyclists, since her early days commuting by bike to UCLA long ago. She was Managing Editor at the East Bay Express, and edited Access Magazine for the University of California Transportation Center. She also earned her Masters in City Planning from UC Berkeley.
Stay in touch
Sign up for our free newsletter