light rail
Move L.A.'s Measure R2 Draft Proposal, Including Their Rail Fantasy Map
1:33 PM PDT on April 3, 2014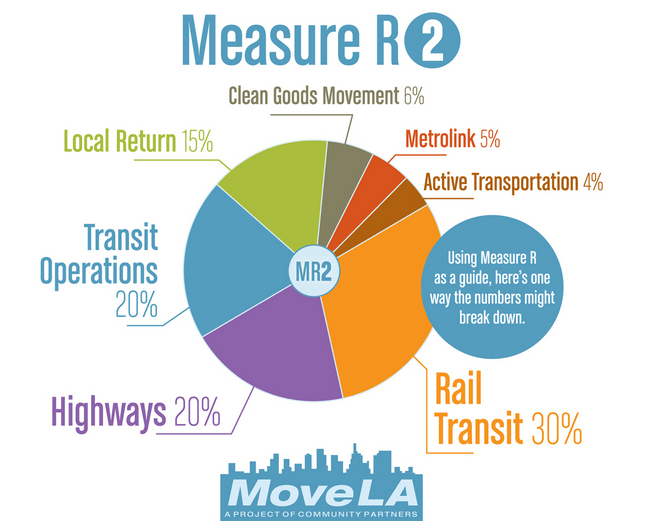 Last week, Move L.A. convened its annual transportation conversation conference under the banner of "Imagining Measure R2." The daylong conference was profiled in the L.A. Times and at the Source. Today SBLA takes a look at Move L.A.'s "strawman" R2 proposal presented that day. It's a draft for purposes of discussion, very likely to change some before it would reaches the ballot in 2016. It looks a lot like Measure R, but there are also a few big differences.
Measure R was a 30-year county-wide half-cent sales tax narrowly approved by L.A. voters in 2008. Measure R funding has been key to Metro's rail expansion underway, including the Gold Line Foothill Extension, Expo Line Phase 2, Crenshaw-LAX Light Rail, the Regional Connector, and the Purple Line Extension. In 2012, a subsequent transportation bond proposal, Measure J, received 66 percent approval, but narrowly failed to pass the two-thirds needed.
Measure R2, under Move L.A.'s initial strawman proposal, would be a 45-year county-wide half-cent sales tax, with project revenues approximately $90 billion. It would run concurrently with Measure R for R's remaining 20+years, which presents some issues with overall sales tax limits in some L.A. County cities. R2 is anticipated to be on the 2016 ballot and would need to pass by a two-thirds majority.
The overall R2 breakdown (see pie chart graphic at top of post) is somewhat similar to Measure R.
| | | |
| --- | --- | --- |
| category | 2008 Measure R | 2016 draft Measure R2 |
| New rail & BRT capital | 35.00% | 30.00% |
| Metrolink capital | 3.00% | 5.00% |
| Rail capital existing lines | 2.00% | |
| Rail Operations | 5.00% | |
| Bus Operations | 20.00% | |
| Transit Operations | | 20.00% |
| Highway Capital | 20.00% | 20.00% |
| Local Return | 15.00% | 15.00% |
| Active Transportation (bike-ped) | | 4.00% |
| Goods Movement | | 6.00% |
There are a few important differences. The strawman proposal includes funding for active transportation: pedestrian and bicycle facilities.
During the lead up to Measure R, advocates unsuccessfully pressed for 1 percent each for walking and bicycling, and some cities, including Los Angeles, have dedicated some of their local return funding for active transportation. Move L.A. is proposing, overall, that 4 percent of R2 would fund active transportation. That's roughly $3.6 billion. This is a big step forward from past measures, especially when federal changes are causing Metro to step back from active transportation.
Not only does active transportation have its own dedicated 4 percent funding stream, but Move L.A. has also proposed that walking and bicycling be included in the new rail transit funding.
Within the $27 billion for rail, the proposal "set[s] aside 3 percent for first mile/last mile infrastructure." That's an additional $0.8 billion that could go to pedestrian and bicycle facilities, though potentially also to various other feeder strategies such as car share, taxi, shuttles, etc. (maybe even parking lots.) With dedicated first mile/last mile embedded in rail capital, it should be routine for new Metro rail facilities to look more like the Orange and Expo Lines, with dedicated walk and bike trails running parallel within the right-of-way.
Move L.A.is proposing that half of the 20 percent dedicated to highways (an estimated $9 billion) be incorporated into a countywide "Grand Boulevards" program. (The other half goes to... freeway improvements. Can't win 'em all.) Grand Boulevards would upgrade larger streets with existing bus service to become more "complete streets" with a mix of transit, bike, pedestrian and car usage. Features could include:
Street resurfacing
Signal synchronization
Landscaping
Bicycle and Pedestrian features
Bus service enhancements: "better safer bus stops with real time digital information" and bus-only lanes "where appropriate."
Incentives for new mixed-use and mixed-income development
And then there's Move L.A.'s rail fantasy map! Most of these lines are also viewable as a snappy L.A.'s Got Lines 2 video.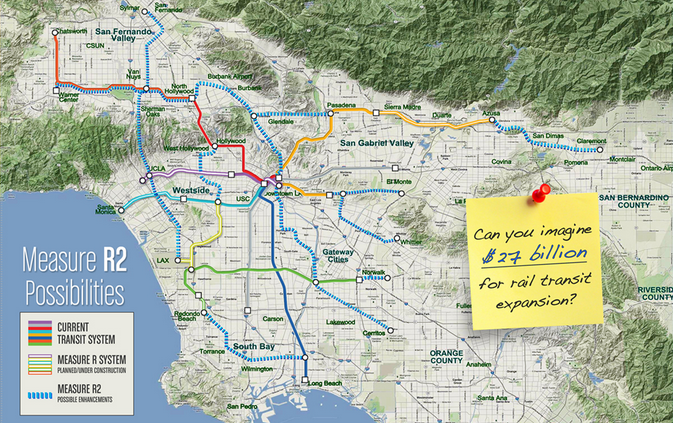 Measure R2 would dedicate $27 billion to new rail capital. Here are Move L.A.'s new rail lines listed roughly west to east:
Orange Line Light Rail: The existing Metro Orange Line Bus Rapid Transit (BRT) could be converted to light rail.
Sepulveda Connector: A new north-south rail line could extend from Sylmar to LAX, roughly parallel to the 405 Freeway and Sepulveda Boulevard. This  could include a mega-project multi-deck bypass highway tunnel (with cars, buses, and trains) under the Sepulveda Pass. At last Friday's event, HDR InfraConsult's Mike Schneider estimated the Sepulveda project cost at "$6 billion to $8 billion ...or maybe up to $20 billion." With tunnel highway lanes operated as toll roads, Measure R2 funding could be part of an overall Public-Private-Partnership.
Green Line to Torrance and Long Beach: The Metro Green Line light rail could be extended south from its Redondo Beach Terminus, connecting to the South Bay, including Torrance, then east through Wilmington to connect to the Willow Blue Line Station in Long Beach.
Hollywood-Crenshaw Connector: The under-construction Crenshaw Line could be extended north to connect with the Purple and Red lines, on Wilshire and in Hollywood, respectively.
Burbank Airport 5-Freeway Connector: This rail line could extend north from Union Station, roughly parallel to the 5-Freeway, connecting to Burbank's Bob Hope Airport, then south to the Metro Red Line North Hollywood Station.
Glendale-Pasadena Connector: This rail line could extend east-west, roughly parallel to the 134 Freeway, connecting to the Metro Gold Line in downtown Pasadena.
West Santa Ana Branch Corridor: This future rail line could extend south from Union Station through Southeast L.A. cities connecting with the Metro Green Line then heading diagonally southeast to Cerritos, at the edge of Orange County.
Gold Line Eastside Extension, Phase 2:  The existing Eastside Gold Line would be extended from East Los Angeles via two spurs. The north spur could extend directly east to South El Monte. A southern spur could connect through Montebello and terminate in Whittier.
Green Line Extension to Santa Fe Springs: The Green Line could extend east to the Santa Fe Springs Metrolink station.
Foothill Gold Line Extension Phase 2B: The Gold Line's Foothill Extension, currently under construction, will extend the line to Azusa. This further extension would take the line to Claremont and Montclair at the border between L.A. County and San Bernardino County.
As mentioned, Move L.A. calls this their "strawman" proposal. It's a vision in draft form, put forth to generate discussion. The lines, the boulevards, the percentages, etc. are all subject to plenty of modifications, and a few hurdles, before Angelenos might get to vote on what finally emerges.
Stay in touch
Sign up for our free newsletter