California State Senate
Senate Committee Grills CA High-Speed Rail Authority on Its Funding Plan
5:18 PM PDT on April 1, 2014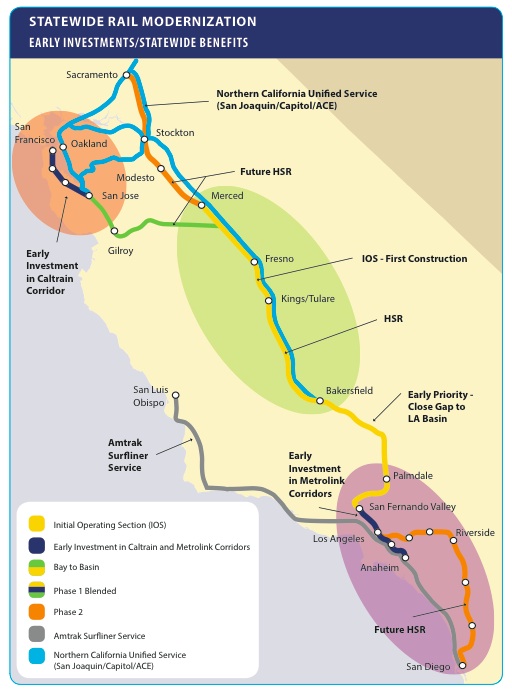 Doubts about the High Speed Rail Authority's ability to fund its estimated $68 billion program dominated last week's Senate Transportation and Housing Committee hearing (see the background report in this PDF). Committee Chair Senator Mark DeSaulnier (D-Concord) said he was "somewhat skeptical" about the Authority's 2014 Draft Business Plan and questioned CAHSRA CEO Jeff Morales on the authority's reliance on uncertain funding sources.
"You couldn't get a [small business loan] based on what we're assuming here," DeSaulnier told Morales, referring to the high cost estimates and funding prospects in the Business Plan.
DeSaulnier asked all the questions at the informational hearing, since he was the only Committee member who showed up for it. However, he came well prepared, so instead of  yet another presentation on how cap-and-trade works, there was a pointed exchange about the funding capabilities of high speed rail.
DeSaulnier warned Morales that the Authority may have a hard time getting the necessary votes in the state legislature to pass the governor's cap-and-trade expenditure plan, which proposes giving $250 million to high-speed rail from the proceeds of the state's greenhouse gas emissions law, A.B. 32.
"If the legislature does not approve the governor's allocation of cap-and-trade funds, what do you foresee would be the impact on the high-speed rail program?" DeSaulnier asked Morales.
Morales responded, "The governor's proposal allows us to move forward with certainty. If we can accelerate the program, it saves money."
"If we don't get it, we can't do [all that we need to do]," he said.
That "certainty" was called into question by testimony from the Legislative Analyst's Office, whose report says that there are currently no estimates of how much revenue the cap-and-trade system will bring to the state in the future. It's also unclear if the cap-and-trade program will continue to bring in funds after 2020, the target set in A.B. 32 for California to lower its greenhouse gas emissions to 1990 levels. If the goal is met, a cap-and-trade system may no longer be legally required unless another bill is passed to extend it.
Even if the cap-and-trade funds are approved, CAHSRA will still have a shortfall of $13 to $21 billion. There is an additional risk that if the project is not completed, any federal funds already spent may have to be repaid by the state.
DeSaulnier also grilled Morales about the Business Plan's reliance on the private sector to invest in high speed rail. "We've been told this over and over again," he said. "Is there anything specific? Have you had meetings, is there public testimony, do you have letters? Any indication at all, other than the hope that someone will become interested?"
"There is a risk implicit in authorizing $250 million [from cap-and-trade] -- funds that I believe could be much better targeted" to reduce GHG emissions, said DeSaulnier. "Where is that other money coming from?"
Failing to get a strong response from Morales, DeSaulnier requested that the Authority produce a "detailed spreadsheet, the sooner the better," noting that "we have three months to approve the governor's budget."
Louis Thompson, chair of the High-Speed Rail Peer Review Group, said it is fair to assume that private investment will come. "There will be private funds available, but not until 2028, because only by then will there be enough experience with the system for private funders to believe the forecasts." Meanwhile, he said, the funding gap will continue to grow.
DeSaulnier also questioned whether cap-and-trade funds, which must go towards reducing greenhouse gas emissions, are appropriate to spend on high-speed rail under A.B. 32.
Morales said it is, arguing that high-speed rail emits 1/9 the greenhouse gases of airplanes, and experience in other high-speed rail lines has shown that travelers do tend to switch from plane trips to rail once a system is in operation. In Europe, for example, aviation previously had 80 percent of the travel market. "That has flipped in many areas, with rail now achieving an 80 percent market share," he said, also pointing out the high ridership on the Acela routes on the U.S. east coast. "That kind of mode shift has a major impact on greenhouse gas emission reductions."
The Legislative Analyst's Office argued that high-speed rail may not be the best way to maximize ghg reductions, since it won't contribute to reductions from mode shifts until it after is operational, in 2022, then connecting San Francisco and Los Angeles in 2029.
Morales argued that emissions from the project's construction before 2020 would be negated using "green" techniques (such as clean fuel vehicles, planting trees, and using recycled materials). But the LAO pointed out that "cap-and-trade revenue will be used to produce and then offset emissions, rather than reduce them," as A.B. 32 requires.
Meanwhile, the Los Angeles Times' report on the hearing zeroed in on the statement from Thompson, the CAHSR Peer Review Group chair, that the project would not provide trips between Los Angeles and San Francisco in the 2-hour-40-minute time frame as promised in Prop 1A, the high-speed rail bond fund passed by voters in 2008. "It's not impossible to design it," he said, "but it would take more money to make it work because of scheduling issues."
Streetsblog California editor Melanie Curry has been thinking about transportation, and how to improve conditions for bicyclists, since her early days commuting by bike to UCLA long ago. She was Managing Editor at the East Bay Express, and edited Access Magazine for the University of California Transportation Center. She also earned her Masters in City Planning from UC Berkeley.
Stay in touch
Sign up for our free newsletter