Air Quality
Sen. Steinberg Proposes Carbon Tax on Gas Instead of Cap-and-Trade
1:49 PM PST on February 21, 2014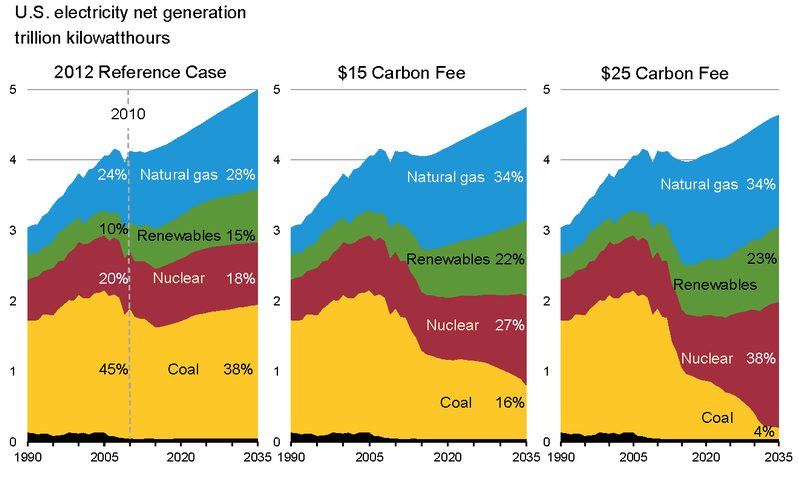 CA Senator Darrell Steinberg proposed a change yesterday to California's nascent cap-and-trade program that would replace next year's cap on fuel emissions with a per-gallon carbon tax. Steinberg called it a "broader, more stable, and more flexible" way to reduce emissions from fuels than cap-and-trade.
His proposal would apply the revenue raised from the tax towards tax relief for poor and middle-income Californians, who would feel the greatest pinch from higher gas prices. That could help defuse anger at having to pay more at the pump, while still discouraging demand for gas. "Under either [program], consumers will pay more at the pump. That's necessary," said Steinberg. "If carbon pricing doesn't sting, we won't change our habits."
Reactions to Steinberg's proposal so far have been mixed. The Western States Petroleum Association prefers it as "a transparent alternative" to cap-and-trade, and the Environmental Defense Fund criticized what it sees as a mid-stream switch that could "compromise" CA's emission reduction strategies.
Stuart Cohen, executive director of TransForm, said "we strongly believe that California is creating an excellent cap-and-trade program that is, and will work, effectively. Yet a carbon tax is an extremely clear and straightforward, and ultimately more predictable, way to approach the fuels sector."
"If this had been offered as a serious proposal seven years ago, we would have thought it was heaven-sent," he added. "I don't think it makes sense to reject it outright. It's certainly worth having the discussion" about cap-and-trade vs. a carbon tax.
John White of the Clean Power Campaign, a coalition of public interest groups working for clean fuels, says his organization has no official stance yet on the proposal. However, he said, "This is a good conversation to have. A carbon tax is a different way to do the same thing. The point of collection is also at the pump, but with cap-and-trade there's no clear signal except for a higher price, and no predictability of what that price would be."
The California Air Resources Board chose cap-and-trade as a market mechanism to lower greenhouse gas emissions, as authorized under California's Global Warming Solutions Act (AB 32). Cap-and-trade sets a cap on the amount of greenhouse gas emissions any particular source can produce and creates a market for "pollution credits." Companies that cut their emissions to levels that are lower than the cap earn credits and then can auction those credits to other companies unable or unwilling to cut their emissions. It's supposed to produce a net reduction in emissions as well as a stream of revenue for the state, and it has.
Governor Jerry Brown's cap-and-trade expenditure plan for 2014, released in January, includes $850 million from the auctioning of these credits. The cap-and-trade program is even being attacked by the California Chamber of Commerce for making too much money for the state.
Carbon taxes haven't caught on widely in the United States, even though pollution fees are law in several other countries. Among municipal governments, just three have carbon taxes: Boulder, Colorado, Montgomery County, Maryland and the Bay Area Air Quality Management District, which covers nine counties in the San Francisco Bay Area.
So far, CA's cap-and-trade has only applied to stationary sources of emissions. Starting in 2015, however, it is scheduled to apply to fuels. This would mean higher gas prices, which some hope will give consumers an incentive to cut their fuel use, but others fear will lead to higher food prices and heavy losses to small businesses.
Steinberg's proposed legislation, SB 1156, could be an end run around some of these objections. Under the bill, the proceeds of the carbon tax would go to poor and middle-income California families in the form of an earned income credit on their state income taxes. In his speech announcing the legislation, Steinberg proposed that remaining revenues be used to improve and develop mass transit, but the draft legislation does not mention this.
"We need to be careful how we do this," said White of the Clean Power Campaign, "because of its importance to the economy as well as the volatility of markets. It's also important to think about how the revenue gets spent, especially in relation to poor people who are affected more by higher fuel prices."
Some are skeptical about the likelihood of Steinberg's bill passing, and others worry about its ultimate effect on California's climate change policies.
"Given the momentum behind cap and trade, the immediate opposition from some groups, and the need for the legislation to pass by two-thirds," said Cohen, "this would take a Herculean effort to pass."
Streetsblog California editor Melanie Curry has been thinking about transportation, and how to improve conditions for bicyclists, since her early days commuting by bike to UCLA long ago. She was Managing Editor at the East Bay Express, and edited Access Magazine for the University of California Transportation Center. She also earned her Masters in City Planning from UC Berkeley.
Stay in touch
Sign up for our free newsletter