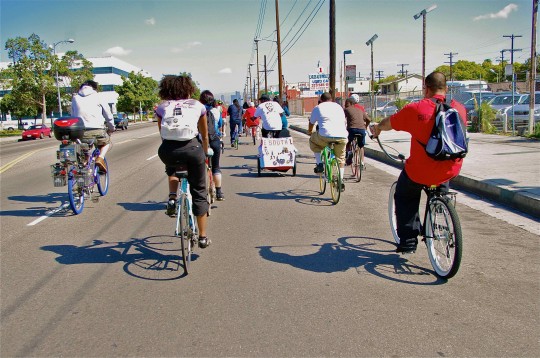 Just one week after Angelenos proved they could happily bike and walk their way through Carmageddon, they get to put their freshly honed skills to the test at the nation's biggest car-free festival.
CicLAvia's back, y'all!
Grab your bike, your family, and/or some friends and experience almost ten miles of cyclo-topia in the heart of L.A. this Sunday. Between 10 a.m. and 3 p.m., road closures will allow you (and probably more than 100,000 of your neighbors) to carlessly explore the neighborhoods surrounding Exposition Park, Macarthur Park, downtown, Chinatown, and Boyle Heights.
What more could you want?

Well, Angelenos in the know will stretch out their hours of cyclo-fun by waking at dawn and starting their day in South L.A.
At 8:30 a.m., much of the South L.A. riding family will be gathering at the WLCAC in Watts to prepare to ride to CicLAvia's southern hub. Consider yourself cordially invited to join supporters of the CicLAvia South East effort and Los Ryderz as we ride north to Exposition Park, ably led by the East Side Riders.
The approximately 7.5 mile jaunt to the South Hub along the sunny, sleepy streets of South L.A. was a lot of fun last April. Curious and smiling passersby wanted to know where we were headed and why. A rib shack owner even offered to open up shop and feed us.
There's a secret added bonus for those who, like me, will have to ride through the central part of the city at dawn to get to Watts: you'll be able to ride some of the empty streets of the official CicLAvia route before the masses descend upon it.
That's right. It's just like that ancient proverb says: the early-rising biker gets to have all the fun.
Or...something like that. I think that is the rough translation.
Shh. Don't tell anyone. Let that be our secret.
Don't feel like riding to the South Hub? You are welcome to walk to it with Los Angeles Walks.
Actually, organizers are aiming for more of a parade than a walk, so feel free to show up with costumes, signs, things that make noise, or other parade-appropriate paraphernalia. They'll be gathering at the northwest corner of 8th and Figueroa at 11:30 a.m. before embarking upon the 2.5-mile journey to Exposition Park.
Regardless of how you arrive at the South Hub, you're invited to stick around for a bit and get to know the members of the community that will be there to welcome you with open arms, good food, music, and art.
The inspiring high school students from the Youth Action Council (part of the Building Healthy Communities South L.A., or BHC SLA, initiative) spent Wednesday evening with L.A. Commons creating art in line with the theme, "Imagine a Healthy South L.A." Their work will be on display at the hub and there will be opportunities for you to participate in creating art at the activities booth. The students will also man a photo booth where you will be able to express your ideas about how health can happen in an urban setting like South L.A. So, make sure to be ready for your close-up.
Other activities at the hub include community mapping and planning activities, healthy food cooking demonstrations, a health screening station, and an exhibit showcasing the findings of the Healthy Food Walk conducted a few weeks ago with the folks from Community Services Unlimited and RideSouthLA.
There will also be Zumba because, well, no party is really complete without it.
Don't laugh -- you know you will want to try it once the music begins and hips start shaking all over the place.
Speaking of music, CicLAvia coincides with the California African American Museum's Target Sunday event whose musical line-up will feature Hip-hop artist Sista Neish and East L.A.'s Las Cafeteras. Also on hand to perform will be the New Millennium Dance Team, a group that draws on hip-hop, ballet, modern, jazz and African dance. The stage will be co-hosted by R&B vocalist Harlem Lee, the recent winner of NBC's "Fame."
The activities at the hub are intended to complement the efforts of BHC SLA to raise awareness among residents of South L.A. (and Angelenos, in general) about the obstacles to health facing the communities of South L.A. The groups tabling at the hub and making presentations between the entertainment segments will be speaking about how they are making to encourage health by tackling issues like land use, transportation and community development, unemployment, and educational reform.
Their message is one echoed in many of the articles written here about South L.A., namely: while events like CicLAvia are incredibly powerful in engaging Angelenos and helping them envision a better, healthier, and more sustainable future, they aren't enough to transform historically challenged communities. Instead, the events must be accompanied by ongoing multi-faceted efforts that empower communities to defeat the obstacles they face over the long term.
We know you want to have fun and hit the watering holes, but stop by the hub and take some time to engage your neighbors, too. Exercise your legs and your brain by starting your day in South L.A.
***I'll be riding down to Watts from the Silver Lake/Los Feliz area. If you should be interested in coming along, please let me know via email or in the comments. Meet-up site is the Polka-Dot Plaza at Sunset and Maltman at 7 a.m. Roll out by 7:20 a.m.
Sahra is Communities Editor for Streetsblog L.A., covering the intersection of mobility with race, class, history, representation, policing, housing, health, culture, community, and access to the public space in Boyle Heights and South Central Los Angeles.
Stay in touch
Sign up for our free newsletter