Big Blue Bus
Homeowner's Complaints Lead to Transit Service Changes at UCLA
6:34 AM PDT on June 15, 2012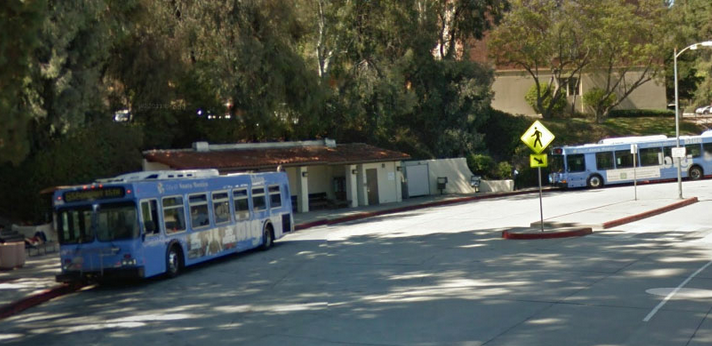 (Update: I received a question on why we published the name and address of the angry homeowner, questioning whether or not he qualifies as fare game to be signaled out by name.  I chatted with a friend of mine who doesn't have a stake or opinion in the issue of how UCLA decides when to keep its transit stops open.  He advised me that it wasn't illegal, but that we should have contacted him for a quote if we were going to feature him so prominently.  It was my call to leave his name in so any blame/fallout should fall on me, not Juan.   I just removed his name, address and references to his employment from the story and comments.- DN)
Just a few months ago, UCLA received accolades for reducing vehicle trips to campus.  The campus has a robust transportation demand management program and exceeds the South Coast Air Quality Management District's reporting requirements to track travel trends in its annual State of the Commute report.
As the University released its latest report that highlighted that only 53% percent of UCLA's employees commute in a single-occupancy automobile, it was also finalizing a decision to eliminate Big Blue Bus service to Hilgard Terminal (behind Murphy Hall) after 8 pm on weekdays. This decision will affect the 23.5% of campus visitors and commuters who travel to and from campus by public transit .
The University will implement this change on Monday, June 18.  Because the University places barriers at the terminal's entrance, after 8:00 pm, Big Blue Bus service must re-route to the Ackerman Terminal, which is one-half mile away on foot.  A common rule of thumb used by transit practitioners (and supported by research) is that transit passengers are willing to walk about one quarter of a mile to a bus stop.  Because this, the detour may have a significant impact on trip generation to the UCLA campus by causing existing commuters and visitors to adjust travel patterns.
Though this decision is being implemented next week, it is largely the result of persistent complaints of a single resident over the past decade.  A short history puts the latest change into perspective:
The University made the 2005 and 2012 decisions to curtail service at the Hilgard Terminal because of noise impacts.  However, in the Environmental Impact Report (EIR) for the 2002 Long Range Development Plan, the University cites the availability of transit service as a factor to mitigate vehicular noise (on page 4.9-11).  This EIR also finds that implementation of the Long Range Development Plan will lead to "generation of additional vehicular trips, which would result in a substantial degradation in intersection levels of service (Impact 4.13-1b).
The University determined that there was no feasible mitigation measure to mitigate Impact 4.13-1b to a less than significant level and issued a Statement of Overriding Considerations, a sort-of California Environmental Quality Act (CEQA) get out of jail free card used when benefits outweigh impacts.  The Traffic Impact Analysis discusses the University's Transportation Demand Management program and makes specific reference to the Hilgard Terminal operating until 10 PM on Weekdays.
The decision to curtail transit service at the Hilgard Terminal may also carry greenhouse gas implications.  Hilgard between Le Conte and the Hilgard Terminal and LeConte east of Westwood Blvd are high quality transit corridors as defined in California Public Resources Code § 21155(b).  The Southern California Association of Governments, which includes the UCLA campus, has adopted a Sustainable Communities Strategy, defined in California Government Code § 65080 (F)(2), which includes special consideration  for land uses in a high-quality transit corridor as part of a plan to reduce regional greenhouse gas emissions.  Will the change in transit service lead to a net increase in regional greenhouse gas emissions?  This isn't known. An Initial Study under CEQA would determine whether or not further study is required to answer this question.
It's silly that the University would curtail transit service - something that it identified as a mitigation measure to reduce vehicular noise - because of the noise of the transit vehicles. The decision to do so without an Initial Study may also be a violation of the CEQA.  This impact was not analyzed in a previous EIR.
The California Legislature has allowed a statutory CEQA exemption for the reduction or elimination of transit service (Public Resources Code §§ 21080 and 21080.32).  However, this exemption  applies only to publicly-owned transit agencies and does not apply the University of California.
I do not like the precedent that the 2005 decision set - that it's acceptable to adjust transit service that benefits thousands in response to the complaints of a single homeowner.  The 2012 action shows that this is a slippery slope and could lead to the elimination of the Hilgard Terminal altogether.  Doing so would significantly impact travel patterns to and from the UCLA campus.
If you similarly dislike this precedent and the slippery slope it might cause, you might let UCLA know over Twitter (@UCLACommute, @UCLA), by email (Block, Gene ; Powazek, Jack ; Fortier, Renee ; Karwaski, David <dkarwaski@ts.ucla.edu>) , by phone at 310-794-7433, or in person at graduation this weekend.  Yes, they are implementing the change while the students are away.
----
The author is a Transportation Researcher at UCLA and a board member of the Southern California Streets Initiative, the 501(c)3 that publishes LA Streetsblog.  The views expressed are his own, and do not reflect those of UCLA, or any research institution the author is affiliated with.
Stay in touch
Sign up for our free newsletter