High Speed Rail
A Tale of Two Rails: Xpress Sails, CAHSR Stuck
2:29 PM PDT on June 14, 2012
When people hear the phrase, "California High Speed Rail," they often think of the controversial project to connect Sacramento to San Diego, or the shorter route to connect San Diego to San Francisco. The proposed rail line seems to constantly attract negative media attention and has become a punching bag for California Republicans eager to paint the line as a boondoggle.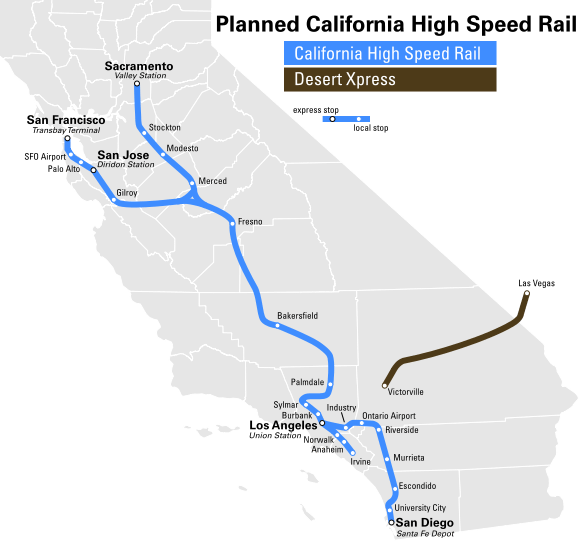 But that's not the only high speed rail project proposed for California. XpressWest, formerly Desert Xpress, is a public-private partnership that would connect Vicorville and Las Vegas Nevada. A Memorandum of Understanding signed last week would add another leg to the project, connecting the Victorville stop to Palmdale in L.A. County. While there is opposition to both projects, Xpress has received a fraction of the ire thrown at CAHSR.
Opposition to California High Speed Rail Route to Connect San Francisco to Los Angeles
Last week, the Los Angeles Times and USC released a poll showing that a clear majority of California voters have turned on the project with only a third of residents saying it would be their preferred route between Los Angeles and San Francisco.
Things are so bad that even environmental groups are joining the pile on. The National Resources Defense Council and Sierra Club are publicly opposing a plan by Governor Jerry Brown that would expedite legal challenges to the rail project under the state's environmental review laws.
While efforts by Republican state legislators to put high speed rail funding back on the ballot have failed for 2012, it hasn't stopped the House of Representatives in Washington, D.C. to step in and try to limit or strip high speed rail funding from the federal government.
Meanwhile, a popular (and syndciated) columnist with the Contra Costa Times argues that Governor Brown's support of High Speed Rail undermines his message of frugality and could cost him support for other tax ballot measures. The Los Angeles Daily News, a paper that has supported progressive transportation and development in editorials in recent years, jokes that CAHSR supporters have crossed the line between visionary and delusional.
And it's not just the halls of power, the elite media and special interest groups that are fighting high speed rail, smaller communities are throwing up road blocks as well. In a special meeting in Santa Clarita, the Santa Clarita Voice reports that the biggest applause line of the night was for a City Councilman calling CAHSR a boondoggle and urging the city to oppose it. Meanwhile, the San Joaquin Valley Air Pollution Control District is worried about the air quality impacts of construction, instead of celebrating the amount of car trips that would vanish under the plan.
To top it all off, CAHSR's team is experiencing a baptism of fire. In May, CAHSR appointed a new Board Chair and new CEO. It also released a new business plan with revised cost estimates and increased investemnt in local rail. Instead of being praised for a revised business plan that focuses on improving the entire rail system of California and new leadership, the reorganization has been widely panned in the press. Welcome to the fray CAHSR Chair Dan Richards and CEO Jeff Morales.
Advocates High on High Speed Rail's Newest Business Plan
But while the media narrative, especially in Southern California, has turned against CAHSR; proponents are trying to make the case that the new business plan is a winning one for California. Transform California, the Northern California advocacy group that is largest of its kind in California, recently released "Moving Ahead with High Speed Rail." The report both makes the case for high speed rail in broad terms and focuses specifically on the most recent $68 billion plan that would connect Caltrain in San Francisco to Metrolink in L.A. County.
"Moving Ahead" is high on the new plan, noting that it benefits not just long distance commuters decades from now, but local commuters in the next six years.:
The project is now designed to serve as the backbone of a statewide rail network, rather than an isolated system. It supports early upgrades to Caltrain and Metrolink as well as lines now used by Amtrak and ACE, allowing those systems go faster and attract more riders. Millions of Californians will benefit from these first investments by 2018. These upgrades will also serve to make those corridors more ready for full high-speed rail. It is a strong plan and sound blueprint for moving forward.
"The 'blended' approach will not only connect Southern California with the rest of the state but it will also connect Palmdale and Lancaster with Union Station and provide better connections between communities in Southern California," adds Denny Zane, the executive director of Move L.A. "Add the high-speed rail improvements to the Measure R sales tax build-out of LA County's rail system and you have an extraordinary opportunity to modernize the transportation system and the economy and provide cleaner air – all within a decade."
Online, the California High Speed Rail blog continues to tirelessly push back against the media narrative, but its detailed critiques of the press coverage tend to be more about arming proponents with stronger arguments than influencing the main stream press.

Meanwhile XpressWest Rolls On
Following the announcement last week of the proposed extension to Palmdale, Xpress suddenly finds itself having strong bi-partisan support. Nevada Senator Harry Reid has been a vocal supporter of a federal loan application for $3.3 billion for years. But with the rail line heading into Palmdale, L.A. County Supervisor Mike Antonovich, who happens to be the incoming chair of Los Angeles County Metro in seventeen days, is suddenly excited about High Speed Rail.
"We really need to move forward on this," Antonovich said to news website Vegas Inc. "I'm frustrated that the United States spends billions of dollars in foreign aid that ends up in the pockets of third-world dictators. This project is a loan, so the money is being paid back and it keeps it in the United States and benefits American citizens."
By going to Palmdale, Xpress connects to Metrolink, the rural and suburban commuter rail service that connects to Los Angeles Union Station. This connection ends one of the strongest argument against Xpress, that tourists to Las Vegas aren't going to be interested to drive to and from Victorville to catch a train the rest of the way.
Which is not to say that the Xpress doesn't have detractors. Three groups of opponents have emerged to the rail plan.
The first is people who just oppose high speed rail in general or any government spending on transportation projects that aren't about providing access for people's expensive personal property to propel itself across the landscape.
The second group are small cities and communities such as Barstow and Bakersfield who rely on people driving to their communities for revenue. Barstow officials note not just the loss in revenue from commuting vacationers, but also a potential impact to California's casino industry.
"If you are doing this for clean air, or to get a rail line, fine, but then kick back what we're losing. If this will take 25 percent of our business away, then give that back to us," argues Carol Randall, a Barstow real-estate agent to the Press-Enterprise.

"You've got trucks looking to leave California and a high-speed train looking to expedite that gambling money from California to Harry Reid's house," Randall said. "We're going to plead and beg and borrow whatever we can do to fight for Barstow."
Next Steps
For Xpress, the next step is simple...wait. A key piece of the financing puzzle for the rail line is a waiting to find out whether or not it received a multi-billion federal loan from the Federal Railroad Administration. The FRA can take up to 19 months to review an application of this size so the results of the application should become clear sometime soon. Xpress claims it will repay the loan in the next 35 years.
For CAHSR, the picture is less clear. Governor Brown continues to work on legislation that would expedite legal challenges while the agency attempts to turn the tide of negative publicity. Both lifts are tall tasks, but at least for now CAHSR and its supporters don't have to worry about fending off a challenge at the ballot box.
Stay in touch
Sign up for our free newsletter