Antonio Villaraigosa
Mayor Villaraigosa's Remarks at Yesterday's Forum by the Urban Land Institute
9:04 AM PDT on June 8, 2012
(Note: Yesterday, Mayor Villaraigosa spoke at the Urban Land Institute's 3rd Annual Summit on Transit Oriented Development.  Several conflicts prevented our team from covering the conference, but to give you a flavor for what was discussed, we asked the Mayor's Office for a copy of his prepared remarks.  They are below.)
Thank you Dean Knott, for that generous introduction and thank you to USC for hosting today's summit.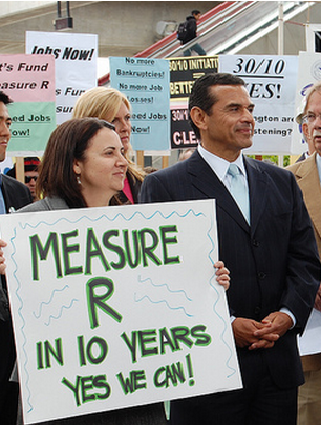 I would like to acknowledge ULI Los Angeles' sponsorship of today's event.
Whether it's Los Angeles or Lagos, Karachi or Kansas City, the residents and leaders of the world's cities all face the same basic challenge:
How to balance the need to grow and develop with the need to create a livable, sustainable community for all residents.
To meet this challenge we will need innovative ideas.
We will need bold action.
We will need organizations like ULI to bring together thinkers, leaders and practitioners from the private and public sectors – exactly like what is happening today.
We will need ULI to continue to do what it has done best: Be an incubator for the best ideas and the best practices in urban design and development.
Thank you for bringing us together today.
When I took office in 2005, I made a commitment to work together to build a better, a more livable Los Angeles.
To change how the city looked, and how we moved.
In a city where the motto seemed to be 'Build Now, Plan Later,' we said we'd do things differently. 
We said we'd closely link transit and housing development with the planning of vibrant, pedestrian-friendly residential districts and commercial corridors.
In the country's congestion capital, we said we'd invest in a twenty-first century, regional transportation system.
Commuters would spend less time gritting their teeth in gridlock and more time doing the things that matter:
Playing with their kids.
Talking with their neighbors.
Enjoying a day at the beach.
Residents of low-income neighborhoods far-removed from job centers would have new transit alternatives and new access to economic opportunity.
We would make Los Angeles the capital of sustainability, not smog.
We would finally take Los Angeles beyond sprawl.
The results of this vision can be seen across the City.
As our rail riders step off the platforms and our bus passengers hop off the bus, they are encountering a new type of cityscape.
Across Los Angeles, we have completed or broken ground on signature developments – North Hollywood, Tesoro del Valle and Camino al Oro, the W Hotel at Hollywood and Vine – and created neighborhoods where Angelenos spill out of transit stations into public squares lined with local shops and businesses.
We want more of these projects throughout the city.
And we're doing the planning to encourage them.
In the coming year, we will complete seven new community plans, including community plans in South Los Angeles and West Adams-Baldwin Hills with robust TOD components.
Transit-oriented planning is also a key feature of three specific plans that are starting the approval process.
The Warner Center Specific Plan has undergone a major revision. It will guide the transformation of the center from a 1980's era office park into a pedestrian friendly mixed-use center with strong links to the nearby Orange Line.
Through the Cornfield Arroyo Seco Specific Plan we are envisioning a new urban community. The plan encourages the development of housing and cleantech businesses and links them to the nearby Gold Line and the recreational opportunities of the LA State Historic Park and the LA River.
In Watts, the Jordan Downs Specific Plan foresees the transformation of one of our largest public housing sites into a vibrant mixed income community with strong connections to the nearly 103rd St. Blue Line station.
In the coming years, we will have even more opportunities to expand our TOD portfolio.
And we have Measure R to thank!
In the last three years since the first ULI TOD summit, we've opened two major light rail lines, and we will soon open an extension to our highly successful Orange Line bus rapid transit system.
These projects will add twenty-two new station areas to our expanding network of public transportation.
By the end of this year, we will have 71 rail or bus rapid transit stations in Los Angeles.
Our Measure R projects will add another 42 stations in the coming decades!
Each of these stations presents us with the opportunity to link housing, jobs and transit in new and novel ways.
Planning the future of these transit communities is already underway.
We received a $3.1 million grant from the MTA to complete and adopt 10 TOD station area plans in the next two years.
Five of these plans will be completed for the Crenshaw Line and five will occur along Phase 2 of the Exposition Line.
At each of these stations we can foster needed development, boost existing businesses, and create sustainable communities around transit.
As we continue to grapple with the aftermath of the Great Recession, this is exactly the type of economic shot in the arm that Los Angeles needs.
One thing we've learned through our efforts is that TOD is less about solitary "developments" and more about comprehensive, district-wide efforts.
We need to continue to foster vibrant commercial districts near transit, while also strengthening and preserving our existing communities.
Earlier this year we launched a pilot project in Silver Lake, called "Sunset Triangle Park."
This project takes a small section of roadway and gives it back to pedestrian and creates a community gathering space with minimal investment.
In a city typically synonymous with automobile travel, we are reimagining roads without cars.
One of the biggest barriers to achieving true transit-oriented development is our burdensome parking requirements.
Because of our long and storied love affair with the single-passenger automobile, our municipal code imposes arbitrary parking standards that are frequently a barrier to development.
In reevaluating our transit districts, we need to look carefully at what the market demand is for parking.
And make sure we aren't adding additional hardships to the type of development we want.
As we continue to move forward with making L.A. a true TOD city, we are dedicated to making better decisions about where and how to build our communities.
But making TOD work in LA doesn't take one executive directive, one City Council motion, or one Metro board approval; it takes thousands of distinct actions.
From complete streets to affordable housing, every action feeds into a larger vision of what LA can look like.
That is why I've worked with City Council to convene a cabinet of representatives from our City departments, and brought them together with some of the best brains in the business to coordinate our actions in a transportation and land-use strategy for the future of our City, so we can effectively capitalize on the transit investment planned for the next three decades.
Maintaining this progress is vital to the overall economic health of our region.
Over the last seven years, we have made key investments to expand Los Angeles' role as a leading innovation hub in the global economy.
We want to create the ecosystem that will attract the businesses of the future with the jobs of the future.
But we will not fulfill our region's full economic potential without smart housing and TOD policies.
The employees of the future will need housing options, they will need transit options, they will need attractive places to shop and do business, and they will want livable, walkable neighborhoods.
For the sake of our economic vitality, for the sake of sustainability, for the sake of the next generation of Angelenos, I will continue to advance comprehensive affordable housing and TOD policy and planning in Los Angeles.
Los Angeles got to this point by thinking big, by working together, by believing in our vision, by breaking down silos, by getting things done.
Let's keep moving forward.
Locally, regionally and nationally to build more livable cities, to build better cities, to build the cities of the future. That future starts here in Los Angeles.
Thank you.
###
PAGE 3
Stay in touch
Sign up for our free newsletter