Election 2013
AIA Mayoral Candidate Forum: Perry Offers Promises, Points to Track Record
1:56 PM PST on February 21, 2012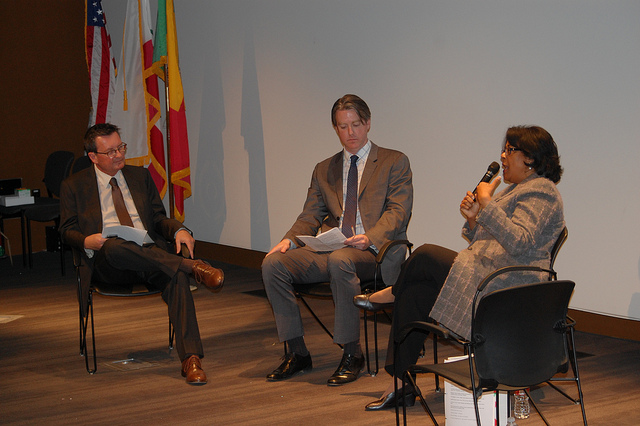 In her own words, Mayoral Candidate and 9th District City Council Woman Jan Perry has had a "bird's eye view" of planning in Los Angeles since 1990, when she was tapped by then City Councilman Mike Woo to be his planning deputy.  In the over two decades since then, Perry has been a key figure in City Hall when it comes to any discussion of  planning and Los Angeles, most prominently as a member of the City Council for the last eleven years.
Roughly one hundred people filled the Ronald F. Deaton Civic Auditorium in the new LAPD Police Administration Building to hear Perry outline her vision for the built environment of Los Angeles.  The conversation was moderated by Bill Roschen, President of the Los Angeles City Planning Commission, and Christopher Hawthorne, Architecture Critic for the Los Angeles Times.
There were three themes that dominated the discussion: Perry's track record supporting attractive affordable housing, a need to protect Los Angeles' communities and how term limits get in the way of good planning.
While she wouldn't say that changing Los Angeles' term limit laws, Perry complained that because of the role that a Council Member (or Mayor) has in creating a vision for an area of the city and moving projects that she was hesitant to get the ball moving on projects that would end after her terms for fear  she would be tieing a successor's hands or starting a project that would never be finished.  "There was a point in 2011 when I stopped working on new projects, because I knew I wouldn't be in office when it was completed because of term limits," she explained.
But within the 9th Council District, Perry is known as a leader who has succesfully pushed for major projects.  At various points in the evening she talked of her support for attractive affordable housing projects such as the Avalon development for seniors.  She also talked up the city's parklets program in response to an answer about green space.  "I have demonstrated that you can build quality affordable housing that fits into the community."
However, when it came to discussing what kind of projects she would pursue as Mayor, Perry spoke in more general terms of the need to develop a city where people can afford to live and want to live within the confines of the economic picture..  "A mayor should be aware of larger economic issues while pushing a vision to redevelop a community," she offered in response to one of her first questions.
Later, she suggested that Mayor's should avoid worrying about the micro-level and focus on larger policy issues.  "Sometimes a mayor can fall into the trap of trying to supplant the City Councilman."  Perry prefers the Council Members to worry about individual developments while the Mayor presents a vision and worried about the mega-projects that cross Councilmanic boundaries such as the Expo Line or even Farmer's Field.
When it comes to transportation, Perry believes that the city must continue to invest in transit.  She returned repeatedly to a theme of "building not for today, but for tomorrow," and even noted that our children won't necessarily feel "trapped in their cars" as "we" do today.
Getting people out of their cars requires two things: that transit be accesible and that other options appear and actually are safe.  She lamented the cutbacks at Metro and LADOT DASH, even as she noted that both agencies are hamstrung by economic forces out of their control.  When it comes to cycling, Perry sounded the same as many of my Westside neighbors when she worried about the safety of her fifteen year old daughter mixing with traffic on bicycle.  No wonder she was such a visible supporter of L.A.'s first buffered bike lane on Spring Street.
And like every Los Angeles politician, she's attracted to the jobs that will be created by the projects, especially in the construction phase.  "We're going to have to build our way out of this recession," Perry offered in response to questions about both the transportation needs of the city and AEG's plans for Downtown Los Angeles.
As Chair of the city's committee overseeing AEG's plans for the convention center and Staples Center area, Perry is in a unique position to weigh-in on the project.  When asked from the audience about the prospects for getting AEG to pay for the upgrades, she ducked answering directly, but did note that the Blue Line Station near the convention center is going to need a major overhaul with new tracks, platforms and better access for people walking to and from the stadium and Convention Center.
Perry was also asked what she would do to support CicLAvia from a questioner who noted that some of the car-free festival's efforts to expand South were hampered by Metro who wouldn't or couldn't facilitate rail crossings.  "The MTA can be creative when they want to," Perry remarked before launching into a story about how Metro paid someone to watch out for inattentive ravers when there were events near train tracks.  The implication was that the reasonably well-ordered CicLAvia would be a lot easier for Metro to manage than the addled rave participants.
While it was good to get a broad idea of what a Mayor Perry could mean for the city, the night was also a success for the American Institute of Architects who managed to get all five of the leading mayoral candidates to agree to such a sitdown in the coming weeks.  This Friday night features businessman and former top aide to Mayor Villaraigosa, Austin Beutner.
Stay in touch
Sign up for our free newsletter