Boyle Heights
Riding for DREAMS: OC to LA DREAM Act Ride
2:32 PM PST on February 17, 2012
Having only trained for three hours in one week's time, Adrian Gonzalez knew he wasn't ready for the 50-mile Los Angeles to Orange County DREAM ride. Gonzalez, a deaf studies undergrad at California State University, Northridge and undocumented, wasn't a consistent bicyclist. Yet while wanting to participate in a DREAM event, he found a deeper meaning in the ride.
"Been going on for a little more than 10 years," Gonzalez said. "There's all this frustration, being sleep deprived . . . a lot of energy expended. But once we get there- it will be like the (DREAM) ride- once we get there it's going to be amazing."
Going on its second year, the 2012 DREAM Ride on March 4 is a full day bike ride from Orange County to Los Angeles. While the ride this year aims to continue building bridges with activists and non-activists, it will also celebrate the passage of the California DREAM Act.
"Student immigrant movement, immigrant rights movement, bicycle culture, all three have overlapping shadow areas," said Erick Huerta, Eastside blogger and DREAM Ride organizer.
The ride will start at El Centro Cultural de Mexico in Santa Ana, and end at Solidarity Ink in Lincoln Heights where there will be a end of ride party. Though the ride takes a full day to complete, its leisure pace makes it manageable for even the most novice cyclist, Huerta said.
Bicycle mechanics from Bici Libre, a bicycle cooperative in Westlake/Pico Union, will be riding with equipment to fix people's bikes, and group leaders will make sure no cyclists are left behind. Registration costs $20, up $5 from the year before.
DREAM activists have used bicycle cultural for the past few years for big events like Tour de DREAMS, the group bike ride from Northern to Southern California, to DIY rides through CicLAvia. Yet the Orange County/Los Angeles group bicycle ride was an idea born and nurtured in Boyle Heights.
The co-founders Huerta, Laura Torres, and Jose Beltran were already consistent riders blending DREAM activism with riding. Torres rode the Tour de DREAMS in 2010, and Beltran and Huerta often donned capes, lucha libre masks, and banner waving bikes for small rides through the city or for CicLAvia.
Being undocumented gave them a different perspective on bicycle riding. For example, instead of walking him to elementary school, Huerta's mother would take him to school on top of the handle bars of her bicycle.
"I'm under the umbrella of accidental environmentalist," Huerta said.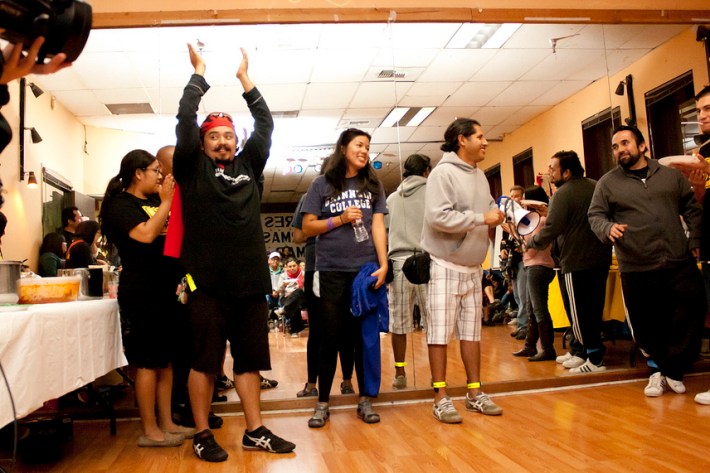 Their commonality with bicycle culture and DREAM activism brought them together and started the process of hashing out the ride. They met for dinner at Un Solo Sol restaurant near the corner of 1st Street and Boyle Avenue and a living room in the Pico-Aliso apartments in Boyle Heights, all the while making initial connections to bike mechanics at the former Bici Digna, and organizers at City of Lights, and Los Angeles and Orange County DREAM teams.
The three also reached out to community spaces like Corazon del Pueblo, and El Centro Cultural del Mexico to host workshops, and created the forms to register for the ride. More than eighty people showed up to the ride, and it was covered by spanish language television stations and even the Orange County Register.
This year Torres and Beltran couldn't help organize, so that left Huerta to organize the ride on his own. Huerta wanted the ride to maintain it's community building aspect, changing the mandatory bike workshops to optional and open to the public.
It didn't matter if they were solely bike activists, DREAM activists, friends or strangers, Huerta said, but it was a moment to bring people together to teach one another about their personal stories.
Deisy Del Real, a sociology doctoral student at UCLA and one of last year's participants, taught yoga stretches to other bicyclists during the ride. When her inner tubes popped, Huerta and Beltran helped Real replace her tires. "I didn't know how to pump air in my bike," Real said.
With Huerta taking a winter class four days a week at East Los Angeles College, and still blogging and tweeting on the side, Huerta and Torres thought that the ride might not happen this year. Unsure of the fate of this year's ride, the ride's uniqueness of getting people from combining the bicycle culture with the immigrant community made it important for them not to lose it.
"Those things are all still going to be there when we get papers or not, cuz other folks are still going to be riding their bikes to school or work," Huerta said.
Gonzalez always thought people riding bikes in his neighborhood in Anaheim were doing it out of  necessity. The ride last year led Gonzalez to buying his first road bike and becoming reliant on pedal-powered transportation. "Now riding a bike, it's like a sense of freedom."
More information on how to register for the ride and additional requirements can be found at the DREAM Team Los Angeles website. DREAM Ride bike safety workshops will be held at El Centro Cultural del Mexico this Sunday, and at Solidarity Ink on Feb. 26, both from noon to 2 pm. The workshops are free and open to the public.
Stay in touch
Sign up for our free newsletter