CicLAvia
The Family Guide to CicLAvia
3:09 PM PDT on October 6, 2011
On Sunday morning, thousands of families will get together in Los Angeles to celebrate the temporary liberation of ten miles of city streets we call CicLAvia. Since this isn't the typical pack the kids in the car and go to the park sort of event, we thought we'd post our own family guide to the big event.
How to get to CicLAvia
First and foremost, if you're planning to drive to CicLAvia, don't.  There's limited parking and too many other people are planning the same thing.  Here are some better options.
If you live far away, the best option is probably to get to a station and take a train to one of the stops Downtown.  Metro is ready for more bikes than usual and so is Metrolink.  You can find the station nearest you on their respective websites.
Buses are a bit trickier.  Many buses have bike racks, but they only have space for two bikes.  This works o.k. for commuters, less so for family trips.  Even a family of three is going to need multiple buses even assuming that the racks are free.
If you got the legs for it, and your kids do too, there's always the obvious solution...you can bike to CicLAvia.  If you're concerned about the little ones mixing with regular car traffic, there are a lot of group rides going to CicLAvia from various starting points.  The best compilation of group rides can be found right on the CicLAvia website.
Public Spaces
Whether you're planning to walk or bike CicLAvia, at some point you're going to need to stop and rest.  Especially if you're with kids.
Last year Joe Linton wrote a great summary of ten public spaces along the "old" route for the CicLAvia blog.  But the route has expanded, and there's more to see and do this year.  If nothing else, the African American Firefighter Museum is at the end of the South Spur and Olvera Street is at the tip of the North Spur.  Just North of the North end, a parade celebrating the anniversary of the founding of Taiwan will be taking place in the early afternoon.
A unique event is taking place at the First Congregational Church at 540 Commonwealth Avenue.  The Church is hosting a "Blessing of the Animals" so if your family plans involve a four-legged member, feel free to swing by for some godly karma.  The event is free and open to the public.  A secondary benefit for families at First Congregational?  A diaper station that is open to the public.
And lets not forget the Mini-grants.  Curbed did a fun write-up of the grants and some of the other changes happening this year. Giant Chess sets!  Photo booths on wheels!  Fun!  The CicLAvia team was nice enough to provide a list of all the mini-grant winners and their locations, with the caveat that some of these events are mobile and will be moving.  Of course, there are a lot of great events that aren't mini-grant winners, but many of those you're going to have to find on your own.
A personal suggestion, the area around City Hall might get a little crowded with the "Occupy L.A." demonstrators and CicLAvia participants both taking advantage of the public space.  While this provides a great chance to see Democracy in action, smaller children might start feeling a little claustrophobic.
I'm Hungry!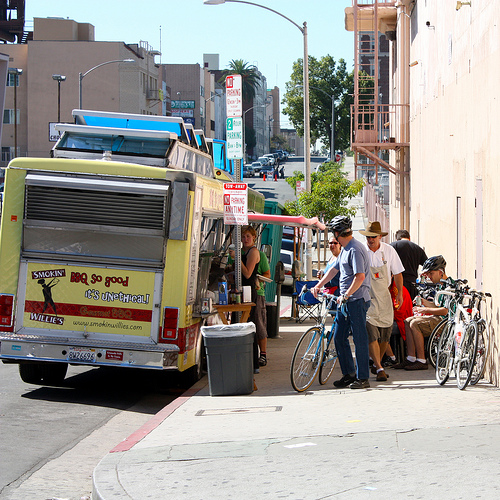 For CicLAvia to continue to live and grow, it needs to maintain the support of the business community, so shop and eat along the route!  If food trucks are your thing, there will be clusters of trucks at Heliotrope and Melrose (the Bike District), MacArthur Park, Hollenbeck Park and City Hall.  CicLAvia provided a list of participating trucks and their locations.
My family will most likely eat at Olvera Street, Sammy's favorite restaurant is located in the heart of L.A.'s first Downtown.
But there's many great restaurants along the route.  Little Tokyo, Boyle Heights, Downtown Los Angeles....there are a lot of great places to eat on or just off the route.  If you're really at a loss for a place to eat, just ask another participant.  All of us CicLAvia participants are in this together.
CicLAvia Walks
In an attempt to make CicLAvia less of a giant-bike-event, the team is organizing walking tours (in both English and Spanish).  There are guided walks planned for the Spring Street Promenade, Boyle Heights and Little Tokyo.  A guide to the guided tours is available here.  No reservations necesary, and this is a great chance to put a little local history into your CicLAvia.
If you just want to walk the route, feel free!  The street is yours!  Last year we walked from MacArthur Park to Figueroa Street and back before hitting the food trucks and coming home.  We had a great CicLAvia!  A fun guide to walking CicLAvia was just posted by Zev Yaroslavsky's website.
My Bike Is Broken!
Forgot your tools?  There are teams of bike kitchen "cooks" and other repairmen scattered at some of the main locations around the route.
My Plan
With Tour de Fat on Saturday and CicLAvia on Sunday, we're making a weekend of it.  We'll be biking down on Saturday morning, partying at the Tour de Fat, which despite being sponsored by a beer company is a pretty family friendly affair.  We're staying Downtown on Saturday night before doing CicLAvia together on Sunday.  At CicLAvia, we'll be on three bikes, Marybeth, Mom, Sammy and myself.  Look for us, if the weather isn't too hot I may even be wearing the Streetsblog cape.
Stay in touch
Sign up for our free newsletter