City Planning
The City Council's 25 Ways to Improve Transportation
2:29 PM PDT on April 8, 2008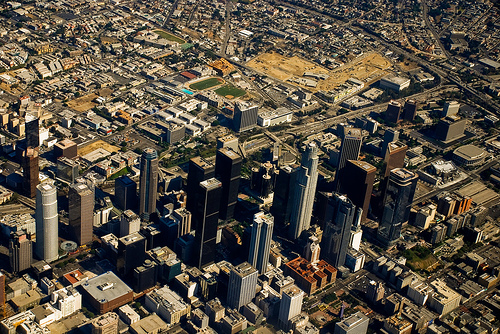 This Might Take More Than 25 Suggestions to Fix
Remember back in January when the City Council held an all-day hearing on transportation? Councilmembers waxed poetic about pet projects but usually stuck to the major topic of how to make Los Angeles a safe and more efficient place to travel.
After the meeting, the Chief Legislative Analyst went to work compiling all of the Councilmember's suggestions and just two months later produced a document, which first requires Council approval, instructing city departments to get to work on the Council's demands.
Sometimes the suggestions overlap with each other. Councilmembers Weiss, Greuel and Reyes all request reports on how LADOT and City Planning can work together. All in all, the majority of proposals were about increasing alternatives to driving or about funding.
Two highlights for cyclists come from Councilmembers Rosendahl and Reyes.
Reyes proposed changing the way the city counts traffic to take into account the amount of people moving along a road rather than the amount of vehicles. By relying on traffic counts to measure a street's effectiveness a bus full of people and a single passenger vehicle are counted the same. Currently, cyclists are not counted at all.
It seems ironic now to see that Councilmember Rosendahl's only motion is to "Direct LADOT to report with a proposal to develop a bike path in Mandeville Canyon" given the headache that the Ballona Creek Bike Trail is causing him these days.
After the jump you can find the full list of the Council's suggestions. If you have any favorites or any other suggestions, feel free to put them in the comments section and I'll submit them into testimony at tomorrow's Transportation Committee Hearing.
1. (Weiss) Report back on how the Department of City Planning(DCP) and Department of Transportation (LADOT) can combine efforts on the West Los Angeles community plan.

2. (Greuel) Direct LADOT and DCP to report back with a status report on a previous Greuel-Rosendahl motion (CF: 07-2419) relative to traffic counts.

3. (Greuel) Report back as to how the Department of Transportation and the Planning Department will work together to address the transportation aspects of planning in Los Angeles.

4. (Garcetti) In order to increase walkability along Metro Red Line stations, direct LADOT to develop a proposal for turning Western Ave into a pedestrian friendly corridor, as part of a broader strategy to obtain funding from Metro's Call for Projects.

5. (Garcetti) Direct LADOT to investigate the feasibility of a 24-hour public transit information system.

6. (Garcetti) Direct LADOT and DCP to study park-and-ride lots around Metro Red Line stops to encourage the usage of the subway.

7. (Garcetti) Direct LADOT and the CAO to study the feasibility of providing incentives for City employees and private businesses to increase carpooling.

8. (Garcetti) Direct LADOT to work with the CLA, CRA and DCP to create a valet district in Hollywood.

9. (Garcetti) Direct the CLA and DOT to work with the Hollywood Property Alliance to create a Hollywood Transportation website as a one-stop shop for people to access transit information in Hollywood.

10. (Garcetti) Direct LADOT to examine the feasibility of installing wireless internet access in Commuter Express and DASH busses as part of the City's Transportation Strategic Plan.

11. (Reyes) Direct LADOT to examine how to better match funding sources to the goals outlined in the Mission Statement of the City's Transportation Strategic Plan, in order to achieve more funding for public transit, increased DASH service, bicycle and pedestrian amenities.

12. (Reyes) Direct LADOT to report with recommendations to change the method of data collection to improve prioritization of transportation projects that accommodate all users rather than vehicular traffic only.

13. (Reyes) Direct the DCP to report on how it can playa greater role in transportation planning.

14. (Reyes) Direct LADOT to report on the new transportation planning concept that less signage and signalization on the roads may actually enhance safety by forcing drivers to slow down and pay attention, as well as other ways the City can enhance public safety on city streets.

15. (Reyes) Direct LADOT and DCP to detail how the General Plan Transportation Element update will interface with the City's Transportation Strategic Plan.

16. (Reyes) Direct LADOT and DCP to report on the coordination efforts the City is pursuing with regional agencies, such as Metro and SCAG and to identify innovative strategies, such as congestion pricing, reduced and shared parking, road diets, etc., that appear to be the most viable for the City of Los Angeles.

17. (Reyes) Since much of the region's existing rail and goods movement corridors run along the Los Angeles River, direct LADOT and DCP to report on ways to design a transportation system that coexists and provides multiple benefits to the Los Angeles River while serving transportation needs.

18. (LaBonge) Direct LADOT to improve the City's taxi system by establishing a "red car" or a Metro Red Line taxi system that would take travelers to within a quarter of a mile of a subway station.

19. (LaBonge) Direct LADOT to report back on ways to keep "big traffic," (large volumes of traffic) on "big streets," (such as Roscoe, Sherman Way, Victory Boulevards) to make the flow of cars more sensible.

20. (LaBonge) Direct LADOT to report back on freeway improvements that can be made to clear up "pinch points" (points of chronic traffic congestion) on local streets, such as Vermont Avenue, Silverlake Boulevard and Glendale Union Avenue.

21. (LaBonge) Instruct LADOT to report on ways to seek local funding opportunities with other jurisdictions that would allow Los Angeles to build future transportation projects.

22. (Rosendahl) Direct LADOT to report with a proposal to develop a bike path in Mandeville Canyon.

23. (Hahn) Direct the CLA to include a self-help funding clause in the City's Federal legislative agenda relative to transportation funding formulas that would credit local jurisdictions that have taxed themselves to fund transportation projects.

24. (Greuel) Instruct the CLA to report with the City'S transportation legislative priorities before the State Legislature's February 22,2008 deadline for new bill introduction.

25. (Hahn) Direct the CLA and LADOT to report on the steps necessary to include the Harbor Line rail proposal in Metro's Long Range Transportation Plan.
Photo: Richard Akia/Flickr
Stay in touch
Sign up for our free newsletter