Metro
No Cops with Lassos on Trains. Mayor Nixes LAPD Pilot at Metro Board Meeting.
LAPD got approval from the Police Commission to extend their BolaWrap pilot on Metro in August, but hadn't advised Metro of their plans until after the fact.
11:59 AM PDT on October 3, 2023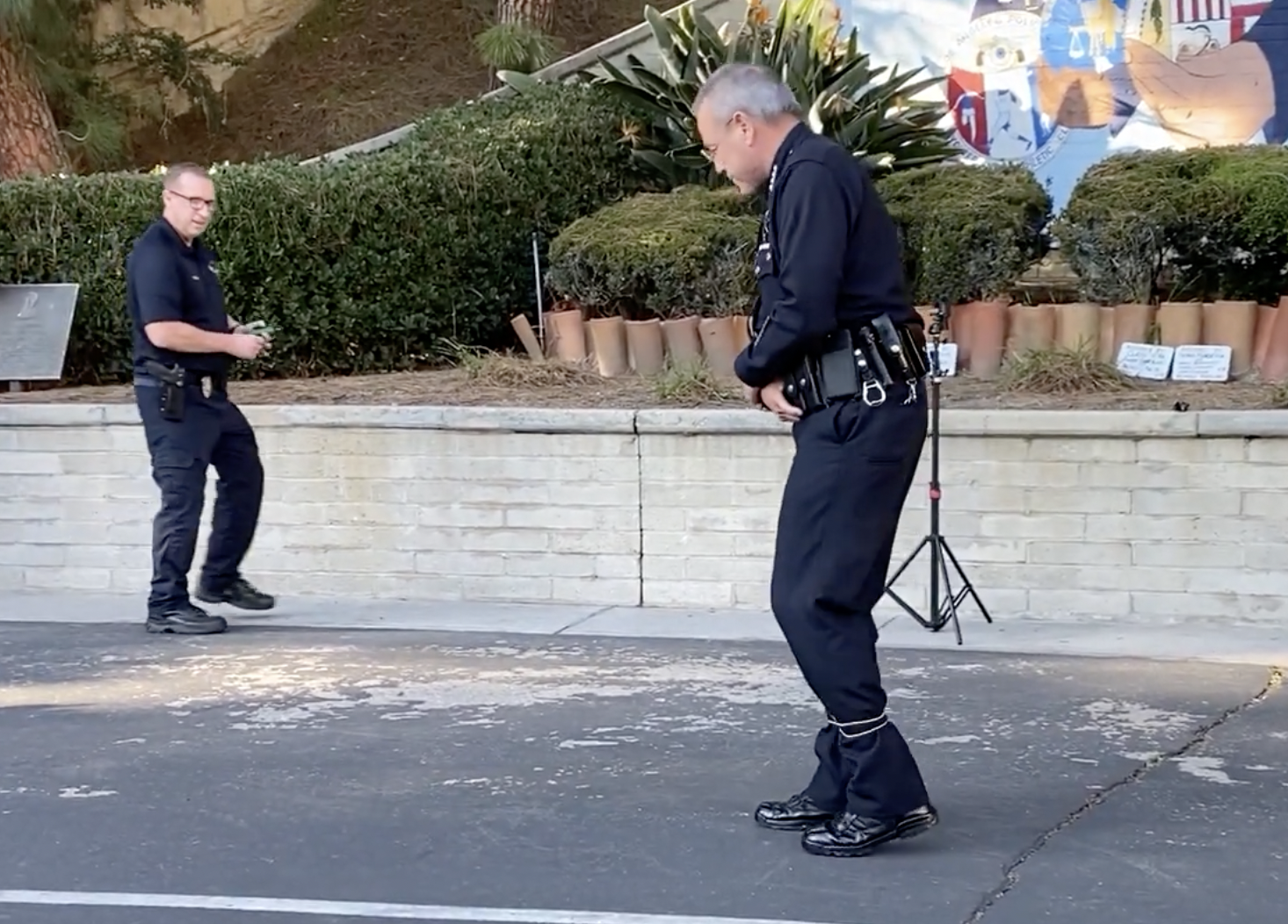 "Please assure your grandson that Wonder Woman will not be on the trains," Mayor and Metro Board Chair Karen Bass told Juanita Medina, a long time transit user concerned that LAPD was going to be testing out the efficacy of the BolaWrap – a weapon that fires a hooked yellow lasso that wraps itself around a subject's legs or trunk to restrain them – on Metro riders.
The unusual exchange - and the BolaWrap's unceremonious nixing before it had even been presented to the Board - happened during the public comment period of last week's Metro Board meeting, when Medina and others spoke up against LAPD's stated plans to pilot its use on the transit system.
News about the plans had first broken a month earlier via the L.A. Times. The headline, "Cops with lassos on trains?" had confused and dismayed Medina's grandson, who felt only Wonder Woman should have the power to "abduct" people with a golden lasso. He wasn't the only one who was alarmed by the news. The Alliance for Community Transit (ACT-LA) subsequently rallied transit riders and advocates to voice their reservations about deployment of the device on the system and to encourage Metro to invest in the alternative safety strategies outlined in their "Metro as Sanctuary" report instead.
The speakers' reference to the pilot had taken board directors by surprise, prompting County Supervisor and Metro Boardmember Holly Mitchell to interrupt public comment to ask for more information. Despite chairing the Operations Committee, which hears all of Metro's public safety issues, she said this was the first she was hearing about LAPD's plans. She then asked Metro Chief Safety Officer Gina Osborn to clarify whether a BolaWrap pilot was "in keeping with the policies this body has established as acceptable forms of policing on our system."
Stepping to the podium, Osborn confirmed that Metro had not been advised of the plans for the pilot prior to LAPD speaking to the media. LAPD had sought approval to extend the existing BolaWrap pilot for another year from the Police Commission only. "At that point," said Osborn, "we spoke with LAPD and they said it was their intention to give a presentation to Metro before this was going to be deployed on our system." Osborn also confirmed they had set a presentation up with LAPD, but said there had "been no decision by Metro to go forward."
Questions directed to both LAPD and Mayor Bass' office yielded little in the way of clarification about how much and what kind of communication the agencies had had about the pilot plans.
A statement provided to Streetsblog by LAPD said only that "the Department has been in discussions with Metro and the Mayor's Office on this matter" and affirmed that a pilot "will not be initiated until Metro and [the] Mayor's Office are in agreement, and Transit Services Division personnel have been trained on the use of the tool."
For her part, Mayor Bass is said to have "serious concerns about this tool" and feels that "new public safety strategies should be implemented with public engagement," per spokesperson Clara Karger.
But Bass also seemed to be unaware that this would have been the second pilot program for the device in the city, not the first. According to Chief Michel Moore's report to the Police Commission in August, LAPD had already tested the device in the Hollywood and Central Areas, firing it fifteen times during fourteen encounters over the course of the year-long pilot launched in August of 2022.
Moore's report noted that the infrequency with which officers had deployed it meant the department hadn't been able to come to any clear conclusions about its utility. Earlier this year, in an interview with NPR, Christopher Zine, a captain in the Training Division, had told reporter Martin Kaste that the device had been used "effectively" in twelve of the fourteen encounters. But no other specifics - e.g. what led to the detention and deployment, what was meant by "effectively," or whether the detention could have been effected without the device - were given. [Moore's letter to the Police Commission noted only that the device had to be fired twice in one instance because the first wrap had failed to restrain the subject.]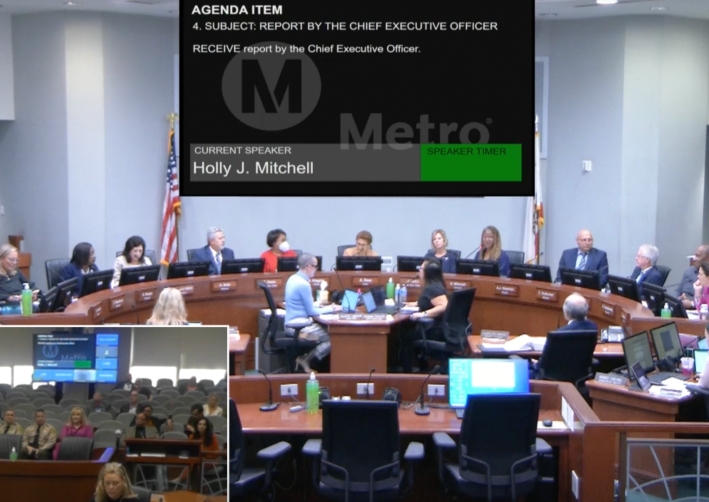 LAPD likely turned its sights toward Metro because of the number of unhoused people sheltering on the system and the low-level quality-of-life infractions it tends to police there. Though some of the marketing around the BolaWrap device suggests it will "save lives" and prevent officers from having to resort to uses of force, the website itself indicates it is most likely to serve officers best in situations where someone is "passively resistant and non-compliant" - e.g. where someone is mentally ill, under the influence of alcohol or drugs, or emotionally disturbed but not on the run, moving around excessively, or armed with a gun/within striking distance with an edged weapon.
Zine's comments to NPR suggested LAPD's first pilot had at least taught the department that much. "It's not an ideal weapon for somebody who's acting aggressive," he told Kaste. "This is more meant for the individual who's refusing to submit to an arrest or a detention." [See, for example, how Fresno police attempted to use it during the detention of a man armed with a knife who was in crisis. The wrap had little effect and police ultimately resorted to tasing him. CW: the video is graphic.]
Of course, these are also the same kinds of scenarios where the wider public has clamored for alternatives to armed intervention and for investment in preventative solutions. As Mitchell alluded to in her remarks during the board meeting, Metro, with the assistance of the Public Safety Advisory Committee, has endeavored to curb biased policing, limit interactions between armed law enforcement and Metro riders, and assist those sheltering on the system and in need of services.
Nationally, BolaWrap appears to have gained traction as an experimental tool because police chiefs are willing to offer themselves up for demonstrations and, as the website touts, it does not rely on pain to exact compliance from a subject (both of which help explain why departments share videos of its usage so liberally).
But the device's actual utility or success in preventing uses of force remains an open question. Speaking to NPR about the BolaWrap, Russ Hicks, a former police academy trainer and a use-of-force consultant, cautioned departments against an overreliance on gadgets where patience and verbal engagement might be the better tools.
The number of instances Streetsblog has documented where officers have unnecessarily escalated engagements and created the circumstances that led to uses of force would suggest the latter continues to be an issue for LAPD.
For now, at least, Metro users will not have to worry about being lassoed - a reassurance Mitchell appreciated. Thanking Osborn for the clarification, she reiterated her objection to the pilot, saying it would have felt "like a step in the wrong direction."
Sahra is Communities Editor for Streetsblog L.A., covering the intersection of mobility with race, class, history, representation, policing, housing, health, culture, community, and access to the public space in Boyle Heights and South Central Los Angeles.
Stay in touch
Sign up for our free newsletter