LAPD
In-Custody Death at 77th Street Station Marks Second in an LAPD Jail this Year
Unlike the officers who were whisked to the hospital in the name of "meth exposure," 51-year-old Derrick Harden, who may have been experiencing the effects of actual exposure to meth when picked up that same day, was not given medical attention for several hours. He collapsed and died in his cell the next day.
1:58 PM PDT on July 20, 2023
At around 11:44 a.m. on July 15, 2023, Derrick Harden stood up from the bottom bunk in his single-person cell at the LAPD's 77th St. station jail, walked over to the cell toilet, and collapsed on the floor, per a statement posted online by LAPD. He was pronounced dead an hour later.
The 51-year-old had apparently been unwell when first arrested the day before.
Per the LAPD, Harden had been picked up around 2:30 p.m. on July 14 near 71st and Vermont during a plainclothes "narcotics investigation." Three hours later, he was examined by 77th St. jail medical staff, who determined he "require[d] additional medical treatment for exposure to methamphetamine and a preexisting medical condition" (later said to be an unspecified heart condition by Assistant Chief Dominic Choi*). Then, just after midnight, he was transported back to the station after being medically cleared for booking by emergency room physicians.
It is not clear how long he spent at the hospital, what his symptoms were or how long he had been exhibiting signs of being ill, what kind of treatment he received, or what recommendations were made with regard to his care. Whatever the case, he does not appear to have been closely monitored. Per Choi's statements to the Police Commission, when Harden collapsed the next morning, he lay on the floor for approximately 15 minutes before he was discovered by jail personnel. [LAPD has opened an investigation into Harden's death; they told this reporter they would not be releasing any more information about the case.]
Harden's death and its possible link to meth is all the more confounding when held up against the outrageous meth-related shenanigans LAPD had been engaging in at that very moment.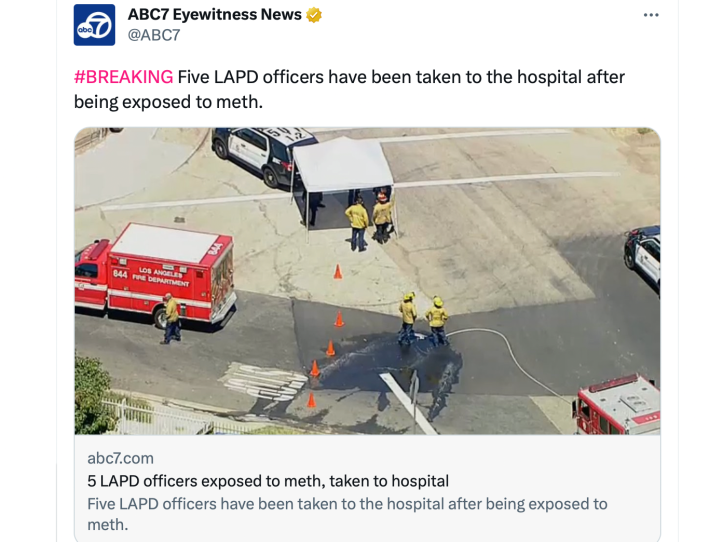 Just half an hour after Harden was arrested, ABC7 posted a breaking news tweet (above) declaring that five officers had been sent to hospital "in moderate distress" after being "exposed to meth." [The incident was unrelated to Harden's arrest.] The details were sparse, but breathlessly reported. Police had been responding to a domestic disturbance in the Hyde Park area when "an officer came across the drug," read the since-deleted original text. A City News Service synopsis offered both more and less detail, saying that officers came to be exposed to an unspecified narcotic while arguing with an alleged violator of a restraining order.
ABC7's tweet drew scathing ridicule, both because meth doesn't work that way and because the story was pure theater: an effort to distract attention from the massive blow the department had been dealt just a few hours earlier. Namely, the L.A. Times' investigations revealing the identities of the members of the bomb squad responsible for the blast that blew up 27th Street and exposing the lengths the department had gone to to discredit the journalists who were just doing their job.
But the theatrics also underscored how misguided the department's priorities can be. LAPD now admits the officers were not in any distress whatsoever, per ABC7's updated story. Yet they were still provided timely (and costly) medical attention and taken to the hospital for evaluation as a "precaution," real or imagined.

Perhaps if Derrick Harden's health had gotten that same kind of proactive and precautionary consideration he would still be alive.
The same could be said of 35-year-old Joseph Bayardo, who also died in an LAPD station jail earlier this year after his health issues did not get adequate attention.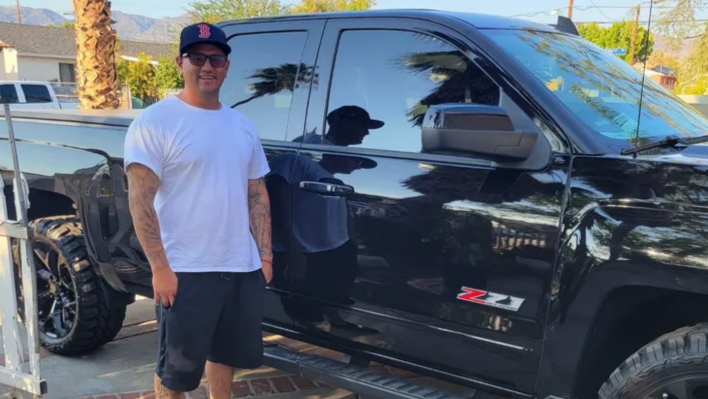 Bayardo had been the one to ask his father to call police on his behalf on the afternoon of March 29. Per that 911 call, Bayardo feared he was going to have one of his psychotic episodes and wanted to be taken to "a treatment place" before it fully manifested. Police had arrived and spoken to Bayardo, per a second 911 call, but did not take him into custody at that time (per the 911 call, it also appears Bayardo may have run out the back door during that first contact).
He was finally taken into custody via a private person's arrest several hours later. As he and his family feared, he had suddenly turned violent and punched both his father and brother. During that second 911 call, his father speculated that his son's condition might be exacerbated by meth, but he wasn't sure.
Yet it appears Bayardo was treated as a battery suspect and a battery suspect only during the two days he spent at the Van Nuys station jail.
LAPD's official statement and Chief Michel Moore's remarks to the Police Commission, both issued just a few days after Bayardo's death on March 31, pointedly omit any mention of his having been in crisis or of the family having called explicitly to get Bayardo help. [CW: discussion of suicide in the next two paragraphs.]
The footage included in LAPD's critical incident briefing suggests he was not being monitored for self harm despite his apparent distress. Instead, Bayardo is seen having sufficient time to carefully rip up a bed sheet, tie one end to the upper bunk bed frame, and pull on it to check its strength. He can then be seen pacing nervously and cradling his head in his hands before finally grabbing the ends of the sheet and completing the noose. The scene is excruciating. Per the briefing, he would not be found for at least 18 minutes after sinking to the floor, by which time it was too late.
LAPD then appears to have left him on the jail floor, covered by a sheet, for at least another five hours (per the timestamp shown on a surveillance image in the briefing video).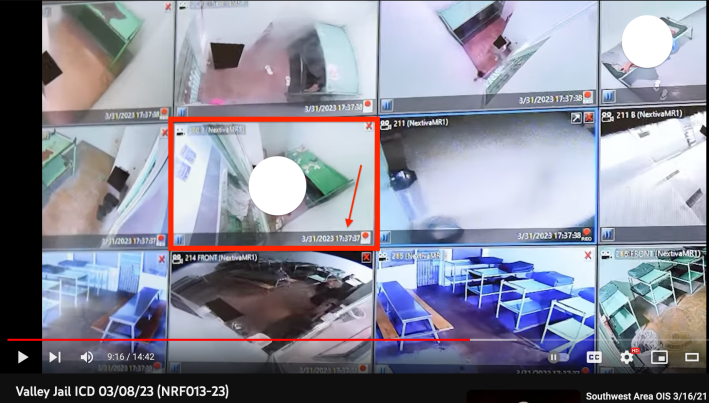 _______
Though in-custody deaths at LAPD station jails are far less frequent than at facilities managed by the Sheriff's Department, they are no less troubling. Especially when they appear to be a product of neglect, as both of these do.
LAPD has not released specific information on why Derrick Harden was originally stopped by police, what the outstanding warrants were for, or what kind of investigation was being conducted at that location, which has a sizable unhoused population.
LAPD also has not released any further details about the "meth exposure" incident in Hyde Park or any explanation of what constitutes "exposure."
Should any more information be released, this post will be updated.
UPDATES:
8/14/23: The critical incident briefing on Derrick Harden's case, released on 8/14, contains two new pieces of information. The first was that Harden told officers he had "ingested" meth; LAPD previously stated he was treated for meth "exposure." The other was that he was actually taken back to the jail dispensary a second time at nearly two in the morning. Meaning that Harden continued to feel ill after being discharged from the hospital around midnight. But he was not monitored after that. Instead he was discovered unconscious on the floor during a routine check. The full briefing video can be found here. Find a twitter thread breaking down some of the new information here, or click the tweet below.
*This story was updated at 7:05 p.m. on 7/20 to note the preexisting medical condition Harden suffered from was said to be heart-related and to update references to the Police Commission meeting.
Sahra is Communities Editor for Streetsblog L.A., covering the intersection of mobility with race, class, history, representation, policing, housing, health, culture, community, and access to the public space in Boyle Heights and South Central Los Angeles.
Stay in touch
Sign up for our free newsletter